Polar M600 review
As comprehensive as Android Wear fitness watches get, but with looks only a mother could love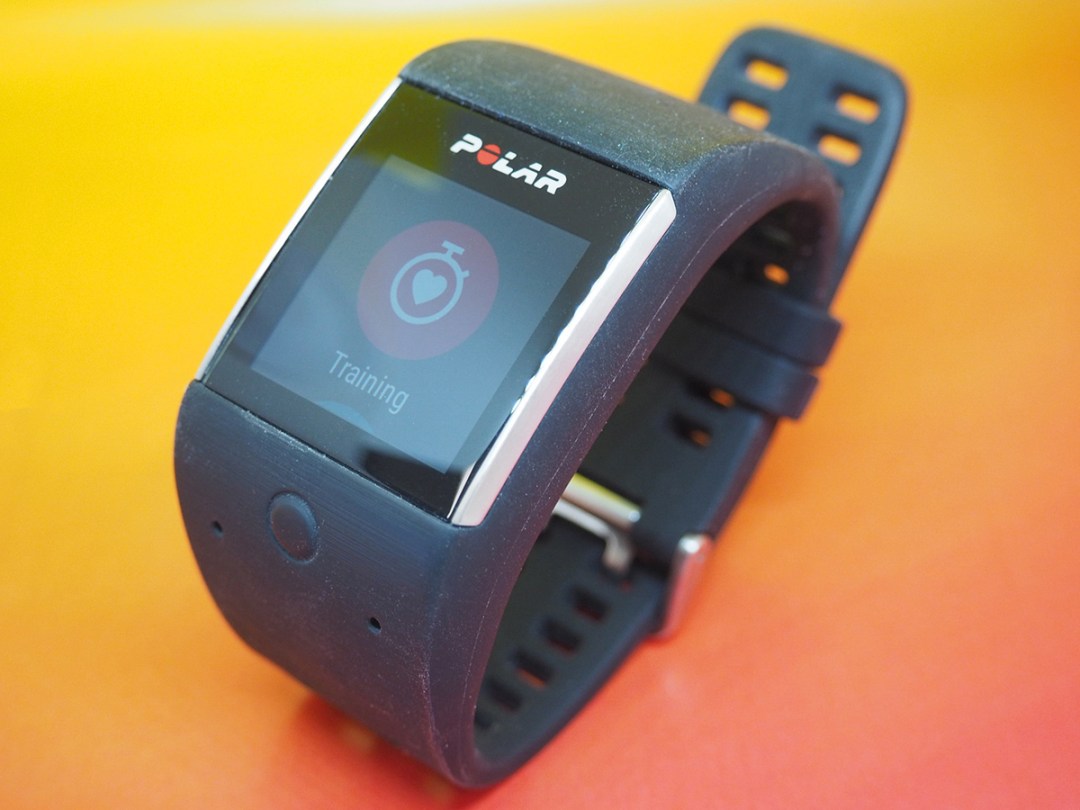 Let's face it: none of us look our best when we're blasting the max at the gym.
Whether you're working off last night's takeaway, trying to outrun middle age on a treadmill, or lifting weights in front of a mirror like a preening peacock, you're basically just a sweaty mess.
By the time those endorphins kick in, though, you just won't care. That's kind of how I feel about Polar's M600.
If other Android Wear-powered smartwatches pair nicely with suits and ties, this goes best with a your running gear and beaten-up trainers.
Fitness is the focus here, not fashion. That's why you get built-in GPS and heart rate tracking instead of interchangeable straps and flashy watch faces.
If you've been struggling to choose between a smartwatch and a fitness tracker, read on – the M600 is something in between.
FUNCTION OVER FORM
The M600 is definitely not a looker. With chunky bezels, a thick strap and a sweat-resistant rubber coating covering the whole thing, it was clearly built for sport and exercise – not making a fashion statement.
That rubber is a real dust-magnet, so if you're a stickler for keeping things clean, you'll be rinsing the watch down regularly. Good job it's IPX8 waterproof, then – you'll be able to take it swimming as well as with you to the shower.
The chrome bezels are a nice touch, and the Gorilla Glass 3 screen should keep you safe from scrapes and scratches, but really, the M600 doesn't come close to matching the rest of the Android Wear competition for design.
You can change the strap out, but only for an identical replacement if the original one breaks – there aren't standard lugs for using your own bands or straps.
With its square screen and only two buttons, it looks more than a little like Garmin's Vivoactive HR. The M600 is much thicker on your wrist, though, bulging out over 13mm. Even if you wanted to, you're going to struggle to get this under a shirt cuff.
That certainly put me off wearing it every day, and the rigid screen meant I was always aware of it on my wrist when trying to sleep at night, too. We've seen plenty of other fitness-friendly watches that still manage to pull off a bit of style, like Nixon's luminous orange Mission, so it's a shame that Polar hasn't remotely tried to appeal to less active Android Wear fans.
FEEL THE BEAT
The 1.3in LCD screen might not dominate the front of the watch, but the 240×240 resolution and 260ppi pixel density is at least high enough that you won't need to hold it right in front of your face just to read your notifications.
It's responsive, bright enough to see in the sunshine, and with decent viewing angles, too. I just wish it was that little bit bigger, as it looks a little toy-like when you've got one on your wrist. Not what you'd expect from a £240 smartwatch.
You can control pretty much everything from the touchscreen, but Polar has still added two physical buttons. The one of the left acts as the home button, and the one right below the display jumps you straight into Polar's training app.
From there, you get two choices: Training and My Day. My Day gives you steps, distance and calories burned, but for everything else you'll need to jump into Polar's smartphone companion app.
Training is pretty self-explanatory, giving you a choice of workouts that are then recorded using the M600's multiple sensors. You've got an accelerometer, optical heart rate sensor and GPS for location tracking, so basically everything you could want in a fitness tracker, and still a rarity to find all three in an Android Wear watch.
There's a MediaTek MT2601 CPU running the show, along with 512MB of RAM. That's easily enough for Android Wear, so everything feels snappy and responsive. The 4GB of on-board storage will hold enough music tracks to get you through a respectable run, as long as you've got a pair of Bluetooth earbuds.
The 500mAh battery is also par for the course, which means two days of average use between charges, or eight hours of training. That's pretty good going for Android Wear. It does have an annoying proprietary charger, though, so you'll have to remember to pack it if you're going away for more than an overnight trip.
KEEPING TRACK
Worn every day, the M600 will diligently record the number of steps walked (and distance traveled), calories burned, your resting and active heart rate, and how many hours of sleep you get each night. So pretty comprehensive, then.
Sleep tracking is automatic, so no need to tap a button before you nod off. It'll record how long you slept for, how much of it was restful, and how much was restless – but won't tell you how to catch more Zs if you're not getting enough.
You've got to manually tell the watch when you're doing any sport or exercise – there's no automatic activity recognition here. Polar's app has hundreds of Sport Profiles to choose from, but they only help categorise your workouts in the app – it won't count the number of strokes if you choose rowing, for example.
The six-LED array on the back of the watch is easily one of the most accurate heart rate sensors around, matching a chest-worn HRM to within a few BPM during a strenuous workout. If you don't like chest straps, this is a real alternative.
Need the accuracy? This'll pair to an existing chest strap, if you've got one.
All this activity data is shared with Google Fit, and should play nicely with all the major third party fitness apps out there. If you're already using one, you can be pretty confident all your data will get imported from the M600.
WEAR ME OUT
The M600 feels a lot like any other Android Wear watch, but that's because Google doesn't like anyone to mess with its wearable OS.
Polar has still managed to add a few extra watch faces, which put activity data onscreen so you don't have to dig into the menus every time, but they aren't customisable. You'll still need to download your own to give your watch a unique look.
You get all the usual Android Wear goodies here, including notifications from your phone, silent alarms, music controls and voice control. There are lots of third-party apps to choose from too, giving Android Wear a slight edge over Samsung's Tizen-powered Gear S3.
Polar's app is pretty comprehensive too, at least when it comes to fitness. You get a split view showing exactly how much time you've spent lazing around on the sofa each day, how long you were on your feet for, and how much of that was actually doing anything remotely resembling exercise.
Polar M600 verdict
As a comprehensive fitness tracker, the M600 is pretty well equipped. You're still not guaranteed to find GPS and heart rate tracking in other Android Wear watches, so if you can put up with the mundane looks, it has a slight edge for recording your exercise routines.
With an ever-increasing app library, too, there should be something here for pretty much every activity or sport.
Android Wear notifications and second screen smartphone controls are handy to have, but only if you're going to be wearing your watch all the time. I'm not sure this fits the bill for something you'd wear every day, though.
The design and build make me think this just isn't meant to be worn outside of the gym. Seeing as it's kind of pricey, too, I think you're either better off with a dedicated fitness tracker like a Garmin Vivoactive HR, or saving a bit more cash and going for an Android Wear watch you'll actually put on every day.
Tech specs
| | |
| --- | --- |
| DISPLAY | 1.3in, 240×240 TFT |
| CPU | MediaTek MT2601 dual-core 1.2GHz |
| MEMORY | 512MB |
| STORAGE | 4GB |
| CONNECTIVITY | Wi-Fi, Bluetooth 4.2 |
| SENSORS | GPS, heart-rate sensor, accelerometer, gyroscope, ambient light sensor |
| BATTERY | 500mAh |
| OPERATING SYSTEM | Android Wear |
| DIMENSIONS | 45x36x13mm, 63g |
Stuff Says…
Android Wear finally gets a real fitness focus, even if it comes at the expense of style. The M600 is great for keeping an eye on exercise, but it just doesn't have the looks to wear 24/7.
Good Stuff
GPS and heart rate tracking
Respectable battery life
Built to take a dunking
Bad Stuff
Really not very good looking
Limited software smarts out of the box