PlayStation Portal review: I have a stream
Sony's remote play handheld PS5 is neat but niche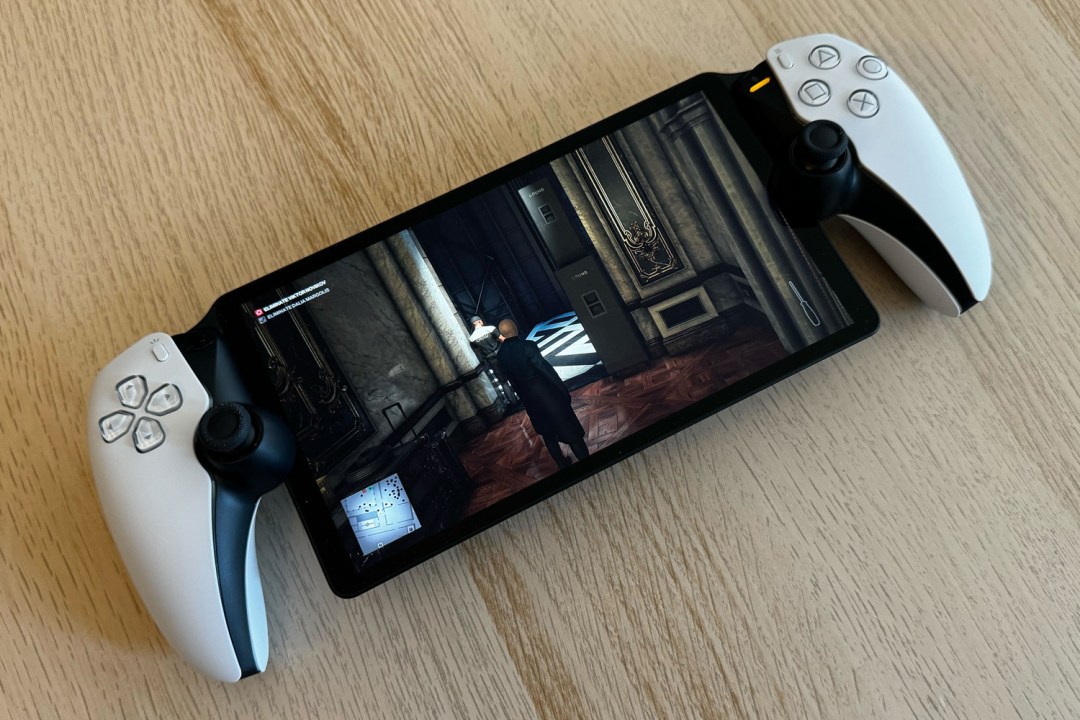 Stuff Verdict
Large display and full suite of DualSense controls make the PlayStation Portal the ultimate remote play device for your PS5 – but consistent performance depends on your Wi-Fi
Pros
Immersive 8in display
DualSense controls with low latency
Mostly solid streaming quality
Good battery life
Cons
Dropouts and occasional bugs
LCD is clearly inferior to OLED
It's a lot of money for a device that can't run any games natively
No Bluetooth or cloud streaming support
Introduction
Handheld gaming isn't back, because it never really went away – but there's no doubt playing games away from your telly is hot right now. The Nintendo Switch was first to really nail "big" games on a handheld; increasingly powerful chips and a slew of mobile controllers have made your smartphone a genuine option for a quick game of Fortnite; As I write, a new handheld gaming PC is probably being unveiled somewhere, gunning for the Steam Deck's crown.
Sony is no stranger to handhelds, and with the market booming, those who still swear by the PlayStation Vita were getting excited about the possibility of a sequel. The first thing to say is that the PlayStation Portal is categorically not a Vita 2, and has never been billed as such by its maker. In fact, it isn't even a console; pick up Sony's new handheld and you'll see the words "remote player" etched on the box.
In many ways there's nothing this $200/£200 device can do that the phone currently in your pocket can't. The PlayStation Portal is essentially just a tablet with two halves of a DualSense controller stuck on either side, and it relies on a PS5 and a Wi-Fi connection to wirelessly stream your games. Without those, it'll be the least useful slab in your house, as there's no way to download games for offline play. It can't do anything else either, so on paper, it's a tough sell.
And yet, Sony knows that none of the above is likely to dissuade the people who have a place in their lives for a device like this. In households where TV time has to be shared, the Portal lets you keep playing without giving up the PS5's clever controller functionality. It's got a big, bright display and it won't interrupt your Marvel's Spider-Man 2 session with an incoming phone call from your mum. It's a luxury, no doubt, but is it one worth considering?
How we test gaming hardware
All games consoles and gaming hardware tested on Stuff are put through their paces with days' worth of play time. We use our years of testing experience to judge areas such as build quality, software experience, battery life and other features. Manufacturers have no visibility on reviews before they appear online, and we never accept payment to feature products.
Find out more about how we test and rate products.
Design & build: Sense-ibly familiar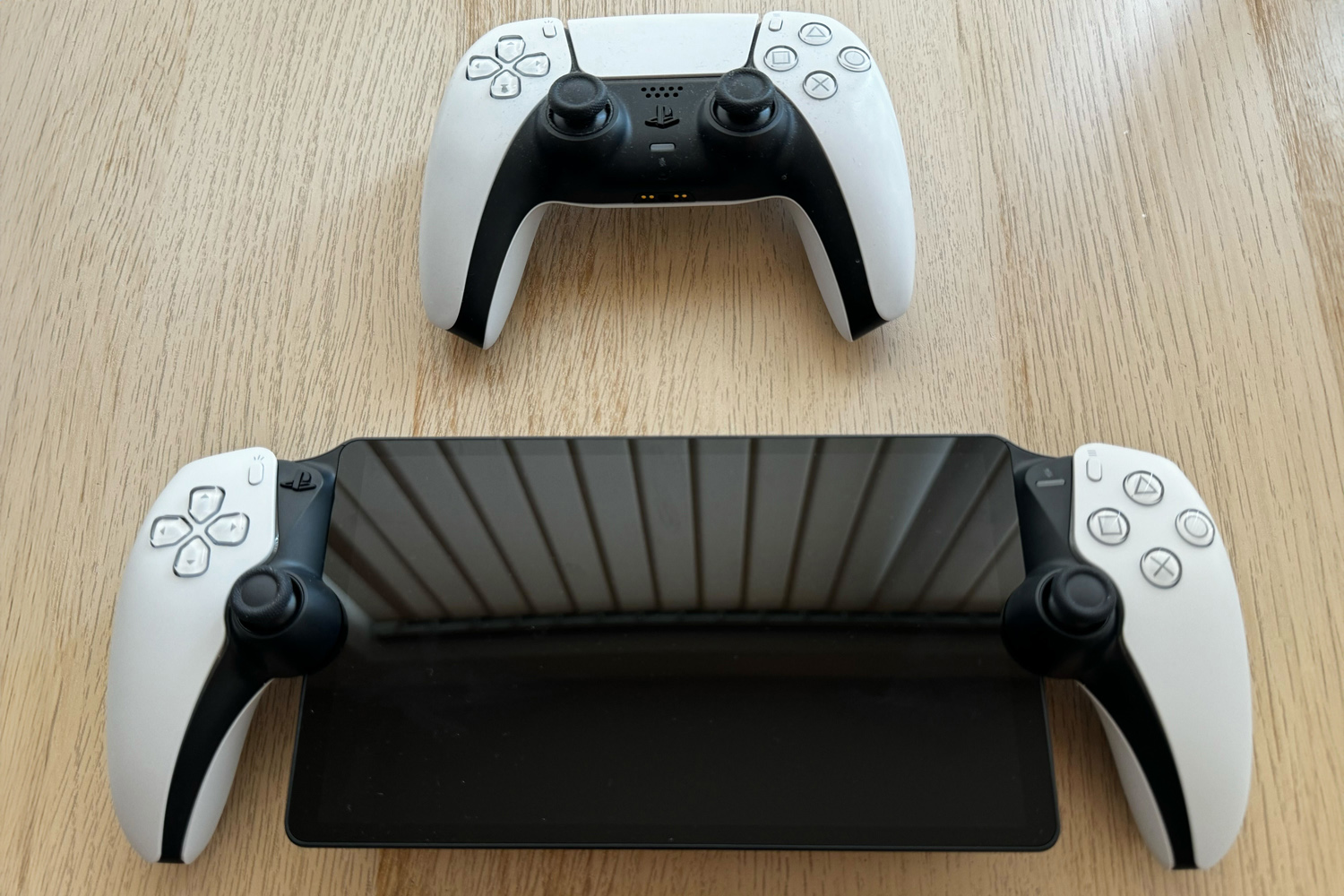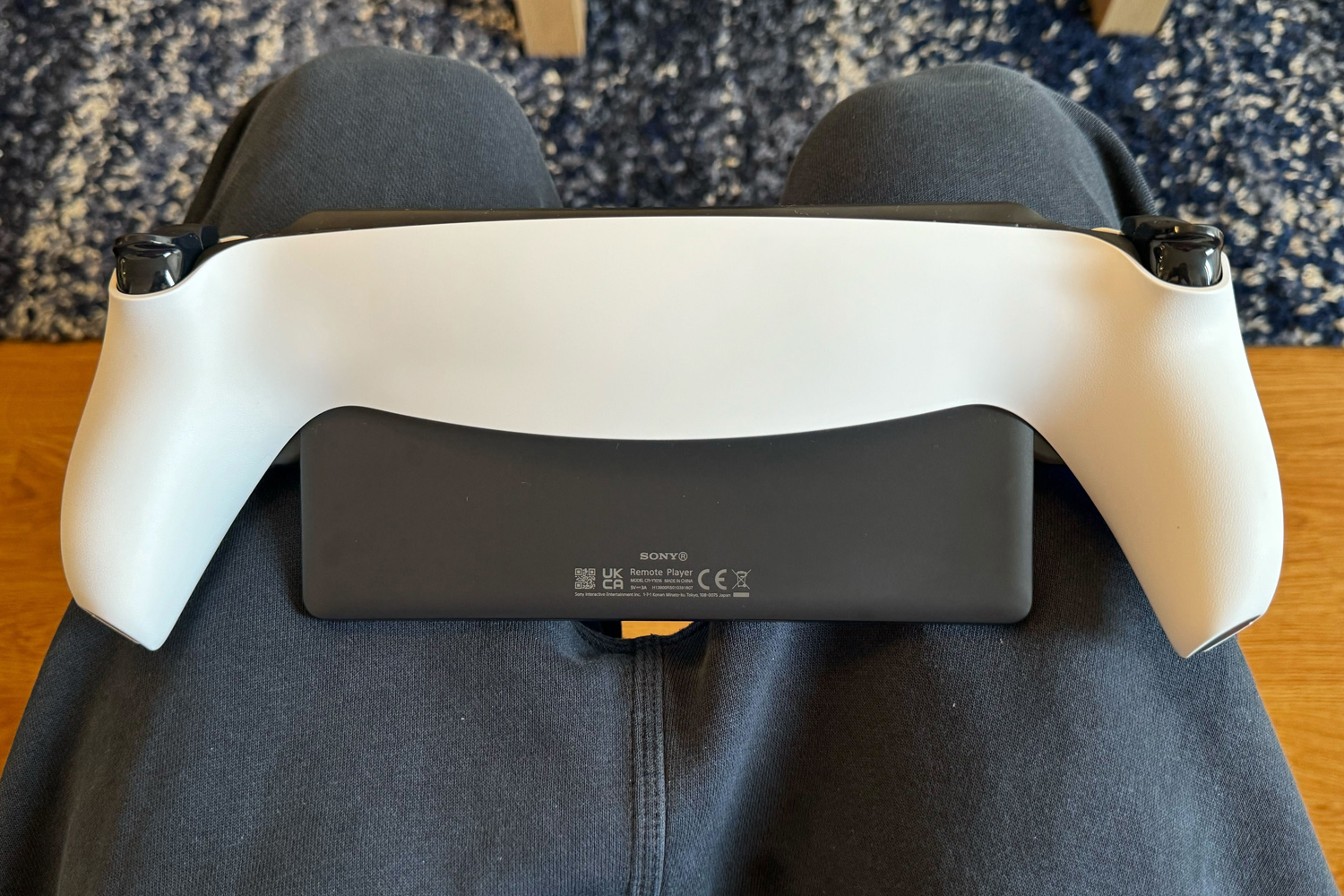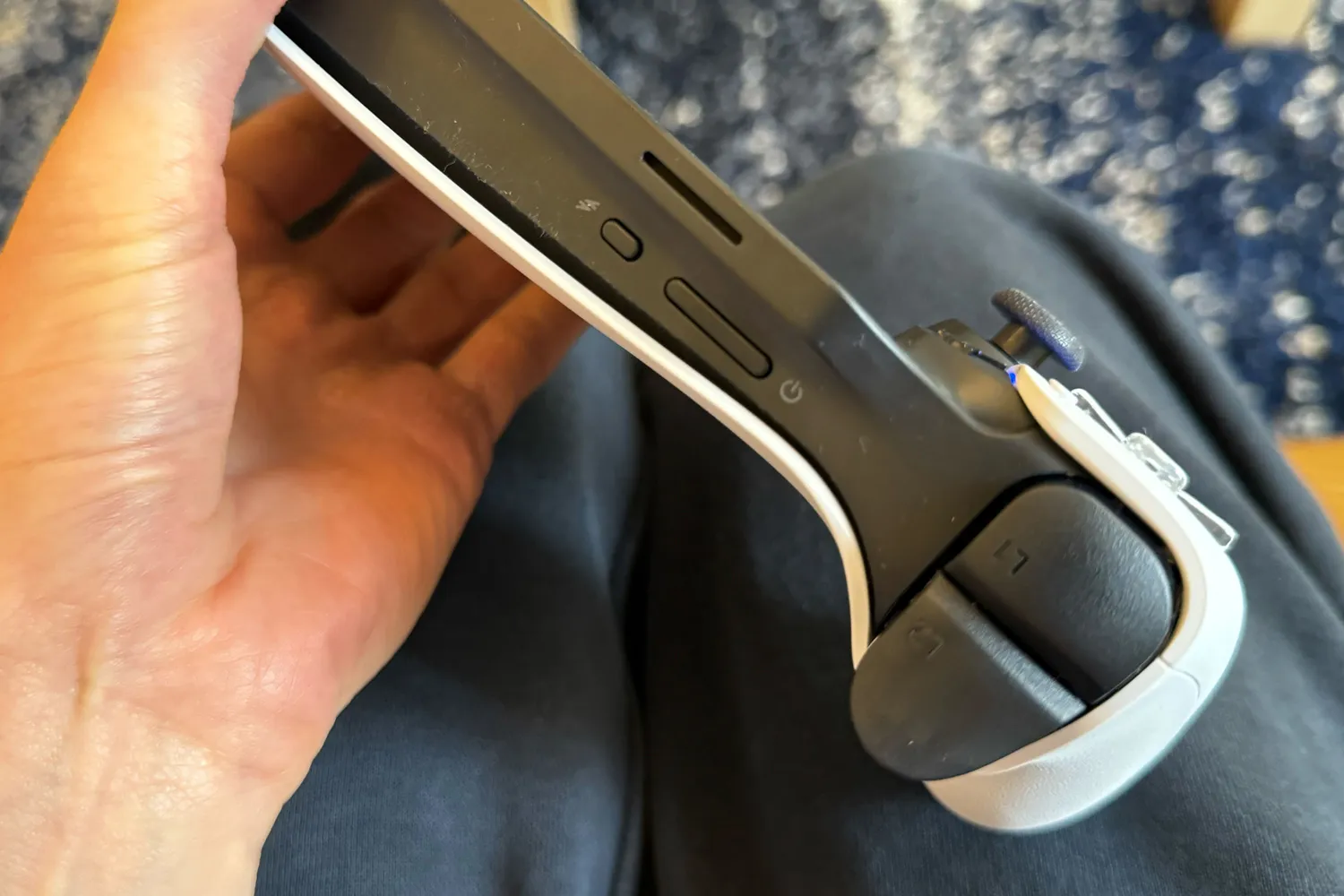 Sony has no problem with putting weird-looking devices into the world – see the PS5 – but the PlayStation Portal is still quite the thing to behold. It looks more like one of those wacky concepts people wildly share on social media than something that actually gets made. But make one Sony did, and do you know what? I quite like it. I'd hesitate to get one out on a train or a plane, for fear of elbowing the person next to me as much as anything else, but that isn't really an option anyway.
The sheer width of the thing means that holding the Portal feels very different to holding a DualSense, but I like the weight balance (at 530g it's heavier than a Switch, but lighter than a Steam Deck), and found the display portion rests nicely on my lap when I'm lying down. The sticks aren't big as those on the DualSense (they're actually the same as you'll find on the PS VR 2 controllers) but you soon get used to them. If you play a lot of PS5, having exactly the same triggers and face buttons on a handheld feels wrong, but in a good way. Almost like you've cheated the system.
The Create and Options buttons remain in their DualSense positions, but as the middle of the pad now houses an LCD display, the PS and mute buttons move to the top corners of the controller halves.
Problems? The way the thumbstick modules eat into display bezel is a bit unsightly. The sticks are also just as at risk of drift as the standard DualSense sticks, but that would arguably be an even bigger issue on a £200 device that the controller is fixed to. Pressing the skinny power and volume buttons feels a bit awkward, on account of the small hump they're nestled into. The lower half of the display portion also has no protection, and I've already had visions of my knee snapping it in half when getting up quickly. Hopefully this doesn't materialise.
I'm also not totally sold on Sony's solution for the lack of a touchpad, which is used in a lot of PS5 games. In its absence, you touch either side of the touchscreen, which illuminates two small panels that you can either tap or swipe to replicate the standard touchpad's functionality. It's fine, but it's inelegant and (whisper it) a bit too smartphone-y for my liking.
A USB-C port for charging is tucked away at the back, where you'll also find a headphone jack (more on that in a bit). And to remind you that this is a device primarily intended for in-the-home handheld play, Sony hasn't included a case of any kind in the box. As someone currently in the process of packing to move house, this has already presented me with a problem I'm not too happy about, and I definitely don't have a sock big enough to accommodate it.
Screen: size matters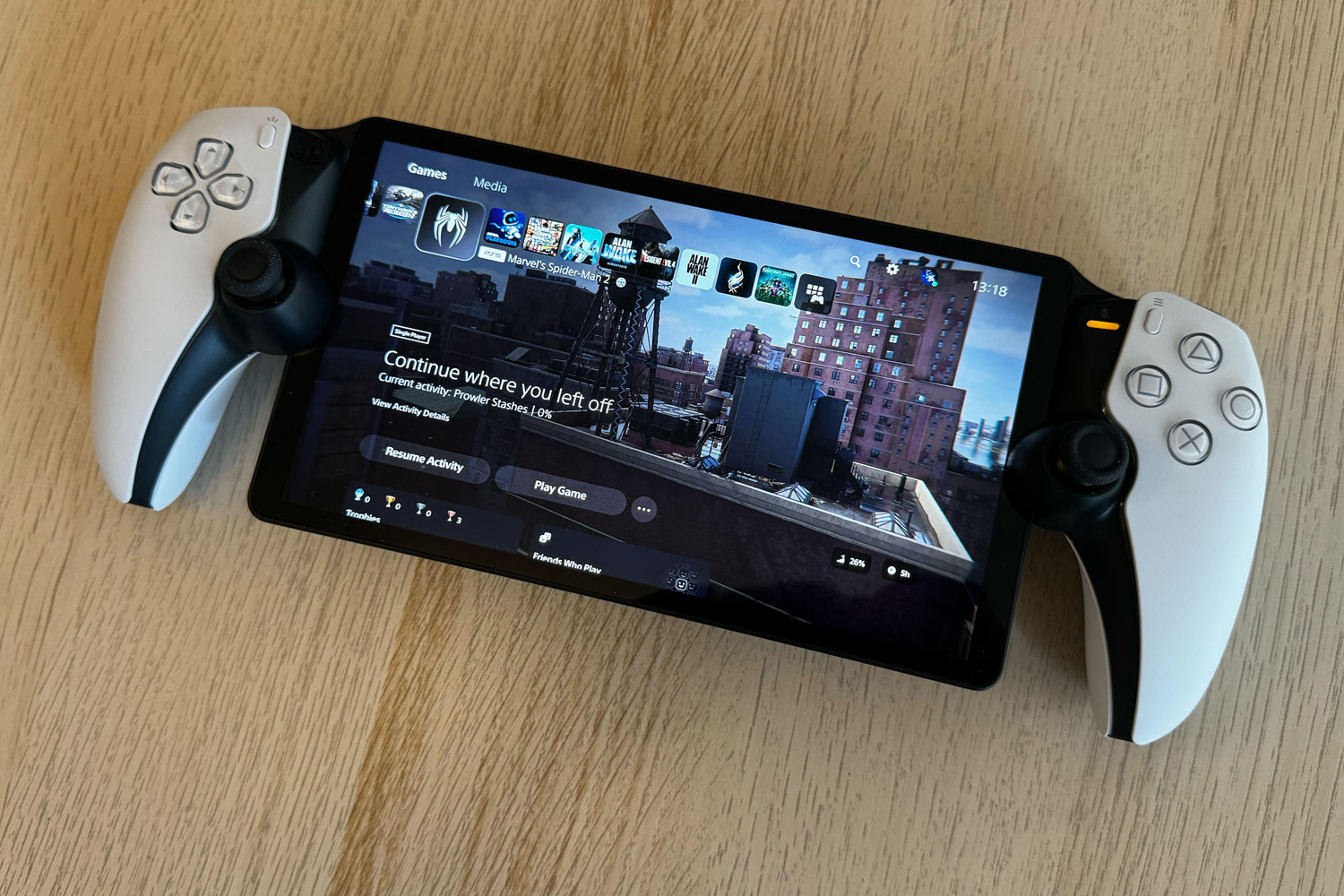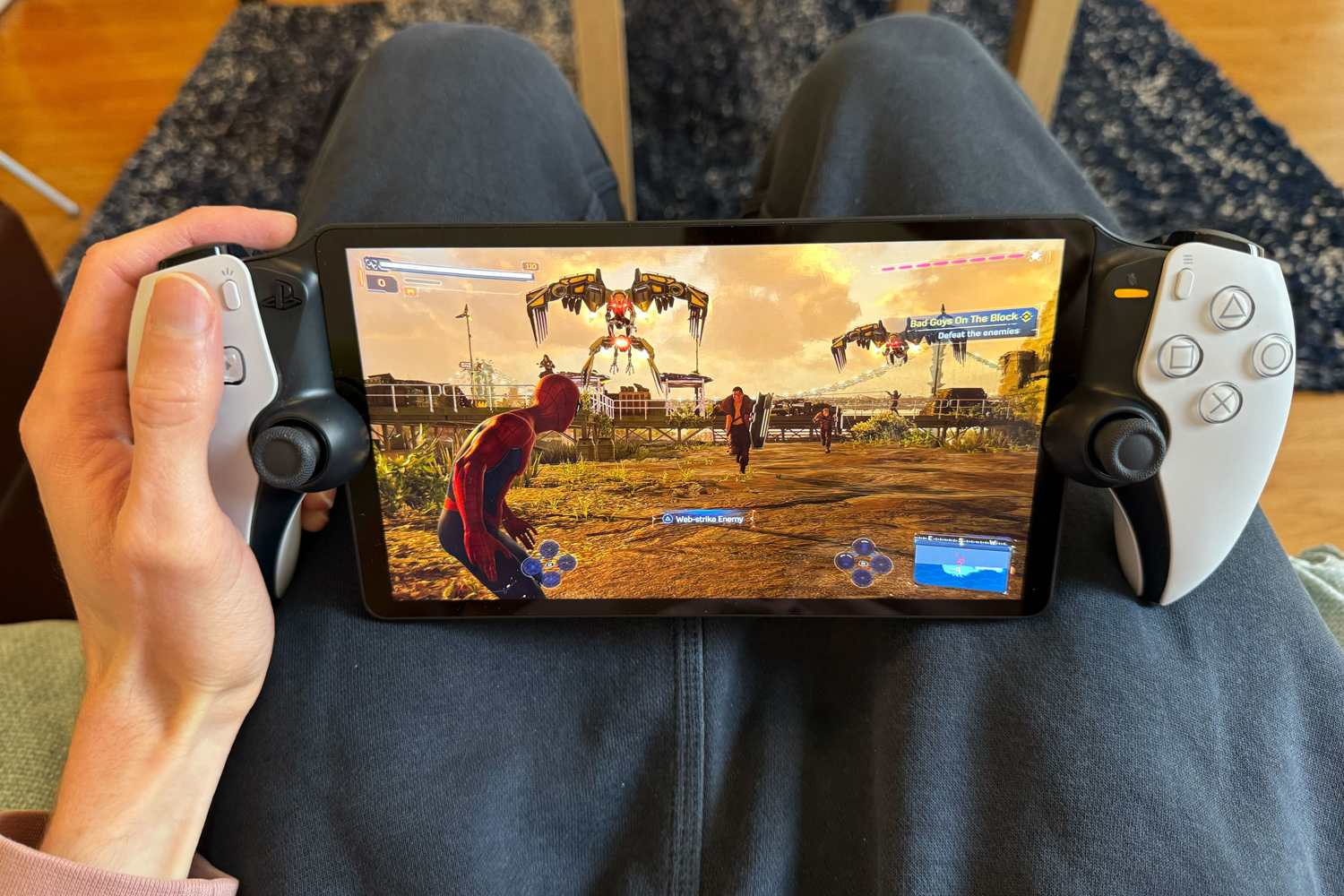 The PlayStation Portal's 8in screen uses an LCD panel good for 1080 resolution at 60fps, if your Wi-Fi can deliver it. Eight inches is an undeniably immersive size for a display you're holding up to your face, and will no doubt dwarf any phone you've been using for remote play up until now. It's a nice, bright and colourful panel, and I haven't needed to have it above half brightness at any point, which is definitely a plus when it comes to battery life.
There's no getting away from the fact that this isn't an OLED display, though, and that's a shame. Chances are your phone has an OLED panel; the Nintendo Switch has one; the Steam Deck now has one too. Sony's own PS Vita had an OLED – 12 whole years ago. Handheld gamers are increasingly getting used to the superior contrast, colour reproduction and those delightfully inky blacks that OLED tech brings, so it's hard not to feel a bit underwhelmed here.
I think the size of the Portal's screen definitely goes some way to making up for the LCD-ness of it all, and you could make a strong argument that putting anything better on a strictly remote play device would be overkill anyway, but if you own any of the devices listed above, you'll likely notice it.
Features: I want to stream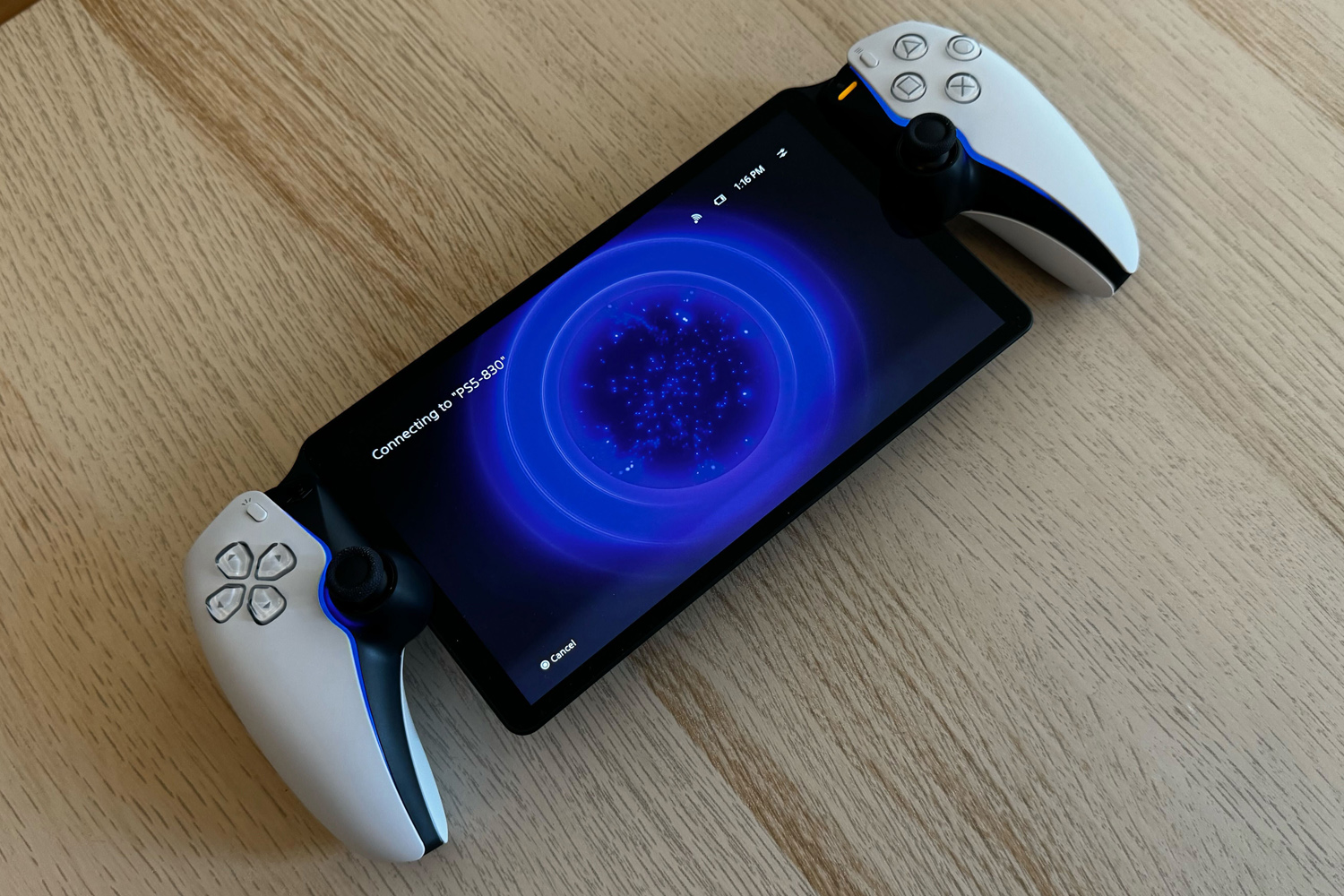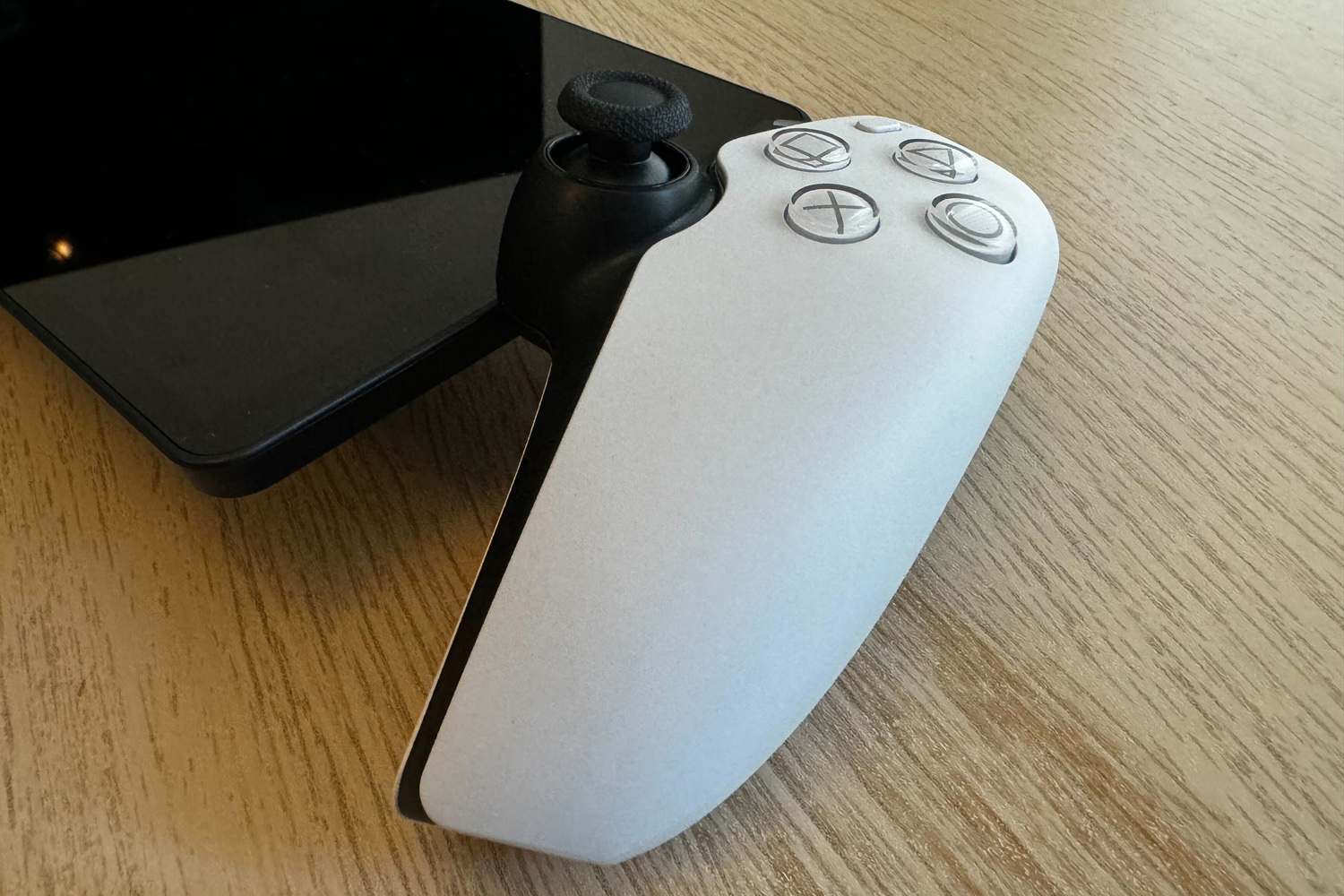 The PlayStation Portal streams games from your PS5, and that's it. There's no formidable CPU, no internal storage and no dedicated OS. It is literally just the PS5 experience, shrunken down and zapped into your lap.
But that's also the best thing about it. Because you've got the same haptic feedback and adaptive triggers, it feels like you're playing a handheld PS5. Sure, the games don't look anything like as good as they do on a massive 4K TV, nor do they run quite as slickly, but it feels the same in your hands. You can strap your phone to a DualSense pad already, if you want, but I prefer the dedicated device approach. It's just a lot more convenient and immediately available than the alternatives, and that does matter.
The PlayStation Portal is the first device to have PlayStation Link, Sony's new lossless, low latency wireless audio standard, built into it. This makes it the perfect partner for the upcoming Pulse Explore earbuds and Pulse Elite headset, both of which leverage PlayStation Link for what Sony reckons will be an unrivalled sonic experience. You'll also be able to pair your Link-supported headset with a Bluetooth device and hop between the two.
Unfortunately, neither of these headsets was available at the time of writing, with the Pulse Explore buds not out for another couple of weeks and the Pulse Elite due in early 2024. The PlayStation Portal doesn't support Bluetooth, so for now you'll have to make do with a wired headset. Given the well-documented latency issues that Bluetooth can present, I'm not totally surprised that Sony gave it a miss here, but it does seem an own goal to launch the Portal before either of the headsets it's specifically designed to work with are available to buy. And even if Bluetooth wasn't great, I'd rather have been able to test that for myself than not have it at all. It just adds to the feeling that the PlayStation Portal is a pretty barebones offering.
The Portal does have built-in speakers, which are fine. But if you're going to be sitting down with this thing for a few hours you're probably going to want a headset.
I should also point out that the Portal doesn't support cloud streaming of any kind. As streaming games over the internet is hit and miss at best, that might not bother you. But it becomes a bit of a problem when you consider that playing PS3 games on the PS5 through PS Plus can only be done via the cloud, so the Portal simply won't play ball with that console generation. To me, a handheld is the ideal platform for revisiting older games, so I think it's disappointing that I can't do that here.
Performance: A need for speed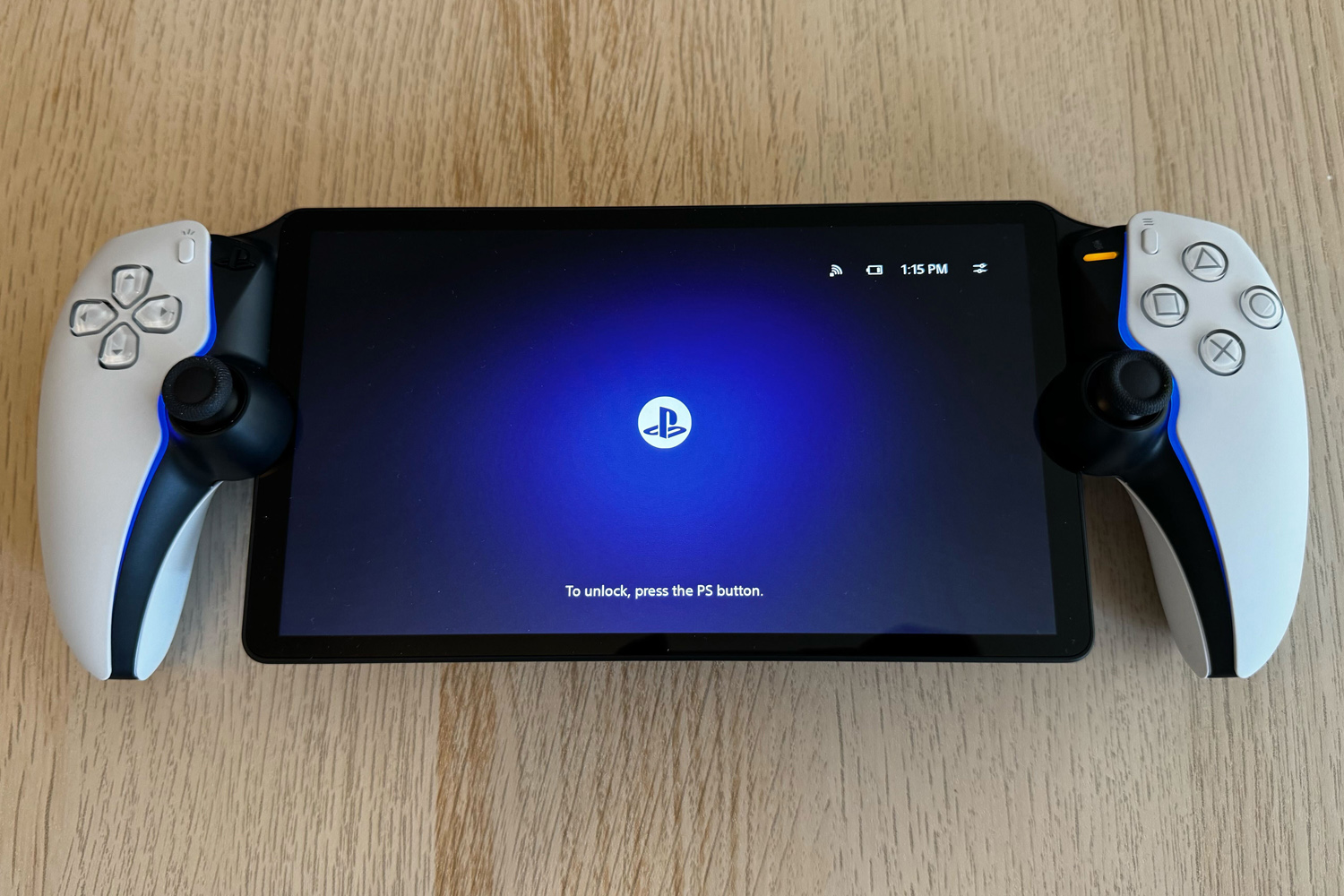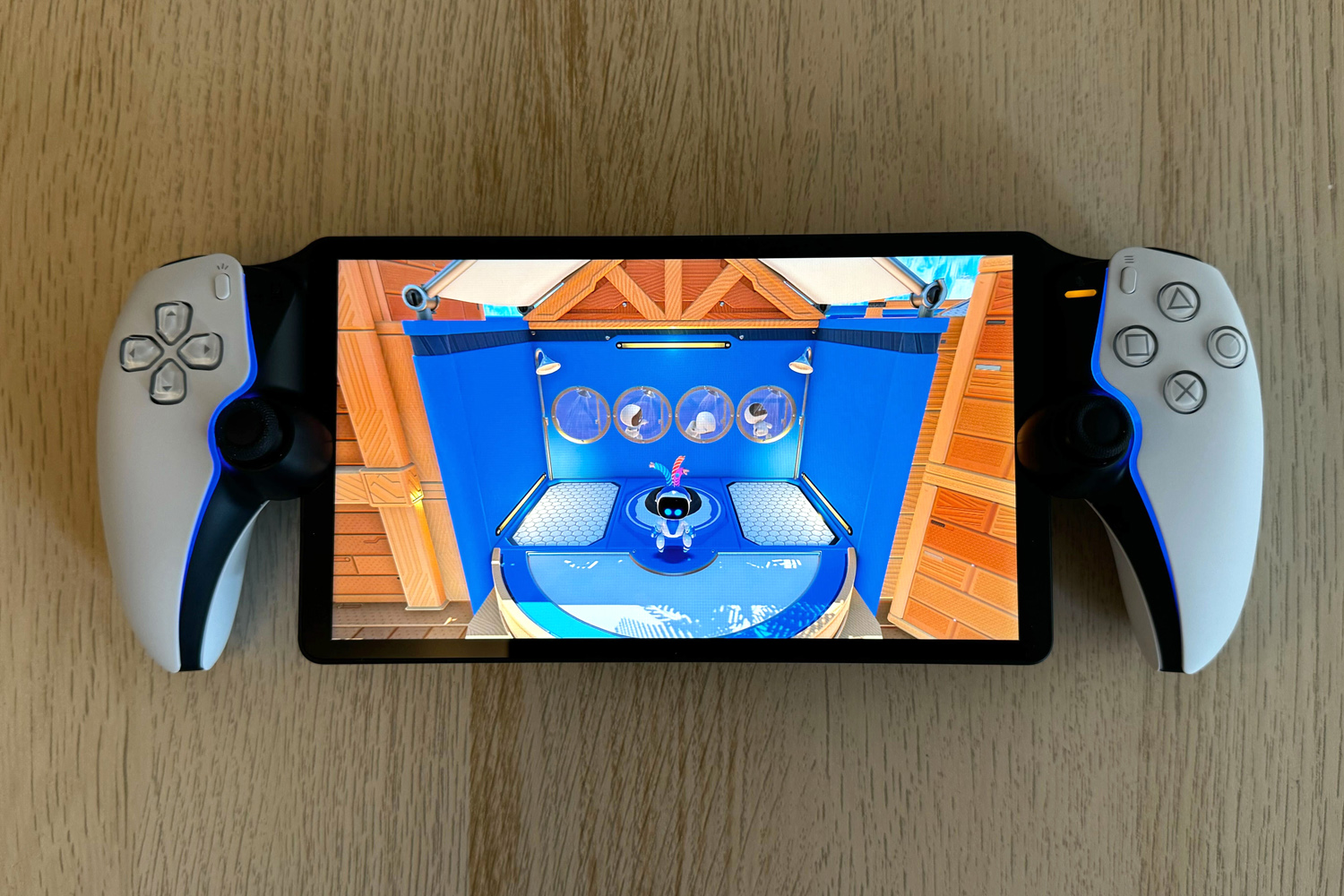 The obvious comparison to make with the PlayStation Portal would seemingly be the Nintendo Switch – but really what you're actually looking at is the PS5's answer to the Wii U. No games run natively, and you're relying on your Wi-Fi connection for the Portal to work. For all its flaws, Nintendo's ill-fated console excelled on latency between console and Gamepad. I was hoping for a similar experience here.
On first use you'll need to connect to the same Wi-Fi network as your PS5. Provided you've enabled remote play on the console, pairing is quick and easy. You're able to turn the PS5 on and off remotely, and connecting is simply a case of following the on-screen prompts. I'd like connecting to the PS5 each time I turn the Portal on to be a few seconds faster, but the process is slick and makes it feel like a proper PlayStation product.
Sony recommends a connection speed of at least 15Mbps for reliable streaming, which my own comfortably exceeds. I would say that after using the device every day for more than a week, you ideally want quite a bit more speed than the suggested baseline. I connected my PS5 to my router's 5Ghz band, which you can force the console to do in settings if your router isn't capable of splitting bands. For the fastest and most reliable connection you'll want to hook your PS5 to your router using an Ethernet cable, but I've stuck to Wi-Fi for this review as I think that's what most people will be doing.
When everything is working as advertised, the Portal can be a great experience. The first game I booted up was Marvel's Spider-Man 2, and while the game clearly takes a visual hit, I was impressed with how smoothly it ran. Swinging through Manhattan felt responsive and the stream retained plenty of detail. I then fired up Tony Hawk's Pro Skater 1 + 2, another fast-moving game with a lot of quick inputs, and was able to play without being bothered by latency, which was only noticeable if I really concentrated on it.
Returning to the brilliant Astro's Playroom was also a delight. I was impressed by how sharp it looked on the Portal's large display, and the DualSense features worked just as well as they did when I played it at launch on the PS5.
That said, performance has fluctuated pretty wildly. During some sessions, there has been more perceptible input lag, particularly during one Spider-Man mission that ultimately resulted in me switching back to the main console. I've also encountered audio crackling, one too many mid-game disconnections and sudden muddiness in the visuals that really kills the vibe. My apartment isn't huge; even in another room I'm never too far from the router, so I'm hoping firmware updates will resolve some of these issues pretty quickly. As Sony has full control at both ends of the hardware here, it's fair to expect a smoother experience than you get on a phone, but ultimately it's always going to come down to the strength of your connection, and you're only really going to know how that shakes out when you've purchased the device and are using it every day.
I've already started to prefer streaming games that don't require lots of quick inputs, with Hitman World of Assassination proving to be an early Portal favourite. I've also made more progress in Baldur's Gate 3 on the Portal than I have for weeks on the PS5 proper, as it makes for the perfect bed game as winter starts to roll in. The big screen ensures text is easy to read, too. Twitchy shooters are simply not the way to go with this device, but it's well suited to games that don't have as much fast movement for the stream to contend with.
Knowing how bad the DualSense's battery life can be, the Portal's own is surprisingly good at around eight hours based on testing. It doesn't half take its time to charge though.
PlayStation Portal verdict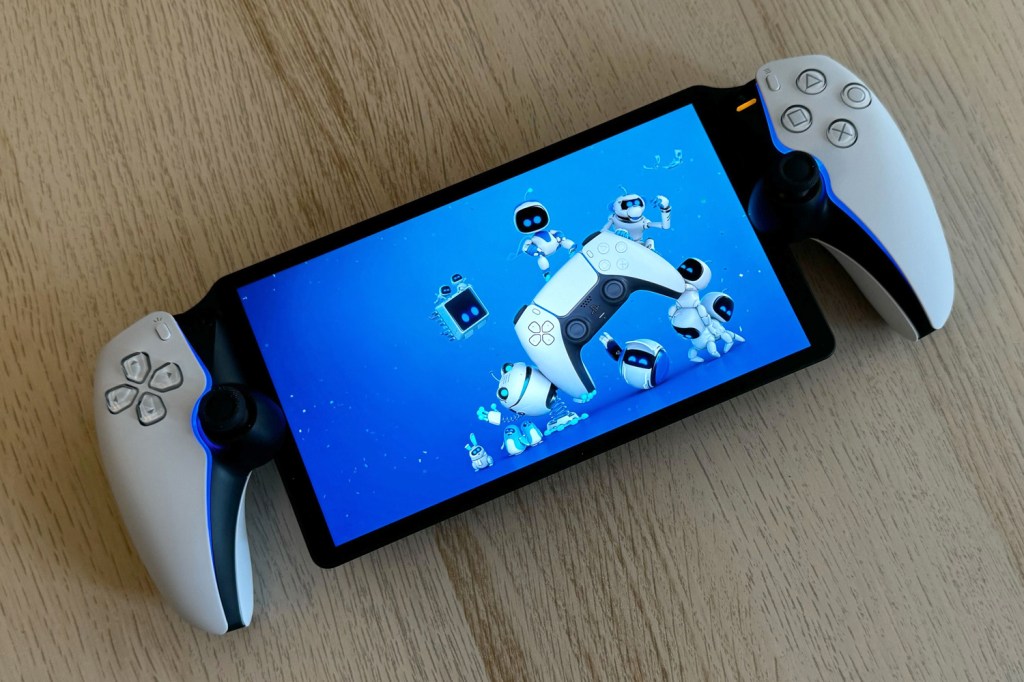 If you've got incredibly fast Wi-Fi and routinely find yourself fighting with other members of the house over who gets the TV come 9pm, the PlayStation Portal could be a four, or even five-star product for you. But in my experience performance is far from flawless and you're paying £200 for something that at least three other devices within touching distance of you right now can probably do for free with the PS Remote Play app. Without Bluetooth (and until PlayStation's new earbuds arrive) you're stuck with wired headphones, and right now you can't play the old PS3 games you pay for on PS Plus if you're a Premium member.
There's still a lot to like about the PlayStation Portal. As strange as it looks, it feels really nice in your hands, while I appreciate the big screen and DualSense features that I've come to value so much on the PS5. I also love that I can keep playing my games while I stick the football on the TV, and I've enjoyed revisiting the likes of Astro's Playroom and the Hitman trilogy on a handheld device. No doubt I'll continue to discover more games that suit the Portal's form factor as I use it more.
A lot of people will already have known if this device is for them before reading this review. If you're on the fence, though, ask yourself the following questions. Do you use remote play enough to lay down the same amount of money you would if you were picking up a far more capable Nintendo Switch Lite? If not, you're better off just putting your phone into a Backbone One mobile controller. And if you are sold on the concept, do you trust your router to ensure you keep having fun?
If the answer is yes, the PlayStation Portal is the best and most convenient way to stream games from your PS5, no contest. And if enough people buy one, perhaps Sony will finally give us the Vita 2 we deserve.
Stuff Says…
Its large display and full suite of DualSense controls make the PlayStation Portal the ultimate remote play device for your PS5, but it's missing basic features and consistent performance depends on the strength of your Wi-Fi
Pros
Immersive 8in display
DualSense controls with low latency
Mostly solid streaming quality
Good battery life
Cons
Dropouts and occasional bugs
LCD is clearly inferior to OLED
A lot of money for a device that can't run any games natively
No Bluetooth or cloud streaming support
PlayStation Portal technical specifications
| | |
| --- | --- |
| Screen | 8in, 1920×1080 LCD w/ 60Hz |
| Connectivity | Wi-Fi, PlayStation Link, 3.5mm, USB-C |
| Controls | DualSense accelerometer, gyroscope, adaptive triggers, haptic feedback |
| Recommended Wi-Fi speeds | 15Mbps (minimum) |
| Battery life | Eight hours (as tested) |
| Weight | 530g |