Playdate review: The little yellow handheld that's all about fun
Cranks for the memories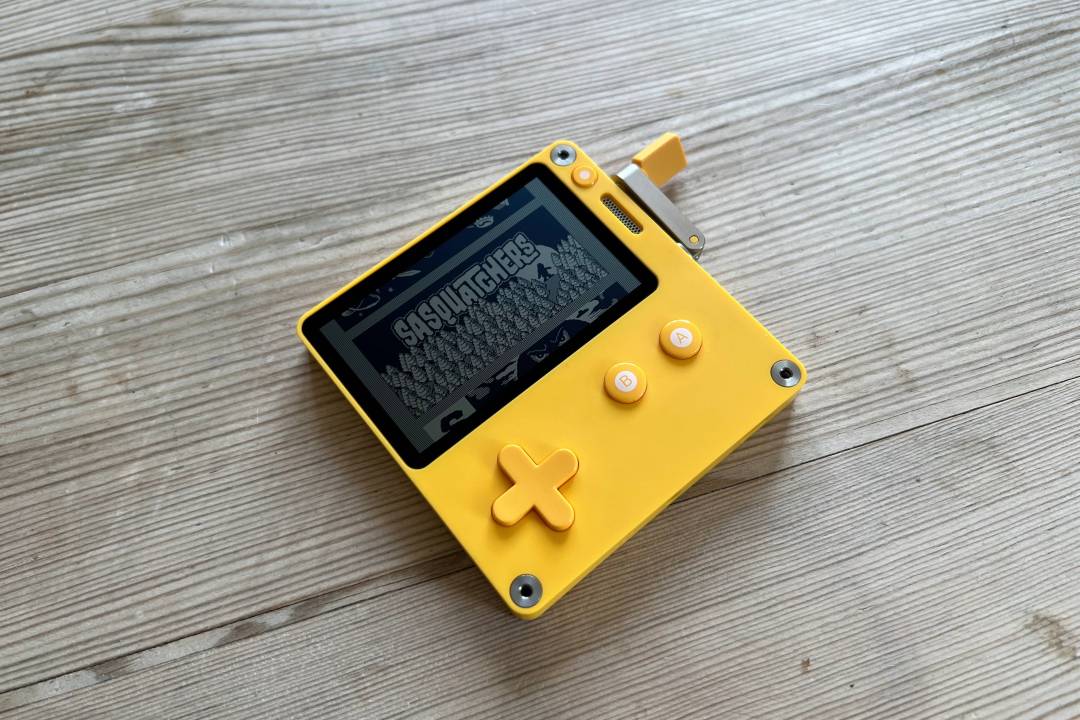 Here at Stuff, we spend a lot of time looking at gadgets great and small, so it's inevitable that some of them don't get as much attention as they probably deserve.
But we've been desperate to get our hands on a Playdate since its initial reveal way back in 2019. Made by Panic, an American company best known in recent years for publishing indie games such as Firewatch and Untitled Goose Game, the Playdate is a tiny, bright yellow and unmistakably Game Boy-like handheld with a black and white display and a crank for a controller. And its reason for existing? Well, why not?
It's not just the Playdate's design that's unique. Just as novel is the way its maker will distribute games to anyone lucky enough to have secured an order. Unsurprisingly you won't be playing the latest Call of Duty on this thing. Rather, every Playdate game is a bespoke indie creation, all 24 of them – in what Panic is calling Season One – delivered periodically over Wi-Fi to the device once activated.
It's a delightful little machine and a collector's dream, but does the Playdate experience live up to the hype?
Design: And it was all yellow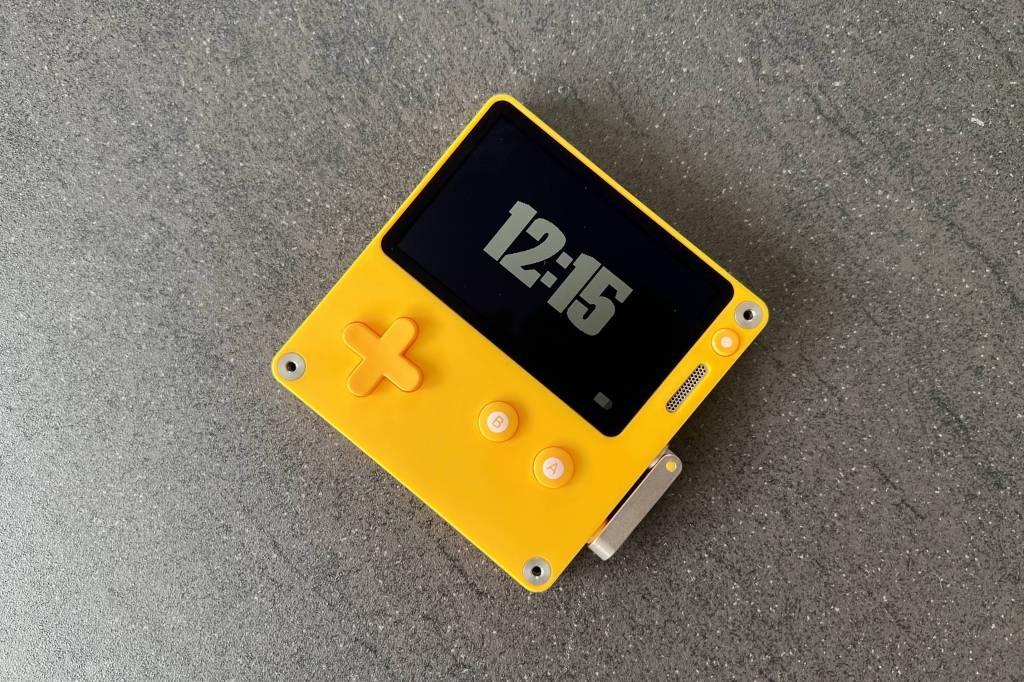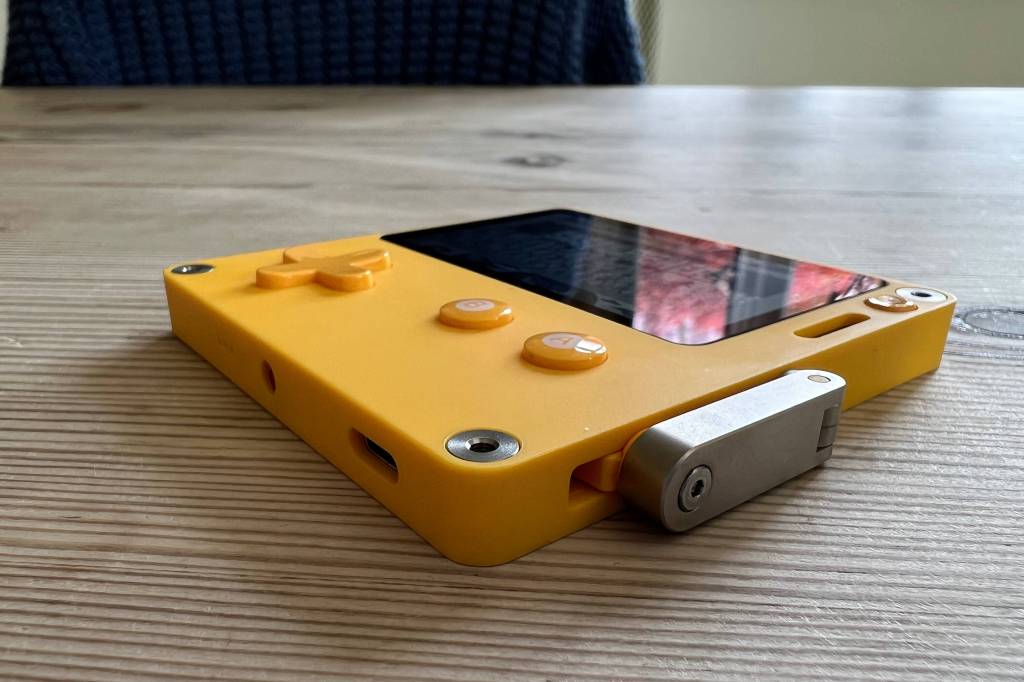 Playdate, in its makers own words, was made just for fun. But as a company primarily known for designing software, Panic wisely took its invention seriously enough to bring in design gurus from Teenage Engineering to help with the hardware. And it shows. If you've spent any time with Teenage Engineering's OB-4 "Magic Radio" or brilliant Pocket Operator miniature synths then you'll be well aware that the trendy Swedish brand knows a thing or two about making fun, desirable gadgets. And if we're talking pure aesthetics, the Playdate is about as fun as consumer electronics get. Even the box is fun.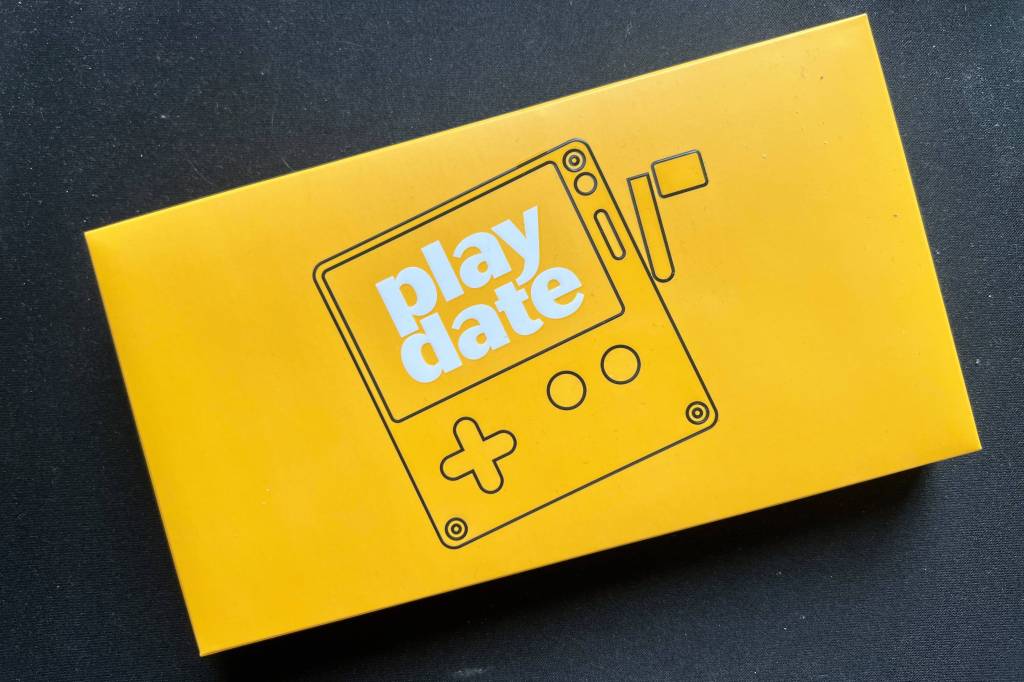 See!
Let's start with colour. It's yellow all over, but in certain light can actually look more orange. Either way, the perfectly square Playdate just screams at you to pick it up. And when you do you'll be holding a slab of plastic and metal that feels premium and boutique, different and daring. We went back to the initial Playdate reveal in Edge Magazine way back in 2019 and were very taken by one of the featured developers describing the Playdate's striking look as "friendly punk", which annoyingly nails it better than we ever could.
It's very small too (76x74x9mm to be exact), which is a bit strange as we can't imagine too many kids will get their hands on one of these. The Playdate's diminutive proportions mean we tend to hold ours from the bottom a bit like a crab, as it's too small to rest in your palms. The miniature size does mean the machine will easily fit in your pocket, though, which is really important to the Playdate's appeal. It feels more like a high-end toy than a fully-fledged portable console, and one you want near you whenever you feel like playing with it.
The matte plastic feels great and the outer shell is mostly smudge-proof. We do wonder if the paintwork might wear a bit with prolonged use, but right now ours still looks as good as the day we unboxed it. The corners are hard rather than rounded, very much the modern iPhone approach. It's definitely a good look, but the edges can dig into your hands a bit.
We've somehow got this far without even mentioning the Playdate's USP: its little crank controller. When you first pick the device up the crank is hidden within a groove on the right side if the device, into which it snaps magnetically. To use it, you pull at the bottom and flip it 180 degrees on its hinge. Hey presto, you have a crank. Like everything else about the Playdate, the crank is notably teeny, but doesn't feel worryingly delicate. As we'll get onto in a bit, not every game uses it, but many do, and it's a fun (there's that word again) way to interact with the device.
The crank can be used to navigate the system too, but that's not it for controls. You also get a far more traditional D-pad, and two buttons, A and B, all of which feel pleasingly clicky. The circular button at the top-right of the system can be pressed for quick access to volume, settings and the screenshot tool, and if you're playing a game it's your home button. Along the top you'll find the sleep button, which puts the Playdate into its default low-power standby mode when pressed, and can be double tapped to wake it up. We still haven't worked out how to fully power it down, if that's even possible.
For charging and connecting the Playdate to a computer (more on that later) there's a USB-C port at the bottom of the device, with a headphone jack next to that. The Playdate also has Bluetooth, but it's not quite ready to use.
Screen and sound: A black-and-white situation
The Playdate might be a brand new handheld, but you'll be playing games on a display with decidedly retro appeal. The very rectangular 2.7in 1-bit screen is black and white with a 400×240 resolution. None of the games will require much processing grunt to run, but they all look super sharp on the small display.
Colourless was definitely the right choice for the machine, but more controversial was Panic's decision not to make the Playdate's display backlit. Play in decent light or outside (the Playdate was a particularly nice companion over a sunny Easter weekend) and you'll have no issues at all, as the super reflective screen loves bright surroundings, but in darker conditions it can be quite hard to see what's going on.
We've also noticed that angling the Playdate out a bit when you're looking down at it makes the display easier to see, but this feels unnatural, and it meant that we were less keen to pick up the device in the evening. Panic has said that it experimented with a backlight and wasn't happy with the results, which is fine, but there were more than a few times when we wished the Playdate had one. Luckily, its absence is only good news for battery life.
We should add that playing games on the system itself isn't actually the only way to play Playdate games. Plug the included USB-C to USB-A cable into your computer and after installing some software called Playdate Mirror you can mirror the screen. Not only does this allow you to play games on a bigger display not affected by light conditions, but you can even connect a traditional controller. We didn't experience any serious lag when we tried out the feature and it works just as advertised, even in beta. But while screen mirroring is definitely a nice-to-have, we think something is lost when you abandon the screen these games were intended for.
As for the built-in mono speaker, it's obviously diddy, but you'll be surprised at how loud it can go, and thanks to some of the games you'll hear some wonderfully silly noises come out of it. The best thing we can say about the Playdate's sound is that we were never really tempted to plug in headphones beyond doing so for review purposes.
Games: Special delivery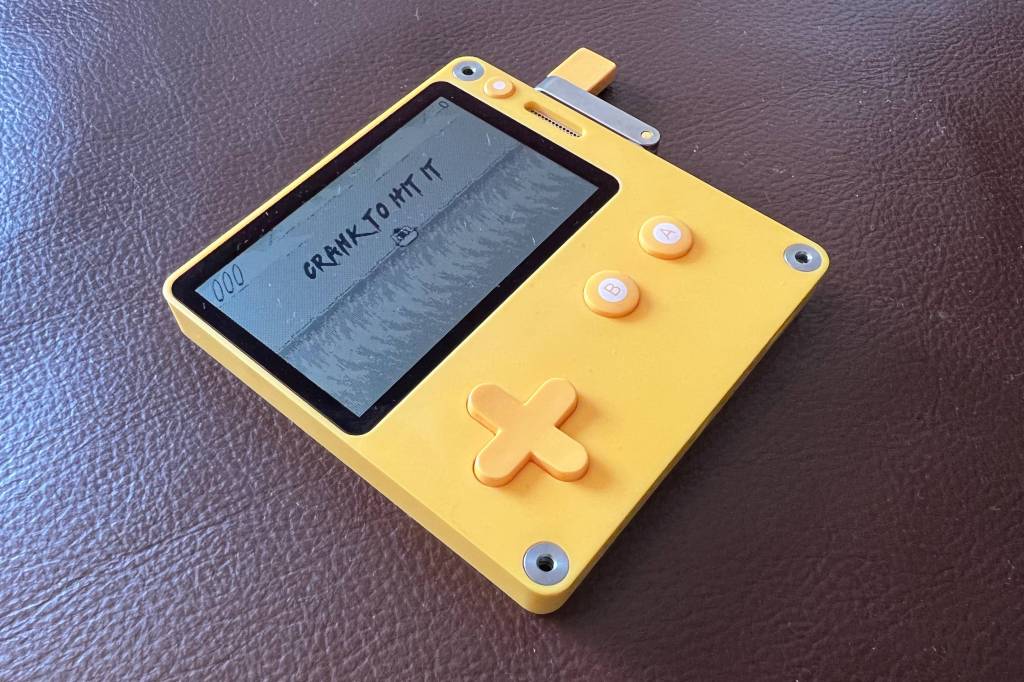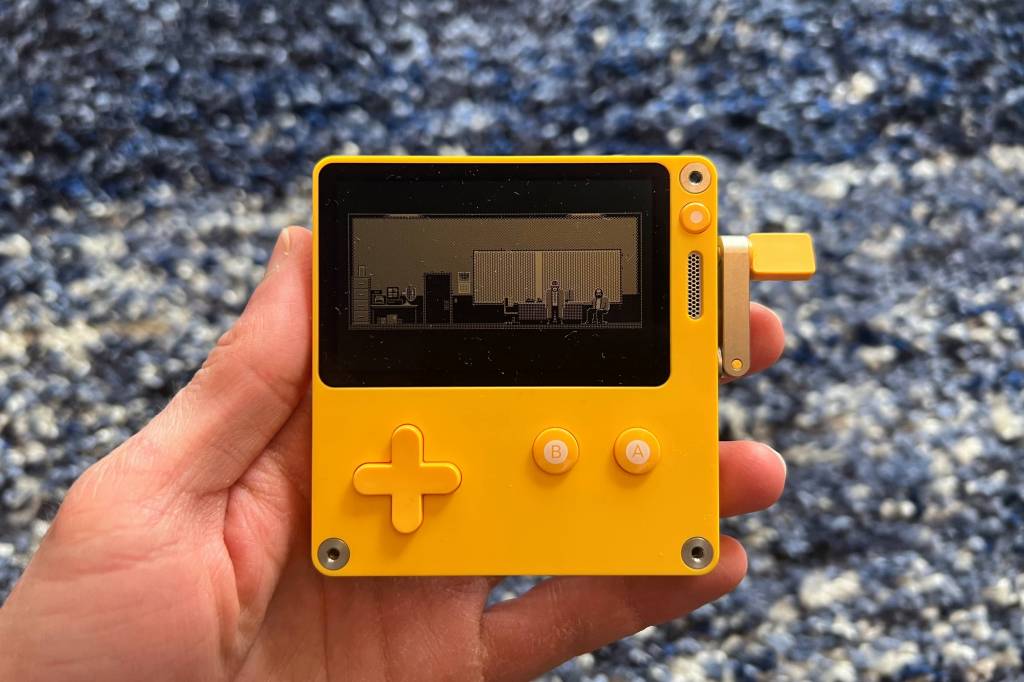 Your dinky handheld console can be as yellow and crank-toting as you like, but if it doesn't have the games then it's destined for the drawer. The Playdate certainly has games, but just getting them onto the machine is its own story. While the device might look like an old-school handheld, there's no cartridge slot. The Playdate is entirely digital, and rather than picking up games from an online store, you receive all 24 automatically. But not straight away.
Panic is calling its game rollout Season One. You receive the first two games once you've set up the system, then two more each week for 12 weeks. When new games arrive you'll see a blinking light at the top of the device, the software itself concealed within digital presents which unwrap in a nice little animation to reveal the cover art. Once again, fun.
We really like this idea, as it means you'll be able to give each title the same amount of attention, and if one week's games aren't really doing it for you, then fine, you know that two more will arrive next week. As part of the accelerated press review programme, we were getting two games every 24 hours, and it did take away some of the excitement from a new drop.
To the games themselves. As we've said, there are 24 of them in the first season, varying wildly in length and depth and spanning loads of different genres. Some use the crank, some don't, several are kind of brilliant and others you'll likely play for a few minutes and then never touch again. One of them is basically Snake.
And we think all of this is totally fine. While it looks a bit like a Game Boy, the Playdate is actually best thought of as a new age Nintendo Game & Watch, something you'll pick up for five minutes here and there when you're feeling fidgety. It's weird and sometimes awkward, but if it's on your desk or in your shirt pocket, you'll find it hard to resist.
Discovering the games for yourself is all part of the fun, so to reveal too much about any of them would spoil the experience. And because new games were arriving so quickly during the review process, we weren't able to give them all equal attention. But there are some obvious standouts. Skip to the next section if you'd rather have 24 total surprises when your Playdate shows up.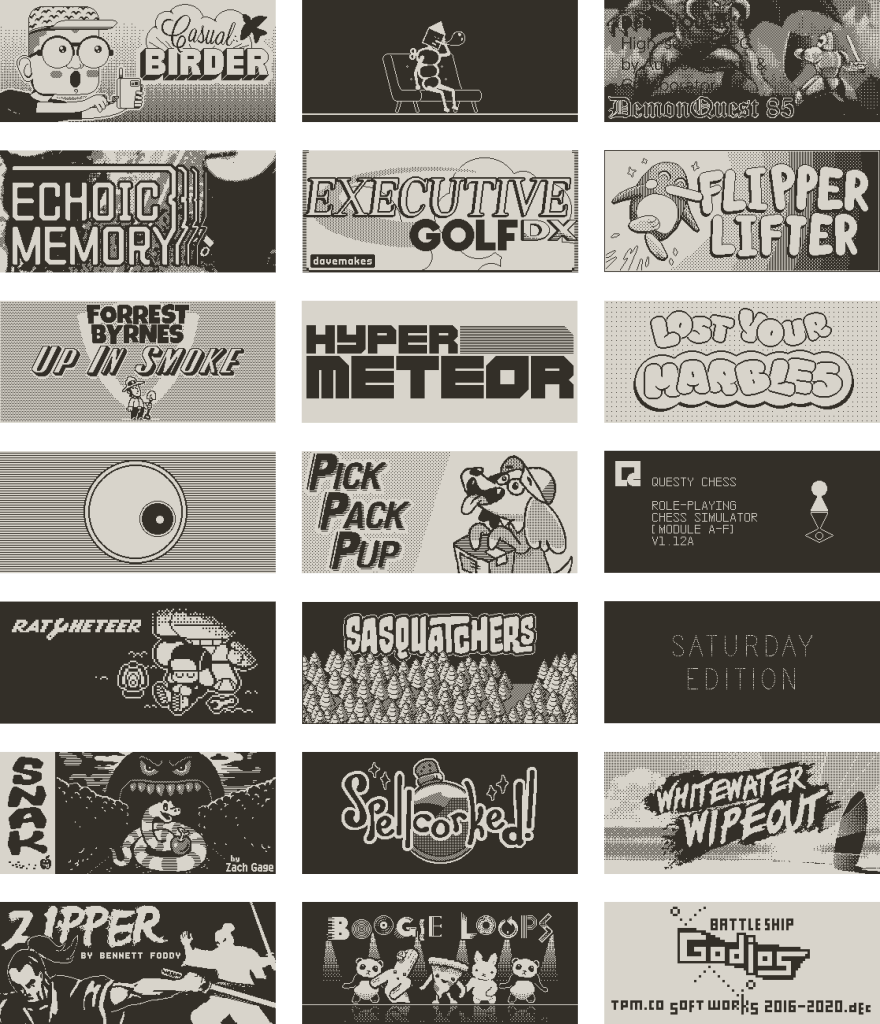 Whitewater Wipeout was one of the first games to arrive on our system. It's a very simple 2D surfing game in which you use the crank to control your surfer on the wave and attempt tricks to rack up your score. The sensitivity of the crank makes the game maddeningly difficult, but like the best smartphone games it has that one-more-go moreishness that keeps us coming back.
At the other end of the spectrum, Saturday Edition is a slow-burn adventure game that doesn't use the crank at all. You play a security technician named John Cornfield who quickly finds himself at the heart of a mystery involving a series of unexplained disappearances. The game has you exploring a moody grayscale city, doing little more than interacting with objects and chatting to characters you meet along the way. With lots of text to read it really shouldn't work on such a tiny display, but Saturday Edition is surprisingly atmospheric and compelling in short bursts.
If the Playdate has a system-seller, it's probably Crankin's Time Travel Adventure, from Katamari Damacy creator Keita Takhashi. It's a comedy puzzle game in which you play the titular Crankin, whose fondness for naps means he keeps turning up late for dates. Rather than the hapless love-seeker himself, the crank controls the timeline of Crankin's life, future and past, as he negotiates flowers, bugs and, at one point, a herd of pigs, in his attempt to finally arrive on time. The game is every bit as strange as it sounds (and it sounds fantastic too), but the time manipulation mechanic makes perfect sense with the winding crank, even if at times it gets so fast that you begin to worry about snapping the thing off.
Other highlights include Omaze, another crank-centric puzzler that has you moving a little circle between larger circles with increasing difficulty; Zipper, an isometric tactical combat game in which you guide a lightning-quick swordsman across a grid, striking down enemies in a single hit but able to be killed with one slash himself; and Spellcorked, a laid back crafting game game where you play as a newly qualified witch who earns a living mixing up potions and coffee to order. There's a nice vibe to this one, and it's one of the few Playdate games that uses its accelerometer (because any handheld gadget in 2022 needs one of them).
Not every game in the lineup held our attention, but even some of the less engaging titles use the crank in interesting ways. And while the less-than-ideal ergonomics of the console meant we were drawn more to the arcadey Playdate experiences than something we had to hunch over and immerse ourselves in, having such an eclectic library of games makes for a better system.
You're not limited to the 24 free Season One games either. Developers will be able to make and distribute new Playdate-exclusive titles that can be sideloaded onto the system via USB, and there's even a browser-based tool called Pulp that you can use to make your own Playdate games. We haven't spent much time with this yet, but it'll be fun to see what would-be game designers come up with now Panic is shipping Playdates into the wild.
Performance and battery life: Orange juice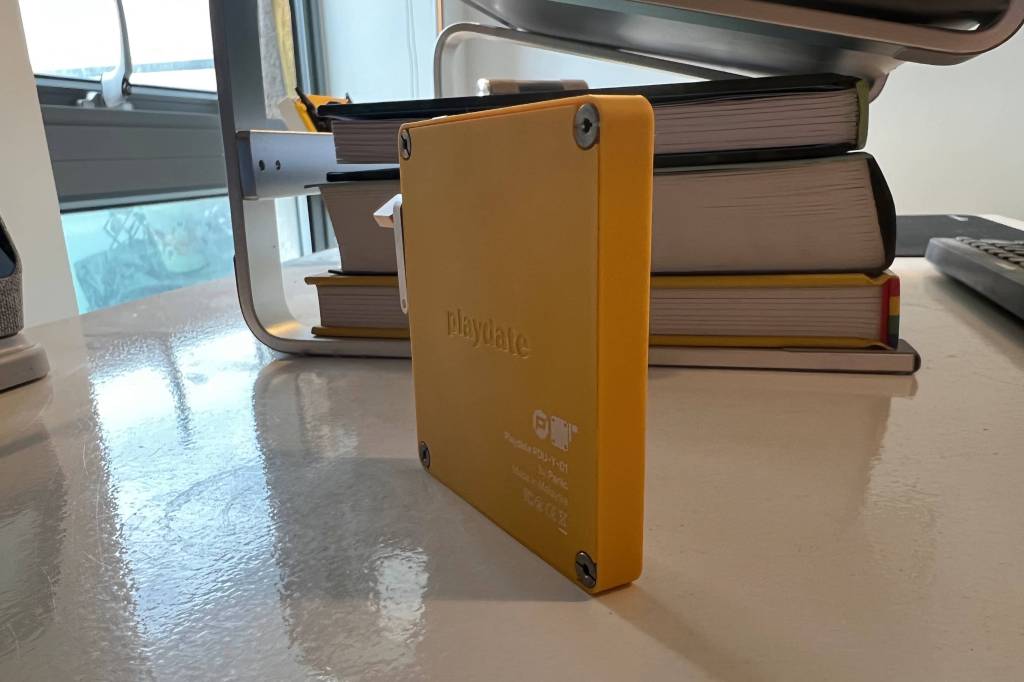 The Playdate is a deliberately streamlined device that you're never asking too much of, but we were nonetheless quite impressed by how zippy its processor is. Hopping into and between games is fast enough, and we can't remember the system crashing on us more than a couple of times, which hopefully won't be an issue at all after a few software updates roll out.
Battery life is rated at eight hours of active use, and 14 using the standby mode clock. Our experience was pretty consistent with that. Initially we hunted around for a full shutdown mode to preserve juice as much as possible, but it quickly became clear that the clock wasn't gulping down much at all down. The lack of a backlight massively helps with battery life too, and after spending a lot of time with the Steam Deck in recent months it was nice to pick up a handheld and be confident it would actually turn on.
If anything, those picking up a Playdate of their own will actually experience even better battery life. As we were delivered games at an accelerated rate there was more going on in the background than there will be for people on the weekly delivery plan.
Playdate verdict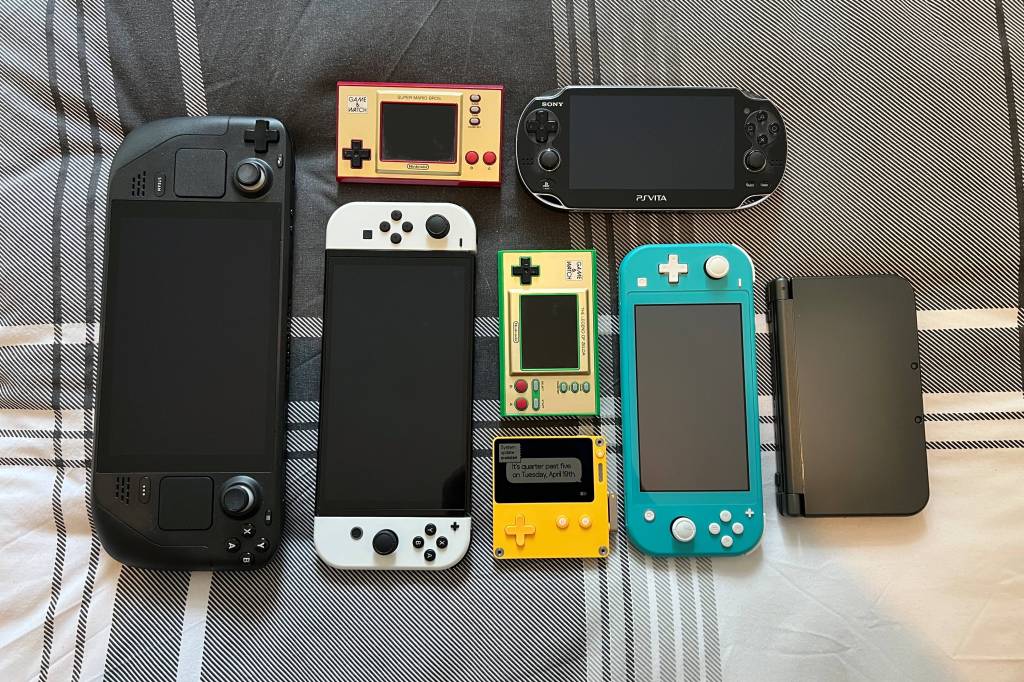 The Playdate probably isn't going to become a part of your daily life in the same way the Nintendo Switch or Steam Deck are, but it isn't supposed to. This is an unapologetically niche gadget for indie game enthusiasts, handheld collectors and people who just want to support companies that approach technology a bit differently.
There are some ingenious little curios in the Season One lineup, and we're pretty confident that everyone will find at least one that they love. Should every future controller from now on have a crank? Probably not, but we certainly can't imagine a Playdate without one.
Those who were quick enough to secure a pre-order should be prepared for some sometimes annoying design quirks. The Playdate is undoubtedly a gorgeous handheld, but it isn't the easiest thing to hold, and the lack of a backlight is really quite annoying if you want to play games in bed at night.
Still, this is easily one of the most enjoyable gadgets we've been fortunate enough to test for ages, and in the age of 4K HDR, 120fps frame rates and ray tracing, it's nice to know that there's still a place in the world for gaming on a 1-bit black and white screen.
Stuff Says…
A handheld like none other that manages to feel both old-fashioned and completely new
Good Stuff
Beautifully designed
Decent battery life
Fun, unique game library
It has a crank
Bad Stuff
No backlight
A bit too small to be comfortable in the hands
Most people won't be able to own one this year
A few pretty forgettable games
Tech specs
| | |
| --- | --- |
| Display | |
| CPU | |
| Storage | |
| Wireless | |
| Sound | |
| Dimensions | |
| | |
| | |
| --- | --- |
| 2.7in 400×240 1-bit | |
| 180 MHz Cortex M7 | |
| 16MB RAM 4GB Flash | |
| Wi-Fi and Bluetooth | |
| Built-in Mono speaker | |
| 76x74x9mm | |
| | |