Philips 901F OLED TV with ambilight hands-on review
Light up your life with ambilight and OLED, together at last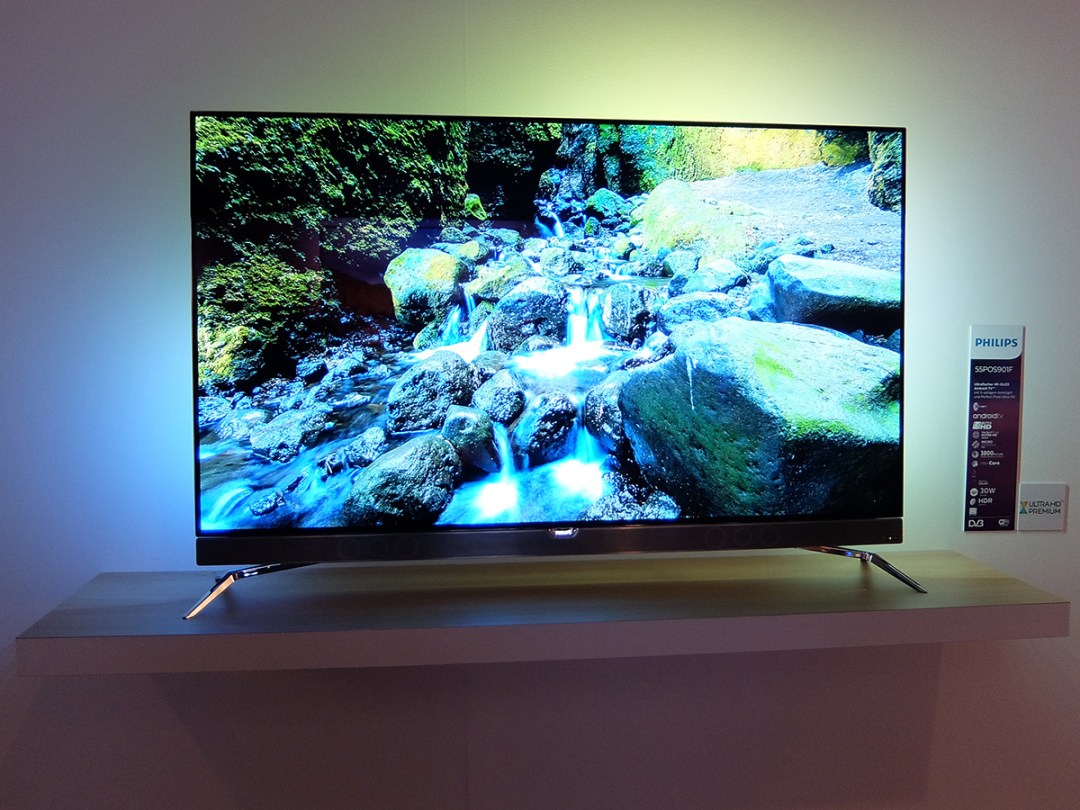 The 55901F should be a telly addict's dream.
It takes OLED, the TV tech du jour, and Philips' signature Ambilight illumination, then smashes them together in a beautiful 4K combination that you'll struggle to tear your eyes away from once you see one in the flesh.
Philips has been working on OLED TVs for years, but this is the first one that actually looks like you'll be able to bet into your house. It's got a proper model number and everything, look!
I just got the chance to bathe in the glow of its individually illuminated pixels (and that brilliant Ambilight backlighting), and I can confirm – it's shaping up to be an absolute belter.
SKINNY GENES
Philips has been gradually shaving down the screen bezels on its TVs for a while now, but this ultra-slim OLED set might be the thinnest yet.
Those tiny black bars are only a few millimetres thick around the edge, and it's the same around the back – even the Ambilight LEDs don't really add to the bulk.
It does bulge out a bit at the bottom, but only to make room for the inputs – which are all stealthily hidden behind a covered panel. There's the usual selection of 4K-ready HDMIs, so you'll be able to hook up a UHD Blu-ray player or Xbox One S for some high-resolution entertainment.
Android TV comes as part of the parcel too, so you'll be able to stream on-demand video from all the usual suspects like Netflix and Amazon. HDR playback is on the way too, but it should handle 4K streaming right now.
LIGHT ME UP
It doesn't really matter what you put on it, though. That OLED panel could probably make anything look gorgeous. Philips' demo footage looked gloriously bright and colourful, with the deep, inky blacks I'd expect from OLED tech.
I haven't seen standard def, or even 1080p footage yet – we're talking pure 4K, in SDR and HDR. There's no Dolby Vision on-board, but a 540nit peak brightness is still enough to give HDR10 footage a real edge over any SDR version.
The Ambilight effects really add to the experience, too – even more so than on an LCD TV. The colourful hues really compliment the bright shades of red, blue and green splashed over the OLED screen, and they change colours just as quickly as any other Ambilight set I've seen.
SOUNDS LIKE A PLAN
The 901F has some impressive audio chops to match its display, with fix front-firing speakers built into a mini soundbar underneath the TV. It's good for 30w of 6.1 channel audio, which sounds incredibly clear because they face you, rather than the floor or the ceiling.
The thin profile and silver metal grilles don't draw your attention away from the screen, but match the skinny legs of the V stand perfectly. This isn't going to be a cheap TV, but it has the premium looks to match (what I expect) will be a premium price.
I haven't had a look at the remote control yet, but if it's anything like last year's top-end TVs, you can expect a full QWERTY keyboard on the back for breezing through Android TV. Probably won't be as sleek as the TV itself, though.
PHILIPS 55901F INITIAL VERDICT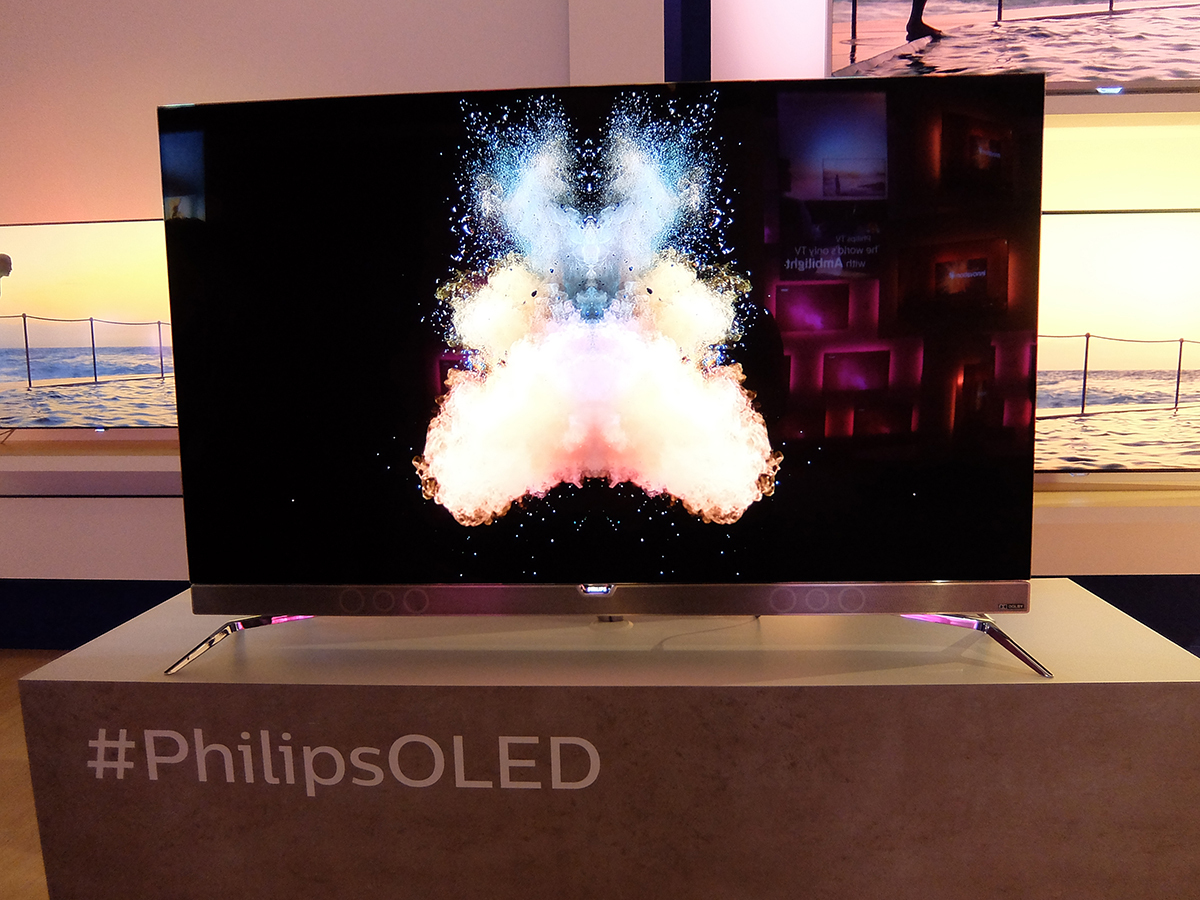 OLED TVs have the most vivid colours and deepest blacks of any telly out there, which pretty much makes it the ultimate TV tech. It's great to see Philips with an OLED of its own, even if it's taken a few years longer than the likes of LG.
From what I've seen so far, this is a top-notch TV with the design and sound to back up the tech running the panel. Android TV might still be a bit of a work in progress, but if you can pipe in a UHD signal, it'll look a million dollars on one of these sets.
Speaking of cash, there's no word on a UK price just yet. With a European RRP set at €3500, you can bet it's going to be expensive when it crosses over to Blighty later this year.
Still, if you've been longing for an OLED, but insist on Ambilight as well, this looks like it could be the best of both worlds.