Philips 55PUS7502 TV review
Could this be the TV to light up your living room?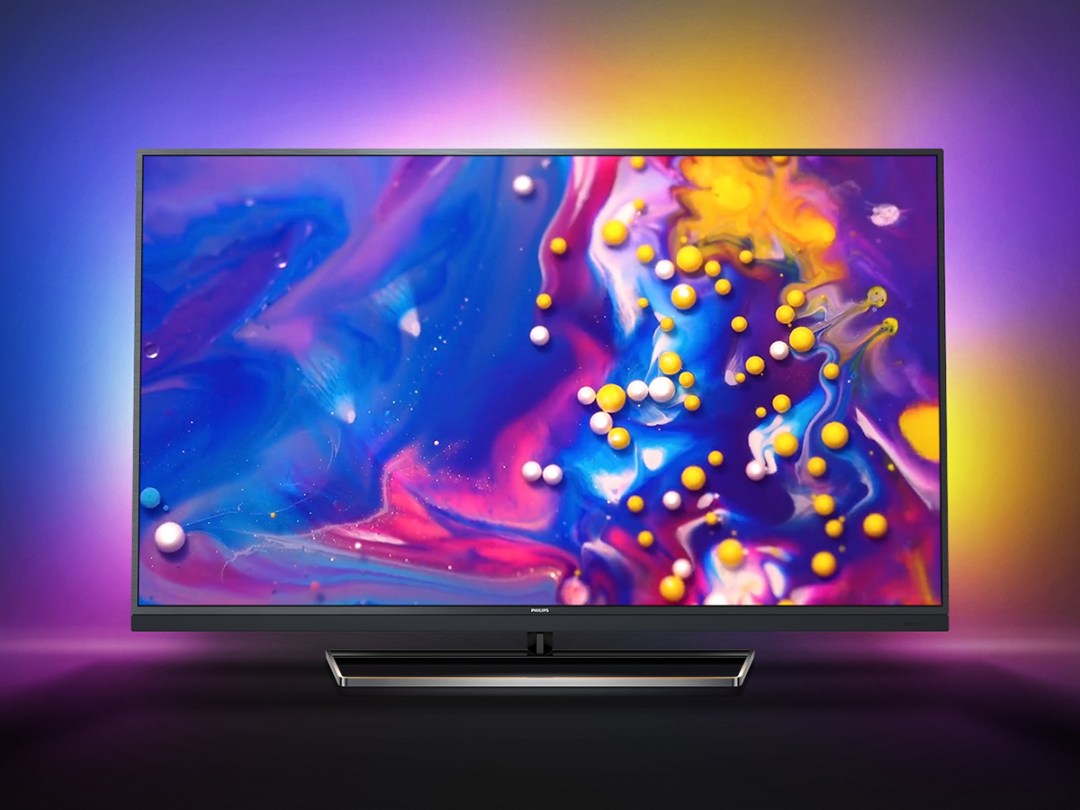 The telly world might be going gaga over OLED right now, but even with some tasty new year bargains, the TV tech du jour is still seriously expensive.
So how about you pick up something more affordable, but equally eye-catching – namely one of Philips' Ambilight TVs?
The 7502 is as good as it gets from Philips, at least in terms of LCD screens. The 55-incher has three-sided Ambilight illumination, HDR support and Android TV smarts. A built-in soundbar should give it superior sonics, too.
We've been putting one to the test for the past month to see whether it deserves a spot in your home cinema setup.
DESIGN & BUILD
Subtle and streamlined – this has long been Philips' approach to TV design, and the 7502 is no exception. A skinny silver bezel runs around all four sides of the screen, with an equally slim soundbar sat underneath.
The silver metal stand stays on the minimal side, too, with a small footprint that doesn't demand a massive AV cabinet to stand on. It's pretty flexible, with left/right rotation – something that's increasingly hard to find on modern TVs. It does wobble a bit when you move the screen, though.
Of course, the real attention-grabber is on the back, with rows of colour-changing LEDs lining the top and sides of the screen. Ambilight matches the onscreen colours, illuminating the space behind your telly to give the impression of the pictures 'bleeding out' onto the wall. It's fantastic, and once you've had a TV with it, you'll never want to go back.
The LEDs are bright enough to add a subtle edge to your viewing during the day, but really come alive at night. The Blue Planet II episode on coral reefs was a constant explosion of colour,
CONNECTIVITY & SOUND QUALITY
The 7502 is well equipped with two HDMI 2.0 ports, plus another two HDMIs for your older, non-4K kit. A handful of USBs, TOSlink digital optical audio, component hookups (through adapters) and Ethernet complete the set. There's even a headphone port, another rarity on TVs from other manufacturers.
Unless you've got a serious surround sound system, though, you'll probably be happy with the 7502's audio abilities right out of the box. The built-in soundbar at the front delivers clear vocals, with surprisingly spacious sound stage.
A dedicated woofer at the back of the TV can even create a reasonable amount of bass. It's not going to rattle your furniture, but is does manage to add some much-needed low end frequencies to TV shows and music, without any noticeable distortion.
Compared to our rear-firing reference TV, the 7502 was both clearer and louder. It's a real step up for its price range.
SMART TV
Android TV has been the go-to set of smarts for Philips TVs for a few years, and that's still true here – albeit with some throwbacks to the old, in-house system still lurking in the menus.
It's easily one of the best implementations of Google's TV OS around, feeling much quicker and more responsive than any of Sony's current TVs. It still has a ways to go to catch up with LG's WebOS or Samsung's colourful Tizen UI, and isn't immune from the odd crash, but at least updates are doing their bit to keep the interface clean.
The bigger problem is a lack of apps – although it's tough to blame Philips for this one. Google's open ecosystem should have made it a piece of cake, but ITV, Channel 4 and Channel 5 are all dragging their feet with Android TV versions of their catch-up services.
Netflix is on board for 4K, HDR streaming, and the BBC will let you watch Blue Planet II in stunning hybrid log gamma, but that's pretty much it. There's still no Amazon Prime video, either. A streaming stick like the Roku Streaming Stick+ is a sensible addition – not something you'd expect after dropping a grand on a brand new telly.
The bundled remote control is a big improvement over last year's models, with a clearer layout and larger buttons that make getting round the Android UI a breeze. There's no built-in microphone, though, so any searches have to be tapped in manually using the full QWERTY keyboard on the back.
PICTURE QUALITY & HDR
Easy access to apps are nice and all, but what really matters about a TV is image quality. The 7502 can put in a decent performance – but only if you dig into the menus first.
Out of the box, the "Standard" picture preset has uneven colours, with oversaturated reds and harsh greens. Switch into the "Movie" pre-set and things improve dramatically, with more realistic hues and greater contrast.
4K video streams look sharp and detailed, and the image processor does a great job at upscaling 1080p footage to the screen's native resolution. Standard def TV broadcasts still look unavoidably soft, but the end result is watchable. Just about.
Motion can be an issue, though, with the standard mode not looking entirely natural and Philips' motion processing introducing artefacts to fast-moving scenes. Turning it off entirely might add some judder, but it also gives a more realistic image.
You'd expect HDR content to be a massive leap up from standard 4K, but it's here the 7502 shows its weakness. Colour saturation might see a noticeable step up, but images just can't get super bright. That lack of peak luminance puts it behind similarly priced TVs from Samsung and Sony.
Viewing angles are also a limitation, with the IPS panel showing noticeable variance in backlight brightness depending on which angle you're watching at. Anything but a straight-on view will impact the picture, making blacks look more blueish-grey.
Overall, then, image quality is respectable for the money, but it doesn't do any one thing better than the competition – unless you like Ambilight LED light shows, anyway. When you're spending £1000, it's not unfair to expect slightly better HDR performance.
PHILIPS 55PUS7502 VERDICT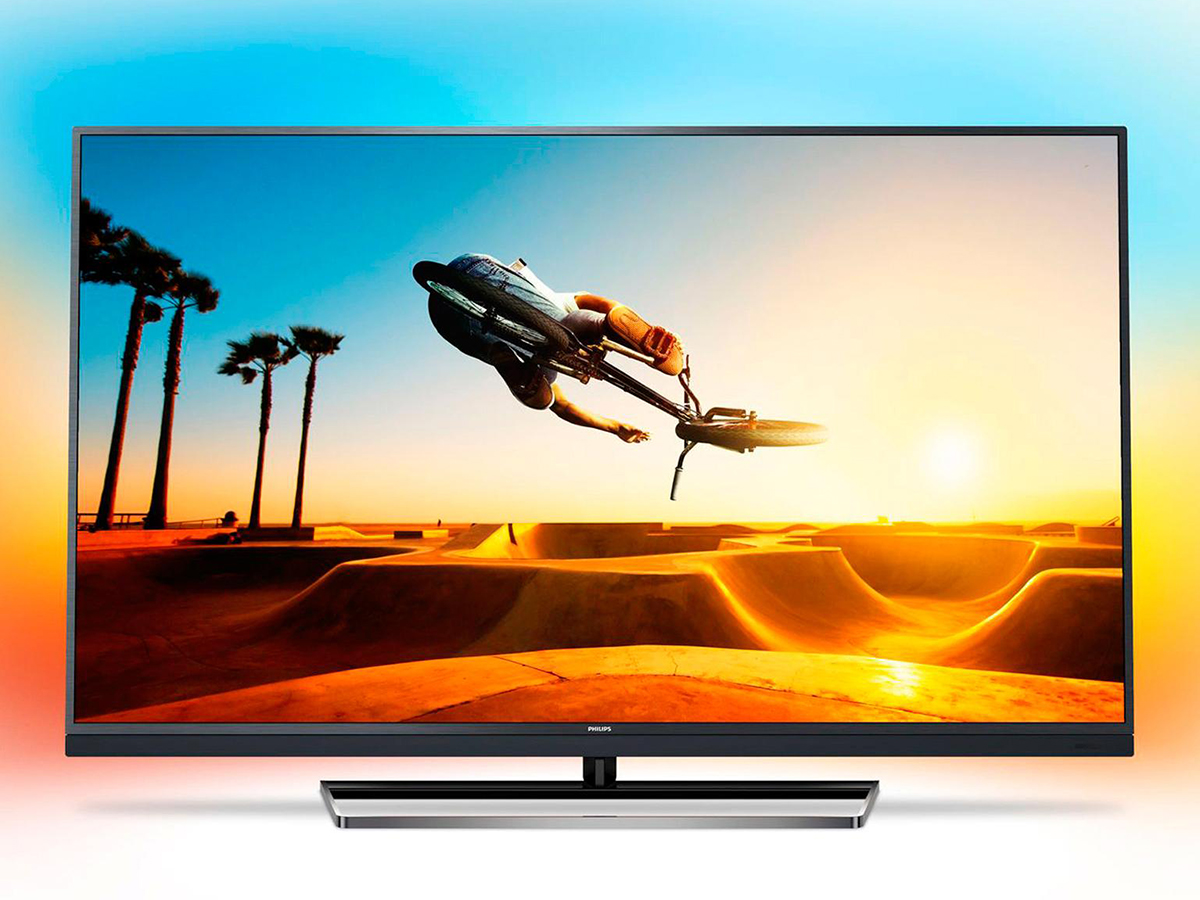 The 7502 is a decent sub-£1000 TV, with snappy Android TV smarts and that always eye-catching Ambilight. The uprated audio makes a real difference if you don't have a dedicated speaker system, too.
Colour accuracy is very good, but without any kind of local dimming, only average contrast, and an IPS panel, picture quality still falls down in a few areas – most notably HDR.
It's a whopping £800 less than the 9002 OLED, but with no premium Philips model currently on sale in the UK (that we could find, anyway) there are plenty of models for only slightly more cash that handle HDR far better.
So unless you're dead set on Ambilight and the 9002 is simply out of your reach, Samsung's UE55MU8000 or Sony's slightly smaller KD49XE9005 might be better buys.
Tech specs
| | |
| --- | --- |
| SCREEN | 55in, 3840×2160 IPS |
| HDR SUPPORT | Yes, HDR10 and HLG |
| SMART TV | Yes, Android TV 6.0 |
| CONNECTIVITY | 2x HDMI 2.0a, 2x HDMI 1.4, 2x USB, Ethernet, TOSlink, component, CI slot, 3.5mm headphone port |
Stuff Says…
Ambilight is still the star for Philips, but true cinephiles may want to look elsewhere for higher quality HDR
Good Stuff
Ambilight is fantastic, as always
Speedy Android TV interface
Sound better than most £1K TVs
Bad Stuff
Contrast and HDR only average
Smart TV system still prone to crashes