Philips 48OLED+935 4K HDR OLED review
TV nirvana, in other words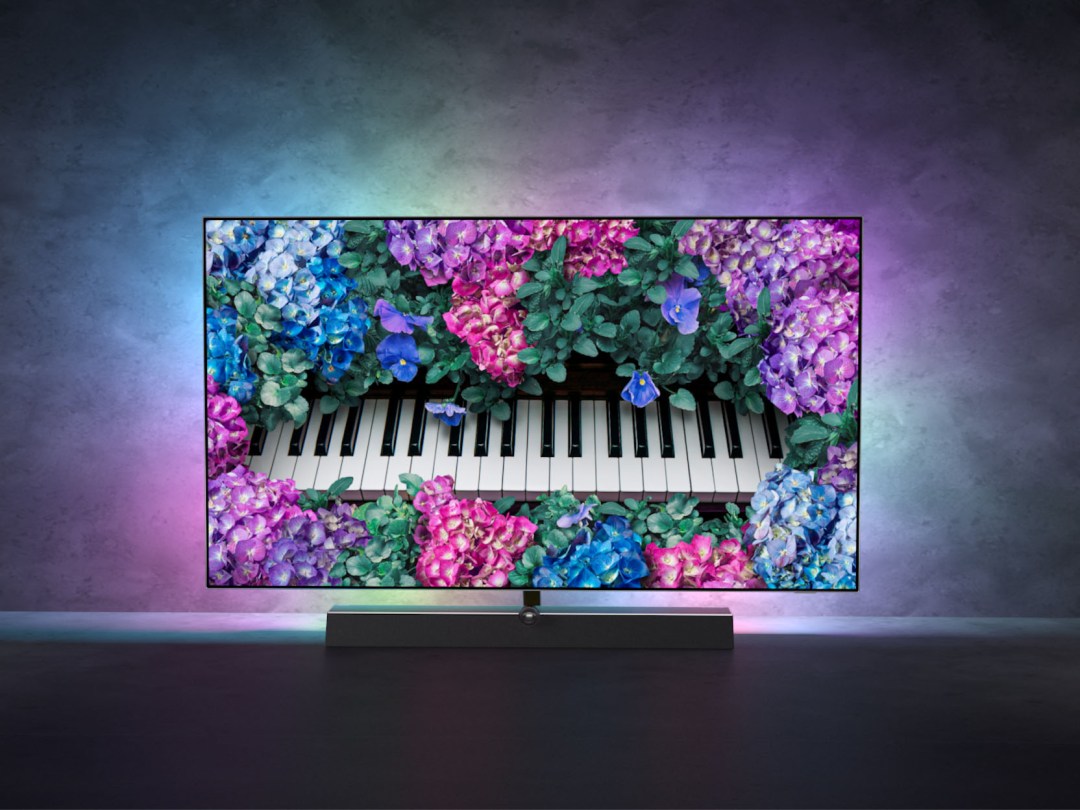 If you want a nice new shiny OLED TV, but you don't want it to a) be massive and b) sound rotten, especially when you compare the quality of its sound to the quality of its pictures, you've been bang out of luck. Until now, that is.
Philips has stridden in where other TV brands apparently couldn't be bothered to tread, and the result is the OLED+935. Oh, you can have a massive version if you want: the OLED+935 is available in both 55in and 65in screen sizes. But it's also yours in a relatively titchy 48in version if you fancy – which is a much more realistic screen size for plenty of people. And regardless of the size you choose, the OLED+935 features an off-board (yet integrated) speaker array designed and specified by loudspeaker guru Bowers & Wilkins.
So suddenly, you're covered. A small-ish OLED TV with sound quality to match the picture quality. Well, that's the theory anyway.
Design and build: Deep and meaningful
Like any worthwhile new TV, the OLED+935 looks ideal from the dead-ahead – basically, it's all screen. There's a staggeringly brief bezel holding it in place, of course, but it's so narrow it may as well not be there at all once you're sitting an appropriate distance away.
Viewed from the side, the Philips is as mildly disappointing as every other OLED TV you ever saw. OLED promises otherworldly slimness, doesn't it? And it's true, in some places OLED TVs are so slim it almost seems unfeasible – but then they all have to keep their inputs and outputs, their electronics and what-have-you somewhere. And that 'somewhere' generally turns out to be a bulge or an extrusion on the rear panel of the screen, which pretty much ruins the whole 'super-slim' vibe. And that's the case here: in places, the OLED+935 is tremendously slim – but in practice, it's 47mm deep. Which is, to be fair, hardly a catastrophe.
The bespoke Bowers & Wilkins soundbar also functions as a stand, if you're not wall-mounting your new OLED+935. It attaches to the TV using a chunkily decorative bracket – and it, like the rest of the package, looks and feels solidly made and built to last. Unless you scour the bargain basement it's hard to find a new TV that isn't properly made these days – and the Philips OLED+935 is impressively built and flawlessly finished. For a product that's trying hard to be as minimal as possible, it certainly seems built to last.
Features: The gift of sound and vision
If the Philips OLED+935 isn't quite as svelte a TV as we'd all hoped, the fact that it is absolutely packed with features and functionality might go some way to explaining why.
From the top, then: this is a 4K HDR OLED TV. And, unlike the majority of its competitors, the Philips covers each and every HDR base, from broadcaster's favourite HLG to HDR10+ and Dolby Vision dynamic metadata. Some unlike equivalent screens from LG, Samsung or Sony, you'll never find yourself in a situation where the Philips isn't able to give you the full HDR-driven story.
There are four HDMI inputs, all ARC-enabled and all at HDCP2.3 standard. There are a couple of USB inputs too, aerial posts for the integrated terrestrial and satellite tuners, an Ethernet socket and a CI card slot. It covers wireless connectivity with Bluetooth 4.2 and dual-band wi-fi. There are digital optical, analogue 3.5mm outputs and a pre-out for a subwoofer. And, because this a Philips TV, the OLED+935 also features Ambilight – here, on all four sides.
(Briefly, for the uninitiated: Ambilight is a series of LEDs arranged on the rear of the chassis that beam light (coloured to mimic the on-screen tones) onto the surface the TV is standing in front of. It's meant to offer both a more immersive watch and suggest a screen that's considerably bigger than it actually is – and though it looks gimmick written down, it works an absolute treat. Genuinely unique selling points are thin on the ground where TVs are concerned, but Ambilight most definitely is one.)
The whole show is run by Philips' most recent picture-processing engine, the 4th generation P5. Here it's a dual-chip arrangement, and incorporates both AI and machine learning to assist with picture balance and upscaling accuracy. And it also offers protection against that OLED nemesis: screen-burn. The P5 engine is constantly on the hunt for static on-screen images, and having identified them will turn down their brightness in order to guard against image retention.
And then there's that speaker array. In a clean, relatively compact enclosure that's partially covered in the obligatory Kvadrat acoustic cloth, Bowers & Wilkins has positioned three forward-firing 19mm titanium-some tweeters (one in the 'tweeter on top' arrangement the company's so fond of) and four 50mm midrange drivers – they form the 'left/right/centre' channels. There's a rear-firing, vented 'racetrack' subwoofer (100 x 65mm) delivering low-end substance, and firing from the top of the soundbar are two more 50mm midrange drivers – they are intended to offer some Dolby Atmos-style 'elevation'. Using this nominal 3.1.2 arrangement, Philips and Bowers & Wilkins is attempting to make the OLED+935 a complete, self-contained audio/video solution.
That's a lot of features, sure. But there's no HDMI 2.1 compatibility here, which makes the OLED+935 a) no friend of next-gen gamers and b) deficient in an area where you might least have expected it.
Interface: Set up. And set up some more
The smart TV interface here is Android 9.0, which is your classic game of two halves. On the plus side, it's comprehensive (along with catch-up TV via Freeview Play, every service you could want is here – except Apple TV, naturally). On the downside, it occupies the whole screen, is slightly sluggish in responding and fancies itself altogether too much.
Navigation is via a very agreeable, beautifully finished (how many other TV remotes feature leather trim?) and mercifully logical remote control. And along with buttons that aren't too small and aren't too numerous, there's a mic for Google Assistant-powered voice control.
Philips has never been shy of making its set-up menus as long as a Russian novel, and you could easily grow old while investigating every one of the OLED+935's options. In truth it's not all that difficult or time-consuming to get the balance you want, but if you like to fiddle around the edges of your television's performance you can't go wrong here.
Performance: All of this and more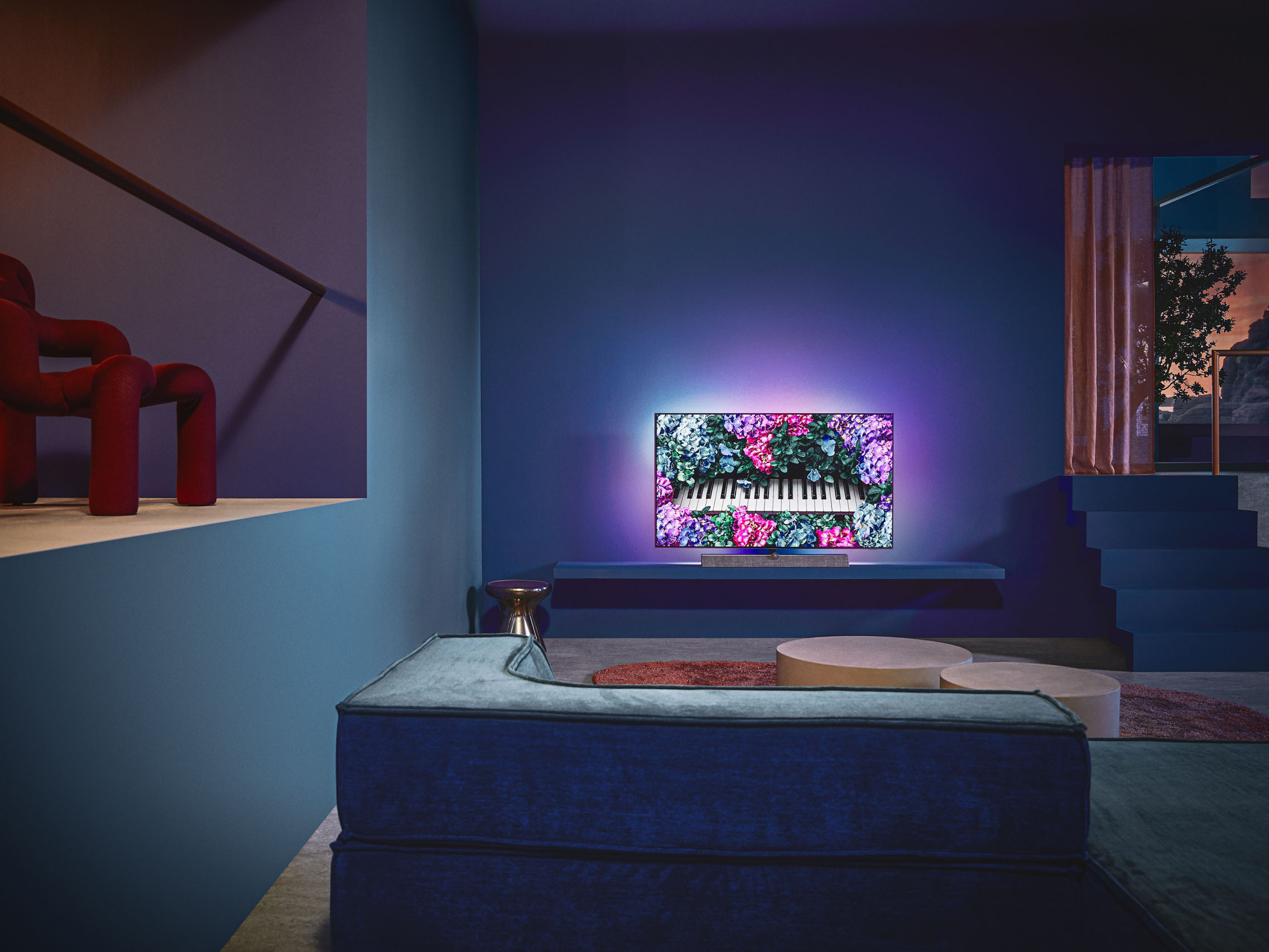 If your new TV can deal with both Dolby Vision and Dolby Atmos, then that's the place to start. And as far as a 4K Dolby Vision/Dolby Atmos stream of Ratched on Netflix goes, the Philips absolutely knocks it out of the park.
The colour palette is vibrant but never lurid, and the OLED+935 is capable of seemingly limitless subtlety of tone. Primaries are strong and assertive, but the nuances – whether they're the result of shadow, or texture, or a combination of factors – are described with just as much positivity.
This holds especially true where skin tones are concerned. The Philips has the ability to look deep into complexions and deliver the finest details, making faces look as natural and convincing as can be. And it does this without being in any way aggressive or forceful about it. And as a result, the OLED+935 is a confident, absorbing watch.
And while it's far from the brightest OLED TV around, white tones are kept so clean, and loaded with so much detail, that peak brightness (or the lack thereof) is hardly an issue. Combine these with those OLED-tastic deep black tones, which are equally varied and detailed, and the Philips is capable of wide and potent contrasts.
Detail levels are high, and for once with a Philips TV they're really well controlled – even a complex, intricate pattern is described securely, with no shimmering or dor-crawl. Edges are crisply defined, but not aggressively so – so there's no impression of layering that can afflict less capable TVs.
Spend enough time getting the balance just so, and motion is dealt with persuasively too. At its most testing – which is generally with broadcast sport, of any and all kinds – the Philips can betray exactly how hard it's working. But get into the depths of the set-up menus and its possible to strike a balance between smooth motion, strong edge-definition and high detail levels. TV nirvana, in other words.
As an upscaler, the OLED+945 is no less impressive – at least as far as 1080p, Full HD content goes. It's not as lavishly detailed or as boundlessly coloured as 4K stuff, naturally, but nevertheless it's a strong performer. Step down to the level of 4:3 content from the pre-flatscreen era and the Philips doesn't exactly throw in the towel – but you're left in no doubt as to just how much work needs doing to fill this huge pixel-count with information.
In terms of sound, it's probably easiest to say that there's no other TV on the market with an integrated audio system that sounds as wide, as accurate, as focused or as dynamic as this one. The world isn't short of soundbars with this sort of scale, that can fling effects as high as this or offer as much low-end grunt as this – but they're all pretty expensive, and none of them integrate with your TV as smoothly as this.
Bowers & Wilkins has done quite a job with its end of the OLED+935 package – the sound is tonally balanced, expansive, chunky, distinct and dynamic. It's difficult to know what else you could reasonably demand.
Philips 48OLED+935 4K HDR OLED verdict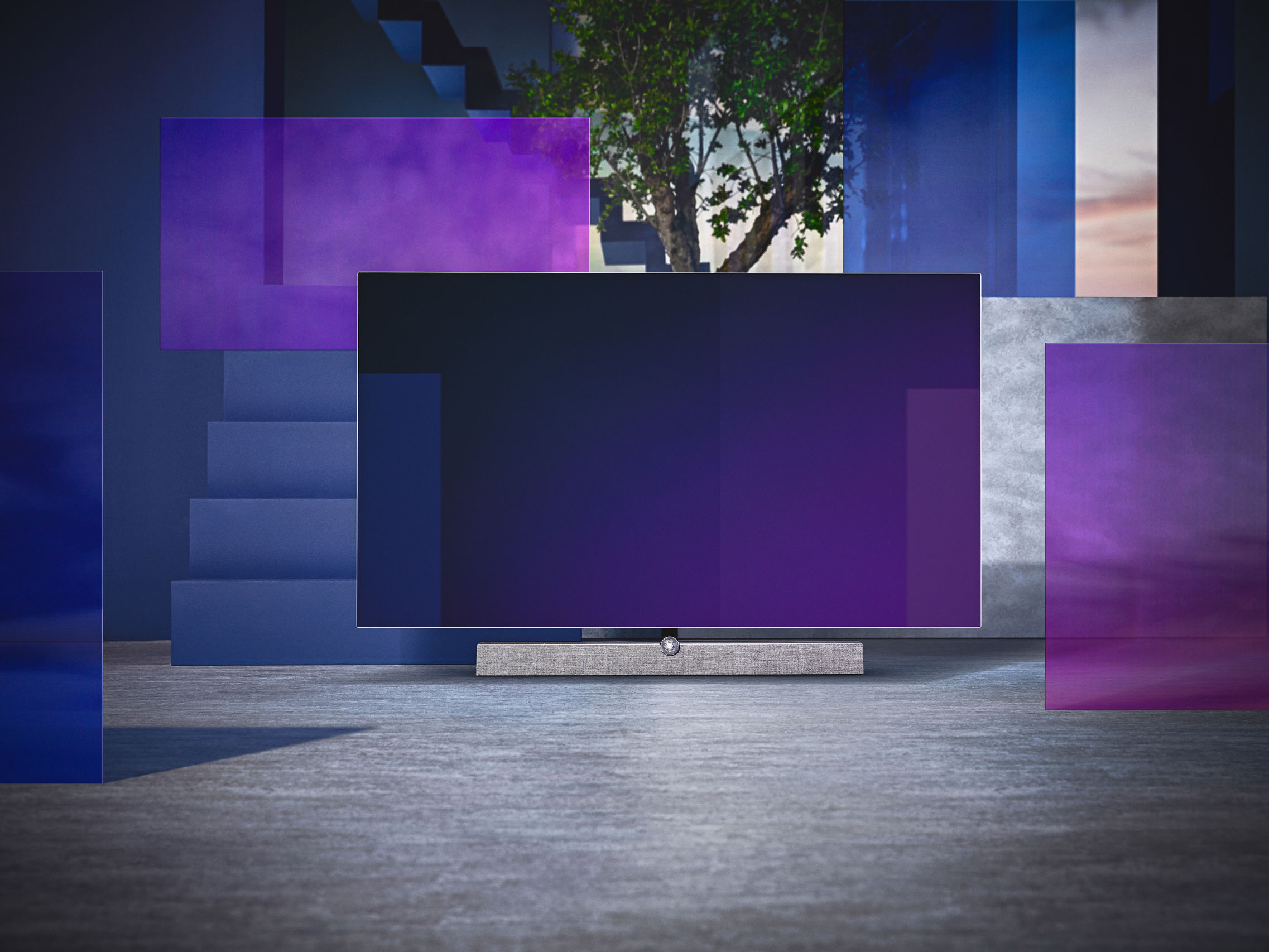 £1799 for a 48in TV is no one's idea of a bargain. But when you consider the level of audio/visual fidelity this money buys, the ingenuity of the packaging and the degree of convenience, it's hard to suggest the 48OLED+935 isn't worth every penny.
Stuff Says…
There are mild downsides to the OLED+935, but none of them involve the pictures it delivers or the sound it makes
Good Stuff
Lovely picture quality (with Ambilight for good measure)
Outstanding sound by the standards of integrated systems
Good looks and impressive design
Bad Stuff
No HDMI 2.1, so no next gen console goodies
Android TV is a pain in the neck
Not exactly cheap