Nvidia Shield TV review
Is this the ultimate media and gaming streamer?
Cylinders are criminally underrated. Fire, the wheel, and sliced bread hog all the attention, while the humble cylinder – which, let's not forget, keeps our Smarties and beer safe – rarely receives recognition or glory. Today, that changes.
We've spent the past few days with a rather special cylinder to see if it's worthy of marrying your TV. It doesn't contain beer or sweets, but it's packed with enough tech to promise a premium streaming experience.
Launching in tandem with the more expensive Shield TV Pro (which will be a familiar face to existing Shield owners), the tubular Shield TV is Nvidia's most affordable Android TV experience to date. But does it deliver? Let's find out.
Design: Neither seen nor heard
The silent, sturdy aluminium-clad Shield TV was designed to be completely invisible. While it won't give cloak-toting boy wizards a run for their money, its compact, unassuming form factor draws no attention whatsoever – unsurprising, given that Nvidia wants you to hide it behind or beneath your TV.
This is a stark contrast to previous iterations and its new Shield TV Pro sibling, which are angular, rectangular shards with glowing green accents – the sort of thing you'd find beneath a xenomorph's telly.
These design choices reflect the target audiences that Nvidia has in mind for both models. While both versions are streaming devices with gaming smarts, the Pro iteration is a little more powerful, with more connectivity options, and is therefore aiming to woo the hardcore gaming/tech crowd.
We love the Shield TV's no-nonsense design. Call us n00bs if you like, but the older we get, the more we seem to be drawn to the 'less is more' approach when it comes to design. There's a time and a place for flashy light strips and stealth bomber profiles, but having a simple tube that quietly gets the job done, is more than enough for us.
On the connectivity front, you'll find a single ethernet and power supply port on one end, while the other houses an HDMI port and microSD slot, if you want to expand the built-in 8GB storage. We should also note that there's no HDMI cable included in the box, which is a bit of a pain if you don't have a spare.
Remote: Meet the Tobleremote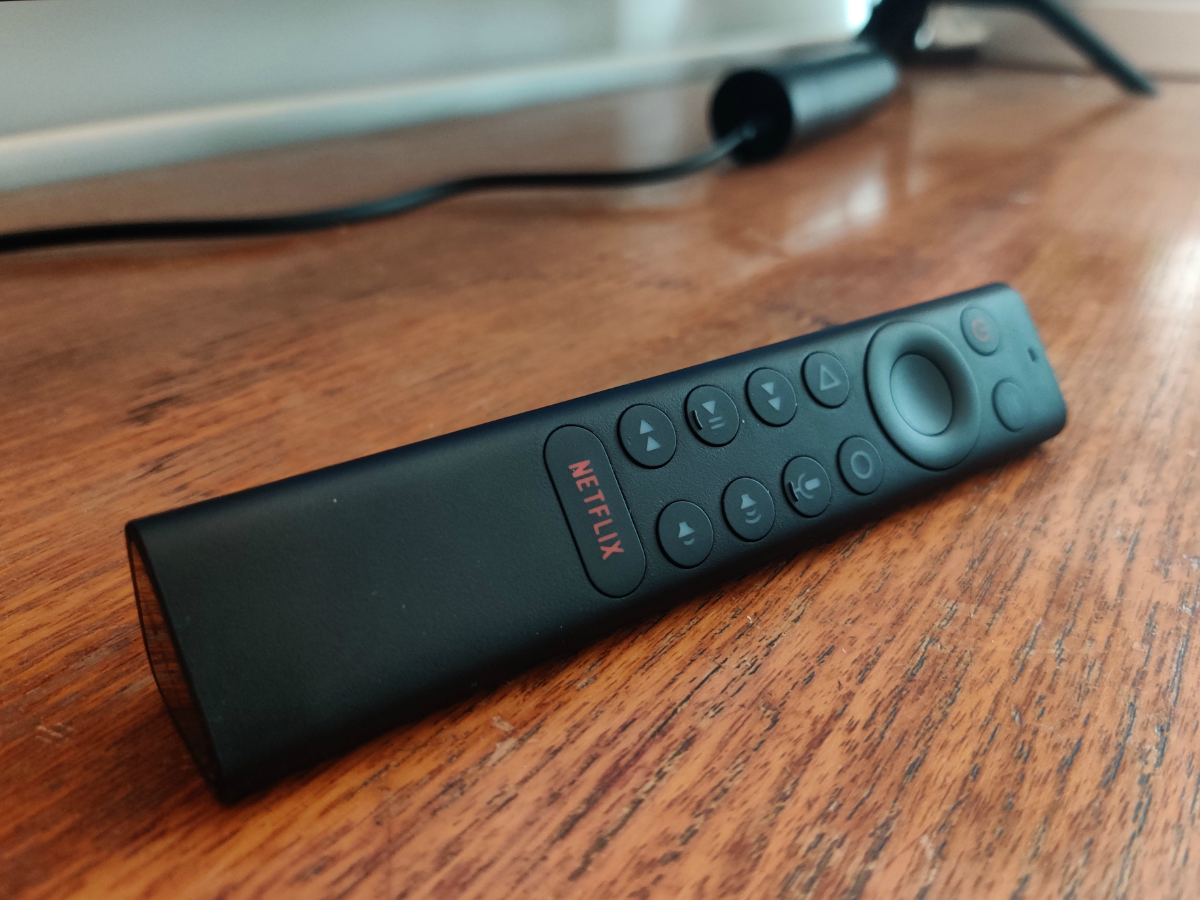 While the Shield TV itself blends in, its remote will definitely stand out among your collection of button-covered rectangles.
Its Toblerone – or triangular prism, if you want to get technical – shape is quirky, fun, and feels good in the hand. It features all the physical buttons you're likely to need, including volume buttons, which are more reliable than the touch controls from previous iterations. There's also a customisable button on the top right, which you can use to launch apps such as Prime Video, or execute other commands like turning on AI upscaling (more on that later). The remote's buttons also light up when you pick it up, which is a nice touch.
It doesn't have a rechargeable battery, which might irk some users, though Nvidia reckons you can get around six months on a pair of AAAs, which is more convenient than having to plug it in to charge more often.
What's more annoying is the removal of the 3.5mm headphone port. We were told that this was to avoid the inconvenience of cables or having to have the remote nearby, and while you can use Bluetooth headphones, it would have been nice to have the option to use a wired pair too.
On a more positive note, if it ever travels to the hidden abyss that all remotes tend to inexplicably visit every so often, you can use the Shield TV app to locate it, thanks to its built in speaker, which will emit a beeping cry for help.
As if that wasn't enough, the remote also has a built-in microphone which lets you call up the Google Assistant that also lives in the Shield. You can use the remote to launch apps, check the weather or, as long as you have sufficiently smart bulbs, even turn the lights off using nothing but your voice. You can also create custom Routines via the Google app on your phone. We set ours up to turn off the lights and fire up Netflix every time we say: "OK Google, procrastinate."
Visuals: Just one hiccup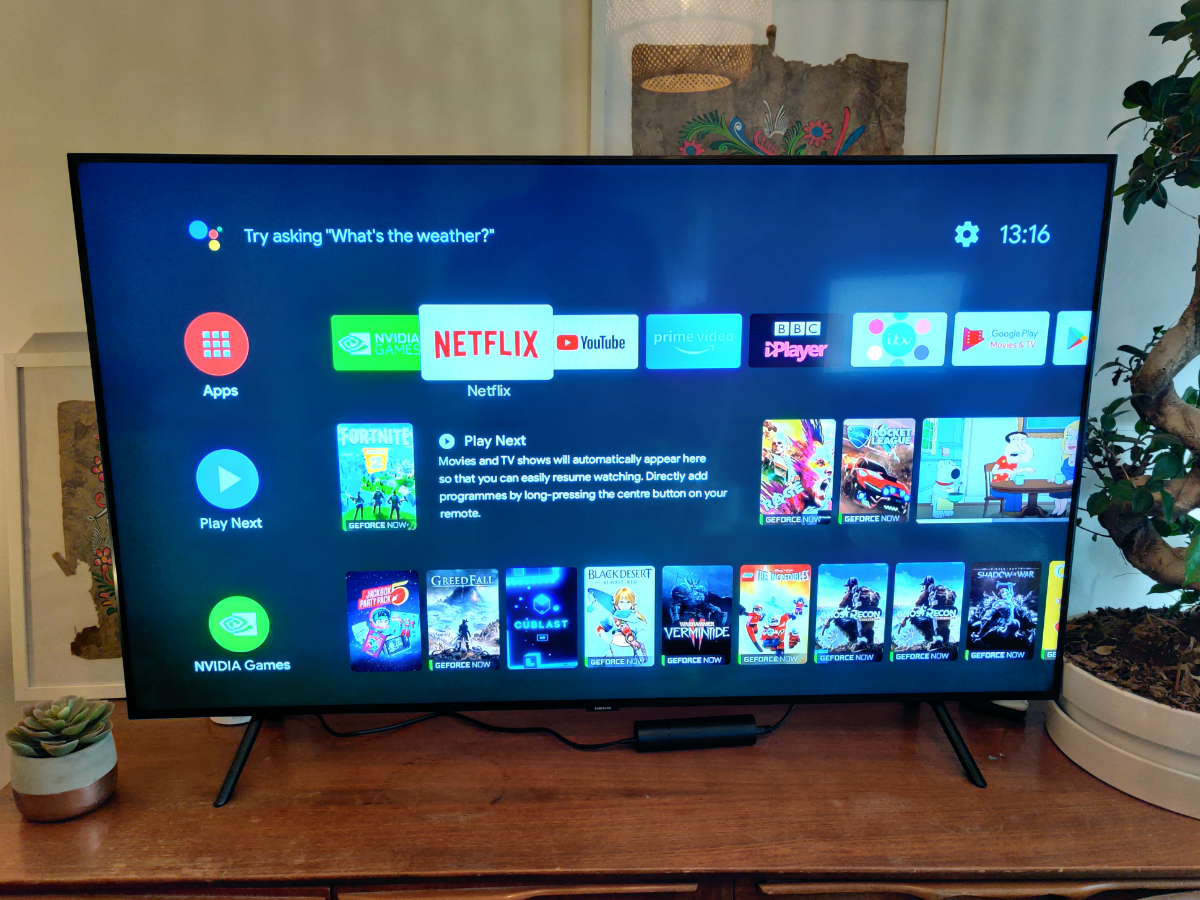 The Shield TV is powered by Android TV, in combination with Nvidia's beefy, improved Tegra X1+ processor and 2GB of RAM, which we're told should produce around 20% faster performance.
Android TV flies along, as you'd expect, and 4K streaming poses no problems either. The new Shields also support Dolby Vision and Dolby Atmos, which is a pretty big deal for those of you with swanky, feature-packed TVs and sound systems.
Without diving too far into the bottomless hole of AV standards, this means that if you have the right equipment, the Shield TV and its Pro brother will deliver some of the best audiovisual experiences around. Previous generations of the Shield lacked native support for Dolby Vision, and instead required a passthrough receiver to get the job done.
It's beyond the scope of this review to delve into the HDR10 vs Dolby Vision debate, but if you're rocking a TV that has HDR10 as opposed to Dolby Vision, you can rest assured that 4K HDR content on the Shield still looks incredible.
Watching huge waves crash against gargantuan icebergs in Sir David Attenborough's Our Planet on Netflix will almost make you feel the cold, and seeing glittering water droplets fly off the back of penguins as they breach the water's icy surface is an absolute joy to behold.
On the 4K streaming front, the Shield absolutely delivers, although we did come across one hiccup. When we tried to watch Attenborough's new Seven Worlds One Planet on BBC iPlayer, we were met with a blank screen, although we could still hear Sir David's soothing voice, which was a bit of a tease. Firing up iPlayer on our Samsung TV, however, posed no such problems.
After some digging, it turns out that the Shield currently doesn't support BBC's HGL standard (which is its version of broadcast HDR). There's no word on when we can expect to see this supported by the Shield, but for now you'll have to use another iPlayer app if you want to enjoy the BBC's 4K HDR content.
AI upscaling: a moment of clarity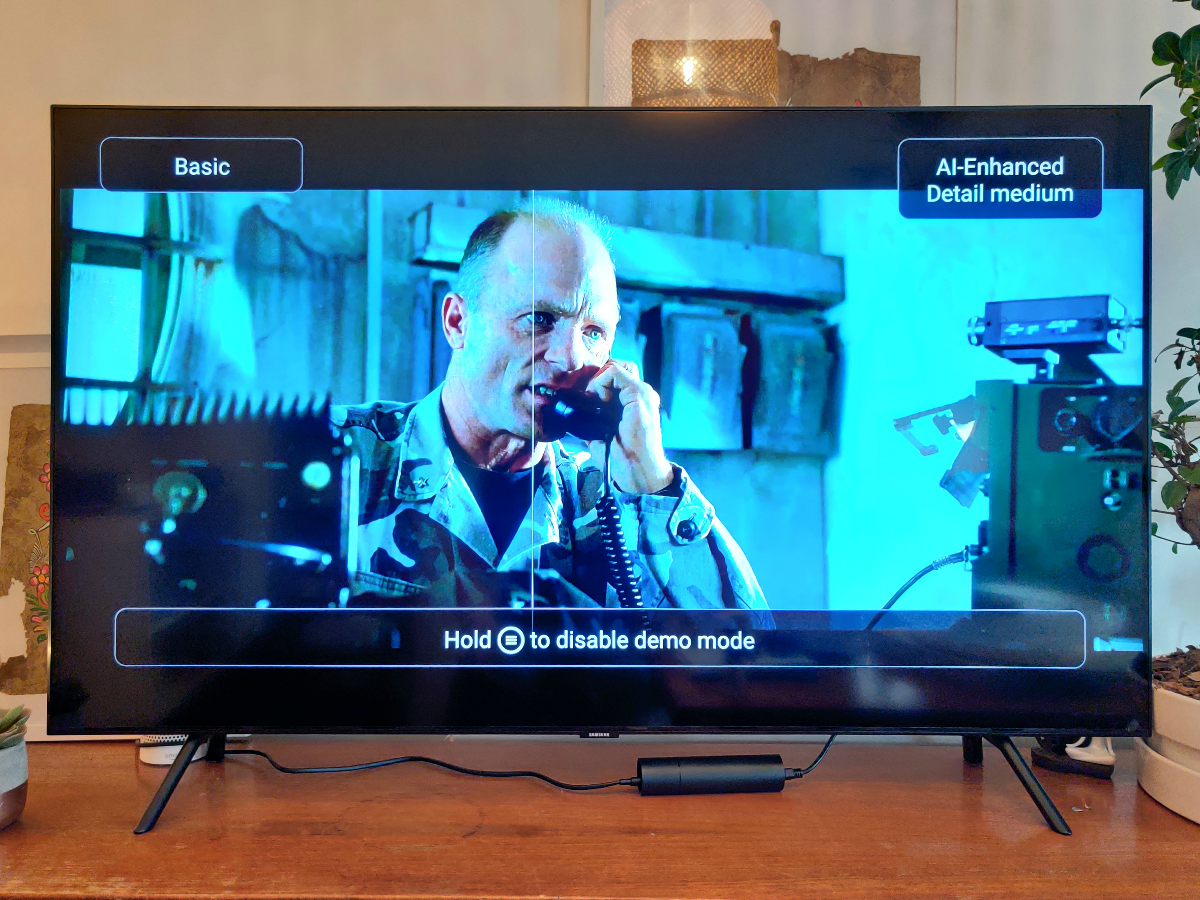 Another benefit that the Shield's beefy new innards bring to the table is AI upscaling, which, according to Nvidia, is a first for streaming players. But does it actually work?
In a word, yes. Essentially, you can feed the shield 1080p content from a variety of sources such as Netflix, Google Play Movies, Amazon Prime Video and YouTube, and its AI magic will make things noticeably sharper.
Nvidia has kindly included a demo slider feature for you to easily spot the differences yourself, and if you're anything like us, you'll constantly be switching the AI upscaling on and off to compare the two.
The biggest impact is seen in hair, eyes, and textures such as brick walls or fabric. The AI does a great job of bringing out more details, and when you turn it off, things look practically blurry in comparison.
There are however a few occasions where the upscaling can be more detrimental. Applying it to Bojack Horseman, for example, over-sharpens black outlines a tad too much, which reduces some of the visual impact of the animation, to the point where it fairly significantly changes the way scenes look – not necessarily in a bad way, but enough to cause a distraction if you're used to the show's style.
Other examples can see oversharpening, particularly in reflective surfaces, such as light bouncing off someone's shiny forehead, but you have to actively look for these minor flaws to spot them.
The sensitivity of the AI can be tweaked between low, medium and high, which mutes or enhances the effect according to your tastes. We chose to leave it on medium, and left it on in the background at all times, as the extra sharpness was absolutely worth it – especially when it allowed us to re-watch The Rock in gloriously upscaled 4K. Sean Connery's white beard and Ed Harris' cold, blue eyes have never looked better.
Gaming: Let off Stream
Powerful streaming tricks aside, the Shield TV also does a cracking job at bringing games to your living room. You can play Android games natively on the Shield itself, but the real magic happens when you bring your gaming rig into the mix.
If you've got a PC with an Nvidia graphics card, you can take advantage of Gamestream, which beams Steam games from your PC straight to the Shield, saving you the hassle of lugging your water-cooled behemoth from room to room, or having a bulky box next to your TV.
The Shield loves all controllers, from its own dedicated gamepad (which you have to buy seperately for £60), to both the Xbox One and PlayStation 4 offerings. While a Bluetooth keyboard/mouse combo will work too, the Shield TV lacks the USB ports of the Pro model, which gives you the extra flexibility to use your existing wired keyboard and mouse setup.
In practice, streaming from Steam to the Shield works well, though your results will vary depending on your home network and graphics card. We tested out the Shield's Steam gaming prowess with an Nvidia GTX 680, a card that's around seven years old, and it still worked flawlessly.
Granted, while it easily handled Overcooked 2 at full resolution, more demanding games like Destiny 2 had to have their resolution and graphics settings cranked right down – but they still offered a silky smooth experience. If you're rocking one of Nvidia's top GPUs, such as the 1080Ti, you'll be laughing.
The third option that the Shield TV offers gamers, is streaming games from the cloud via Nvidia's GeForce Now service. Currently in a closed beta, it's free for all participants, after which it will receive a (currently undisclosed) monthly price tag.
While these games are capped at 1080p/60fps, they still look and play remarkably well, for the most part. We were hard pressed to believe that Tomb Raider wasn't running from a secret console hidden in our living room, such was the responsiveness of the controls.
Online games like Fortnite, however, saw a few problems with lag, which could be due to the fact that we were on a Wi-Fi connection. The Shield's ethernet port is definitely the best option if you want to maximise your chances of being the last person dancing over the graves of your online enemies.
Nvidia Shield TV verdict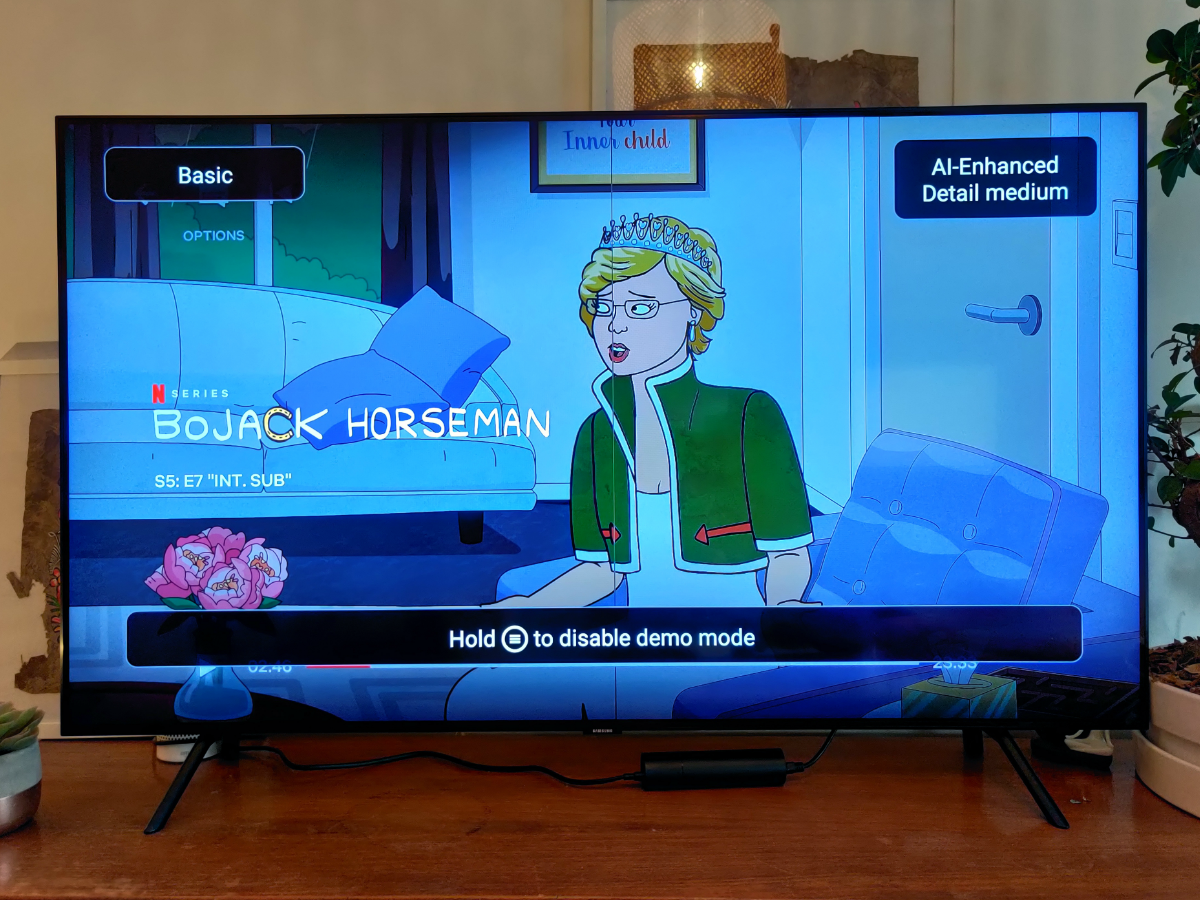 There's no denying that Nvidia's Shield devices are somewhat niche products – but it's a niche that the company has proven once again that it's king of.
If you just want to watch shows on the usual streaming sites without worrying about codecs, standards or fancy AI upscaling, then you're better off sticking with your TV's built-in apps, or picking up a Chromecast or Fire TV device for far less cash.
If, however, you have the TV and audio equipment to take advantage of the Shield TV's Dolby Vision and Atmos support, plus a decent gaming PC and internet connection to throw into the mix, the £149 Shield TV suddenly becomes incredibly compelling.
Stuff Says…
More than a mere streaming device, the Shield TV will easily handle your premium video needs, with clever gaming smarts to boot
Good Stuff
Minimalist design
Powerful specs
Impressive AI upscaling
Numerous gaming options
Bad Stuff
Still expensive compared to other streamers
No 4K BBC iPlayer support
No HDMI cable included