Nixon Mission review
Android Wear gets serious about sports... with a blindingly bright orange smartwatch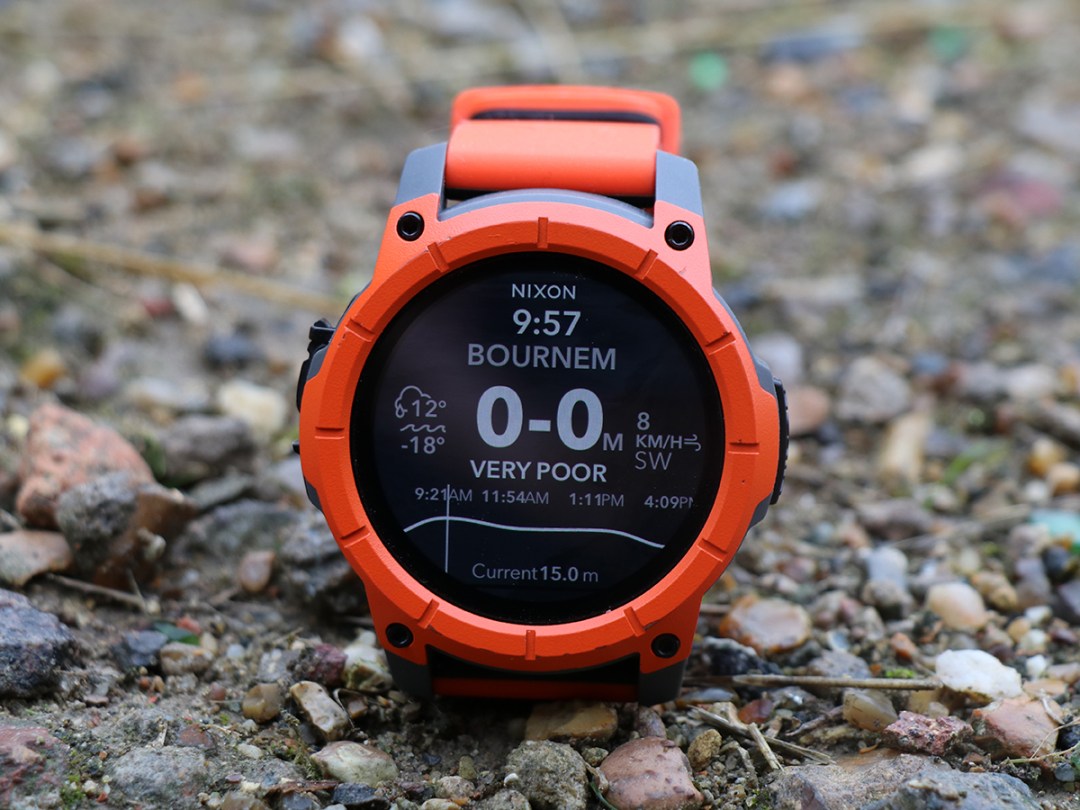 There's making a statement, and then there's strapping a bright orange smartwatch onto your wrist.
Wear Nixon's The Mission and you're guaranteed to get noticed. It's big, bright and bulky – there's really no missing it. But then it's hardly your average watch – the Mission is built for extremes.
With smarts that'll appeal to skiers and surfers, 100m water resistance and built-in GPS, it's about as ready for anything as Android Wear gets. But does that mean it's missing the everyday features we take for granted in other wearables?
I've been wearing one for the past few weeks in order to find out. And yes, I've had countless stares on the Underground to prove it.
ORANGE YOU GLAD TO SEE ME
Let's get this out of the way early: The Mission is a colossal smartwatch. The 48mm case is bigger than the classic Casio G-Shock, with which is clearly shares a fair bit of design inspiration.
Got tiny wrists? This is going to look comically big once you strap it on.
You could go for more subtle black and grey colour choices, and Nixon is planning to eventually have a whopping 44000 colour combinations, but why would you go for anything other than bright orange? It's a killer look, even if it's not exactly suited for the office.
Everything is made from stainless steel, so it'll withstand a beating (or a wipeout, if you're surgically attached to your surfboard), and the rugged rubber strap is just as tough. It's a comfortable fit, too.
The side button is equally chunky, so you can still press it while you're wearing ski gloves. It'll switch into low power mode if you hold it down, or jump back through menus if you're swiping through Android Wear.
There's a handy clip protecting the microphone, too. It keeps it watertight, but lets you talk into your wrist when a call comes in. Useful when you're half-way up a mountain and taking your phone out of a pocket is a real hassle.
APP IT UP
The Mission stands out when it comes to software, too. The Mission app tracks surfing and skiing locations for weather and snow or water conditions, so you know when's the best time to grab your board or hit the slopes.
It's built into the watch face, so you can see important info like snowfall or waves at a glance, or you can open the app for more details.
That includes the current weather, temperature, wind speed and last snowfall on the Snow side of things, and weather, wind, size of waves, and high and low tide times for surfers. There's a little extra detail for skiers, with a five-day forecast showing which runs and ski lifts at your chosen resorts are in action.
Then there's the Trace Snow and Trace Surf apps, which actually track your on-piste or in-the-water activities. They're basically pre-installed third-party apps, but handy ones if you're serious about either sport.
These might sound really niche, but they're are great additions for serious surfers or skiers. If that's not you, there's plenty of other sports-friendly features to keep you happy.
HIT THE SLOPES
There's no shortage of sensors inside the Mission, with a thermometer, altimeter, barometer and compass on top of the usual gyroscope and accelerometer. There's GPS on-board too, but annoyingly no heart rate sensor.
This feels like a big oversight, seeing how it's so focused on sports – you won't be getting the full story if you take it running, let alone go skiing with one.
Otherwise, sports-friendly features are ace – but only if the watch has the mettle to take a beating while you're breaking a sweat. Happily, the Mission is built of sturdy stuff.
Waterproof down to 100m? Check. I gave it several dunking, in open water and in a swimming pool, and it came back no worse for wear.
Some downhill mountain biking didn't phase it either, absorbing bumps and knocks and then keeping on ticking.
I absolutely caked it in mud, too – but it didn't skip a beat. There's no other Android Wear watch out there that's as tough as this – or at least one that can also handle GPS tracking while it's at it, anyway.
Android Where?
Get past the snow and surf apps, though, and there's not much here to separate the Mission from any other watch running Google's wearable OS.
That means you'll get notifications on your wrist, music controls, a voice-controlled Google Now assistant and the familiar, card-based Material Design UI. You'll quickly find your way around if you've used any other Android Wear watch before.
Right now, the Mission is running Android Wear 1.5, but should be in line for an upgrade to version 2.0 once Google officially releases it.
You can use Android Wear watches on iOS now, but iOS 10 made things a little buggy while I was testing. There's still no clue as to when The Mission app will hit the iOS App Store, either – a pretty major stumbling block, seeing as the snow and surf features won't work without it.
WATCH THIS FACE
The 1.39in AMOLED screen is one of the best you'll find on an Android Wear watch right now. The 400×400 resolution doesn't have a flat tyre like Motorola's Moto 360, and matches the Huawei Watch for pixel count, so everything looks wonderfully sharp.
OLED screens aren't amazingly bright, but I had no trouble reading the Mission's watch face outdoors – even through a pair of sunglasses. You shouldn't have any problems seeing your ski stats while you're on the mountain, even if you keep your goggles on.
A little more colour vibrancy would have been nice, though – the chunky orange Nixon watch face looks great, but wasn't quite as punchy as I'd like.
There are a handful of Nixon-branded watch faces to choose from, including that very handy snow/surf face for showing the current conditions at your favourite spots. With Android Wear on board, though, you can swap it out for one of thousands of other designs from the App store.
TAKING CHARGE
You might think that chunky outer shell leaves lots of room inside the Mission for a big battery. You'd think wrong.
Sure, you could probably squeeze two days of light use between charges, which puts it on par with most other Android Wear watches, but realistically you'll be plugging in every night.
This would be less of a chore if the charging clip was a little more secure, but the weak magnet means it regularly comes loose if you don't set it down on a completely flat desk or table.
You'll be using it even more regularly if you switch on the Mission's GPS, too. Once it's enabled, expect a full charge to drain in about three hours. Hardly ideal if you were planning an all-day slope or surf session.
Qualcomm's Snapdragon Wear 2100 is supposed to be the most energy-friendly wearable CPU around right now, but even that can't help the Mission last once you really start taxing it.
That means dedicated GPS watches like Garmin's Fenix 3 are still the top choice for serious sports fanatics – that'll keep tracking you through an ultra-marathon and still have juice left to spare.
Nixon Mission verdict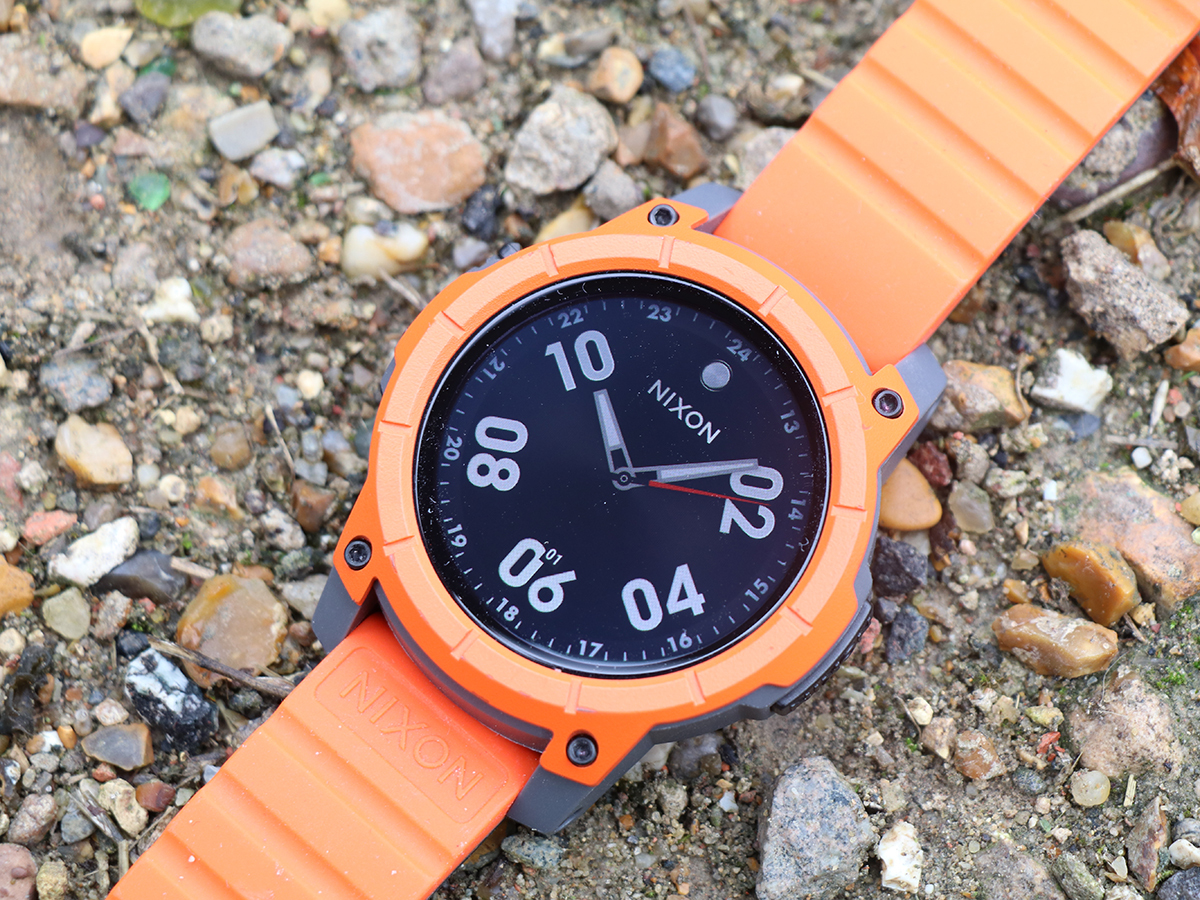 There's a lot going on underneath the Mission's eye-catching exterior. A lot of it will only appeal if you're regularly in the water or on the mountains, but the distinctive design and Android Wear smarts should please the masses too.
It's rugged, it's ready for action, and has GPS for more general fitness, even if the missing heart rate sensor feels like a bit of an oversight.
If battery life was better, it would be a no-brainer as the Android Wear watch for sports fans, but as it stands, you'll get a longer life from a dedicated GPS watch from the likes of Garmin. If you're on iOS, the Apple Watch series 2 is a no-brainer now that it's waterproof.
Still, if you want your wrist to be the centre of attention, this is probably the one smartwatch guaranteed to make that happen.
Buy the Mission here from Nixon
Stuff Says…
Chunky and colourful, you'll either love it or hate the looks – but Nixon's first Android Wear watch is lacking a few must-have features to make it mainstream. For surfers and skiers only.
Good Stuff
Bright and bold styling makes a statement
Surf and ski specialties are unique for Android Wear
Rugged tweaks don't come at expense of Android Wear features
Bad Stuff
Missing heart rate sensor is bad news for sports addicts
Pricey for a few niche features
Battery life ain't great