Netgear Orbi review
Got wonky Wi-Fi? Netgear's radical routers will mesh it up
There are two kinds of people: Those who've bought a wireless router, and those who put up with the free one they got from their broadband provider.
OK, it's not a statement you'll see on motivational posters any time soon, but If you've got a house filled with as much portable tech and smart home gadgetry as the Stuff office, a freebie router is going to struggle. 
Either put up with lag, dead zones and dropouts, or invest a bit of cash (and time) on something that actually works. It's simple if you're in a small flat, but what about a bigger house? 
That used to mean homeplugs and wireless repeaters, but now there's another way: mesh networking. This used to be the domain of office IT bods, but now Netgear's bringing it into the home with Orbi.
An Orbi starter pack should be enough to blanket most homes in all the Wi-Fi they need, but convenience rarely comes cheap. Is the £350 Orbi worth the asking price?
Orbi, or not to be?
I've experience network woes first hand, when Virgin Media's SuperHub started cutting out, slowing downloads to a crawl and buffering web video after I moved in with new housemates. £140 and one Netgear R7000 router later, and the internet hasn't faltered since.
Wireless reception could be better, though. That meant installing a pair of TP-Link powerline adaptors. They blanket the house with Wi-Fi like the Orbi, but they're only repeaters, so the router and devices compete for bandwidth. It's like using a walkie talkie – only one thing can talk at a time.
The Orbi is a mesh network, which is a much more elegant solution. It uses MIMO, so one band talks to your devices and the other lets your routers talk to each other. No more congestion – neat.
There are other benefits, too – they only need one network ID, and automatically make sure your devices are on the fastest connection.
Each Orbi covers about 4000 square feet with Wi-Fi. Given that the average English house covers less than a quarter of that, a pair should be more than enough.
If you're lucky enough to live in a mansion, you can buy more Orbi satellites later, but UK prices aren't yet confirmed. They cost US$250, so I'd expect £200-225.
Don't Cross the Streams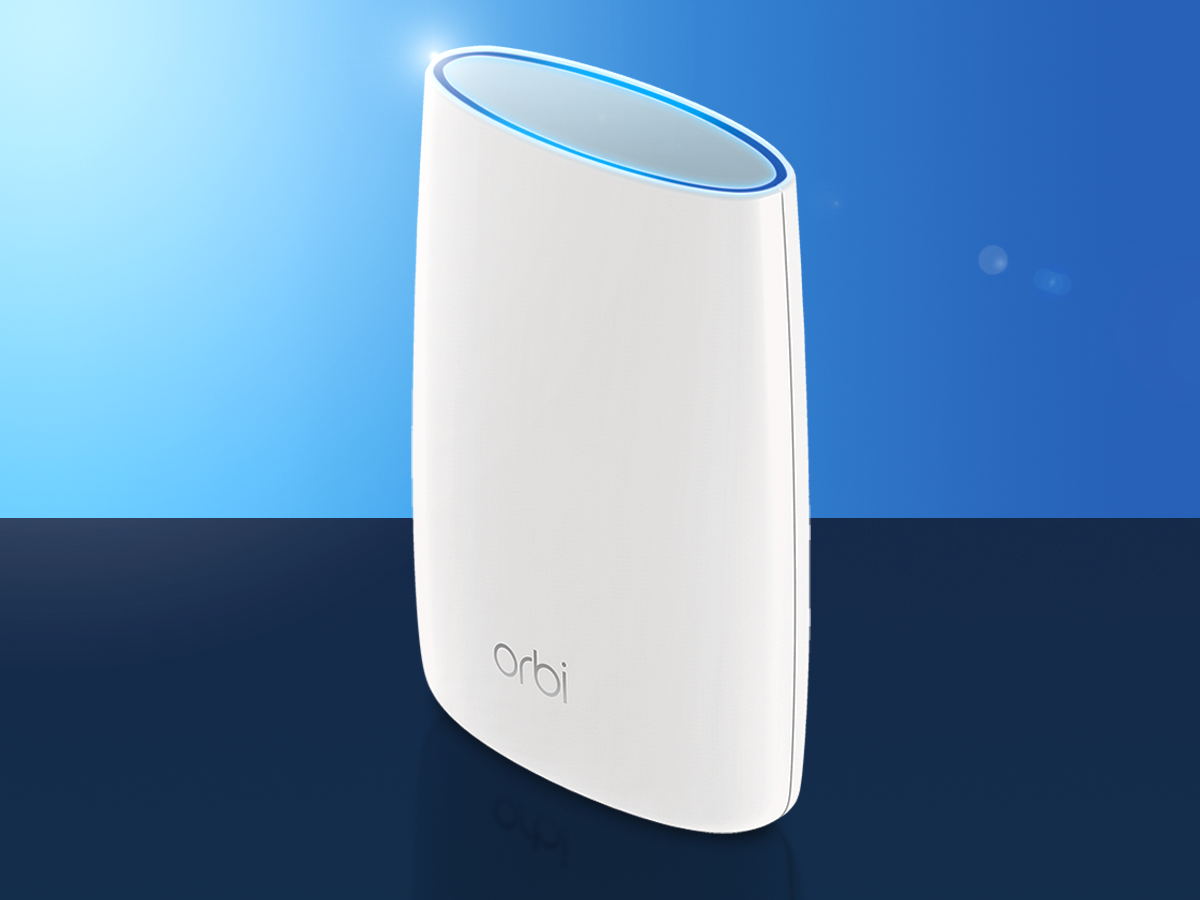 The tech specs are impressive, and the Orbi definitely delivers for wireless coverage, but it's hardly a massive upgrade over the Netgear R7000 it replaced. In fact, in some cases, it was substantially worse.
Testing with my trusty 2015 MacBook Air, a Synology NAS wired into the router and a networked PC in another room, I transferred 500MB files using LAN Speed Test. On the Netgear R7000, the file uploaded at 17.02Mbps and downloaded at a much faster 297.83Mbps.
On the Orbi, write speeds fell 40% to 10.97Mbps, but the 290.39Mbps read speeds were pretty comparable. That's a toe-tapping two minutes longer.
The MacBook Air is the weak link here. It might be packing 802.11ac Wi-Fi, but it's not fast enough to reach either router's maximum speeds. It's the world's best selling laptop, so it's still a worthwhile test – and even if you don't have one, chances are your model will have a similarly basic wireless adapter.
Either way, there was no nook or cranny anywhere in my house that didn't get a solid connection once Orbi was up and running. Signal strength just isn't a problem with a pair of these.
On a wired connection, the Orbi blew away my TP-Link powerline adapters. I'd been happy with 88.26Mbps uploads and 93.94Mbps downloads, but once I was hooked up to an Orbi satellite, upload speeds jumped to 372.1Mbps and download speeds hit 452.51Mbps. Those are 4x and 5x improvements – good enough to start 4K video files instantly.
What these tests showed me was that: a) you need to have a house that's bigger than 1500 square feet to need a mesh network, and b) your everyday devices aren't going to benefit from Orbi's AC3000 wireless chipset.
App-y Days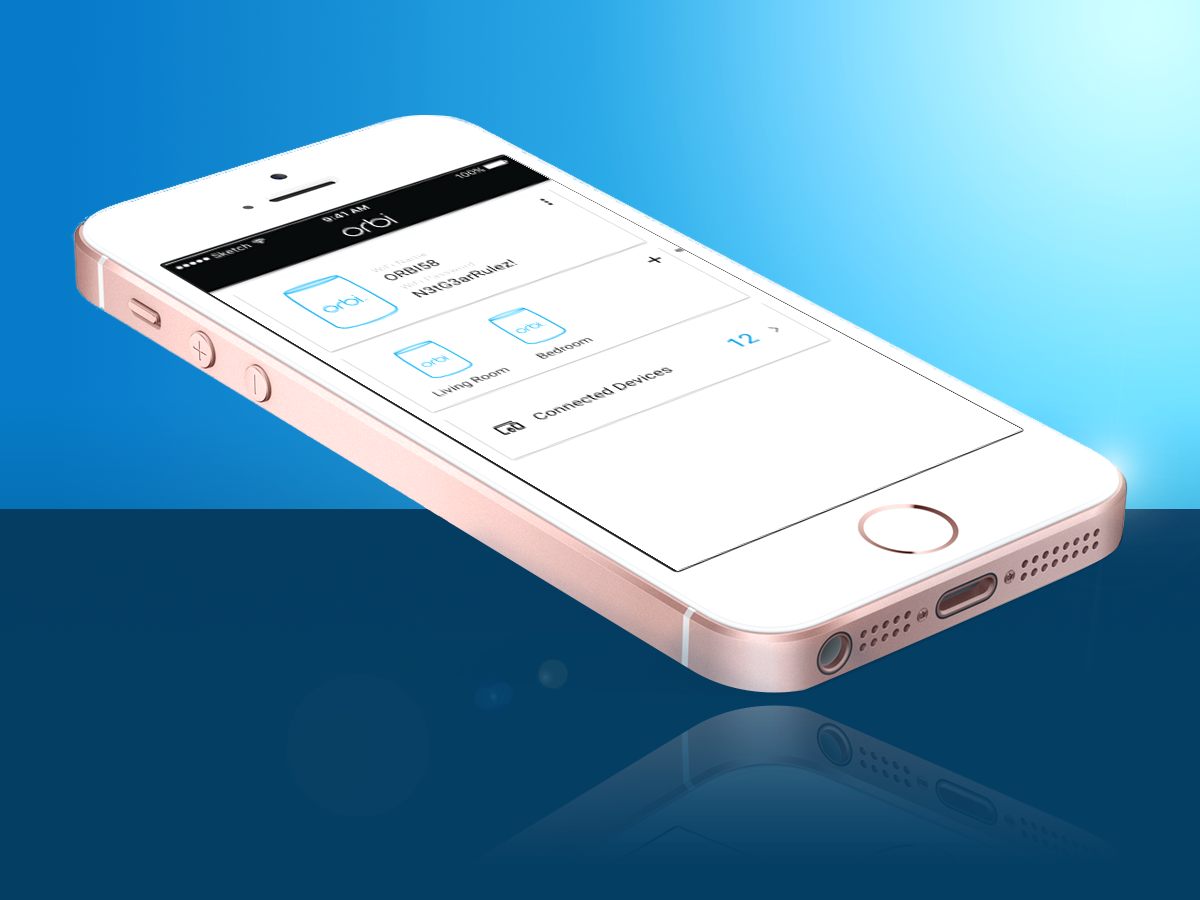 Actually creating the mesh network was the easy part. Once plugged in and powered on, the router knew that there was a satellite nearby, and it connected automatically. Both units have a ring of light around the top which indicates how well you've positioned them — blue means good, orange means move them closer.
Orbi doesn't automatically direct you to a web page to complete the setup process, so I had to guess the 192.168.1.1 admin page. At least a plastic strip along the top of the router tells you the wireless network name and password.
From there, you're good to go – there's just one network name, and your devices will automatically connect to the fastest hotspot, and on the fastest frequency (2.4GHz or 5GHz).
The Orbi units themselves are lovely – easily the prettiest routers I've seen. The white brushed plastic doesn't show up dust or fingerprints, and the top lights go out once everything's up and running, so they're very minimalist. They won't look out of place in a living room, kitchen or bedroom – not something I've ever been able to say about a router before.
Router and satellite are exactly the same design-wise, and have the same ports around the back. You've got four Gigabit Ethernet ports and one USB. Plug a flash drive in here and it'll show up as a network share for dragging and dropping files.
Given how fast these routers are, it's a shame you only get USB 2.0. Write speeds top out at about 8MB/s, whereas USB 3.0 could have kept up with those blistering wireless speeds. It's the one part that feels cheap on an otherwise futureproofed system.
Netgear's iOS and Android Genie apps are pretty powerful: you can use it to set up guest accounts, see how much traffic is going through your network, turn on parental controls, and share media from your phone.
The downside is the app is ugly as hell — it looks like something that was released for the original iPhone back in 2007 and never updated. Netgear UK boss Rob Wells told me at the launch that an improved app is on the way.
QOS your problem?
Simplicity is king when it comes to the Orbi – if you like tinkering, you're not going to find much to fiddle with here.
Block individual websites or devices? Sure, no problem. Set up access times if you're worried your kids are up past their bedtimes on their iPads? Yep, it's got you covered.
You can also set up a VPN for private browsing, a DNS account for accessing your network when you're away from home, and UPnP so you don't have to worry about online matchmaking in games, but that's about it.
Quality of Service (QoS) features are a big disappointment, too. They're suppost to give the most urgent, bandwidth-intensive applications priority over less important ones – be that gaming, video or downloads. The Orbi sets priotity automatically, but only for voice and video.
Stream a video while downloading the mammoth 50GB Forza Horizon 3? No problem. Back up 70GB of photos to Amazon Cloud from a NAS box? That brought my network to a grinding, unusable halt. Device-controlled QoS on the R7000 lets me throttle the NAS when something else needs that sweet, sweet bandwidth.
Beamforming and MU-MIMO are also disabled out of the box, too – you'll definitely want to flip them both on for better performance.
Netgear Orbi verdict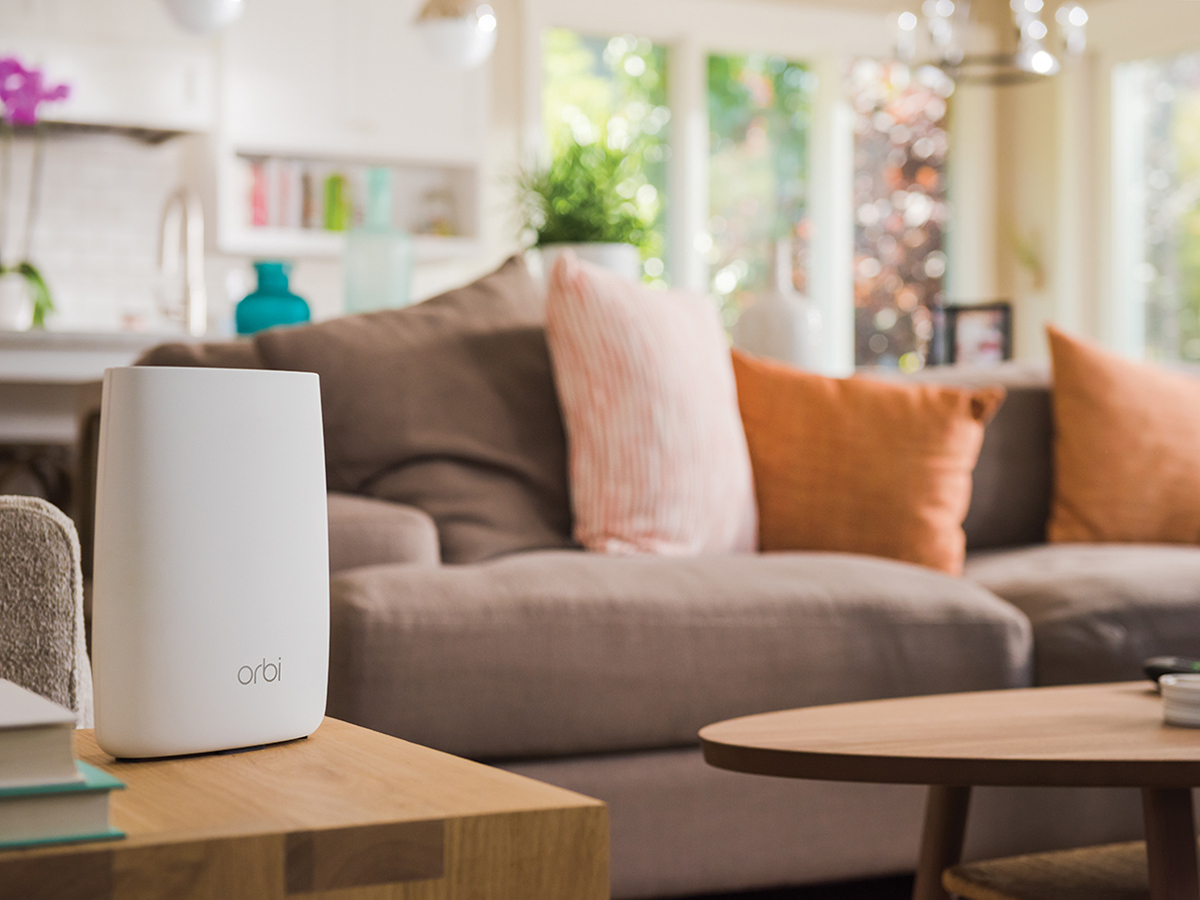 Orbi might be the first mesh-based network to launch over here, but it's got some big competition across the pond. Eero has been out in the US for a while, and Google Wifi will arrive there in November.
Google's hubs might not be as quick, but they're smaller, come with a mobile app for shutting down devices remotely so little Timmy eats his vegetables instead of watching YouTube at the dinner table, and cost less too.
Also, unless you live in a country pile, multi-storey town house or need your Wi-Fi to reach out to a garage or shed, mesh networks are a bit OTT. At least they are for us here in the UK, where 2600 square feet mansions aren't the norm.
Save yourself £200 and buy the Netgear R7000. It's not exactly a looker, sure but it's all the router you'll need.
Stuff Says…
A fantastic kit for those who really must have a mesh network. And if you have a home that big, the price is unlikely to put you off.
Good Stuff
Blistering wireless speeds
Great design
Incredibly simple setup
Bad Stuff
Beaten by much cheaper routers for everyday file transfers
QoS options are basic
Mobile app is horrific