Nest Hello review
The smart doorbell that Lionel Ritchie's been looking for...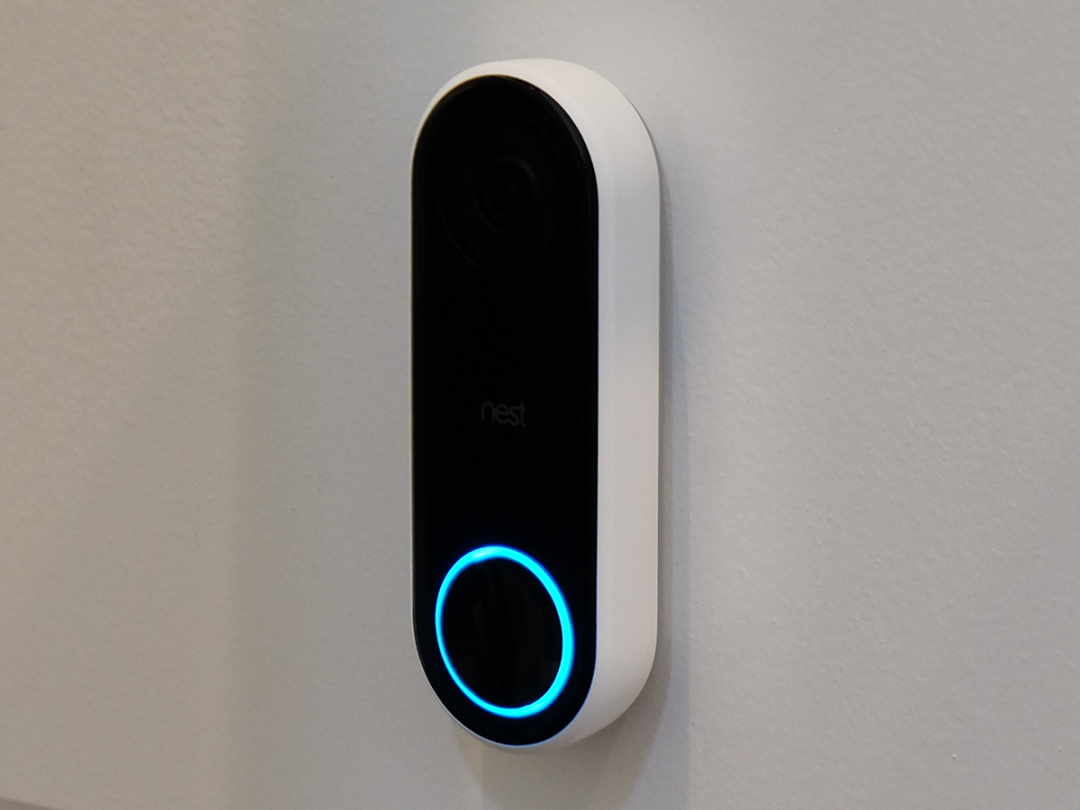 Contrary to popular belief, video doorbells are nothing new. I can vividly remember a primitive Yale device installed at my parents' place many years ago that displayed a perfectly reasonable image of visitors on a tiny LCD inside the door. 
Thing is, it went largely unused despite my insistence the world wasn't a very nice place anymore. 
What they really needed was a doorbell that did the snooping for them, plus some remote connectivity so their doting son (that's me) could keep tabs on things too.  
At the risk of breaking into a rendition of Vertigo by U2, say 'hello, Hello' – Nest's chiming web-connected camera, which packs built-in Wi-Fi, two-way audio and a fisheye lens, so you can see, talk and listen to anyone at the door.  
Competition is currently thin on the ground, but Ring's four-strong range is certainly up there and lands an immediate blow by having rechargeable batteries for wire-free mounting. In comparison, Hello is hardwired only.
Google-owned Nest goes head-to-head with an Amazon-owned rival, then. But can Hello kiss goodbye to Ring or be forced to bow down and kiss it?
Design: Hello handsome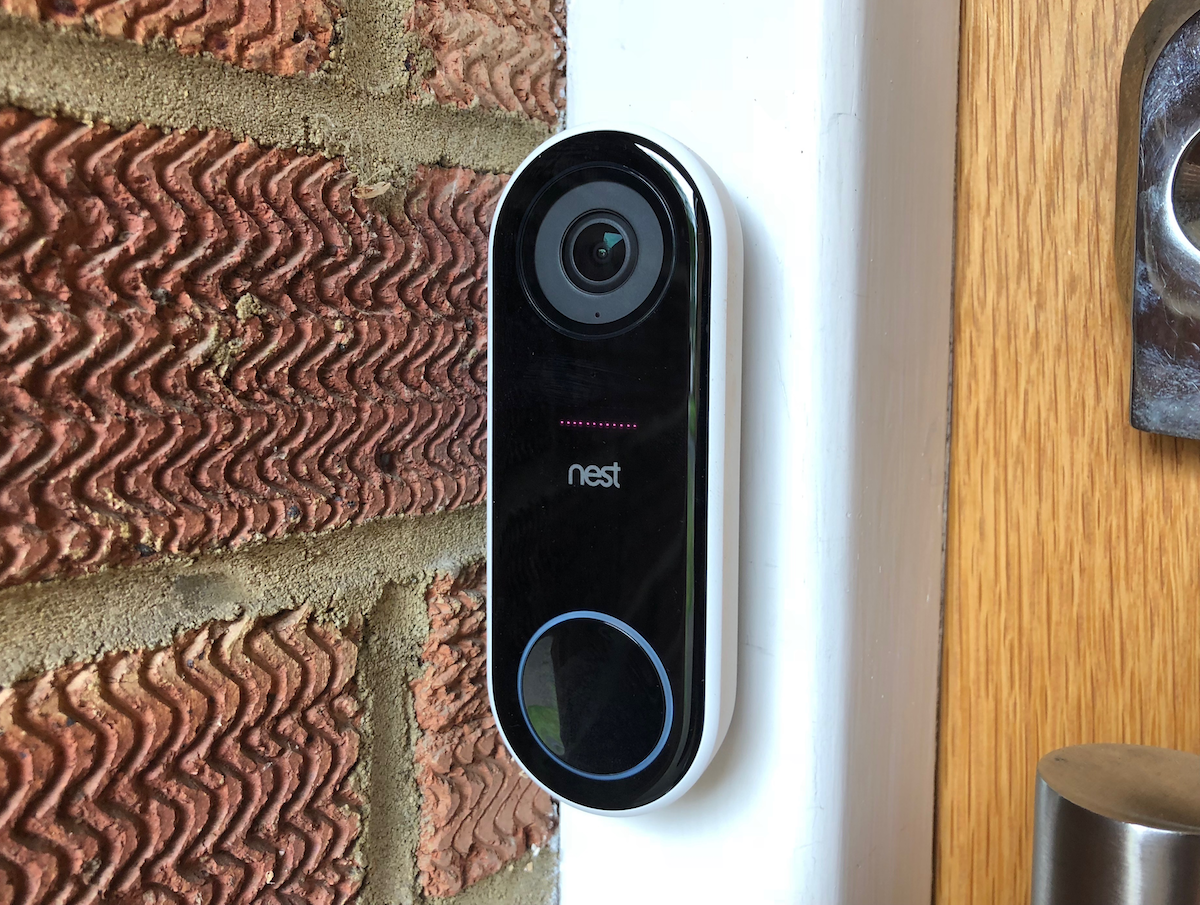 As is customary with Nest products, everything comes beautifully boxed with all the necessary mounts and fittings, but before installing Hello so it can start patrolling my doorstep like the Eye of Sauron, let's familiarise ourselves with the device.
Using the universal measurement of Cadbury's Fingers, the bell is about the same size and shape of three laid vertically side-by-side, and also on a par with the similarly priced Ring Pro.
Behind the faceplate are night vision-infrared LEDs for capturing you stumbling home from a night out, a speaker, microphone, and a 1/3in 3MP 2K camera with 8x digital zoom. That equates to HD footage at 1600 x 1200 resolution at up to 30fps in HDR.
It's pretty, albeit in a functional way, with a large circular doorbell button and same-sized camera lens. The bell button is surrounded by a pulsating LED that changes colour when it's pressed or senses motion.
Svelte proportions coupled with subtle visuals make it an elegant addition to any door, as long as you carry out a flawless installation. And here comes the crux – Hello requires hardwiring by a qualified electrician.
It's an additional faff, but given any connected doorbell requires a certain amount of drilling, there's an argument to say why not go the whole hog and eliminate the battery life anxiety in the process.
Installation: Hello electricity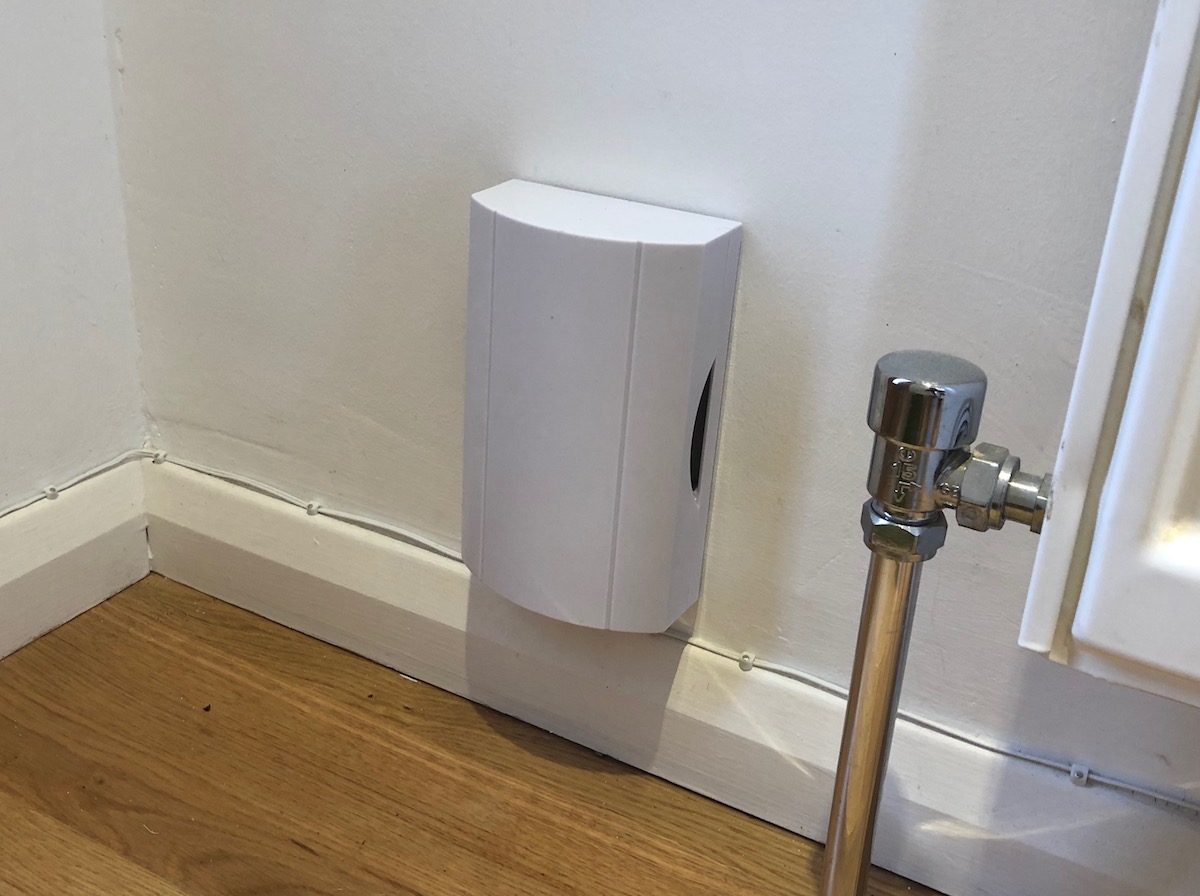 If you don't know your brown wires from your blue wires, it's best to steer well clear from trying to install Hello yourself and get a professional on the job.
Don't know a sparky up to it? you can pay an extra £100 on top of the cost of the Hello to have Nest sort out professional installation through an independent third party.
Reassuringly, my installer had already fitted a number of Nest units and was at pains to consult me every step of the way. That included adding a mount that comes in the box and sits flush to the back of the bell, for angling it in the right direction. In my case this was fortunate as otherwise I'd have been staring down the barrel of a brick wall.
As well as this, Hello also requires a fairly sizable white chime unit to be wall mounted inside the house, along with a power lead plugged into the nearest wall socket.
There's no getting away from it, both are an unsightly nuisance, despite my installer's admirable efforts to trunk and tack wires so they remained as out of sight as possible.
How it works: Hello HD security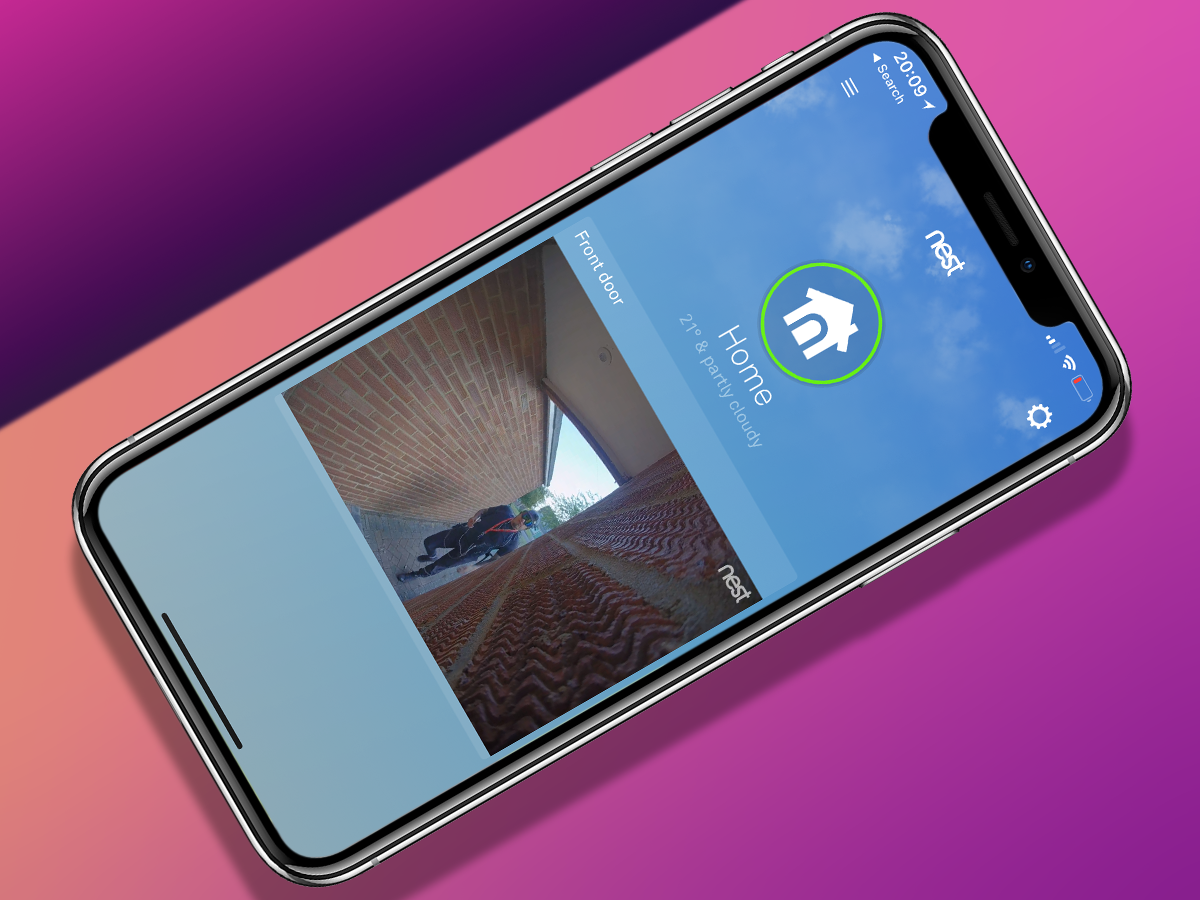 Like the rest of its product lineup, Hello hooks up with the Nest app, and it's from there that you'll be kept informed of exactly who's rocking up at your door.
When someone presses the button, it'll ring (obviously) and you'll get a notification on your phone, straight away showing you who's there. It looks a lot like receiving a phone call.
Thanks to the 4:3 aspect ratio and 160° field of view, you get a head-to-toe HD stream of the person (or people), rather than just their face (or faces), and you can adjust what's visible in the frame by swiping or tapping the screen.
Below that you're presented with three options: ignore them entirely (sorry door-to-door salesperson), use the two-way HD Talk and Listen feature to start a chat through the built-in mic and speaker, or select from the a number of preset responses.
So, for example, if you can't be bothered dragging yourself from your Netflix duvet dungeon to collect a package, you can just politely ask Mr. Postman to drop it at the door without actually having to give the instruction yourself.
For the times when an audible ring is going to be an issue, you can enable Nap Time, meaning you'll get the notification but there's no danger of waking little Jimmy up.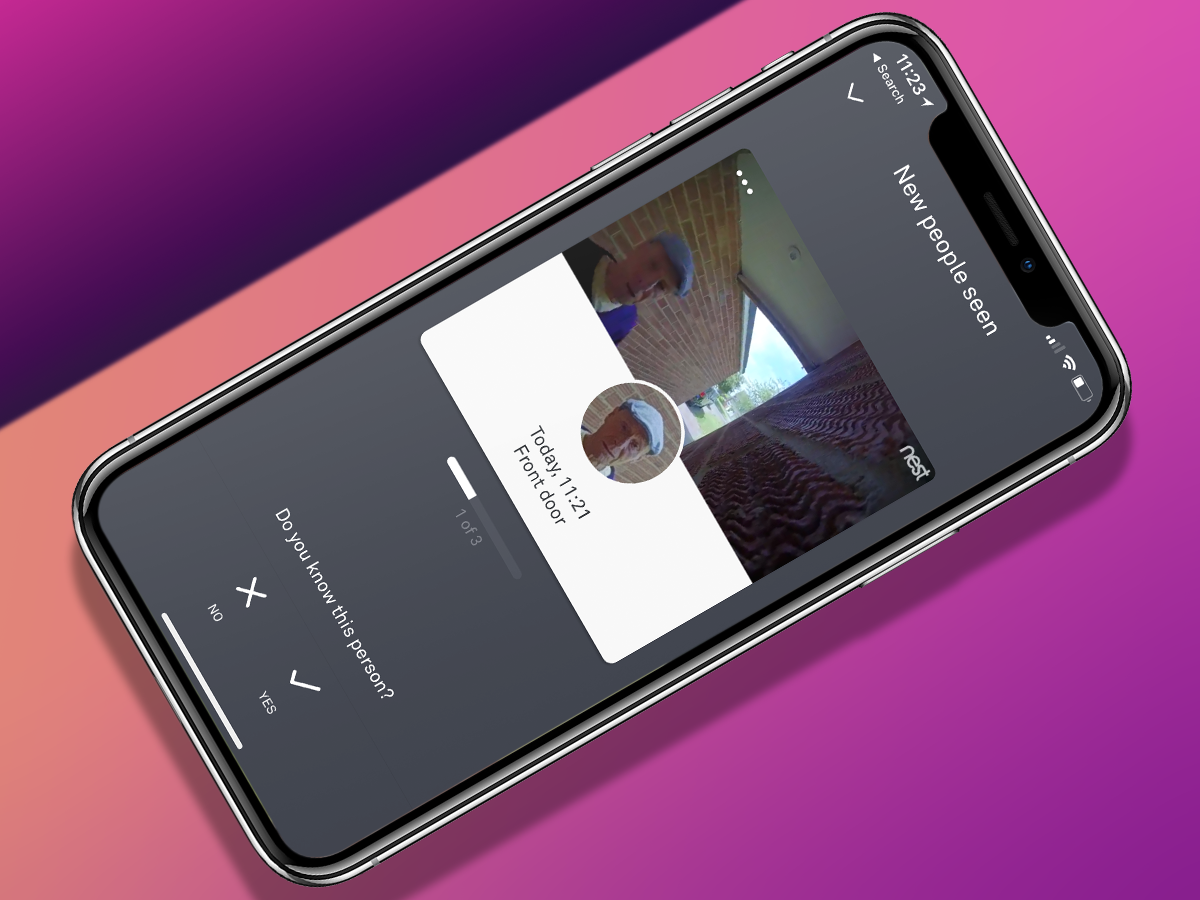 Hello gives you the choice to toggle whether you're 'home' or 'away' or use your phone's location services to pick up when you pull into the driveway. You can also choose to turn the camera off entirely.
Person detection means it can differentiate between cats, dogs and people, while those signed up to the Nest Aware subscription service will also get to test out its facial recognition feature.
The ability to spot friend from foe is a big selling point and Hello keeps a database of people you have identified and added. It picked up my parents perfectly whilst dropping my ironing over. Ahem.
A Nest Aware free trial period lasts 30 days before plans start from £4-a-month offering benefits like 24/7 recording, a video history vault, smart notifications like when Hello spots a recognised person, and timelapses – useful for the revolving doors of a house party.
Voice support: Ok Google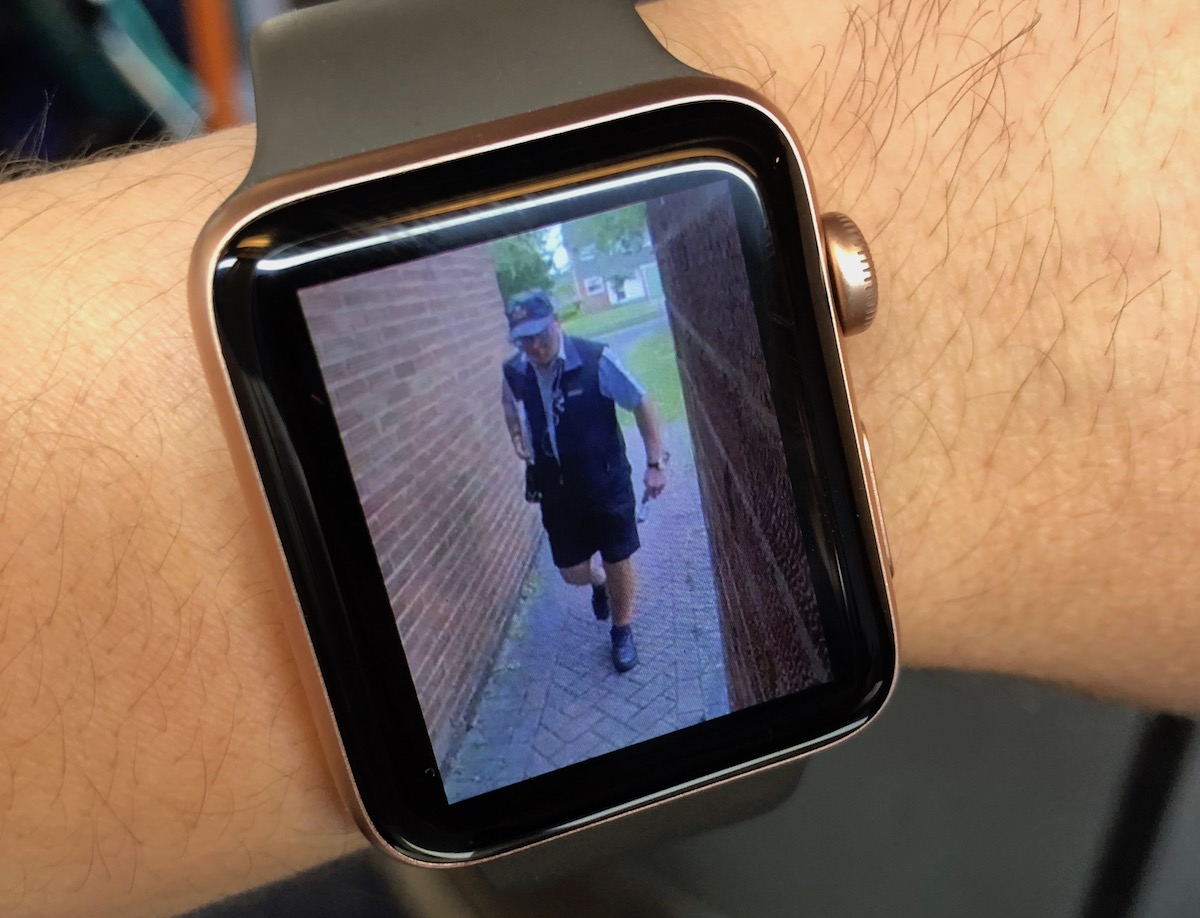 Given Google owns Nest it figures Google Assistant plays nicely with it, and when working in conjunction with the facial recognition tech it does something rather cool.
By matching the face of a visitor with someone is in its database, Google Assistant will announce who is at the door butler-style. You can also add it to the Works With Nest ecosystem to collaborate with the Nest Cam IQ and Nest x Yale smart lock to unlock the door (as and when it goes on sale in the UK).
Nest Hello verdict
The Nest Hello is effectively a security camera in disguise and that's no bad thing. The slim and understated design means it won't dramatically stand out, but still provides enough visible alerts to warn unwanted visitors they're being watched.
Whether you're an iOS or Android user the app is intuitive enough to offer the right setup to suit you, and if you're adding to existing Nest products around the home it'll play nicely with all of them.
The HD picture is impressive even at night and in practice features like facial recognition work reassuringly well with little no lag – depending on the strength of your broadband connection.
Being brutally honest, hardwiring is a hassle because of the extra time, cost, drilling and cabling incurred for a professional installation. However, that is partly tempered by a lack of battery anxiety when away on holiday.
All facts considered, Hello is a humdinger of a high-end smart doorbell with enough clever features to justify the price tag if you're prepared to pay the continuous subscription charge.
Stuff Says…
Say Hello to the best-looking smart doorbell of the bunch, packing plenty of security features that not only talk a good game but actually work
Good Stuff
Design is stylish and understated
Facial recognition offers added benefits
Nest products work in tandem
Bad Stuff
Hardwiring is a disruptive nuisance
Professional installation is a costly addition  
Works with Google Assistant only