Navman iCN 510 review
The Navman iCN510 has a Windows CE core, a folding GPS antenna and a safety conscious remote control. But can it get you from A-Z?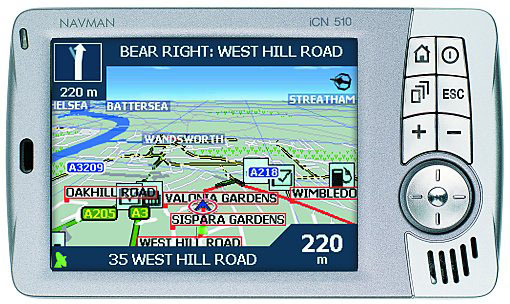 The Navman, although appearing a little like the clone of the Navigon PNA – they share the same chassis, and they both have a Windows CE core – wins points for its clean looks and its easy-to-prod concave buttons.
It has a fold-up GPS antenna on the rear but once you've got the windscreen mount sorted, you barely see it. Plus, sorting the aforementioned mount is easy: it's a ball-and-socket affair that is an adjustable yet sturdy arm for the iCN510. (Not like the Navigon, see?)
Safety first
The Navman comes with a safety conscious remote control so you can get on with the driving while the tech-savvy kids sort the navigation from the back seat.
And why can a simple remote help the navigation? Because Navman's proprietary SmartST 3D software is a breeze to use. Start tapping in the address and the software tells you how many options are available as you narrow it down – get it down to an agreeable number, then just choose from the list.
That said, we had occasional confusing moments when entering a postcode, whereby the software would decide that a county (Dorset, in our case) was a town. It didn't stop you continuing with the address but it was perplexing and might stop a technophobe in their tracks.
Equally unappealing is the cursor – it should be better than a mini-joystick for quick, safe adjustments but unfortunately it's vague, and finding the central 'select' push is hit-and-miss.
What we really liked, however was the active zoom, which adjusted for speed and distance to the next manoeuvre, and the handy key for changing the view with a choice of 2D or 3D views. Oh, and pick the female voice when you begin navigating, the speakers like her better…