Motorola RIZR Z8 review
With the RAZR looking old and crusty, Motorola has given us a new icon to salivate over. But is the multimedia Z8 good enough to inherit the mantle?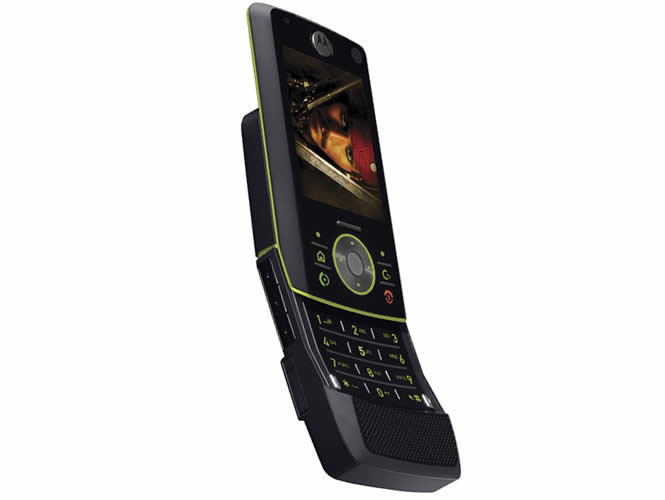 Motorola has been dining out on the RAZR for far too long now. While rivals like the Samsung Ultra series and LG Shine have swept past, Moto has struggled to keep pace with the good-looking but slightly stale KRZR and RIZR.
You can't keep a major phone dog down for long, though, and Motorola's bitten back with the RIZR Z8 smartphone. It may lack the RAZR's aesthetic impact, but this slider is pregnant with rich multimedia goodness never seen before on a Moto handset, not to mention a nifty new slide mechanism.
Kick-ass slide
Rather than dazzle us with sublime RAZR engineering antics, the Z8 is effectively the original RIZR Z3 with superior build and a wider chassis. Day-glo lime green trim funks up the liquorice black soft paint finish, but the Z8's face-hugging KiKR slider action is the crowd-pleaser here. A centre hinge seamlessly kicks up the front as it skids open to reveal a bowed silhouette to ergonomically hug your mug.
Moto UI dissenters can breathe a sigh of relief because its notorious prickly user-interface has been given the heave ho for the more instinctive Symbian UIQ OS. This is Care Bear-friendly compared to the original and far more intuitive, although our prototype sample proved a little sluggish, something we're assured will be improved.
Speed demon
The Z8 supports HSDPA downloads speeds but, until the networks support the 3.6Mbps flavour, you'll have to cook with maximum times of 1.8Mbps. This is still around fours times faster than 3G, though, so it perks up the streaming of the 25 embedded Sky TV channels. You can also easily programme your Sky+ from your handset via a seven-day EPG.
The phone has also been fitted with a sparkling display, brimming with 16-million colours and sharp detail to handle mobile and TV playback. It's in high gear with 30 frames-per-second video playback and you'll be gob-smacked at the seamless quality of the Bourne Identity movie bundled on its microSD card.
Camming it up
Criminal proceedings should be brought against Moto for repeatedly refusing to go beyond two-megapixel barrier. We're told it's to keep the handset trim but the Z8 is crying out for a 3.2-megapixel lens to shoot with the big guns. Instead we get an average snapper with no autofocus. However, video capture offers some redemption shooting in QVGA quality at 30fps and image motion, although blighted with some drag, is surprisingly smooth.
The popular mobile web-sharer Shozu app is also embedded for fast and easy posting of snaps and videos online. Elsewhere the music player is pretty basic (no equalizer!) and sounds a bit feeble through the supplied wired headphones but is still good enough for music snacking.
Unlike the RAZR, the Z8 won't hypnotise you with its style, but its video virtuosity, broadband download speeds and kick-ass slider action certainly puts Moto back on the mobile map. If it wasn't for the average camera and music playback, the Z8 – available for free on contract with some gratis MOTOROKR S9 Bluetooth headphones – would have been odds-on for five stars.
Use it with…
Stuff Essentials – Bluetooth headphones
Related reviews