Motorola Moto Z2 Play review
Moto does modular right with this great value mid-ranger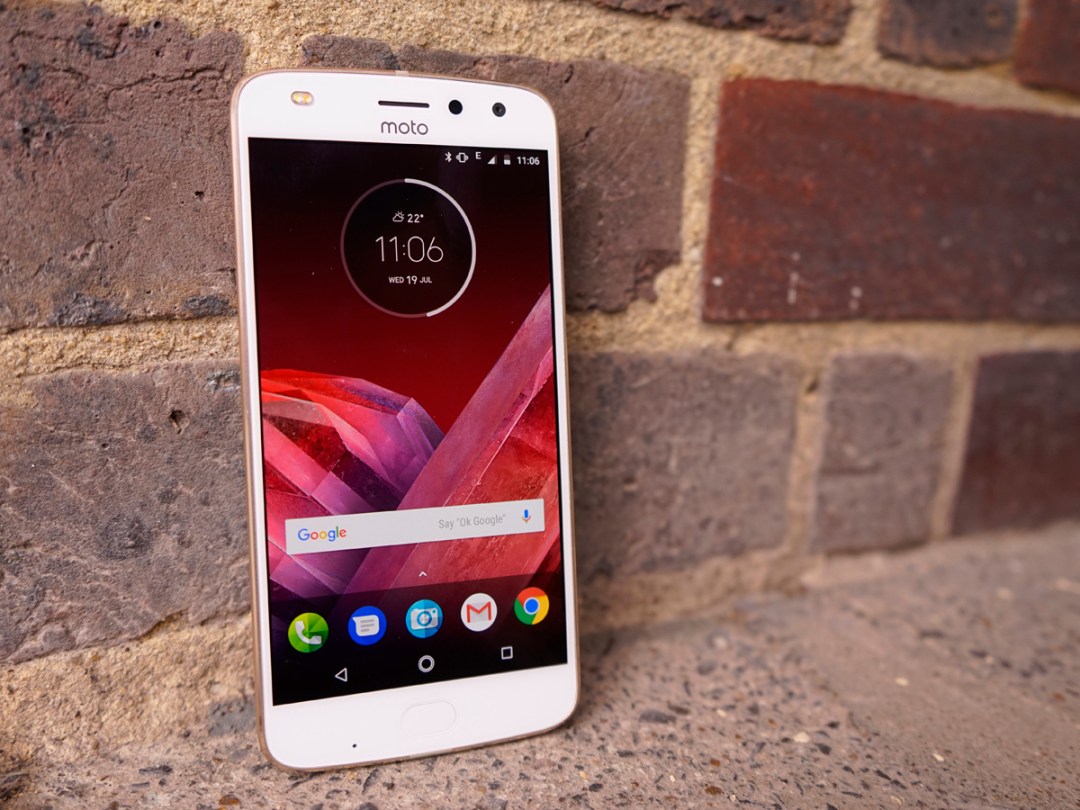 Most mid-range phones are pretty interchangeable, when you think about it.
Anyone can cram some top-spec hardware behind a spangy screen and slap a logo on it. If you're after something properly exciting and unique, though? Look no further than the Moto Z2 Play.
Motorola's modular mobiles made us sit up and take notice when they first showed up last year, even if they were beaten on outright value by the phenomenal OnePlus 3. This year, the price is right – and the hardware looks even better.
The outgoing Moto Z Play was 2016's undisputed king of smartphone battery life, though, so the sequel needs to have stamina as well as smarts.
DESIGN & BUILD
On the face of it, the Z2 Play doesn't look all that different from last year's Moto Z Play – but that's kind of the idea. If Motorola had tweaked the design too much, it wouldn't play nicely with the existing range of Moto Mods.
The basic shape stays the same, then, but overall build quality has been given a welcome boost. The Moto Z Play's glass back was a real fingerprint magnet, so it's great to see it ditched here for an all-metal design. Your inner OCD can rest easy with one of these in your pocket.
Moto has at least managed to slim it down by a millimeter, so it sits more naturally in your hand once you've got a Moto Mod bolted on the back. It still looks a little naked without one, because of that bulging camera module at the top and the bare contact points near the bottom. Slap some clothes on it, like the wooden cover plate bundled in the box, and things look a lot slicker.
OK, so the bezels around that 5.5in screen are a little on the chunky side, especially on the Fine Gold version I tested, but otherwise it feels every bit the high-end phone.
That's partly down to the redesigned fingerprint sensor, which doesn't look like a bargain basement afterthought any more. The ugly square sensor of old is dead, replaced with a much slicker rounded one. It's super-quick to unlock the phone, if not quite as fast as the blink-and-you'll-miss-it Huawei P10, and lets you ditch the onscreen navigation keys for clever one-button taps and holds to free up some extra screen space.
FEATURES
Motorola's take on modular phones has outlasted both Google's ambitious Project Ara and the LG G5's flawed Friends upgrades, and it's great to see it returning here.
The 16 pins on the back let you pop different Moto Mods on and off at any time, without having to shut the phone down first. Which is sensible, don't you think, LG? Tough magnets (and that sticky outy camera lens) hold each Mod in place, so you won't accidentally send it flying every time you reach for the phone.
The bundled backplate doesn't do anything fancy, but there's a growing list of kit you can pick up to upgrade your phone with. The offGrid power pack, JBL speaker, pico projector and Hasselblad 10x optical zoom camera add-ons from last year all still work, and pretty soon there'll be a faster charging Turbo power pack, a wireless charging cover, upgraded JBL speaker Mod, and even a gamepad with physical controls. That sure beats tapping a screen when you're playing games.
Sure, you'll be tied in to Motorola's ecosystem, and all those extras can add up quickly if you're looking to complete the set, but it's still great to see some genuine innovation in the lower half of the price spectrum.
SCREEN & SOUND
When you're balancing the scales of performance and battery life, there's no room for fancy schmancy 2K screens – they sap too much power, and force the graphics chip to work overtime just pushing all those pixels.
That's why the Moto Z2 Play sticks to a Full HD resolution, stretched over 5.5in. It's sharp enough to make your photos and videos look great, and is easily on par with the similarly-priced competition.
Motorola has still found room in the budget for an AMOLED panel, which means impeccable contrast and inky blacks, as well as superb viewing angles. It gets plenty bright, too, so you won't struggle to see what's on screen when you're outdoors.
The only real weak point is colour balance. Dig into the Settings and you'll spot that it defaults to a Vibrant colour mode, which errs towards oversaturation. It's not terrible, but just a little too vibrant and unrealistic.
Flip over to the Standard mode, though, and things go too far the other way, stripping out too much colour and leaving things looking washed out. Stick with Vibrant – most phones tend to boost colours slightly beyond natural anyway, and the Z2 Play is no more guilty of this than its rivals.
The phone receiver stealthily doubles as a sound speaker, and does a reasonable job with podcasts and YouTube clips. Vocals are clear enough, with a real emphasis on crisp treble, but you won't be holding any impromptu dance parties with the Z2 Play – unless you pick up the JBL speaker mod. It's just too quiet on its own to make itself heard from anything more than a foot or two away.
CAMERA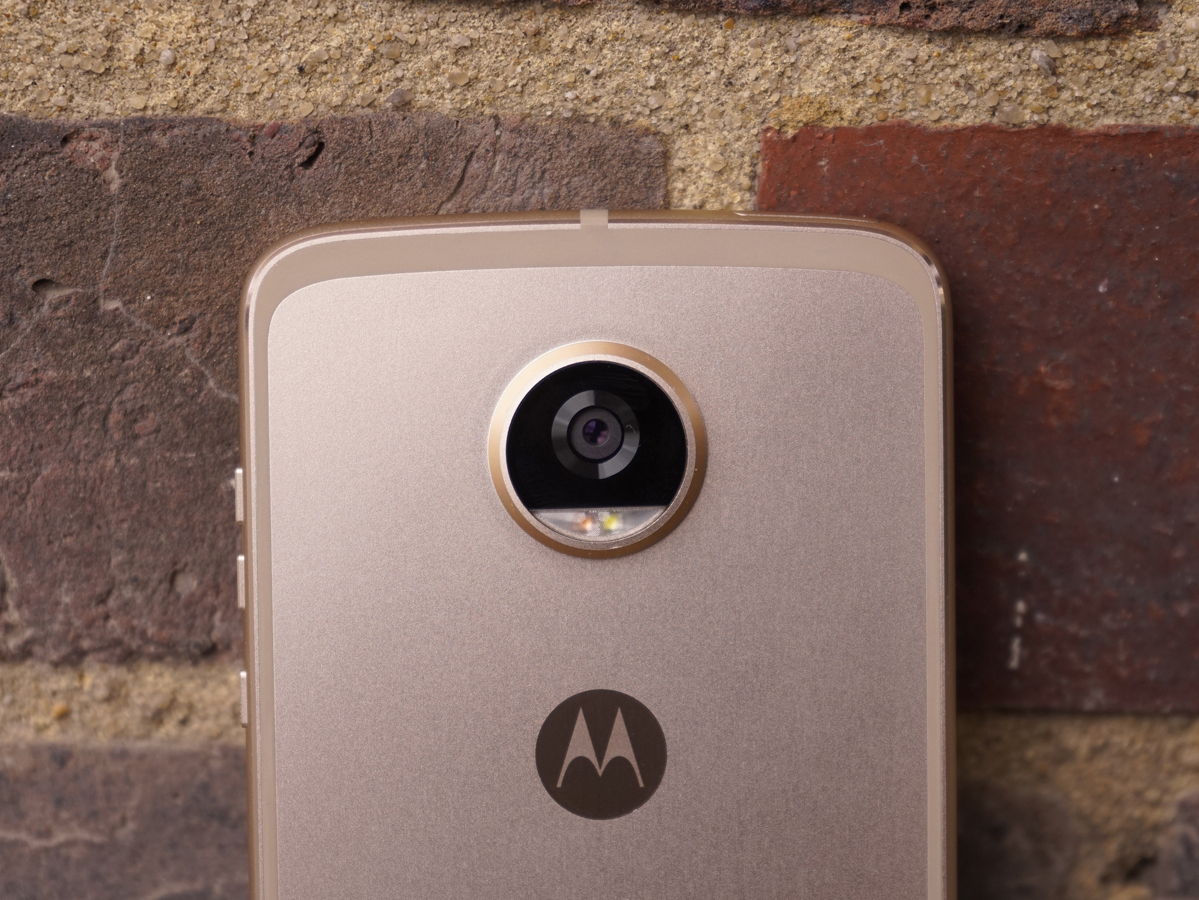 It's impossible to miss, seeing how far it sticks out the back of the phone without a Moto Mod attached, so it's a good job the Z2 Play's camera is up to snuff.
Essentially the same 12MP, f/1.7 aperture setup seen in the cheaper Moto G5 Plus, it won't come as a shock to learn that image quality is roughly the same here. But then the Moto G5 Plus punched well above its weight, so that's not exactly a bad thing.
The dual-pixel AF system uses phase-detection and a laser to speed up focusing, but it's only really obvious when you switch to the Professional mode. This puts all the AF points onscreen for real-time focus adjustment. In Auto, this all happens behind the scenes. It does feel quick, regardless of the mode you're in, but it can still struggle to focus on close objects. The Camera app is simple enough, with all the more complex settings buried in the Pro mode, so you don't have to get your hands dirty unless you really want to.
Quality is decent, though not spectacular in anything except perfect light. That's because colours lose their vibrance as soon as the sun goes in, and the Auto mode tends to err towards overexposing your shots. Auto HDR can sometimes struggle to rescue the dynamic range, too.
Motorola has a habit of over-processing your snaps, so they appear sharp at a glance, but are actually hiding a lack of detail when you get up close. That's still true here, and can be really noticeable in cityscapes and subjects with lots of intricate detail.
Low-light shooting can still be tricky, as there's no optical image stabilisation – despite what that bulging camera module might suggest. You'll still have to pay a lot more to find a phone that can do a better job, though.
That's kind of the overall story here – the Z2 Play's camera isn't bad for the money, but it doesn't stand out either. Compared to the Honor 9's dual cameras and clever shooting modes, you might even call it boring, but when the best camera you have is the one that's in your pocket, it's up to you whether you think it's a big deal.
PERFORMANCE & BATTERY LIFE
Sure, crazy amounts of power and RAM are nice to have, but for most people, the top-end chips you'll find in flagship phones are just overkill. The Moto Z2 Play sticks to a mid-range CPU, and is all the better for it.
The Snapdragon 626 is an octa-core chip, and can comfortably keep Android 7.1 feeling smooth – without needing a giant battery to keep things ticking over. It won't beat the Samsung Galaxy S8s or iPhone 7s of the world when it comes to benchmarks, but web pages, apps and games all work perfectly – so who really cares?
For the most part, games load quickly, animate smoothly, and have consistently high frame rates – it's why the 1080p screen makes so much sense here. Only the really intense stuff will leave the Z2 Play chugging.
4GB of RAM is plenty, able to keep a handful of apps in memory while you multitask without having to reload them. There's a healthy 64GB of storage for your apps and games, plus a microSD card slot for adding more should you run out.
Motorola's hands-off approach to Android customisation helps, too. You're getting a near-stock UI, with only a few extra tweaks and upgrades like an ambient display for at-a-glance notifications without waking the screen, and gesture controls to jump straight into the camera or turn on the flashlight.
The mid-range specs should mean fantastic battery life, but Motorola has actually shrunk the battery down from last year's Moto Z Play, from 3500mAh to 3000mAh. That means this isn't the stamina champion we were hoping for, but it can still put in an impressive performance.
That's because it has an unnatural talent for going hours in standby without losing much juice at all. Keep the screen on all day with social scrolling, games or video streaming, and you'll need to top up before bedtime, but for general use, you'll still be able to go every other day between charges.
It supports fast charging, of course, so you're not hanging around for long to wait for it to refuel, and there are plenty of battery-friendly Moto Mods that can help you go for longer when you're nowhere near a plug socket.
MOTOROLA MOTO Z2 PLAY VERDICT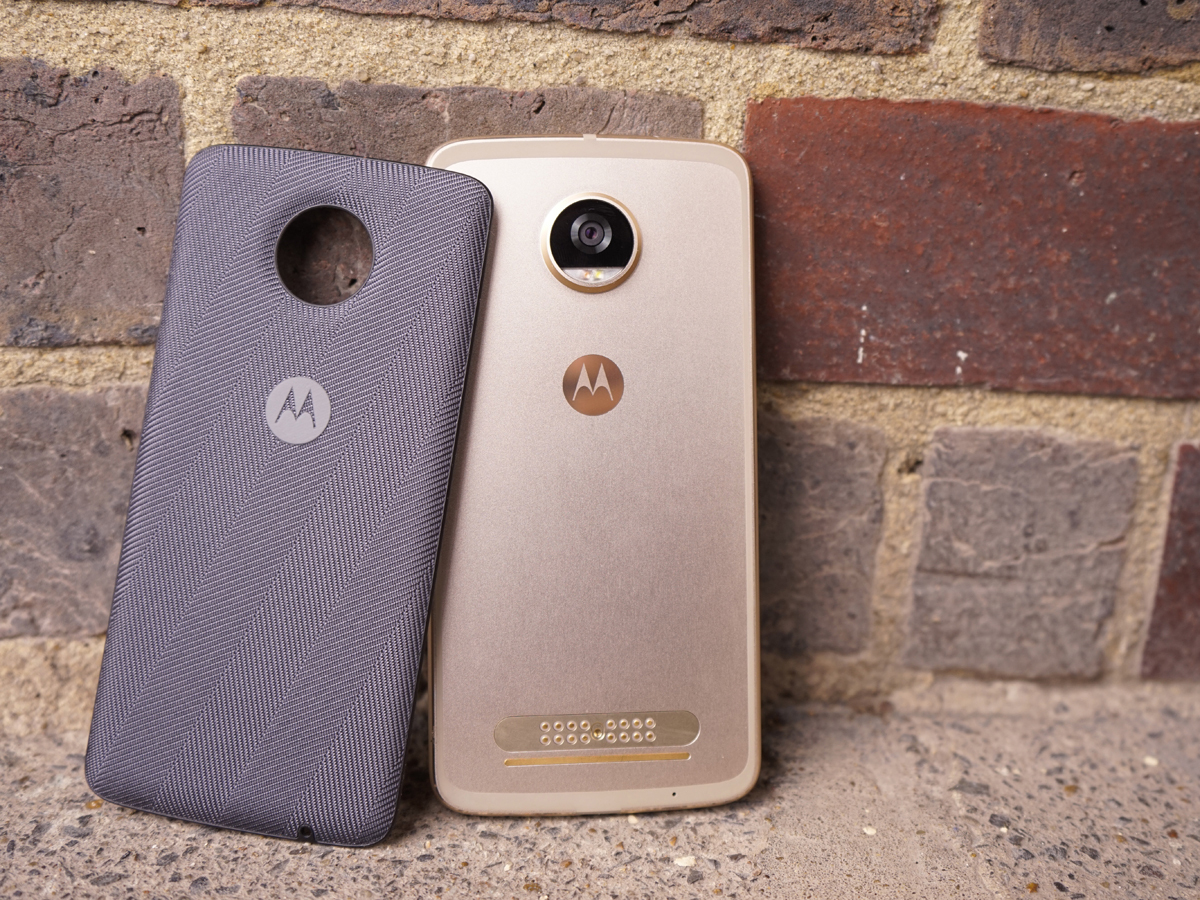 When it showed up at the tail end of 2016, we loved the Moto Z Play and its weird yet wonderful take on the modular mobile. It had fantastic battery life, too, but couldn't quite edge out the cheaper OnePlus 3 as our go-to phone below £350.
Now that the OnePlus 5 has upped the budget to £450, though, Motorola's second try looks a lot more appealing. And not just because the price has only gone up by a Brexit-beating tenner here in the UK.
It doesn't have the most powerful parts, the battery might not be quite so long-lasting any more, and the similarly-priced Honor 9 might have a more comprehensive dual-camera setup, but there's something undeniably cool about those Moto Mods.
Ignore the optional upgrades and you're still left with a keenly-priced handset that feels quick to use, looks great and takes a decent picture. Unless you've got the extra cash to splash on the OnePlus 5, or don't mind Honor's overbearing spin on Android, it's a great buy.
Tech specs
| | |
| --- | --- |
| SCREEN | 5.5in, 1920×1080 AMOLED |
| CPU | Qualcomm Snapdragon 626 octa-core |
| MEMORY | 4GB RAM |
| CAMERA | 12MP, f/1.7 rear w/ phase detect & laser AF, dual-LED flash. 5MP, f/2.2 front w/ dual-LED flash |
| STORAGE | 64GB on-board, microSD expansion |
| BATTERY | 3000mAh non-removable |
| DIMENSIONS | 156x76x6mm, 145g |
Stuff Says…
A magnificent mid-ranger that might not wow on sheer specs, but still impresses with modular magic
Good Stuff
Premium build and quality screen – even at 1080p
Silky performance and great battery life
Nifty modular accessories
Bad Stuff
Camera lacks colour punch
Moto Mods quickly get expensive
Phone still looks weird without a Mod in place