Motorola Moto G8 Plus review
Our go-to sub-£250 smartphone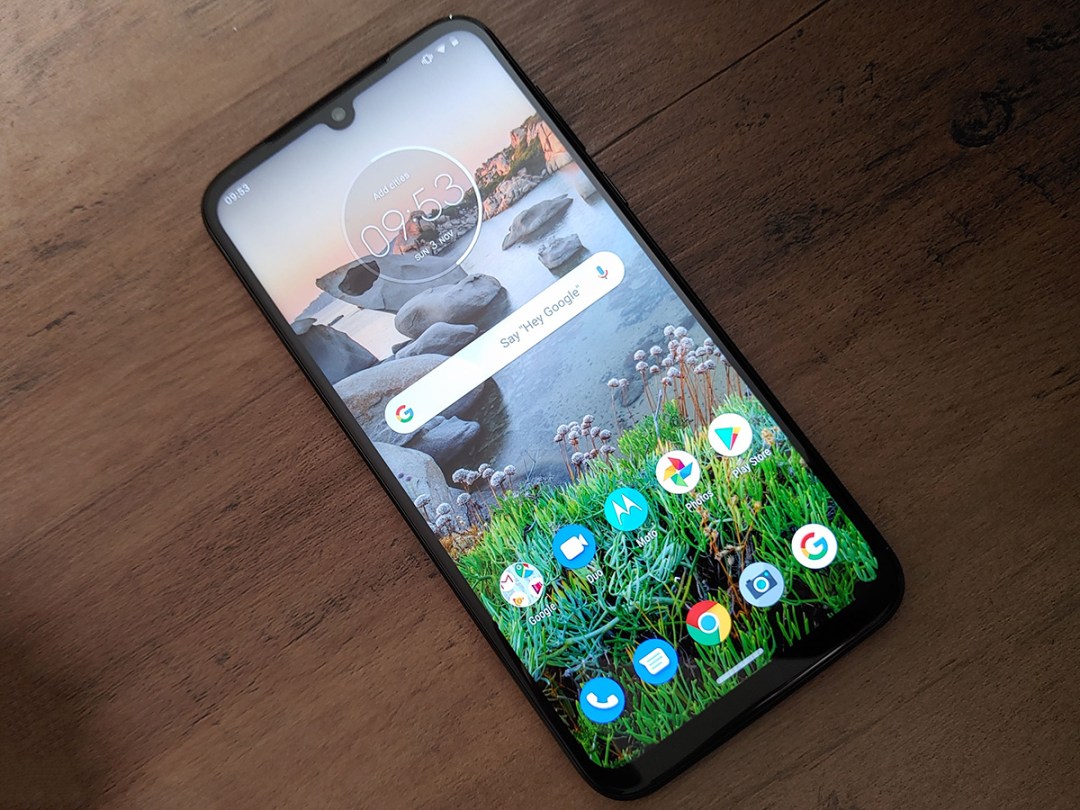 Cheap is a dirty word, right? Not if you're talking about a Moto G.
Motorola's value smartphone series has been our go-to sub-£250 smartphone for years now, taking on all comers with an unbeatable combination of capable hardware and streamlined software.
The Moto G8 Plus is trying the same for the eighth time, with an uprated camera, much bigger battery and a contemporary design. And hang on, it costs less than the last one? A few years ago we could have stopped this review there. Race won, the favourite came in furlongs ahead of the competition.
Only this is 2019, and there are a whole bunch of go-getter rivals that have turned what it means to be a budget smartphone king on its head. Can the Moto formula still create a contender? Time to find out.
DESIGN & FEATURES: BUDGET? WHAT BUDGET?
With a front-filling screen, complete with camera notch, rounded corners and smooth, pebble-like sides, the G8 Plus is bang on trend. It's an evolution of last year's G7, sure, but the gradated blue-to-black colour scheme on the rear gives it the trendy two-tone vibe so many premium phones are going for right about now.
You can tell Motorola has used plastic, so it doesn't feel quite as premium as the similarly-priced Nokia 7.2 – but there's not a lot in it. Turning the logo on the rear into the fingerprint sensor keeps branding down to a minimum, so the overall effect is pretty classy for a sub-£250 handset.
That finger scanner works brilliantly, and is far quicker than the in-screen sensor seen on the Moto One Zoom.
Other welcome additions include a 3.5mm headphone port, USB-C charging (amazingly still not a given in budget phones, but present here) and a water-repellent coating. There's no official IP-rating, so it's not like you'll want to give it a dunking, but a few splashes shouldn't be its downfall.
CAMERA: ON THE HORIZON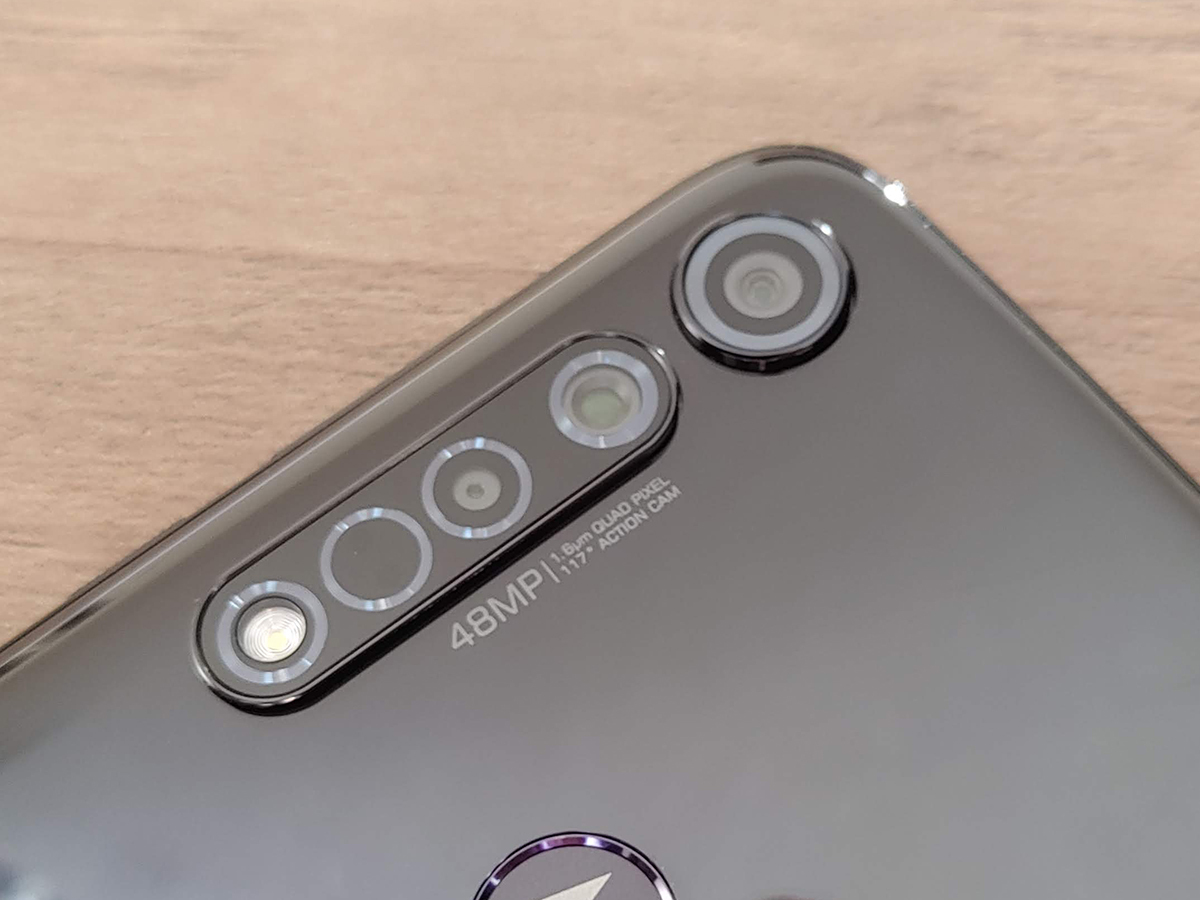 A quick glance at the back might get camera fans excited, as it looks like the slightly protruding lens array holds a whopping five sensors. It doesn't.
Motorola has sneakily built the laser autofocus module and LED flash into the array, so there are actually only three sensors – and even then, only one can actually be used for stills shooting.
You get a sort of greatest hits from the recent Moto One line-up, with the huge pixel count of the One Zoom and the ultra-wide sensor dedicated to video from the One Action. The latter lets you record electronically-stabilised landscape videos while holding the phone normally – albeit only at 30fps and 1080p. The main snapper manages (admittedly shakier) 4K clips.
That's because it has a giant 48MP sensor, with pixel-binning algorithms saving your shots as 12MP files. It's a capable chip in the daytime, or when fed plenty of light, producing detailed images that are crisp and colourful, if a little overexposed in auto mode. The laser focus is quick to lock on to subjects, and the camera app is generally very responsive, but it's a shame you can't use that wide-angle video lens for stills photos.
Something for a future software update, perhaps? Pics are largely true-to-life, although zoom in and you'll spot the limitations of the quad-pixel technique, with reduced background detail. The amount of noise and grain jumps significantly once the light levels drop, and even the dedicated night mode can't completely counter that.
But then this isn't a flagship phone, so limit your expectations and you'll largely be happy with the results.
Up front, the 25MP selfie camera does some algorithmic cleverness of its own, saving 6MP images that look fairly clean, but again exposure can be its downfall. It's worth taking control with the exposure slider, rather than trying to rescue your shots through editing after pressing the shutter button.
DISPLAY & SOUND: NO SURPRISES
"Bigger and better" pretty much sums up the G8's clear and colourful screen. It's 6.3in, up slightly from last year's G7 Plus, and without the prominent Motorola logo lurking at the bottom it fills even more of the front of the phone. A few extra vertical pixels account for the stretch, while the skinny aspect ratio stops it from feeling unwieldy once you get it in your hand. 2280×1080 means Full HD plus a bit more, with images and text looking perfectly crisp – if not as detailed as you'll find on a QHD+ flagship phone.
The dewdrop-style notch isn't that intrusive when watching movies on the go, although the LCD panel can't create the truly deep blacks of an OLED to help hide it more effectively, and there's no software option to disguise it.
Don't expect premium extras like HDR here, but video clips still have plenty of visual punch, with vibrant colours and ample brightness, though by no means class-leading in either area. Speaking of brightness, the G8 Plus has a habit of adjusting itself a lot more frequently than rival phones. It's something G series phones have been guilty of in the past, and while it's not quite as annoying here, it still happens enough to make you think about turning automatic brightness altogether.
Dolby processing is on hand to give audio a low-end lift, with the stereo speakers getting plenty loud enough. You won't need a pair of earbuds just to listen to YouTube clips, although things do end up fairly tinny when you really crank it.
PERFORMANCE: JUST GETS ON WITH IT
Budget phones have never been about power, but they still need to get the job done, which is why the G8 Plus is rocking a Snapdragon 665 and 4GB of RAM. It's one of Qualcomm's mid-range CPUs, but has eight cores with enough grunt to keep Android running smoothly.
The homescreen feels ultra-responsive, apps work without feeling sluggish, and multitasking isn't really an issue if you stick to web browsing, social feeds and a bit of picture-in-picture YouTube bingeing.
Stick the G8 side-by-side with a flagship phone and you'll notice how apps take a fair bit longer to load, but it's not enough to sour the experience.
Gaming isn't too much to ask, although 3D titles tend to default to lower detail settings, and frame rates aren't silky smooth. Still, Player Unknown's Battlegrounds Mobile is still able to run without turning into a slideshow.
BATTERY LIFE: DON'T STOP ME NOW
If there was one area where February's Moto G7 Plus could have done better, it was the battery department.
Motorola isn't messing around for its successor, bumping battery capacity up by a third, to a whopping 4000mAh. With a mid-range CPU doing all the grunt work and a sensible screen resolution, you can bet that translates to fantastic staying power.
The G8 Plus will happily chomp through a full day's worth of texting, social scrolling, photo snapping and media streaming without needing to refuel until the next morning.
Heavy gamers might need to top up by bedtime, but for daily duties two days between top-ups isn't out of the question. When it is time to plug in, the bundled 18W charger gets the job done – though not as quickly as the 27W plug that came with the G7 Plus. There's no wireless charging, but since when was that to be expected on a budget phone?
OS & SOFTWARE: PURE AND SIMPLE
You know the story by now: Motorola doesn't like to mess with a good thing, so Android 9.0 Pie is basically left as Google intended it. Which gets a big thumbs up from us.
The G8 gets a single solitary extra app that lets you toggle on a few gesture controls and dictate what info appears on the display when in standby mode. Otherwise it's the same simple, easy-to-navigate Android experience, with your choice of onscreen buttons or gesture navigation.
The only pre-installed apps are Google's defaults, and Moto Voice has been ditched in favour of Google Assistant. The only real complaint is the lack of Android 10, but Motorola is one of the quicker brands when it comes to updates, so you shouldn't be left waiting all that long for it to arrive.
MOTOROLA MOTO G8 PLUS VERDICT
Are you surprised the G8 Plus is a mostly brilliant budget phone? You shouldn't be. It was going to take something monumental to screw up the formula Motorola has carefully crafted over eight generations.
The streamlined design is now more in keeping with Moto's other phones, while camera image quality and battery life have both taken big steps up over the G7 Plus. That Motorola has managed to drop the price in the process is a big win, too.
Even so, there's a lot more competition at this more affordable end of the smartphone spectrum than there was when the G series was in its infancy. If you're happy to spend only a little more (and put up with a heavily customised version of Android), the Xiaomi Mi 9T packs in a bit more bleeding-edge tech for your cash, and the Honor 20 Lite gives camera fans a bit more flexibility for stills shooting. Not quite the default option under £250, then – but you'd be foolish to leave it off your shortlist.
Tech specs
| | |
| --- | --- |
| SCREEN | 48MP, f/1.7 w/ phase-detect Autofocus, Laser AF, LED flash. 16MP, f/2.2 dedicated video sensor, 5MP, f/2.2 depth sensor. 25MP, f/2.0 front |
| STORAGE | 64GB on-board, microSD expansion |
| OPERATING SYSTEM | Android 9.0 Pie |
| BATTERY | 4000mAh non-removable |
| DIMENSIONS | 158x76x9.1mm, 188g |
Stuff Says…
As well-equipped and capable as we'd expect from a Moto G, with less confusion now the Plus is your only eighth-generation option – but upstart rivals stop it from being the only budget game in town
Good Stuff
An above-average effort in almost every area
Battery life that goes and goes
Pure Android and decent budget performance
Bad Stuff
Not the clear-cut value champ of previous years
Auto brightness can be a bit keen