LG V10 review
Two screens. Two selfie cameras. Too much of a gimmick?
In a world where most flagship smartphones are more or less identical, the LG V10's duality is enough to make you do a double take. The first model in LG's new V line, it's positioned as an even fancier phone than the LG G4.
That much is clear as soon as you get your hands on the V10, thanks to its lux looks and top of the line specs. As well as offering a pair of front facing cameras, this unique handset also features two touchscreens. 
But do these extras add up to make the V10 a perfect ten? Let's do the math.
A tale of two displays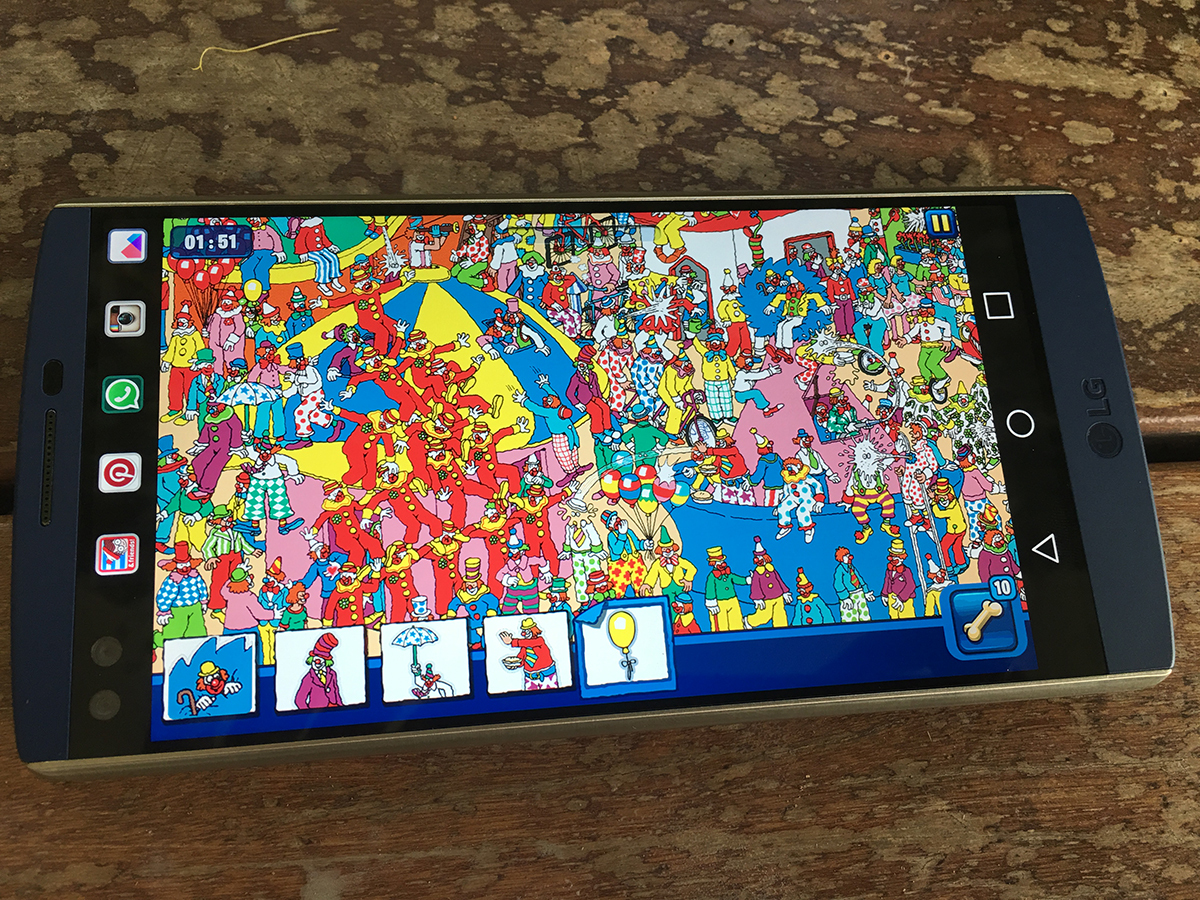 So let's start with this phablet's screen. Well, its biggest screen if you want to get technical.
It's a 5.7-inch Quad HD pearler that's really quite lovely to look at. On first glance, you'll feel a pang of annoyance that LG's stock theme for the phone is a plain black one. This display is begging for some colour to show off what it can do. With 513ppi of detail, you can happily read Stuff.tv and your emails without giving your brain an aneurism from excessive squinting. Watching videos on this phone is a similarly joyous affair thanks to its plentiful size and resolution.
Now what about that other screen? Really, it's just a 2.1-inch bar at the top of the phone, and it doesn't offer as much functionality as I thought it would.
When your phone is off, this second display stays on as a backlit bar to serve as a tiny notification centre for texts, missed calls and whatever else you've enabled. You can also access shortcuts to functions like the flashlight and check on the date and time without having to wake the phone up, saving precious battery life.
When the phone is awake though, the second screen gets new purpose. It gives you access to five of your recently used apps, favourite contacts, music controls, and marvel at your name or favourite catchphrase (up to 18 characters) displayed in fancy font, if you're into that sort of thing. And if you're in the midst of checking on your Neko Atsume cats and a call comes in, that's where it will show up instead of interrupting your feline hoarding activity.
Unfortunately, this functionality only works for calls and text messages. I'd love it if I could say the same for WhatsApp, the source of most of my notifications, and not have a notification obscure my puzzle solving and kill my winning streak. Similarly, you won't get any of this multiscreen joy from Twitter or Facebook
Built to last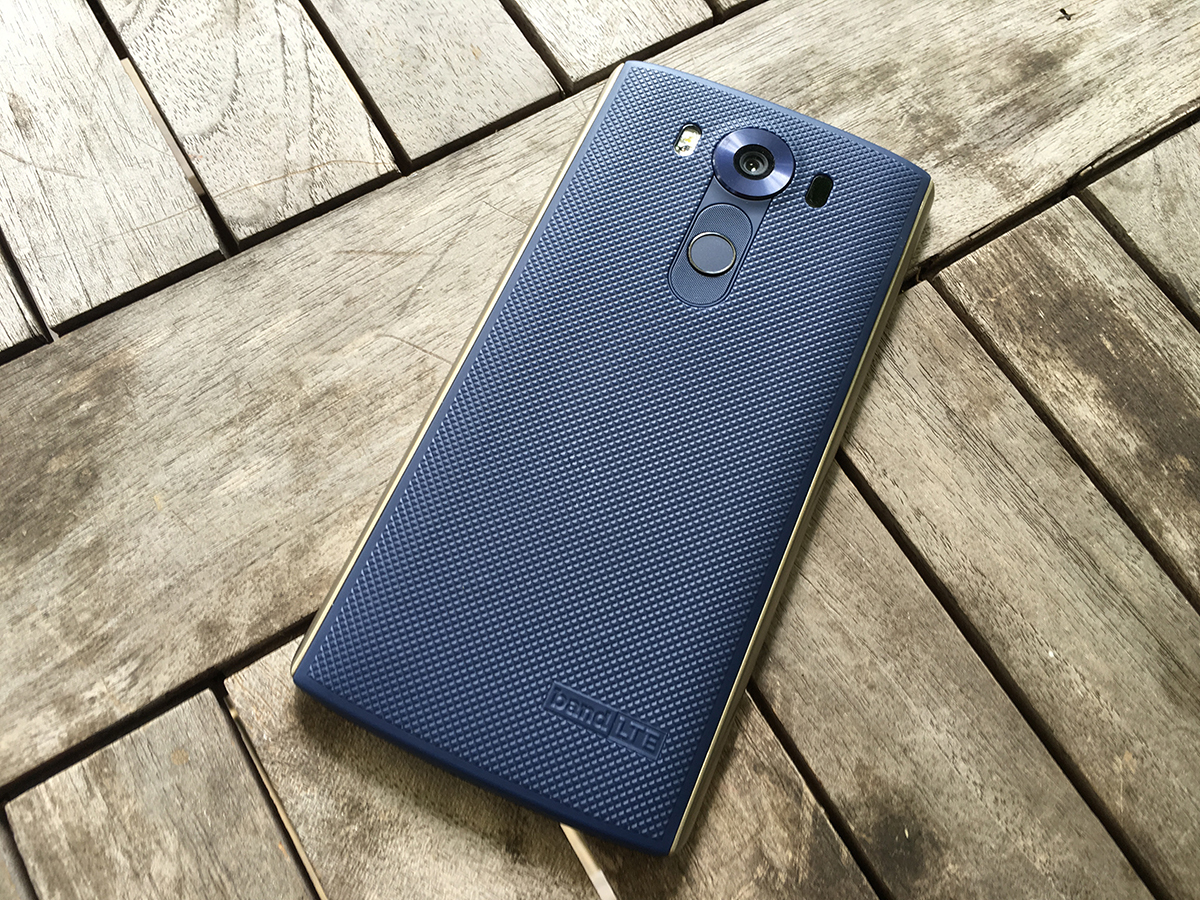 Much has been said about the V10's sheer size. It's a big phone, but as someone who's been using the iPhone 6s Plus with a leather cover on, it doesn't feel off-puttingly huge. Even though the V10's screen is slightly taller, it's actually about the same size as the 6s Plus'. That's thanks to the space-scrimping placement of a fingerprint sensor on its back side, rather than on the front a la the iPhone. Less base, more face.
Weighing in at a significant 192g, this LG is about 20g heavier than both the 6s Plus and Samsung Galaxy Note 5, and you'll feel this added bulk from time to time. Like, if you're shooting video with only one hand.
So does any of this make the V10 difficult to hold? Not really. Unlike the G4, LG's latest effort doesn't have a sweeping curve in its body. Because of the grippy textured Dura Skin material it's coated with, the V10 phone feels secure in even the most sweaty mitts and doesn't look like it will discolour over time. This hardy silicone skin that wraps around the whole of the phone, save for the stainless steel sides, and is supposedly resistant to scratches.
Although plenty of phones make this sort of claim these days, my V10 is still in pristine condition after about a week of use. That's despite my carrying it around in a bag full of sharp pointy things that are hellbent on defacing most smartphones.
Fingerprint smarts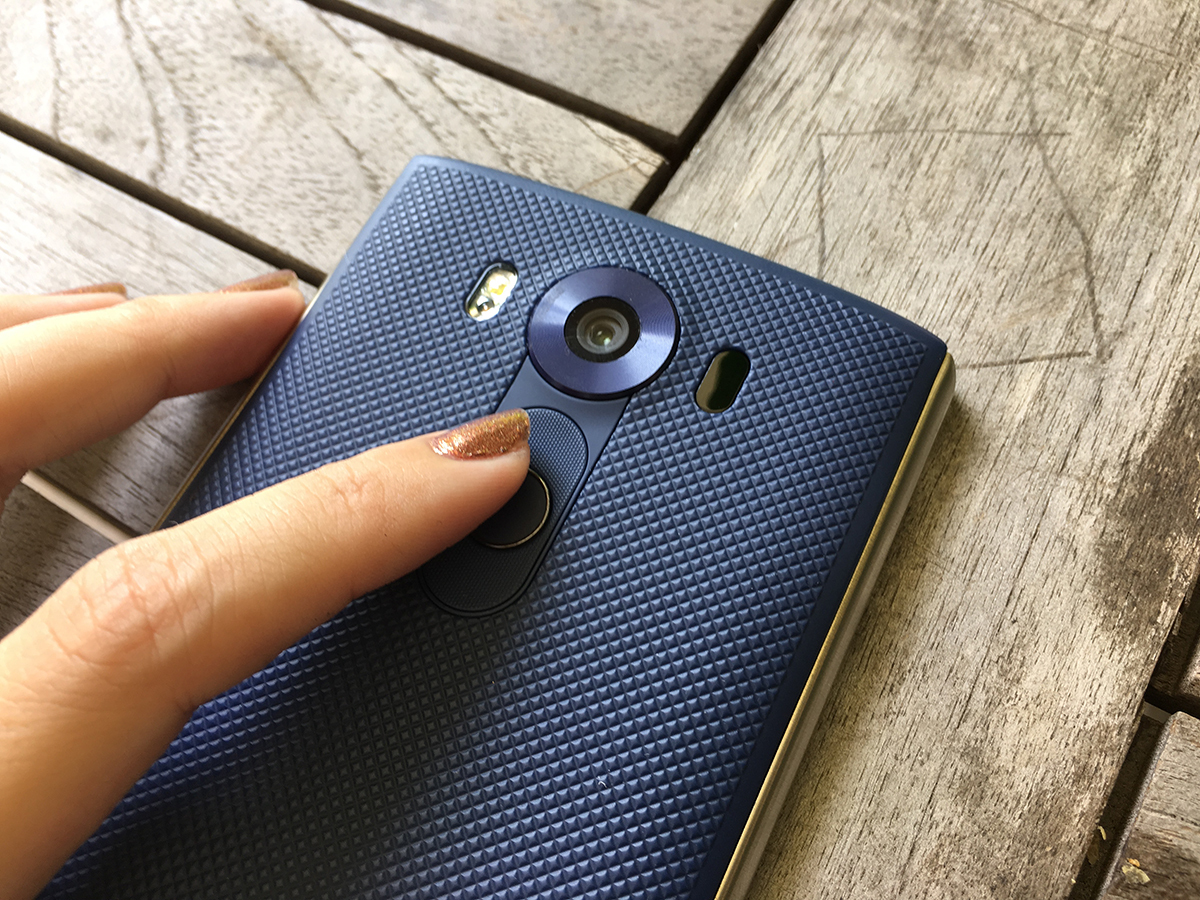 LG has kept with the tradition of its back buttons and added a fingerprint sensor into the home option. While it's fast, it does not read your fingerprint when the phone is off.
To unlock the V10, you'll have to press the home button to wake it up, then rest your finger for a nanosecond longer to be greeted by your primary array of apps. This isn't a deal-breaker by any means, but Google and Apple have already combined the former two-step process and set a new standard for a more seamless user experience.
What can I say? I've tasted great and I'm not going back to good enough.
All fired up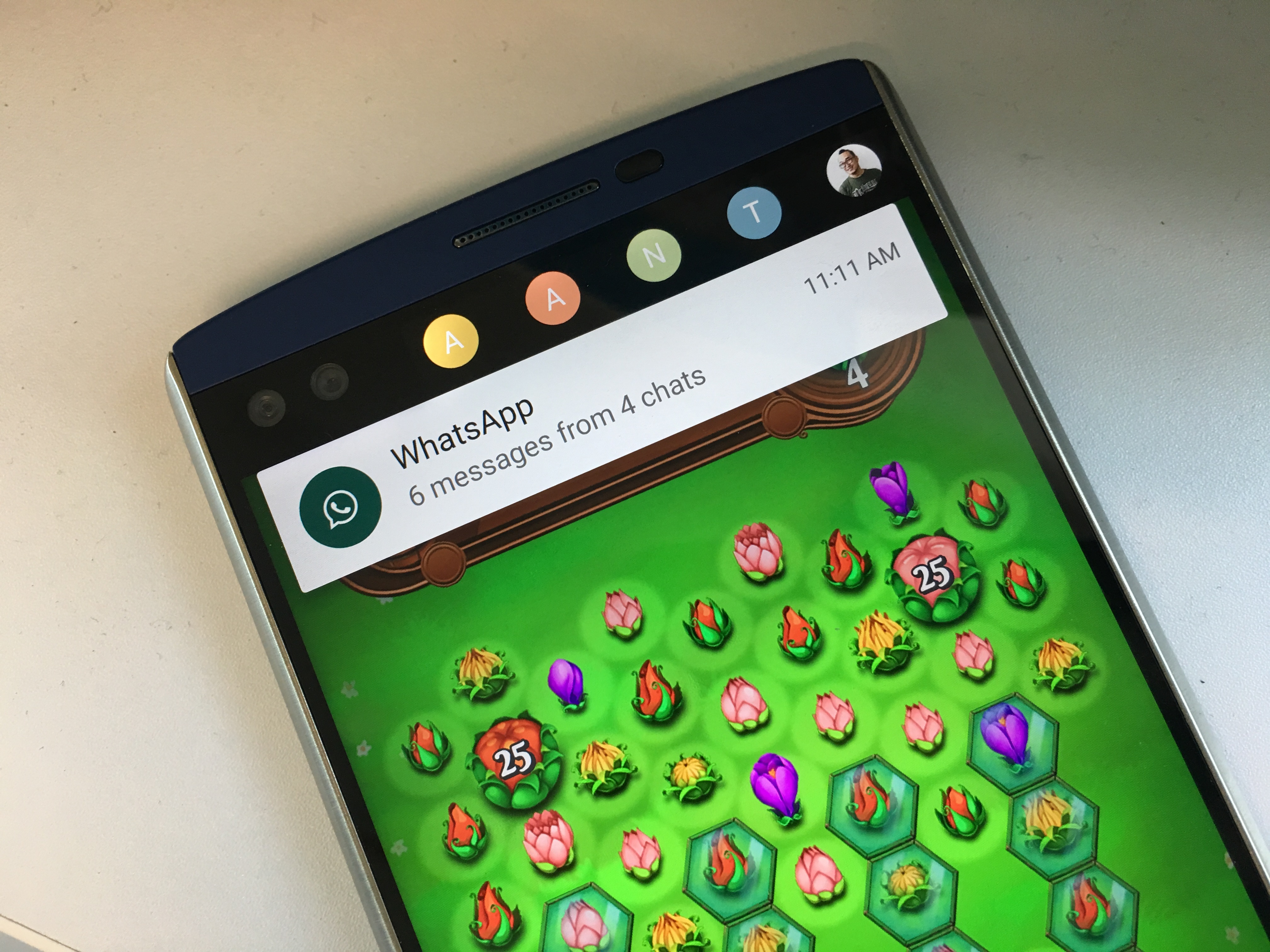 In the flagship smartphone power leagues of today, the speediness has pretty much plateaued at a peak of performance. So you'll be in safe hands with the V10's Snapdragon 808 processor and 4GB RAM.
Racking up a perfectly respectable multi-core score of 3611 in Geekbench 3, the V10 is zippy and eager, responding like a pro to every task I hurl at it. Switching through apps and navigating through the phone was never met with any lag, while a power-hungry game like Asphalt 8 was also handled with utmost ease.
Unfortunately, this phone does have the tendency to run out of puff at inopportune moments. Its 3000mAh battery falls short of a full day's worth of comfortable use, especially if you're using the camera a lot. Fortunately, the V10 has a removable battery so its battery woes are short lived if you carry an additional battery around with you.
Plus, it comes with fast charging tech courtesy of Qualcomm, going from zero to 12% in just ten minutes while a full charge takes slightly over an hour. So if you've forgotten to charge your phone the night before (how could you), plugging it in while you jump into the shower will mean that your phone doesn't stutter to a halt before lunch.
Optimus, transform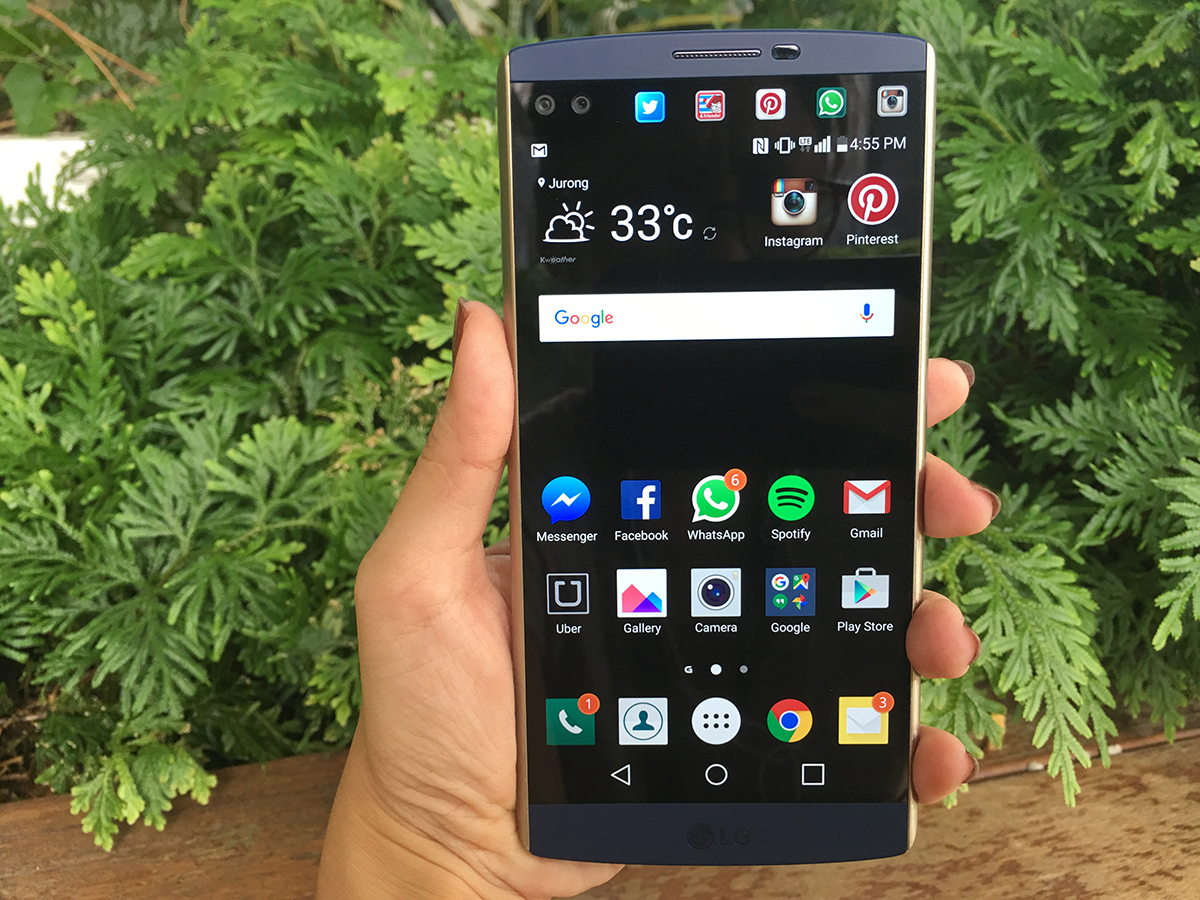 The V10 runs Android Lollipop and you get all your regular LG favourites like KnockOn (where you tap twice on your phone's screen to wake it up) and gesture camera controls. For some reason though, LG has made the settings of the second screen a pain to locate.
You'll have to dig into Settings, Display, Second Screen then tap on the actual text to access all the customisations you're allowed. Considering that the second screen and its personalisation is one of this phone's defining features, the ability to adjust them should be front and centre and intuitive, not tucked away in the recesses of the phone.
Also, I've been unable to silence the camera shutter sound which means embarrassingly loud clicks and undesired judgemental looks every time I take a shot. It's not within the camera app settings, nor is it in the Sound & notification tab of the Settings menu. While long time LG users might scoff at my predicament, it speaks volumes about some less-than-intuitive aspects of the Optimus UI.
I'd rather LG took a leaf out of the BlackBerry Priv's keyboard-boasting book and offered key software tweaks that are specific to the V10's design, while keeping the rest of your user experience as close to stock Android as possible. If your phone is going to have a central gimmick, it needs to make the most of it.
Correction
As it turns out, our Korean review set was just abiding by the little known fact that silent camera apps are banned in South Korea. In other words, that loud embarrassing click is intentionally unsilenceable. It shouldn't be the case for your V10 if you didn't purchase it in S.Korea. (Question: how do people take photos of animals without triggering a small stampede then?)
Express your selfie
Now we arrive at the V10's other anomaly, its pair of camera eyes right next to the second screen. Each of them are 5MP and what they do is to serve your selfie-loving narcissism.
Using just one of these snappers gives you a traditional 80 degree field of view when capturing your glorious visage. Activating the other via the simple tap of the icon within the camera app gives you a 120 degree field of view, which is essentially what you get when using a selfie stick… minus the stomach-churning embarrassment.
More importantly, it means you can squeeze more people into a group selfie or capture a lonesome traveler's selfie to send to your friends back home. Now that Instagram offers landscape shots, this is especially handy.
So what about the V10's rear-facing camera? As with the G4, this 16MP sensor is quick to focus and turns out excellent photos. In low light, its pedigree shines even brighter. This phone doesn't drag its feet when it comes to capturing night time shots, focusing without putting up a fight. While shots might turn out a little grainy, that can be fixed with a tweak or two of ISO and shutter speed in manual mode.
Special effects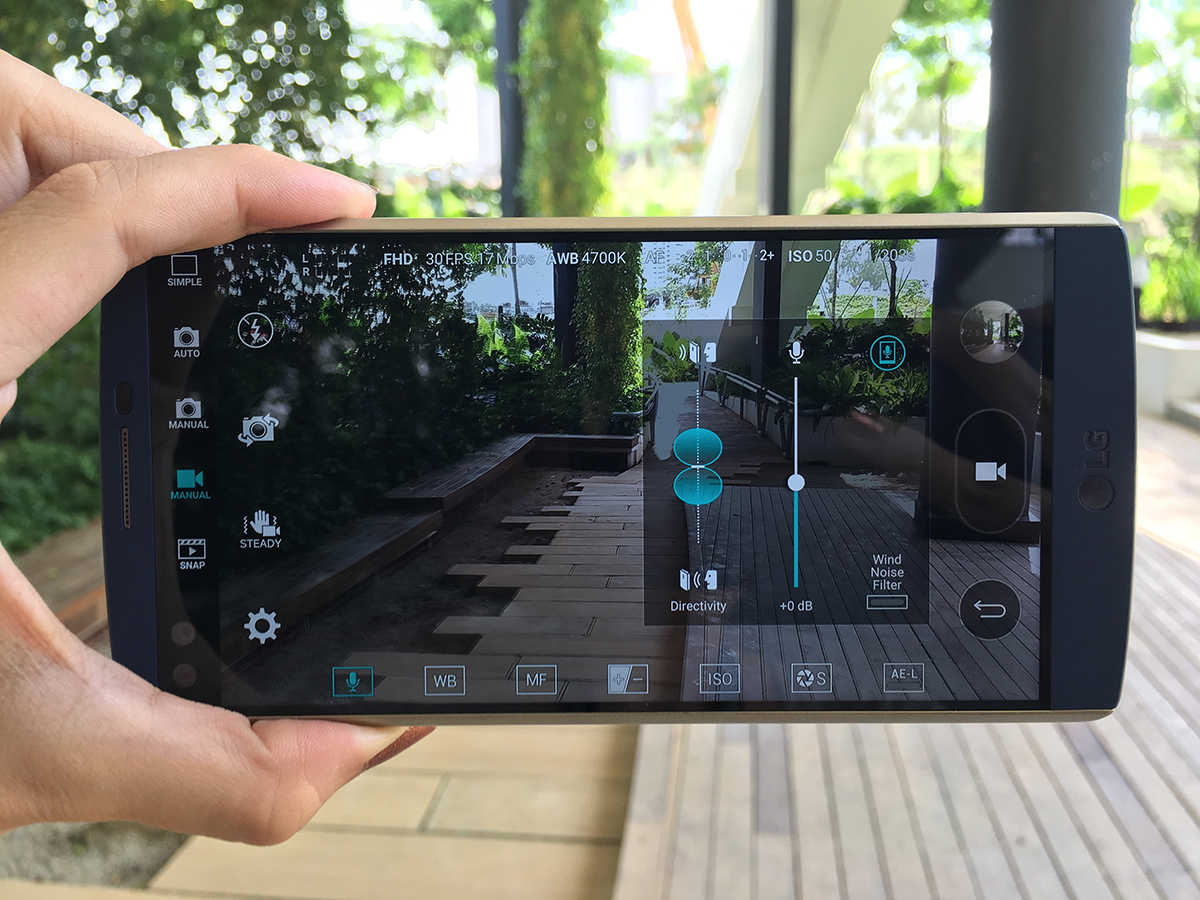 The V10 also is packed to the gills with manual video-recording bells and whistles. There are a ton of settings you can get into if you're seeking the perfect video shoot, including things like white balance, ISO, and even bitrate. And the best part is it's simple and straightforward to use, reflecting changes in real time so you don't even have to know what ISO and shutter speed do beforehand.
Apart from offering standard OIS to offset shaky-hand syndrome, it goes one step further with EIS (electronic image stabilization) to electronically fix up your moving images. If your video still resembles footage right out of Paranormal Activity after activating both settings, invest in a tripod and go see a doctor about those tremors before it's too late.
Amongst all the features that manual video-recording offers, two stood out. One's the ability to adjust audio settings while recording video, choosing which direction to pick up sound from which should come in handy in crowded settings or cut out the noise of the wind on outdoor shoots. After all, what's the point of great video if your audio is going to sound like Hotel California played backwards?
Secondly, the V10 offers a 15 second auto edit feature that you can apply to captured footage. It's extremely convenient for gathering the highlights of a video by automatically removing blurry shots and including faces, and saved me the trouble of removing what I don't want to see from a night out. The final offering is a perfectly formed cut for your Instagram account.
LG V10 verdict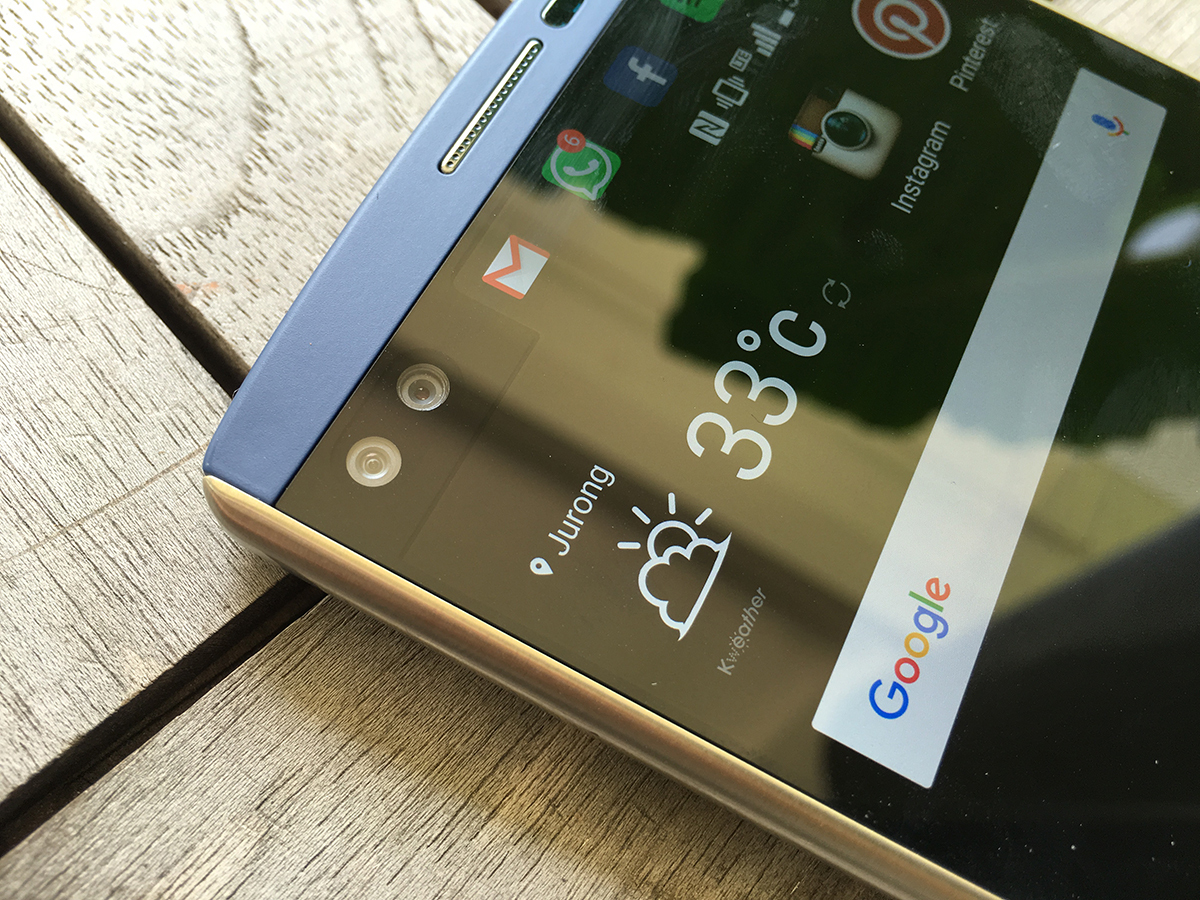 Right now the V10 isn't officially available in the UK, but you can buy it through several tech import sites and even Amazon for an inflated price. This dual-screened LG will cost you around £100 more than a leather-backed LG G4, which still ranks as one of our favourite phones of 2015.
While its closest competitor would be the Samsung Galaxy Note 5, the V10 is very much a different creature. If you're a note-taker and appreciate having a stylus to work with, the Galaxy Note 5 is your best bet. But if your focus is on making videos to fill up your Instagram feed with, the V10 is the phablet for you.
And all things considered, it's one of the few smartphones left with a removable battery and a microSD card to support up to 2TB of expandable storage.
Although the V10 is not quite the perfect ten, it's still a pretty darn good phone and an admirable effort by LG to bring something new to this predictably boring clone phone market. Keep doing you, LG. Stay strange.
Tech specs
| | |
| --- | --- |
| Screen | 5.7in 1440×2560 pixels |
| Power | Snapdragon 808, 4GB RAM |
| Battery | 3000mAh |
| Camera | 16MP |
| Dimensions | 159.6 x 79.3 x 8.6mm |
| Weight | 192g |
Stuff Says…
The V10 is a strong debut for LG's V series with its spectacular platter of multimedia offerings
Good Stuff
Excellent camera prowess
Solid build quality
Pin-sharp display
Bad Stuff
Second screen is a little gimmicky
Could use a bigger battery