Lexus UX 300e review: much improved EV
This little bit of luxury now goes a lot further
The Lexus UX 300e's mid-life refresh was, to be honest, much needed. When the premium crossover first appeared back in 2020 it had many of the same features, but what let it down most was the disappointing electric range. Anything that delivers less than 200 miles doesn't inspire much confidence, especially in a country with such a patchy charging infrastructure. Three years later and the UX is back. Lexus has addressed the range issue, and also carried out some other welcome tweaks.
The new and improved UX 300e therefore feels like a much more complete package. You'll certainly feel happier doing longer runs in it, thanks to a bigger battery that now offers up to 279 miles on one charge. It lands from £47,495 for the base model, but Lexus buyers like their luxury, so naturally there are more premium trim options too. A Premium Pack edition with 17in wheels costs £50,995, while the top-of-the-range Takumi is a sizeable £57,095. We'll give you an idea if it's worth adding on all the toys as you read on below.
The styling
The current Lexus range has a pretty good overall theme going on and the UX 300e is no exception. The lines are fairly straightforward, with nothing too dazzling in the design department. Even the grille area is reasonably low-key compared to other Lexus models. Nonetheless, the UX 300e is good on the eyes from most angles, with a clean front end, a pert rear with some neat taillight sculpting going on and a sensible side profile.
The alloys manage to lift the car's appearance from sensible to showy, while Lexus' vibrant colour palette boosts that further. If you want to remain under the radar then head for the darker colours like our Sonic Grey example, but some of the brighter paint shades really pop. If you're more of a show-off then plump for a zingier shades such as Celestial Blue. Chrome trim is surprisingly minimal and only used where it works to maximum effect.

The cockpit dazzles, as is the case when you set foot inside all Lexus models. The leather seats look beautifully made and boast a new Kagome pleating effect, with Japanese-flavoured stitching that looks like it'll be incredibly hard wearing. Lexus has also integrated its X air purification system into this model, which means you'll be breathing easy too, although the genuine effect of tech like this is hard to quantify.
The drive
We got to drive the latest incarnation of the Lexus UX 300e around Scotland, heading out from Edinburgh city centre to the surrounding countryside. Conditions were dry to begin with, but rain quickly set in. The car is reassuringly agile around town and its size – 4.95 metres long, 2.80 metres wide with mirrors and 1.54 metres high – is easily manageable for city streets packed with delivery trucks, buses and bikes.
This is a car that's easy to drive, too, and the beefier 72.8kWh battery means range is up by over 40%. That promises, potentially at least, that you can go up to 279 miles. Curiously, Lexus has a digital mileage range on the dashboard display, but on the right-hand side of that there's an analogue gauge which has a needle, which in turn doesn't seem quite in tune with the other readout. It's a bit of a quirk.
Aside from that, the Lexus UX 300e motors along nicely enough. This is a front-wheel drive SUV and despite decent weight distribution the car feels less sure-footed in the wet than it does in the dry. Once out of the city, we found it a little skittish around winding Scottish lanes, despite Lexus tweaking the suspension and chassis for this edition. Spinning the front wheels was easy too as they scrabbled for traction on greasy surfaces. Care is definitely needed in the wet.
However, overall, the Lexus UX 300e feels nicely balanced and gets around corners without fuss despite its height. The power is evenly distributed and, as you'd expect from an EV, there's enough there for when you need to get out quickly on motorway slip roads or at roundabouts. The steering feels light but direct and all the controls fall nicely to hand too. The drive shifter is engaged by pulling it to the right slightly, which might initially catch you out if you're not used to it.
Sitting in those comfy and quality stitched Lexus seats, the driving position is easily adjusted to suit your size thanks to a suite of all-electric buttons. Similarly, all the controls are right there when you need them, with the much-improved infotainment system outlined below adding to the easy-going driving experience. It's deliciously quiet in the cockpit too, just as you'd expect.
The technology
One of the best new additions is the central touchscreen, which is now a 12.3in landscape affair. The colour and clarity are excellent, while the overall usability is much improved too compared to the older 10.3in offering. Lexus designers have sensibly opted to keep this fairly high up, so it's easy to access on the go, but doesn't spoil the run of the dash.
A digital display in front of the steering wheel adds on everyday information, while the steering wheel features commonly used driving aids too. Alternatively, dip into the voice menus and try your luck by saying 'Hey Lexus', which we did with the usual mixed results.
Down on the centre console, near the shifter, there's a simple layout with more controls including options for controlling the temperature of the front seats. It actually feels quite minimalist, and that's a good thing for anyone who remembers what the ridiculous touchpad creation Lexus used to insist on putting in some of its older models used to be like. It feels like progress for sure.
Lexus UX 300e verdict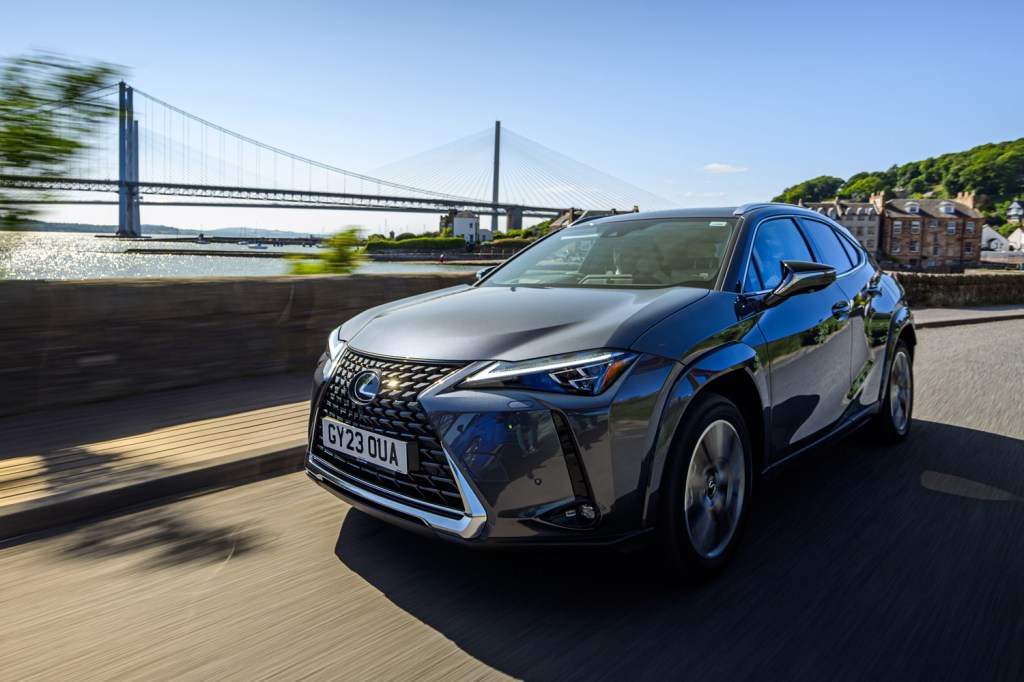 Fair play to Lexus for listening to feedback on those earlier cars and making the new UX 300e much better than its predecessor. There's more range, which boosts its appeal even if it's still not as good as some comparable rivals. The infotainment is a step-up too, with a better-to-look-at design and a much more agreeable user experience on offer.
Combine that with all the usual Lexus luxury accoutrements and you've got an all-electric SUV that appears to be on the right track and should manage to pick up a few new converts who decide to test drive it.
Stuff Says…
Better range and the usual premium feel now make the Lexus UX 300e a much more serious proposition if you're headed in the direction of an SUV.
Lexus UX 300e technical specifications
| | |
| --- | --- |
| Powertrain | 150kW electric motor, front-wheel drive |
| Battery | 72.8kWh |
| Power | 201bhp |
| Torque | 221lb-ft |
| 0-60mph | 7.5sec |
| Top speed | 100mph |
| Range | 279 miles |
| Charge rate | 125kWh |
| Cargo volume | 367 litres |