Lenovo Legion Go hands-on review: bringing the fight to the ROG Ally
New gaming handhelds are becoming a rather regular occurrence - how does the Legion Go fare?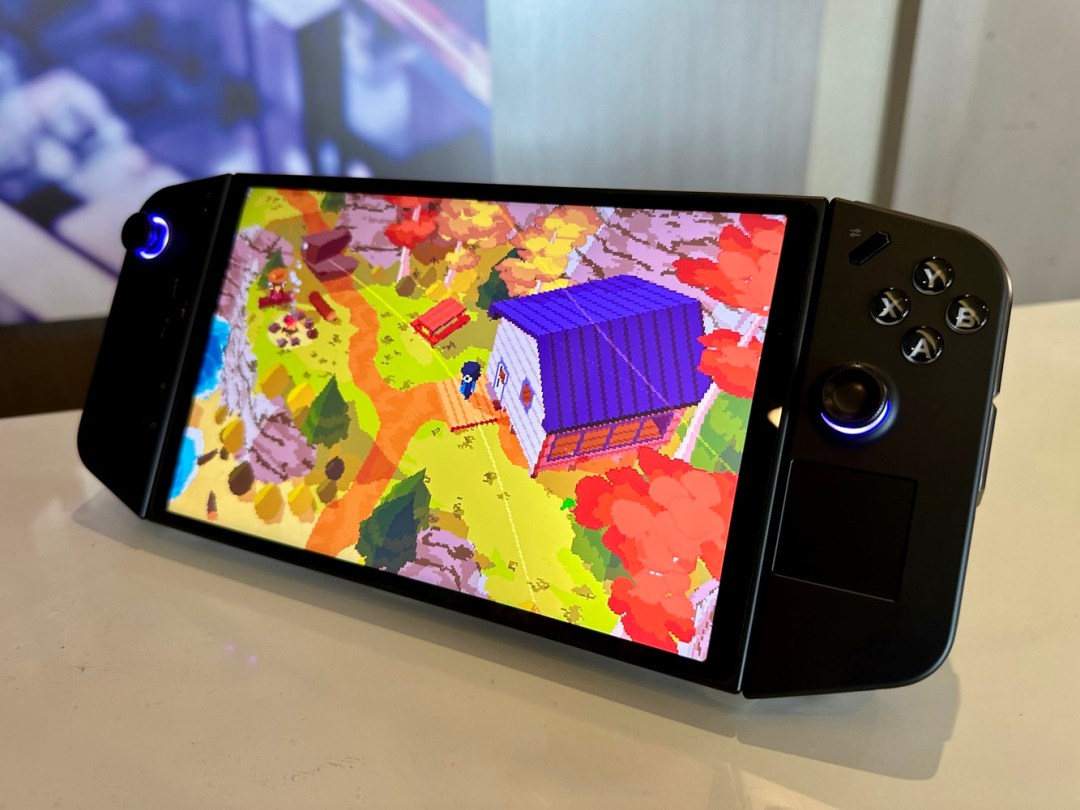 Stuff early verdict
Lenovo's gaming handheld has a very appealing display and powerful internals but the Windows optimisations need improvement.
Pros
Great, large display
Battery life should be good
Powerful specs
Cons
High price point
More work needed on software
Quite heavy
Introduction
New handheld gaming consoles are becoming a rather regular occurrence. The Lenovo Legion Go is the latest, following in the footsteps of last year's Stuff Gadget of The Year, the Steam Deck, and the even more powerful Asus ROG Ally.
Like the Ally, the $699/£699 Legion Go is a full Windows 11-based device launched alongside IFA 2023, running on top of a AMD Ryzen Z1 platform and an 8.8in QHD+ display powered by Radeon 700M graphics. Topping out the key specs is 16GB of LPDDR5X memory and up to 1TB of PCie storage (though you can expand it through microSD).
The Legion Go will be available this October, but as ever the question is whether it's worth the not-insignificant outlay for a dedicated PC gaming device.
The market for such handhelds has to be somewhat of a niche, even if they are a completely different proposition to the Nintendo Switch or gaming on your phone.
Design
What is immediately noticeable is the size of thing – it's around 11.8in/30cm in length. It's not light at 1.9lb/854g with the controllers attached either. That is significantly heavier than the ROG Ally, for example.
If you want to use it stood up with a controller detached, there's a sturdy kickstand and because of the weight we found ourselves using it on the table. Put it this way, you won't use it in an elevated position for long. On a flight? You'll prop it up on your tray table.
There are detachable controllers – you can prop one up in a dedicated puck if you want to control your device as if you are using a joystick. They come off the unit quite easily once you get the knack. There are a near-bewildering amount of controls, with 6 assignable buttons, a mini trackpad, two large analog sticks plus numerous other buttons.
We weren't that blown away by the overall design which seems a bit utilitarian compared to Lenovo's other Legion devices. It clearly has a robust approach though and perhaps that's no bad thing for something that will probably get bashed about a bit (there's a provided hard case).
Display and specs
The 8.8in 2560×1600 display is impressive – in fact, it's our favourite aspect of this device. The 144Hz display is crisp and colours look great.
The 49.2Wh battery is bigger than that on both the ROG Ally and the Steam Deck, but as yet we've no idea how that translates into usable hours. As always, it'll depend on usage but it was a little telling that Lenovo didn't and wouldn't provide more details on this. However, it should compare favourably to the ROG Ally when we come to give the Legion Go a full review.
You get two USB-C (USB 4.0) ports top and bottom for connection to external displays and charging plus there's a 3.5mm audio jack if you want to wired with headphones. But it boasts Bluetooth 5.2 and Wi-Fi 6E, too.
Controls
The controls are all very responsive though the rear buttons feel a little clunky. The controls aren't that intuitive in totality and can confuse, especially if you try and navigate the minefield that is Windows without a mouse.
This is something Microsoft does need to improve but also it seems that Lenovo is just using vanilla Windows 11 here without any other optimisation. Lenovo were very clear that the demo devices were early units and Lenovo's own software touches weren't working at present so we'll have to reserve judgement on this to see if things improve when production units are available for review.
When you're in a game it's not hard to work out what to do after a little experimentation, though there are still some issues which we've mentioned below.
Playing games
There weren't a great selection of games on the demo devices we were able to see. A Short Hike, Hot Wheels Unleashed and PowerWash simulator played well, but weren't exactly taxing enough to put the device through its full paces and a couple of other titles wouldn't load.
A Short Hike was also seemingly confused about the type of device it was running on, asking us to press B0 which didn't exist. Such issues aren't great and perhaps point to the challenge of the one-size-fits-all approach that Windows takes.
During play there was an audible hum from the fan, while the top of the device got quite hot in use – though this didn't affect the controller areas at all.
AR glasses
Lenovo also showcased its Lenovo Legion Glasses – micro OLED specs that provide you with a secondary or replacement display for other gear but particularly the Legion Go. They work with pretty much any device, though, providing you can connect USB-C to it.
We didn't get to use them with the Legion Go, but we were able to use them with Legion gaming laptops where they worked as we'd expected. The Legion Glasses are Full HD at 60Hz and are going to be available for $400/£400 and they have built-in audio, too.
Lenovo Legion Go initial verdict
Lenovo's gaming handheld has a very appealing display and powerful internals but the Windows optimisations need improvement. It's also heavy and you'll often use it in kickstand mode as a result. The battery life should be OK though, while it's robust and has plenty of connectivity options. The price is also high considering the Steam Deck, for example, is significantly cheaper.
Stuff Says…
Lenovo's gaming handheld has a very appealing display and powerful internals but the Windows optimisations need improvement.
Pros
Great, large display
Battery life should be good
Powerful specs
Cons
High price point
More work needed on software
Quite heavy