Kobo Aura H2O (2017) review
Travel tech worth making room in your carry-on for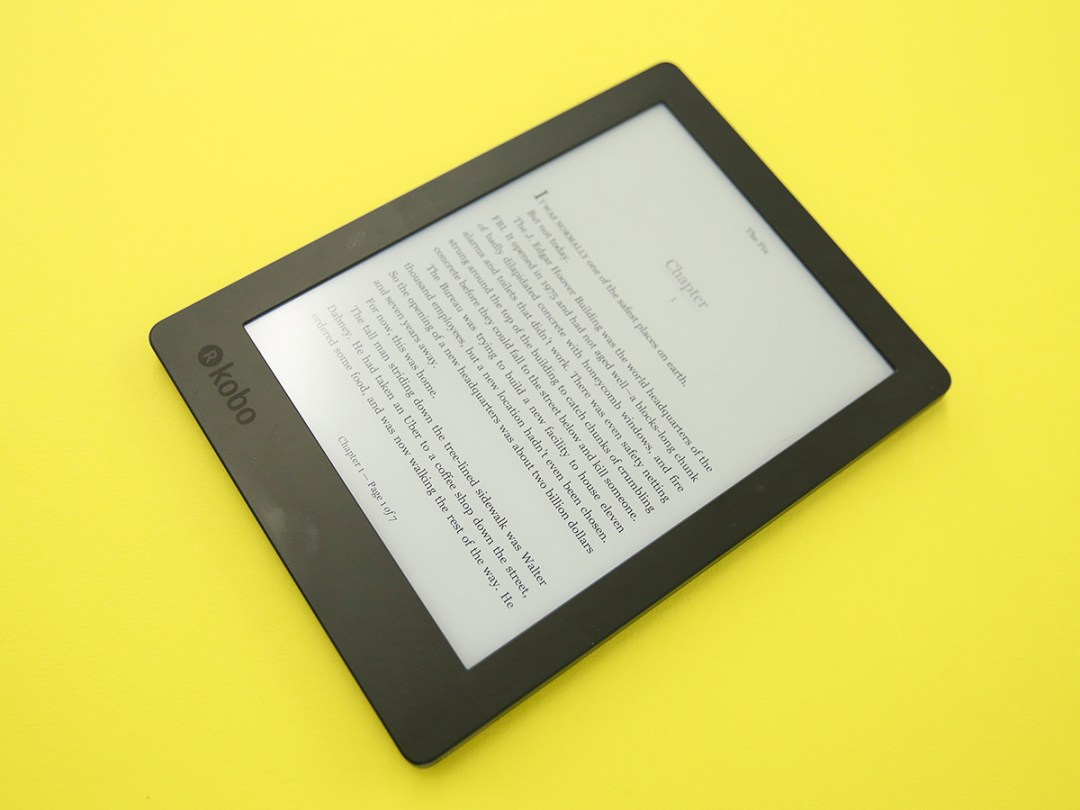 Summer holidays spent lounging by the pool – they're the best. And a good book only makes 'em better.
Filling your luggage with paperbacks isn't too practical, though – especially when you're flying with a low-cost airline that'll charge a fortune for anything other than carry-on bags.
That's why an e-reader like Kobo's Aura H2O make for the perfect travel companion. Sure, it'll fit your entire reading library into something barely any bigger than your passport, but it'll keep working if you accidentally drop it in the drink, too.
Yep, it's completely waterproof.
The original Aura H2O beat the mighty Amazon Kindle to become the world's first water-resistant e-reader, and now Kobo has combined that resilience with the best bits of last year's excellent Aura One.
The combination makes it the best alternative to a Kindle we've seen yet.
Kobo Aura H2O (2017) Design & build
It's not as sleek as the Kindle Oasis, but that doesn't matter: the H2O puts function over form, with a black plastic body and grippy rubber rear.
More important is the IPX8 rating, which means it'll be able to live 2m underwater for up to 60 minutes with no ill effects. Forget reading by the pool – with one of these you can read in the pool.
You're unlikely to drop it in accidentally, as that rubber back gives you plenty to grab hold of. At 210g it's not the lightest of e-readers, and you'll struggle to squeeze it into a back pocket, but it'll easily slide into a carry-on bag when it's time to hit the beach.
There are no physical buttons on the front, which not everyone will like. You've got to tap or swipe the E ink screen to turn your digital pages. The single power button on the back wakes the H2O from sleep. It's easy enough to find if you're right-handed, but hardly in a convenient place for southpaws.
Kobo Aura H2O (2017) reading experience
It doesn't have the expansive display of the Aura One, but this second generation H2O still crams plenty of words on the screen. At 6.8in it's noticeably larger than any current Kindle, and the 256ppi resolution helps keep images and text looking crisp – useful for graphic novels and digital comics.
Kobo has always gone for a more book-like layout in terms of spacing, numbering and page furniture, and that doesn't change here. the H2O has 11 fonts, 50 different sizes and plenty of layout options to tweak until you're happy.
Adobe's eBook format also adds different fonts for different publishers, giving your books a lot more individuality than Amazon's meagre few choices.
it all looks fantastic on the E Ink Carta display, with luscious contrast that's about as close as you can get to actually reading a plain old paperback.
You don't get an ambient light sensor like you do with the Aura One, meaning you've got to tweak the backlight manually whenever you wake the H2O from sleep. These kinds of sensors are still rarer than hens' teeth on e-readers, anyway, so it's difficult to grumble given the price.
Kobo's ComfortLight PRO adjustable backlight does make a return, though. It varies the amount of blue light being pumped out depending on the time of day, so it doesn't keep you awake when you're reading at night.
The display gets noticeably yellower and warmer as the sun sets, then reverts back to a cool white in the morning. You can set it manually, too, if you feel like burning the midnight oil.
There's 8GB of on-board storage, which is enough space for over 6000 books. So basically it'll carry every book you could ever hope to read on every holiday you'll take for the rest of your life. Handy.
Battery life remains the same, too. The Aura One could go for a month between top-ups, and you'll be searching for a plug socket after the same amount with the H20. That's easily long enough for most people to finish at least a few trashy holiday novels.
Kobo Aura H2O (2017) browsing experience
The 1GHz processor makes Kobo's simple UI load quickly and books appear onscreen in a flash. It's just as smooth and easy to find your way around here as it was with the Aura One, and depending who you ask, even better than Amazon's sometimes cumbersome Kindle UI.
Kobo fits more onto each screen, with clear categories, labels and sections when you're browsing the book store. It'll play nicely with Pocket, too, for reading articles you've saved from the web.
Kindle owners don't get a choice where to buy their books – they've got to get them through Amazon. Kobo, meanwhile, lets you shop around anywhere that sells ePUB books.
Amazon's range is still tough to beat, though, with a huge selection and very competitive pricing. It's great to have the freedom to choose where you shop, but it'll only really make a difference if you're after something super specific.
Kobo does let you download books from your local library, through the OverDrive service, or buy directly from niche publishers to keep them ticking over, without all the royalties being siphoned off by third party storefronts.
You'll need to sync your device with a PC running Adobe's eBook software to actually get your purchases onto your e-reader, though.
Kobo Aura H2O (2017) verdict
It's not a giant leap forward for e-readers, and doesn't deviate very much from Kobo's previous efforts either, but a few tweaks and changes make this second generation Aura H2O a serious contender.
Kobo's admittedly excellent Aura One is still the better e-reader if you don't plan on taking it with you on the move – that larger screen almost perfectly matches the dimensions of a real paperback book.
Amazon does have a bigger library of books, and if you previously owned a Kindle you'll have to leave all your old ebooks behind when making the switch to Kobo's book store. The Kindle Oasis remains the epitome of luxury, too.
For tech-savvy travellers, though, this is easily the better buy. If you're after some summer salvation, make sure to snap one of these up before school finishes in July, and your kids try to turn holidays into hell.
Buy the Kobo Aura H20 (20170 here from Kobo
Tech specs
| | |
| --- | --- |
| DISPLAY | 6.8in Carta E Ink touchscreen |
| PROCESSOR | 1GHz Freescale SoloLite iMx6 |
| STORAGE | 8GB onboard |
| CONNECTIVITY | 802.11n Wi-Fi, microUSB |
| BATTERY | 1500mAh |
| DIMENSIONS | 129x172x8.9mm, 210g |
Stuff Says…
Everything we loved about Kobo's last e-reader, in a smaller, travel-friendly package. Amazon should watch its back.
Good Stuff
It's a waterproof wonder
Undercuts the Kindle competition
Brilliant backlight won't keep you up at night
Bad Stuff
Kobo's book catalogue still lags behind Amazon