iPhone 5s review
The iPhone 5s is ingenious, forward-thinking and powerful - but it's also stuck in its ways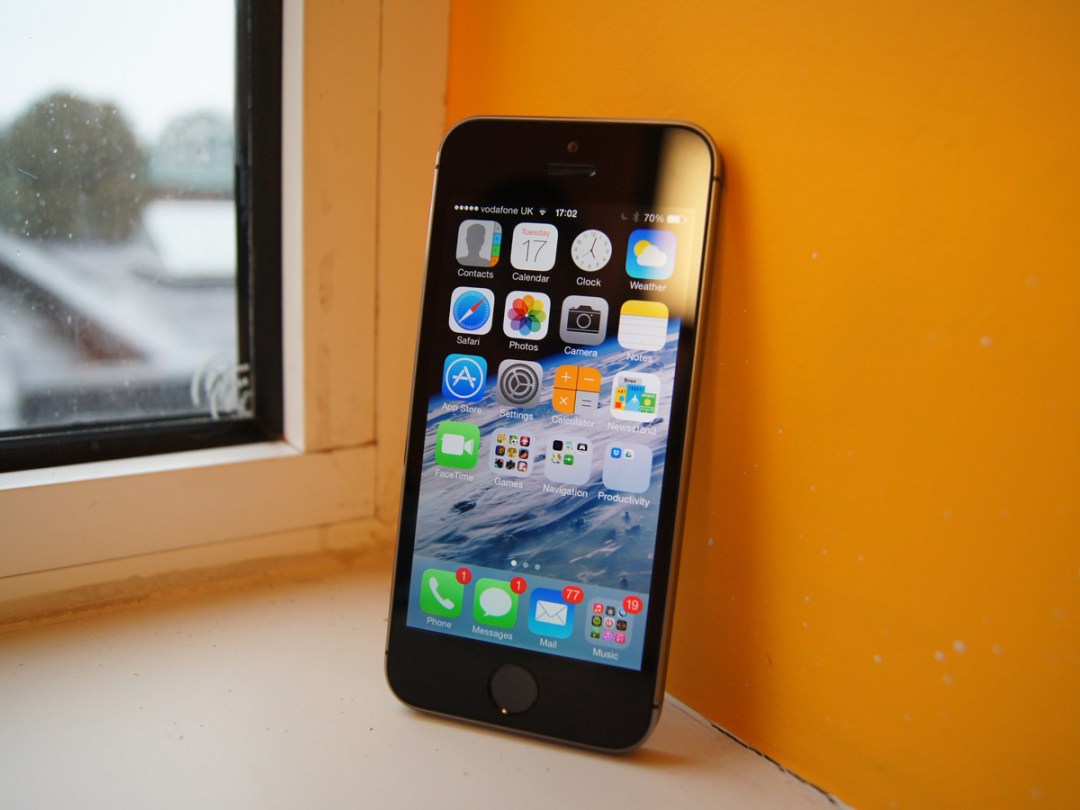 The Internet has made up its mind: the iPhone 5s is rubbish. It looks the same as last time, it's got the same tiny screen, its new OS is doing what Android did a year ago and its headline feature is nothing but a gimmick. Worst of all, it's gold.
The Internet is, of course, wrong. Apple hasn't lost its mind and made a dud. Instead it's released a phone and accompanying OS with meaningful, ripple-creating tweaks and upgrades. It won't be long before those ripples become waves that will lap at the shores of every smartphone manufacturer and app developer.
Make no mistake: this is an Important Phone, no matter what your buddies on the Android forum say. And, in fact, it's a damned good one, too.
"It Looks the Same"
There's no avoiding the fact that the iPhone 5s looks practically identical to the 5 it replaces. It even weighs exactly the same. The devastating truth is that if you pull this out on the bus, people might think you only have a 5.
(The solution to that predicament is the new gold finish, which looks rather ostentatious in pictures but is, according to our very own Will Findlater, rather fetching in the flesh.)
Put it next to its predecessor and there's a fun (well, nerdy) game of spot the difference to be played. You get three points for noticing that the camera flash has doubled up, another three for spotting the changes in the Home button (make that five points if you're looking at a black one, as it doesn't have a visible ring), and just one point for noticing that the metal on the 'black' version is now more silver than blue-black.
So the aesthetic tweaks are minor, and while it's sad that Apple hasn't blown our minds with an entirely new design, there's one thing worth remembering – the iPhone 5 was already the best-made and best-looking smartphone in the world (although the HTC One will have a thing or two to say about that). The 5s is just as perfectly weighted, just as comfortable in the hand, and just as uncompromisingly detailed.
We suspect it's probably just as easy to scratch, although our review sample has remained unblemished in the few days we've so far had it in our possession.
So, in summary – yes it looks the same, but that's really not a bad thing. What's next?
"Touch ID fingerprint scanning is a gimmick"
No it isn't.
Oh, you want more? Ok, it really isn't.
The Touch ID fingerprint scanner is already a more natural way unlock your phone and authorise iTunes and App Store purchases. But we reckon this is just the start of what the feature will be able to do in the future, as we explore with some highly likely (and some completely daft) scenarios in our 9 genius uses for the iPhone 5s' Touch ID fingerprint sensor article.
In use this is just about as flawless as you'd expect a headline feature from Apple to be. You can scan five digits into the 5s, and are prompted to do the first as you set up the phone. Placing and lifting your finger or thumb a number of times and at a number of different angles allows the phone to record every part of your print, and the whole process takes around twenty seconds per digit.
From that point forward, logging into your phone becomes slightly (but pleasingly) faster and more effortless. You still need to depress the button, but maintain contact with the pad and you'll be taken directly to your homescreen. In our time with the 5s there have been just a handful of occasions that the scan hasn't worked first time, and we've been surprised and impressed by how reliable Touch ID is, even when you challenge it by pressing from the side or the wrong way up.
And, crucially, no-one we've handed the phone to has been able to gain access with their imposter fingers. Perhaps there's someone out there with fingerprints close enough in structure that the scanner won't be able to discern between theirs and yours, but it's unlikely you'll ever encounter them, let alone have them nick your blower.
If you don't want to have to take your gloves off to unlock your phone, you can simply tap in your passcode with whichever extremity you have available. In fact, your passcode is required to unlock the 5s after a shutdown, so don't go casting it from your memory. Having fallen for Touch ID so hard, we'd rather like there to be an option to switch off the passcode and use it exclusively, but turning off the passcode also turns off Touch ID. Hopefully something that will be rectified once Apple sees how effective its fingerprint security is out in the wild.
"It's got the same tiny screen"
Incontrovertible, this one. The iPhone 5s has the same Retina Display as the 5, and the 4in diagonal measurement and 1136×640 resolution are both low in comparison to the gargantuan, full HD screens of the latest 1080p Android flagships. This is a genuine disappointment. There's clearly an appetite for such big-screen devices, and we might just have gone crazy for a 5in iPhone.
But that's enough of what the screen isn't. What it is is better than the iPhone 5's. There's not much in it, but this is actually not the same screen – at least in performance terms. It's similarly neutralish/warmish in its colour balance, but contrast is better, with punchier, purer whites, marginally deeper blacks, and a smidge of extra detail in HD movies and the like. Motion is a touch smoother, too.
So yes, a bigger, higher resolution screen would have been nice, but this is still a cracking display, and it helps keep the overall size down to one-handed texting compactness – and that's clearly a priority for Apple.
"Its new OS is where Android was a year ago"
The hardware's aesthetics may not have needed to change, but the software's most certainly did. Apple has duly obliged by replacing the aging iOS 6 with the fresh-faced and eager-to-please iOS 7. We'll be going into more detail in our dedicated iOS 7 review, but it's worth treading some of that ground here.
First of all, iOS 7 is beautifully designed. A combination of subtle transparencies, swooshing animations and slender fonts, it's the sort of UI we imagine we'd create if we were graphic designers and had anywhere near the requisite level of talent.
In basic format it's not a radical departure, and that makes sense: hundreds of millions of people use iOS, and rather like its layout. Existing iPhone users will never be lost with iOS 7, and they're also the people who will most appreciate the tweaks.
Control Centre is especially welcome – sliding up from the bottom edge of the screen (even when locked) provides quick access to the most regularly used settings and utilities, including airplane mode, a Wi-Fi toggle and music controls. You'll soon wonder how you coped without it.
Despite its flat look in still images, the phone wallpaper shifts slightly beneath your app icons and folders as you rotate the screen, lending a sense of three-dimensionality that's enhanced by the zooming transitions as you access features. And unlike with our 5c sample, our 5s handles these transitions with all the smoothness of a Tour de France rider's legs.
It's a deceptively huge improvement over iOS 6: anyone doubting that should revisit the old operating system after a few days with the new one. Uglier than you remember, right?
But for all its beauty and simplicity, we think iOS 7 doesn't go far enough. The widgets and live tiles of Android and Windows Phone 8 are still missing – this is still an operating system consisting of identical rows of identically sized icons, and it's still just the clock and calendar that offer up any 'live' information without first being opened.
We're also disappointed with the Today panel of the Notification Centre. We'd hoped it would be a Google Now-rivalling selection of smart, location-sensing information to help you navigate your day, but it turns out to contain a very basic weather forecast and calendar, with the odd reminder thrown in. It's early days for the feature, and with greater app integration it could become useful, but for now it's decidedly bare.
While we're on the subject of apps, let's not forget that it's one area in which Apple is still streets ahead of Android. Every app on the Store works with the 5s (or at least, every one we tried did), and there's a greater concentration of quality apps available on iOS devices. It's still the case that many premium apps come to iOS first.
So, if you want cart-loads of customisability and live widgets, Android is still the place to be, but iOS 7 is a big step forward for Apple. It makes the old iOS look ugly, cramped and convoluted while simultaneously retaining that familiar structure, so existing users will take to it like geeks to blogs about cats. And it's full-on pornography for the aesthetes out there.
There's so much power we don't know what to do with it
Remember those ripples we mentioned at the start? The iPhone 5s' A7 processor is the rippliest of the lot. That's not because of the headline-grabbing 64-bit architecture, as you'll discover in our What's all the fuss about 64-bit smartphones? feature, but because both its CPU and GPU are supposedly twice as fast as those of the A6 in the 5 and 5c, and because it supports OpenGL ES 3.0 for what should be ludicrously brilliant gaming graphics. Android 4.3 rivals support this already, but it's a welcome addition to the iPhone.
The trouble is, if you pick up the phone you'll be none the wiser about any of the extra beef. It does enable a number of truly excellent camera features (more on which below), but the fact is that until apps are written that exploit the hardware you won't really see the benefit. UPDATE: Benchmarks such as SunSpider see the promised doubling in performance between the iPhone 5 and 5s, but others such as AnTuTu 3DRating rate them practically identically. Perhaps we'll see greater disparities when 64-bit games such as Infinity Blade III become available.
The 5s is almost identical to the iPhone 5 in everyday use, too, but that's because the iPhone 5 was already smooth – and as with past iPhones, we'd expect the differences to become more pronounced over the coming months. As it is, we've not had a single judder, stutter or slip-up in our entire time testing the 5s. The experience is as fast and fluid as the Yangtze, no matter how many apps you open, how much you multitask or how fast you play Temple Run.
iPhone 5s tech specs
Operating System – iOS 7
Processor – 64-bit Apple A7 /w M7 motion coprocessor
RAM – undisclosed
Screen – 4in Retina display with 1136×640 resolution (326ppi)
Camera – 8MP rear, 1.2MP front
Storage – 16/32GB/64GB (not expandable)
Data – 4G LTE
Battery – undisclosed
Dimensions/weight – 123.8 x 58.6 x 7.6mm/112g
(Slightly) better battery life
Apple has managed to squeeze a little more life out of its battery, but not a vast amount. It's claiming two hours of extra talk time, and from our test period that seems accurate.
The 5s averaged a 4% drop in battery power for every half an hour of our usual video loop test, which involves brightness at 50% and all data connections, notifications and push email switched on. The iPhone 5 dropped slightly quicker, at just over 5% every half an hour.
We have noticed that battery drain is far slower when in standby mode, which could be down to the phone's new 'M7′ coprocessor. This monitors motion data from the accelerometer, gyroscope and compass so the less efficient A7 doesn't have to. Apple tells us it can tell when you're moving quickly and prevents the phone from constantly trying to join Wi-Fi as you go, and if you're not moving at all it reduces network activity to conserve power.
So it's an improvement, for sure, and it'll last a day, which is what we consider to be a bare minimum. You won't be leaving your charger at home when you go on that overnighter, though, unlike your mates with LG G2s.
A camera that's bursting with neat tricks
8MP is nothing these days, but while other smartphone manufacturers fight the battle of megapixel one-upmanship Apple has decided to focus on a combination of subtler enhancements.
So the iSight camera's sensor is now 15% bigger than before, with pixels measuring 1.5microns across and a wide aperture of f/2.2, apparently equating to 33% greater light sensitivity.
Sounds a bit 'meh', doesn't it? But it does bear out in the pictures you take. Shots from the iPhone 5s are brighter and punchier than they are on the 5, and greater contrast helps reveal more detail that adds greater layering and three-dimensionality to the shots you take. The colour balance is perhaps just a touch colder than before, but that means it's also more realistic.
The True Tone flash is another work of quiet genius. The usual white LED works in conjunction with an amber LED to adjust the intensity and colour temperature of the flash in realtime, and the result is night time shots with more accurate skin tones and more balanced light. If you're a party snapper, this is a marked upgrade.
Using the camera app is also a delight. It's lightning fast to open, switch settings and focus, and the screen responds smoothly to quick motion. The Instagram set will love the addition of quickly accessed filters, and the burst mode is made especially useful by not being a separate mode at all, but instead automatically activated with a long shutter button press.
This is a cracking everyday camera, even if the added megapixels of some Android rivals do result in more croppable photos.
We'll have a whole bunch of full resolution pictures from the iPhone 5s camera up on our Flickr page imminently.
Videos fast enough for slow motion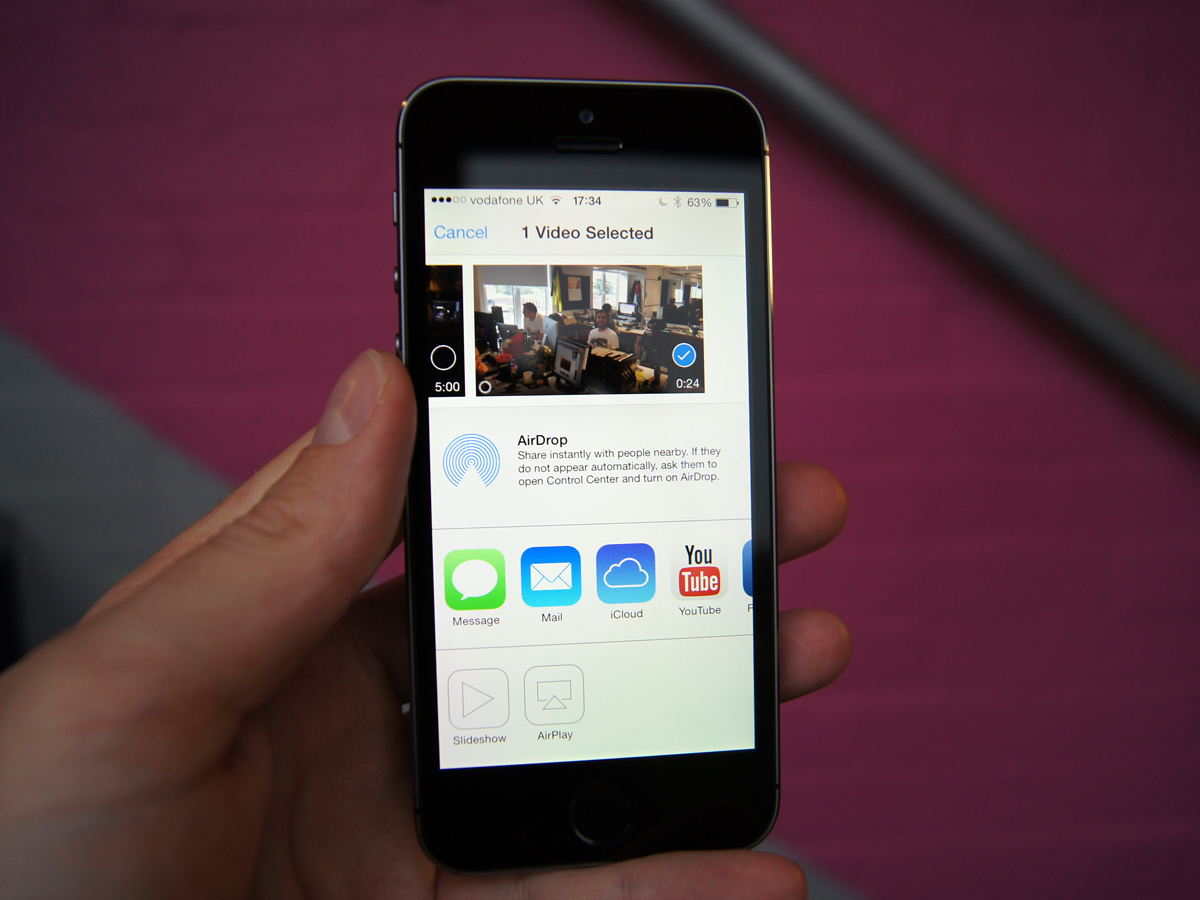 While iOS 7 is rolling out on a couple of years' worth of Apple devices, there are a couple of features unique to the 5s, on account of its extra processing grunt. One is the aforementioned burst mode, the other is slow-motion video.
The reason only the iPhone 5s can handle slow-mo is because the 720p video clips need to be captured at 120 frames per second (normal video is shot at 30) so that they still appear smooth when slowed down, and boy, what a fun feature this is.
It's terrifically easy to use – just swipe to the 'Slo-Mo' (sic) mode, record as normal, and as soon as you stop recording you can choose the start and end points of the slow-motion section as easily as you can fast-forward through a YouTube video.
The results are also terrific. The slow-mo section is uncannily smooth and judder-free, and the phone's capable image stabilisation rounds off any camera shake, no matter how much you might be laughing at your co-worker's crazy desk dance. Just as an example.
These videos, like any content you capture on the 5s, are easily shared via AirDrop, email, iCloud and social media. That's right, you're about to be bombarded by slow-mo videos on Facebook.
Verdict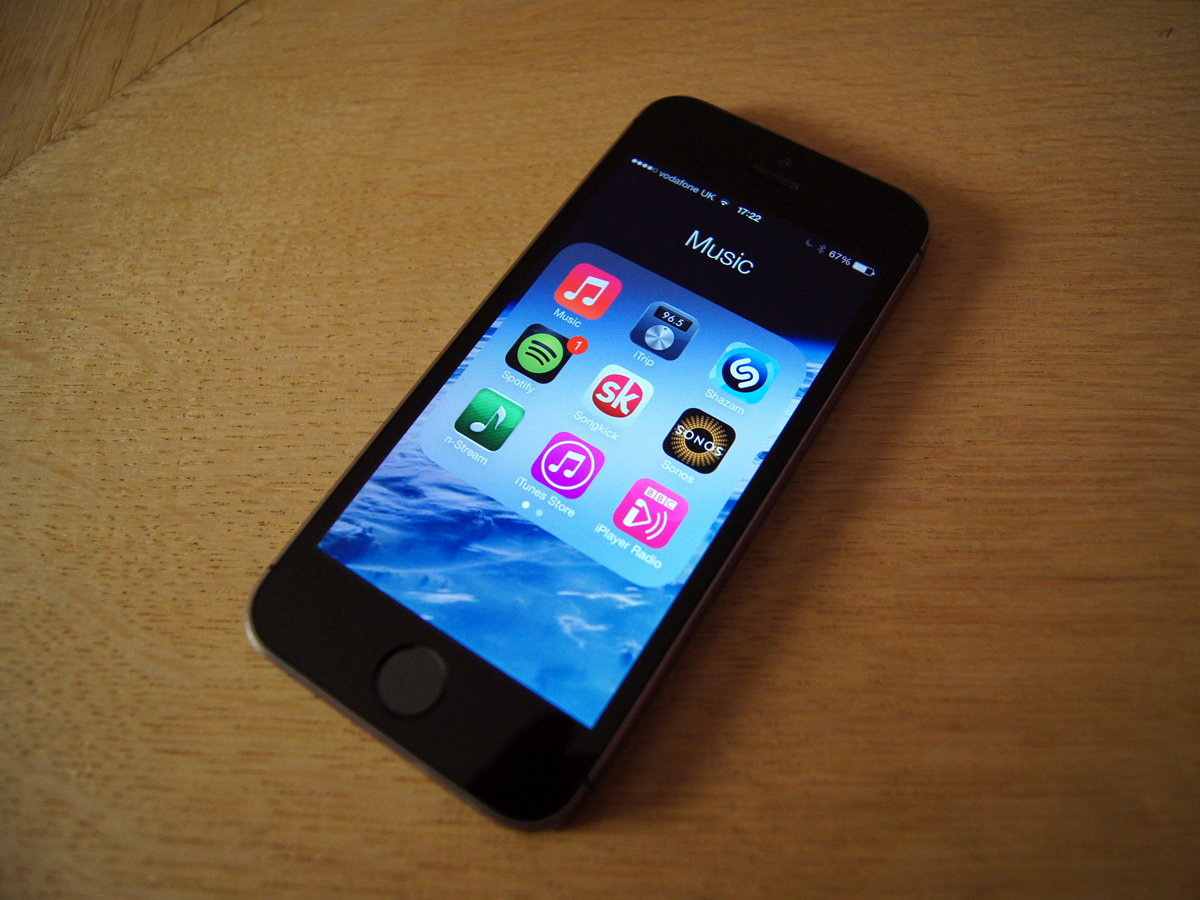 The Apple haters are wrong about the iPhone 5s: this is one hell of a phone. It's far more of an upgrade than it first seems, both as a result of its upgraded, forward-thinking hardware and its excellent new OS.
Yes, we do like iOS 7 rather a lot. It's typical Apple – immediately familiar, aggressively streamlined and unapologetically design-led. It may not look all that different at first, but over time its tricks and shortcuts become second nature and difficult to live without. You'll feel the same way about Touch ID, mark our words.
And yet, for all those positives we had hoped for more. We understand why Apple has stuck with its grid-arranged layout and 4in screen, and we appreciate how much more space it's getting from that arrangement with iOS 7. But what we really wanted was a bigger screen with a more alive, autonomous, customisable and radical operating system.
Had the 5s launched with a bigger, more pixel-packed display, it could very well be going back to the top of our list of the best smartphones in the world. As it is, Android still reigns supreme. At least it does until the 6in iPhone 6 comes out next year. Got that, Apple?
Review by Tom Parsons.
Stuff Says…
A great phone and a deceptively big step forward for Apple, but the iPhone 5s doesn't leap quite as far as we had hoped
Good Stuff
iOS lives up to the hype
Truly beautifully hardware
An unbeatable App Store
Bad Stuff
Screen feels increasingly small
Lacks the liveliness of Android
Currently few ways to use the extra grunt