Huawei Watch GT 4 review: fitness focused, fashion conscious
Premium styling and a helping of health features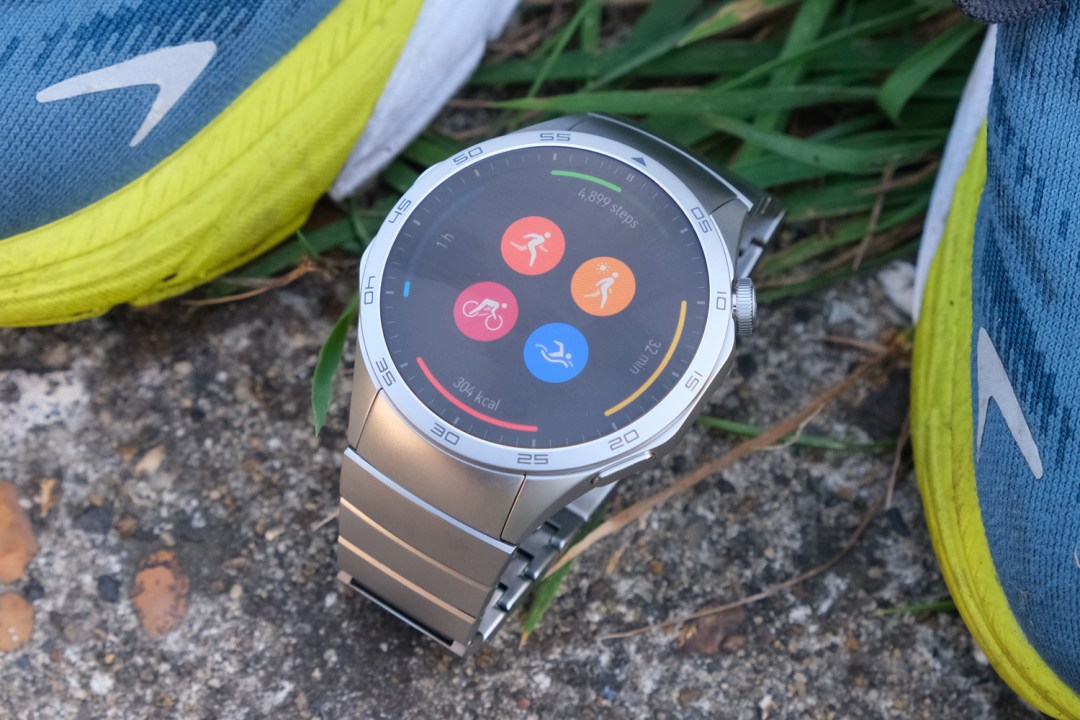 Stuff Verdict
More stellar smartwatch hardware with catwalk-worthy looks. Get past its software limitations and the fitness tracking features are extensive; it's a shame many people just won't be able to.
Pros
Near-unrivalled build quality for a mainstream smartwatch
Beautiful hi-res screen
Outstanding battery life
Cons
Familiar software pitfalls
Contactless payments and voice assistants a no-go for most
Introduction
While the rest of the smartwatch world has largely played it safe on the design front, Huawei has never been afraid to go a bit more high-end. Premium materials and big screen bezels have helped its watches stand out, even under the shadow of a few software stumbles (which, let's face it, weren't really the firm's own doing). The Watch GT 4 continues that trend, and is more proof Huawei's design team know how to deliver a terrific-looking timepiece.
It borrows most of its internal tech from the Huawei Watch 4 released earlier this year, only with more distinctive styling inspired by traditional analogue watches. Uprated sensors provide more in-depth fitness tracking, the interface has been given a fresh lick of paint, and battery life continues to best the competition – as does price. Is that enough to persuade smartwatch shoppers to take notice?
The Huawei Watch GT 4 launches on the 4th of October. Buy it from the Huawei web store.
Design & build: wows on the wrist
The two Watch GT 4 models are so different they might as well be two entirely different watches. The smaller 41mm version looks a lot more delicate, with a slimmer bezel and skinnier strap. It can be snapped up in White Leather, Milanese and two-tone Piano Key colours, from £230/€249 to £350/€399. Huawei is clearly positioning it as the more feminine option.
Our 46mm sample, on the other hand, is the opposite. It has an octagonal body and much beefier bezel, with five minute intervals etched around the outer edge and single minute indicators on the inner one. We can't say for sure it offers more protection than the edge-to-edge glass seen on the Huawei Watch 4 Pro, but it does a great impression of a traditional timepiece.
There's a choice of black frame and black rubber strap, silver frame and brown leather, silver with green fabric strap, or silver with matching metal link band; all four are machined from stainless steel. The way the metal band merges seamlessly into the watch body looks especially slick, and would be our choice even though it comes at a price premium over the other colours: £300/€349 to the £230/€249 black rubber and £250/€269 brown leather and green fabric. Quick release lugs let you remove links without any tools, or swap out the strap completely for a different one.
Huawei's familiar button arrangement reappears here, with a digital crown on the top right and an action button on the bottom right. Rotating the crown to scroll through menus is satisfyingly slick, triggering haptic feedback with each rotation.
It might look large on the wrist, but we could comfortably keep the watch on at night for sleep tracking. And while it's not diver-friendly like the Huawei Watch Ultimate, 5ATM water resistance is still very capable.
Screen: see the light
Huawei's wearable screens are usually stunners, and the Watch GT 4 is no exception. Our 46mm model has a 1.43in circular display, while the 41mm model opts for a smaller 1.32in panel; both use AMOLED tech, and have the same 466×466 resolution. It looks wonderfully sharp here, with even small text being easy to read at arm's length.
Sure, the regular Huawei Watch 4 and Samsung Galaxy Watch 6 Classic are even larger, but you couldn't say this model lacks wrist presence. It helps that the minute indicators around the rim cleverly hide the panel bezel, for an edge-to-edge look that's up there with the best smartwatches on sale right now.
Colours have plenty of pop, contrast is superb, and viewing angles are pretty decent too. Huawei hasn't been afraid to let its watch faces fill the entire screen with vibrant complications and widgets that'll make you want to leave it on all the time – even at the expense of battery life. Most can be customised with different styles and colours.
The always-on mode is a great half-way-house, though, being dim enough to tell the time at a glance and quick to kick up the brightness at the flick of a wrist. There's enough of it to cope well outdoors on sunny days, too. Few wearable rivals can claim to do any better.
Interface: living in Harmony
The Watch GT 4 is the first wearable we've tried with Huawei's HarmonyOS 4 software. This latest version subtly streamlines the interface and introduces a heap of new widget-heavy watch face options, but will feel very familiar to anyone with an existing Huawei smartwatch. The most striking change is the app launcher, which has an animation-heavy checkerboard design that bounces back into place when you scroll to the edge. That hasn't helped the sense of information overload you get when opening it for the first time, though.
We like the idea of widget-packed watch faces, which lump useful info together on a single screen. The Healthy widget shows things like heart rate, SpO2, sleep records and stress scores, while the Lifestyle widget displays calendar appointments and the weather. All are available with a few swipes from the main watch face. Quick settings are still a downward swipe away, and notifications are revealed with an upwards one.
As ever, the UI is slick and responsive to swipes and taps. Apps load quickly enough and we never spotted any stuttering animations. Initially it looks like there's plenty to choose from, but most are fitness focused. The music player is useful for playing locally saved MP3s through a set of paired Bluetooth earbuds, and you get the typical smartwatch basics like weather reports and a calendar.
The Celia voice assistant remains unusable if you don't have a Huawei smartphone, though, and you still can't hide it from the app drawer. Contactless payments are also off the table in many Western countries, despite it having the hardware to support them. An onscreen keyboard for typing full replies is very handy, but it only works with certain apps; everything else falls back to canned replies. And let's not forget third-party app support is practically nonexistent compared to WearOS. If you want things like Spotify or Strava on your wrist, you'll need to look elsewhere – though it can at least export data to the latter.
Even setting up the Watch GT 4 remains more of a hurdle than rival watches, as the Huawei Health app can't be found in the Google Play Store. A QR code on the box points you to a direct download instead. Granting permissions for things like notification access is also a quite involved process, depending on which brand of phone you own. It's a shame, because the app itself is comprehensive.
Health & fitness tracking: all in one place
Right from the off, Huawei Health keeps track of your steps, sleep, stress levels, skin temperature and SpO2 levels (that's a lot of Ses), plus 24/7 heart rate monitoring. Data is pulled from the Watch GT 4's next-gen TruSeenTM 5.5+ optical sensor, and you can also supply manual bloody pressure readings. It can't do ECG readings and check for arterial stiffness like the Watch GT 3 Pro could, though.
Sleep monitoring now includes breathing awareness, which can help detect things like sleep apnea. After a week of snoozing we didn't see anything unusual, and liked suggestions like getting in some light exercise before bedtime to encourage deeper sleep. Though we couldn't test it, the menstrual cycle calendar is more predictive now, rather than relying on manually entered data. The health community setting apparently lets families get health warnings for relatives automatically, but we weren't able to share with anyone during our pre-release testing.
Your data is presented clearly enough and with enough insight that most casual fitness fans shouldn't need to mess about with third-party apps at all. It'll take you a long time to get bored of the roughly 100 different exercises, activities and sports the watch can record, too. 5ATM and IP68 water resistance ratings mean watersports are well catered for, unlike many WearOS watches that tend to lack swimming modes.
We largely stuck to running, which the Watch GT 4 handled with no sweat (unlike us). GPS and heart rate data were comfortably in line with rival smartwatches, and the training coach voice provided useful interval alerts. There are custom training plans for longer distance runners, too.
Battery life: mister consistent
While Apple, Google and Samsung's watches will often struggle to make it through a full weekend of notifications, fitness tracking and 24/7 heart rate monitoring, Huawei can usually be relied on to go a whole lot further. That's still true here: the 46mm Watch GT 4 can potentially last up to 14 days on a single charge, while the 41mm model nudges seven.
In our testing we saw the battery drain by 10% over two largely desk-bound days, while a more active weekend involving a recorded workout saw it take a bigger hit. We still went the entire week without needing to plug in, which is an excellent result for a smartwatch, and gets surprisingly close to some dedicated fitness wearables.
Top-ups are done wirelessly using the magnetic charging puck, which sticks with a USB-A port at the other end. About an hour will be enough for a complete refuel. It's probably time Huawei made the swap to Type-C, though (all the cool kids are doing it).
Huawei Watch GT 4 verdict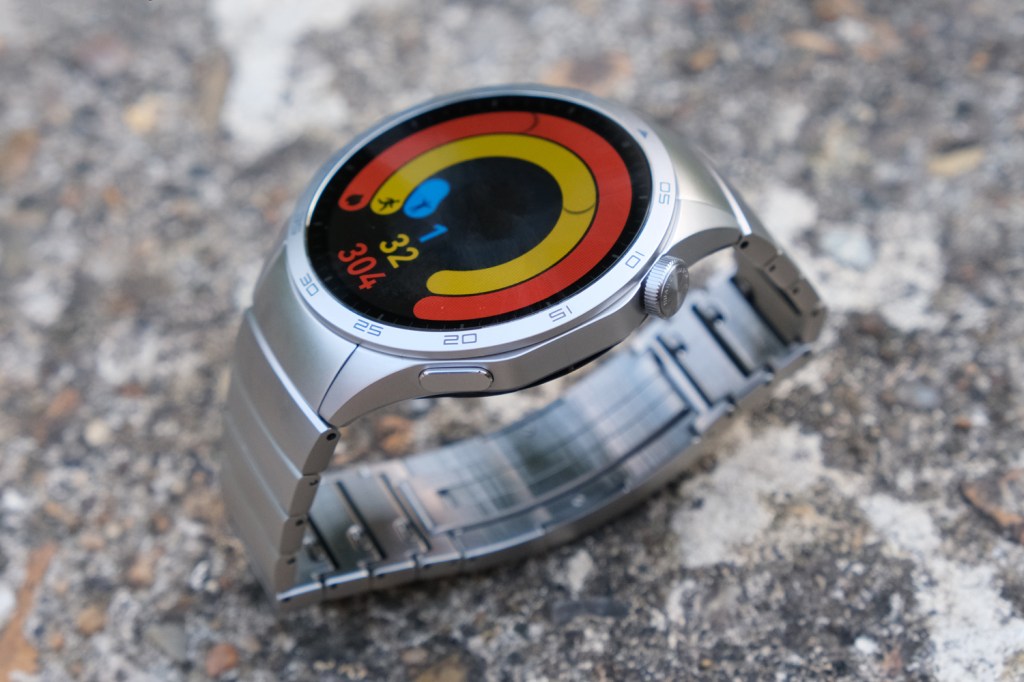 If design and materials quality matter most when it comes to your wristwear, it's hard to dislike the Huawei Watch GT 4. It's a fantastic looking smartwatch that makes similarly-priced rivals look positively toy-like in comparison. Battery life remains superb and the screen is a stunner.
Our usual software hang-ups unfortunately remain: installing the companion app is fiddly, third-party software support is super-limited, and most buyers will miss out on features found in competing watches like voice assistants and contactless payments. And as much as we think it's better looking than any Apple Watch, it's not going to convince any iPhone owners to make the switch.
Treat it as a fitness watch with a bunch of bonus smart features, though, and the Watch GT 4 makes a lot more sense. Huawei Health is detailed enough for both casual exercise and serious workouts, and does daily health tracking very well indeed. For many that – and the sublime styling – will be enough to overlook its issues.
Stuff Says…
More stellar smartwatch hardware with catwalk-worthy looks. Get past its software limitations and the fitness tracking features are extensive; it's a shame many people just won't be able to.
Pros
Near-unrivalled build quality for a mainstream smartwatch
Beautiful hi-res screen
Outstanding battery life
Cons
Familiar software pitfalls
Contactless payments and voice assistants a no-go for most
Huawei Watch 4 technical specifications
| | |
| --- | --- |
| Screen | 1.43in, 466×466 OLED |
| Sensors | Accelerometer, gyroscope, magnetometer, optical heart rate sensor, barometer, temperature sensor |
| Connectivity | GPS, Bluetooth, NFC (country-dependent) |
| Software | HarmonyOS |
| Battery | 524mAh |
| Durability | 5ATM, IP68 |
| Dimensions | 46x46x10.9mm, 48g (excluding strap) |
The Huawei Watch GT 4 launches on the 4th of October. Buy it from the Huawei web store.