Huawei P10 Plus review
One of the best plus-sized phones you can buy right now
Apparently, flagship phones are like pots of Pringles: Once you pop, you just can't stop.
It's why almost every big brand handset now comes with a bigger brother, one that gives screen size and battery life a bump, and maybe finds room for a few extra features too. Case in point: the P10 Plus.
Huawei got a lot of things right with the P10, which was much more than the mere iPhone clone it appeared to be at first look. It had plenty of power and a genuinely clever camera with plenty of features.
Still, battery life wasn't perfect and a 1080p screen is hardly cutting edge for what should be an all-singing, all-dancing flagship.
The P10 Plus puts both of those things right, which essentially makes it the best phone Huawei has ever made.
HUAWEI P10 PLUS DESIGN & BUILD: TASTES LIKE APPLE
Let's get this out of the way early: yes, the P10 Plus looks an awful lot like an iPhone. So much so a Starbucks barista asked if I was using Apple Pay for this morning's iced tea (I don't do hot drinks, OK?).
From the front, the fingerprint sensor is lozenge-shaped, rather than circular, and the volume and power buttons are all on the right side. Otherwise, they're almost identical. They both have rounded corners that sit comfortably in the palm, neither shows any sign of flex or bend, and both do a reasonable job at hiding fingerprints.
Flip it over and you'll spot Huawei's own design at work, though – one that actually beats Apple by lying the rear cameras completely flush to the phone body, instead of sticking out like they do on the iPhone.
In my Graphite Black review sample, the cameras sit on a glass band at the top of the phone, complete with proudly displayed Leica logo. It's actually more prominent than Huawei's own, which is almost camouflaged against the metal body.
You'll have to pick up one of the bolder hues if you don't want people confusing you for an iOS fan. Greenery and Dazzling Blue were both designed with help from colour specialists Pantone, and are as attention-grabbing as they are divisive. You'll either love 'em or hate 'em, but there's no question you'll stand out from the crowd of black, silver and pink (sorry, Rose Gold) handsets out there right now.
HUAWEI P10 PLUS CAMERA HARDWARE: SEEING DOUBLE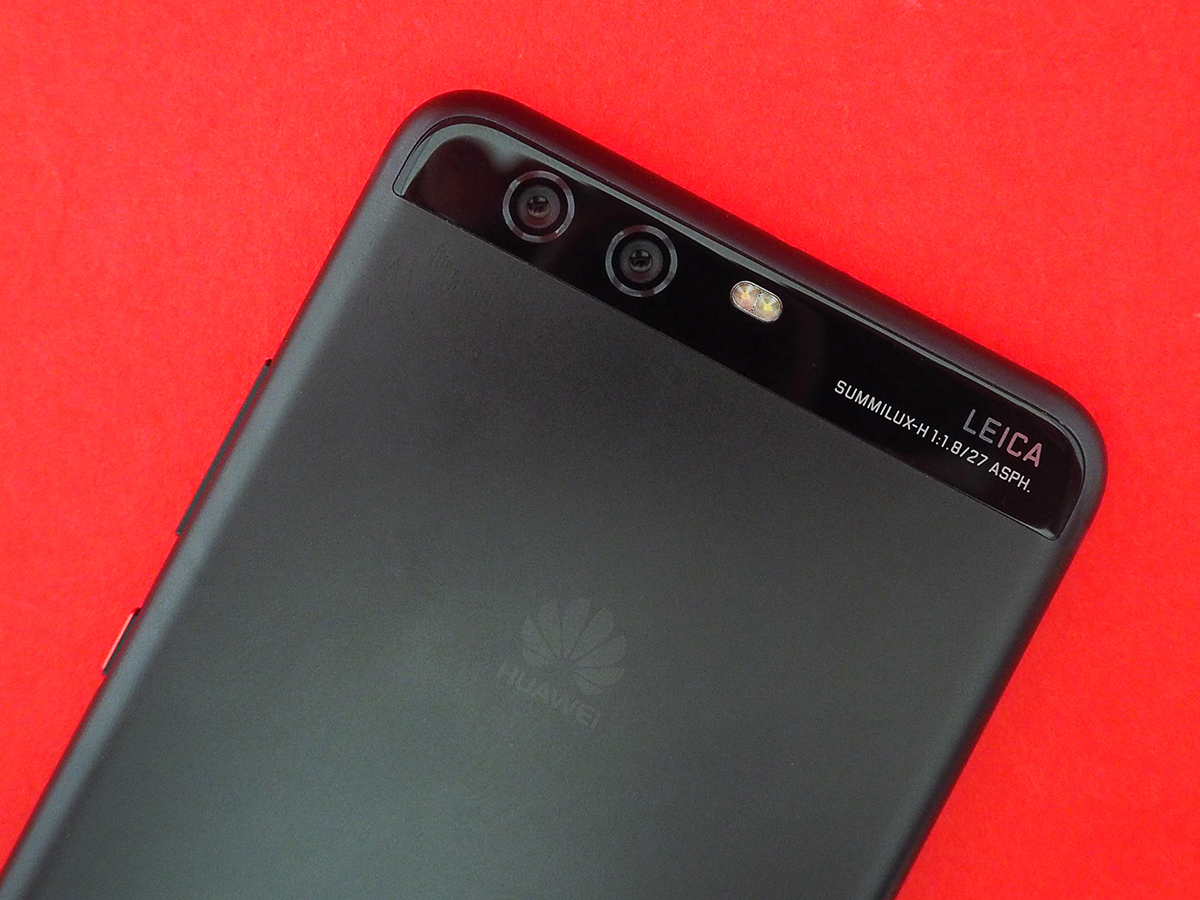 The P10's twin-camera setup was its biggest strength, and happily that's still true here. Pairing a 12MP colour sensor with a 20MP monochrome one, it adds a camera bag's worth of tricks to something you can carry around with you 24/7.
First up, the ability to zoom without taking an image quality hit. Apple will let you zoom to 2x, but with the P10 you can zoom to any point between 1x and 2x, either by pinching the screen or moving an on-screen slider.
It's not true optical zoom, but it's a hell of a lot better than the digital zoom most smartphone cameras are saddled with – even if it only works with 12MP images, because the 20MP monochrome sensor is on zoom duty.
There's a very slight dip in quality, but it's only noticeable when you're peeking at pixels. For Facebook uploads, you won't notice at all.
The next trick? Dreamy depth of field. The P10 Plus has f/1.8 Leica glass, an improvement over the P10's f/2.2, and by combining them they can act like even faster lenses. Turn on the wide-angle mode and you'll be able to set the aperture to create some properly blurry backgrounds. It works well in most situations, and only looked a little fake in a few of my test shots.
There's a minor difference here between the P10 and the P10 Plus. It wasn't as pronounced as I was expecting, but the Plus does still take the win once you zoom in beyond 100%.
It also works when you're in Portrait mode, but keep in mind this also forces on the ultra-aggressive Beauty mode which smooths out your features and lightens your skin. Remember to disable it (or lower the level of beautification) unless you want to look like a Japanese Manga idol. The blur effects really do make portraits look like they were taken with a proper camera, not a phone.
Finally, you can use the monochrome camera by itself to take atmospheric, high-contrast black and white pics. This isn't a cheeky filter: you're getting proper mono shots, which can make all the difference when snapping in low light. What would be unusable in colour often turns out great in grayscale.
Up front, the 8MP, f/1.9 camera also has Leica glass. Portrait mode works here too, but it's done entirely through software.
On the video side, you can shoot 4K clips at 30fps, or full HD video at up to 60fps. Optical image stabilisation is on hand to keep your footage as shake-free as possible, Drop down to 30fps full HD recording and electronic wizardry keeps your clips even steadier, although Google's Pixel still edges it out for overall smoothness.
HUAWEI P10 PLUS CAMERA IMAGE QUALITY
Once you've pressed the shutter button, the snaps captured by the P10 Plus really are exceptional. Black and white shots have exceptional contrast and are bursting with detail, while 12MP colour snaps are punchy and vibrant, while managing to stay (mostly) true to life.
Laser- and phase detection autofocus help you lock on to subjects incredibly quickly, and optical image stabilisation meant that every shot I took in daylight was perfectly sharp. You've still got to have a steady hand to get the same results at night, but it copes well here too.
With its bigger f/1.8 glass, the P10 Plus copes better in low light than its smaller brother. ISO settings aren't pushed as high to keep shots looking sharp, meaning you keep more detail in each snap, without adding unwanted noise. Image processing on the Apple iPhone 7 Plus give it a slight edge in terms of overall quality here, though. Still, the twin-LED flash helps to illuminate scenes without making them look too fake or forced.
With no auto-HDR mode, you've got to go into a menu and toggle it on and off. It won't work with other modes, either, but the shots you can take with it enabled are otherwise quite impressive. Some of my test shots looked a little ethereal, but it really helps balance out scenes with different levels of light. The Google Pixel's auto-HDR managed to keep similar scenes looking realistic, giving it the win.
Huawei's camera app helps you jump between the numerous modes and settings quickly, with one swipe bringing up shooting modes and another to enter Pro mode. This lets you control ISO speeds, white balance and exposure compensation completely manually.
You'd need to put it side-by-side with an iPhone, Google Pixel or Galaxy S7 to spot the minor shortcomings in daylight photos, but the P10 Plus has so many other camera features that it'll easily be up there with the best phones of 2017 once we get to awards season.
HUAWEI P10 PLUS DISPLAY: NEW YEAR'S RESOLUTION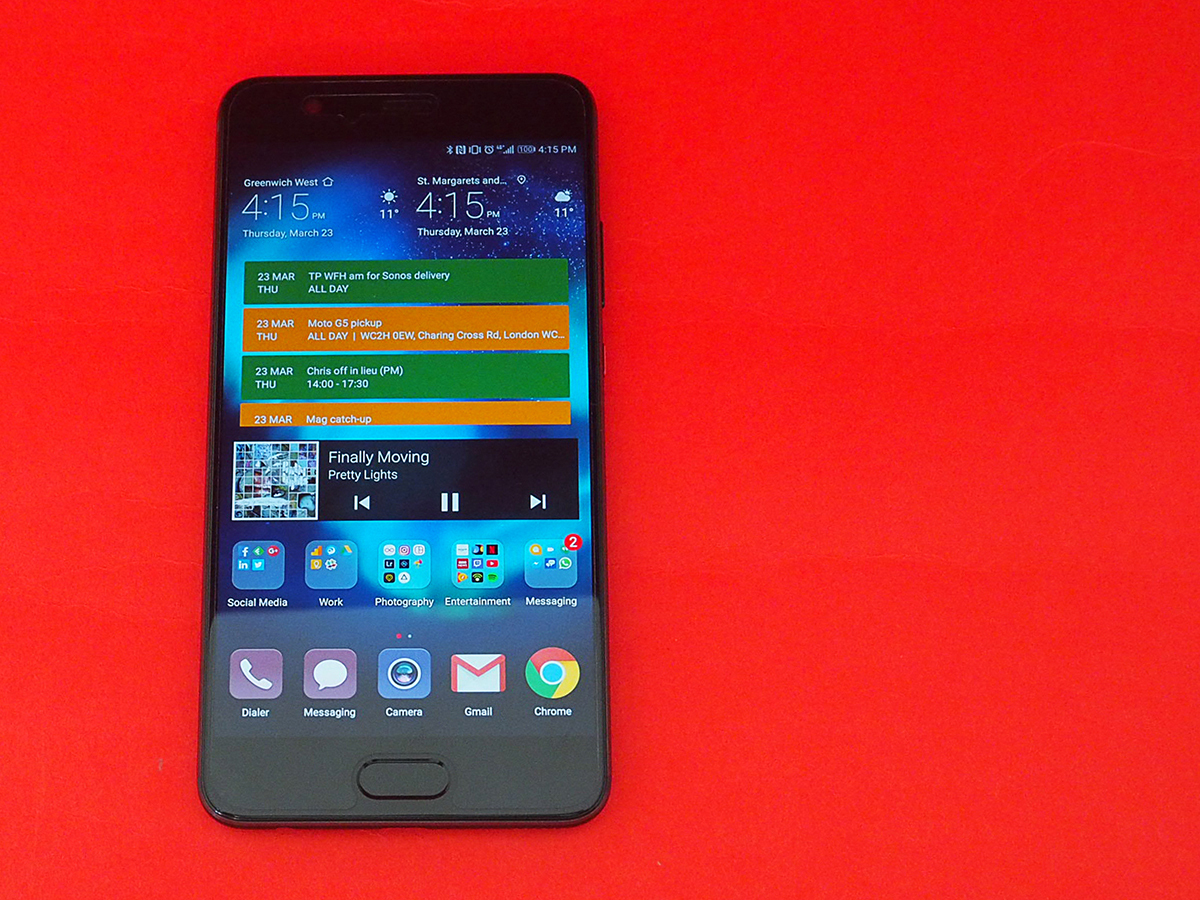 Full HD just doesn't cut it any more when you're paying big bucks for a phone. It was one of the few black marks on the vanilla P10's record, but the P10 Plus doesn't make the same mistake.
Here, you get a QHD display, stretched over 5.5in, and it's a real stunner. Everything looks pin-sharp, so you can use the "Small" view mode without having to squint at tiny text or icons.
Viewing angles are fantastic, and the whole thing is seriously bright: I had no problems using it outdoors, even if the British spring weather didn't exactly make for the greatest test for dealing with direct sunlight.
Colours are on point, with plenty of contrast and clean whites, but blacks and darker hues aren't quite as rich as you'd get from an OLED display.
You get full control over tone and colour temperature, but honestly things look their best out of the box, making pictures look natural rather than washed out or overly vibrant.
Huawei fits a screen protector to the phone in the factory, which might seem generous, but if you decide to remove it you'll find the one real flaw of the phone: there's no oleophobic coating on the glass. Peel it off and the P10 Plus becomes a grease and fingerprint magnet – not something you'd expect from a top-end phone.
HUAWEI P10 PLUS SOFTWARE: FINGER ON THE BUTTON
I'm not going to lie: I love stock Android, and it winds me up when phone makers mess with something that works perfectly well already. And yet I'm totally on board with the P10 Plus and its one-button navigation.
Sure, you can use the three familiar onscreen keys if you like, but after a quick trip to the Settings screen, you can use the fingerprint sensor to do the same job.
A short tap goes back. A long press goes home. Swipe left or right to bring up recent apps, and up to launch Google Assistant. It means less finger gymnastics to get around the UI, and frees up space onscreen that would normally be filled with buttons.
It takes a bit of getting used to, and a few apps don't play ball with this kind of navigation, but for the most part it works brilliantly – and totally justifies Huawei moving the fingerprint sensor from the back of the phone to the front. See, it wasn't just to more closely copy the iPhone after all.
Beyond the funky new navigation, Huawei's take on Android is still going to divide opinions – even though EMUI 5.1 is probably the least intrusive version of the skin to date. It defaults to an Apple-aping set of homescreens, but you can choose the standard Android app drawer format with just a few taps.
The floating dock makes more sense here than it did on the P10, as not everyone can reach the top of the screen with one hand. It's handy if you need it, but easy to disable if you don't.
It would have been nice to see Google Daydream VR support, seeing how there's plenty of power and the screen resolution is up to the task. Fingers crossed it will arrive in a future update.
Perhaps it won't turn up at all – after all, Huawei is trying hard to get you to use its own apps instead of Google's. There are lots of preinstalled apps that mimic Google's own, including a gallery app that creates automatic Highlight videos from your snaps. It was built in partnership with GoPro, and does a reasonable job of jazzing up otherwise boring slideshows, but I still ditched it for Google Photos – there's no arguing with unlimited free cloud storage.
HUAWEI P10 PLUS PERFORMANCE: SPEED DEMON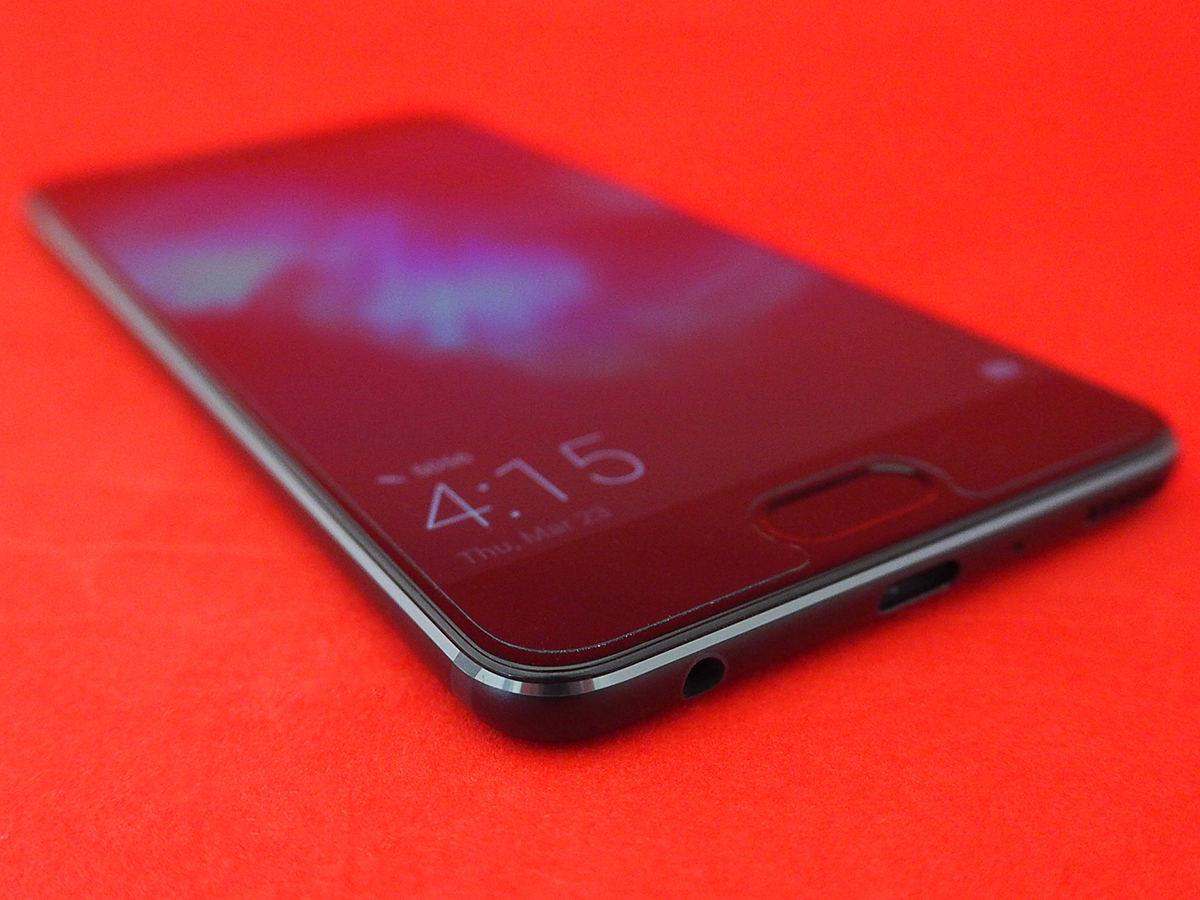 The Kirin 960 CPU inside the P10 Plus is a force to be reckoned with. It impressed us in the Mate 9, outpaced the competition in the vanilla P10, and is still lightning fast here.
Whether you're swiping between homescreens, jumping into apps or playing games, the P10 Plus always felt snappy and responsive. It doesn't even get toasty after an hour of full HD video streaming.
Huawei reckons that's partly down to its machine learning algorithms, which work out how you use your phone and predict where you're going to tap, so it can push resources about to make things happen as quickly as possible. It's tough to test, but when it feels so damn quick all the time, you've got to figure there's a grain of truth in those claims.
The mammoth 6GB of memory helps out when it comes to multitasking, making sure you're never left waiting when switching between apps, and even the huge 128GB of onboard storage uses super-quick UFS 2.0 flash memory. You won't be sat around waiting for files to copy with one of these in your pocket.
It'll take you a long time to fill all that space, but if you do run out, there's a microSD card slot for adding more storage later.
Gaming is smooth as silk, too. Gorgeous yet frustrating strategy XCOM: Enemy Within plays flawlessly, and it can keep up with the fast-paced Asphalt 8, too.
There's nothing about this phone that feels slow or sluggish. Not even the fingerprint sensor, which unlocks your phone and wakes the screen instantly with a tap. No waiting, no loading – it just works.
HUAWEI P10 PLUS BATTERY: THAT'S MORE LIKE IT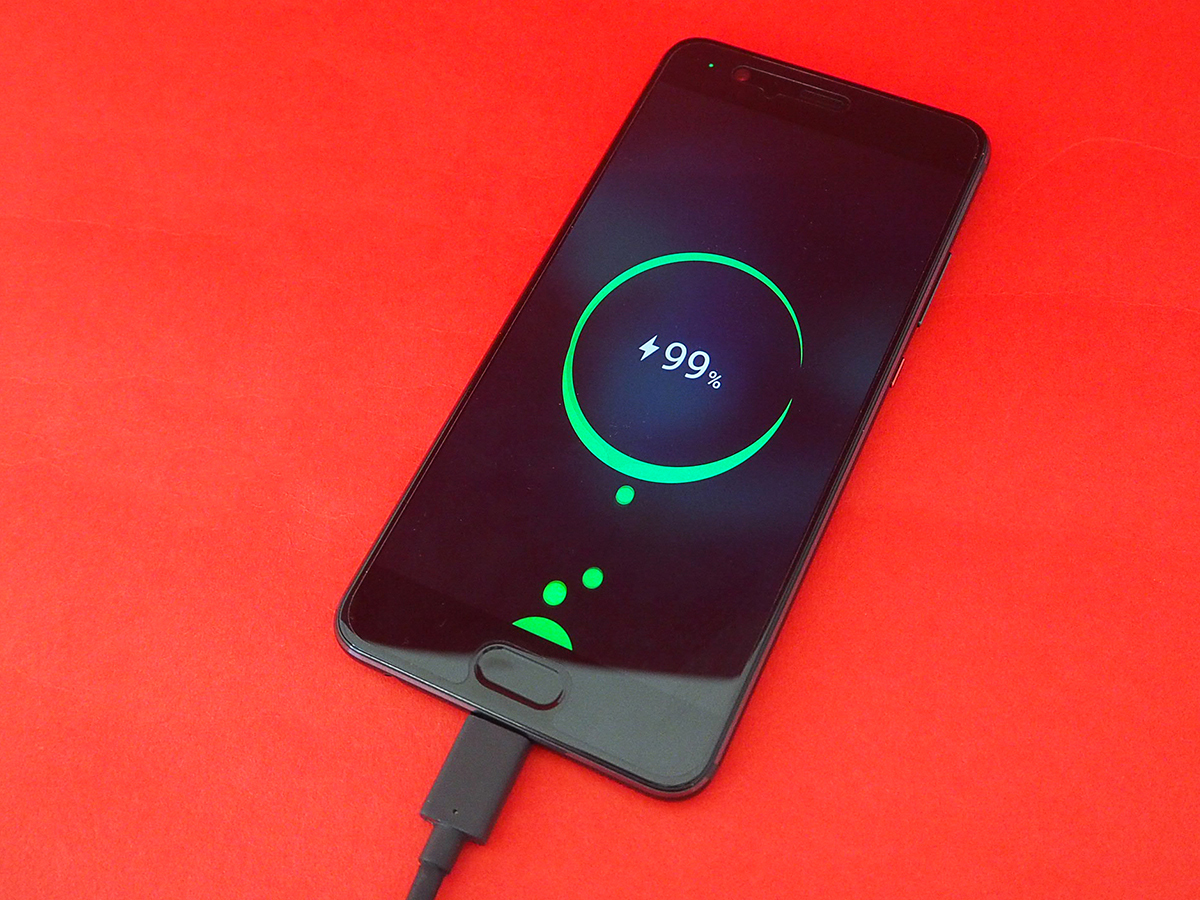 With a bigger screen and more pixels to push, I expected the P10 Plus to struggle to outlast its smaller brother – and yet somehow, Huawei has pulled it off. Battery life is great, if not quite as exceptional as Google's Pixel XL or the weekend warrior Lenovo P2.
Starting from full in the morning, I could go the entire day without having to recharge, even with a few hours of continuous use on my commute to and from the Stuff office. That's fantastic – most phones are approaching 30% by the time I close my laptop in the evening and head home.
OK, if you mostly use your phone for watching video or playing games, you're going to need to juice up before the end of the day, but for average use, you'll still be running when you wake up the next morning, even if you didn't plug in the night before.
Ultra power saving modes can help squeeze a little more life out of a single charge, but once you find somewhere to plug in, it refuels very quickly. You'll get back up to 50% in half an hour with the bundled Fast Charge adapter.
HUAWEI P10 PLUS COMPETITION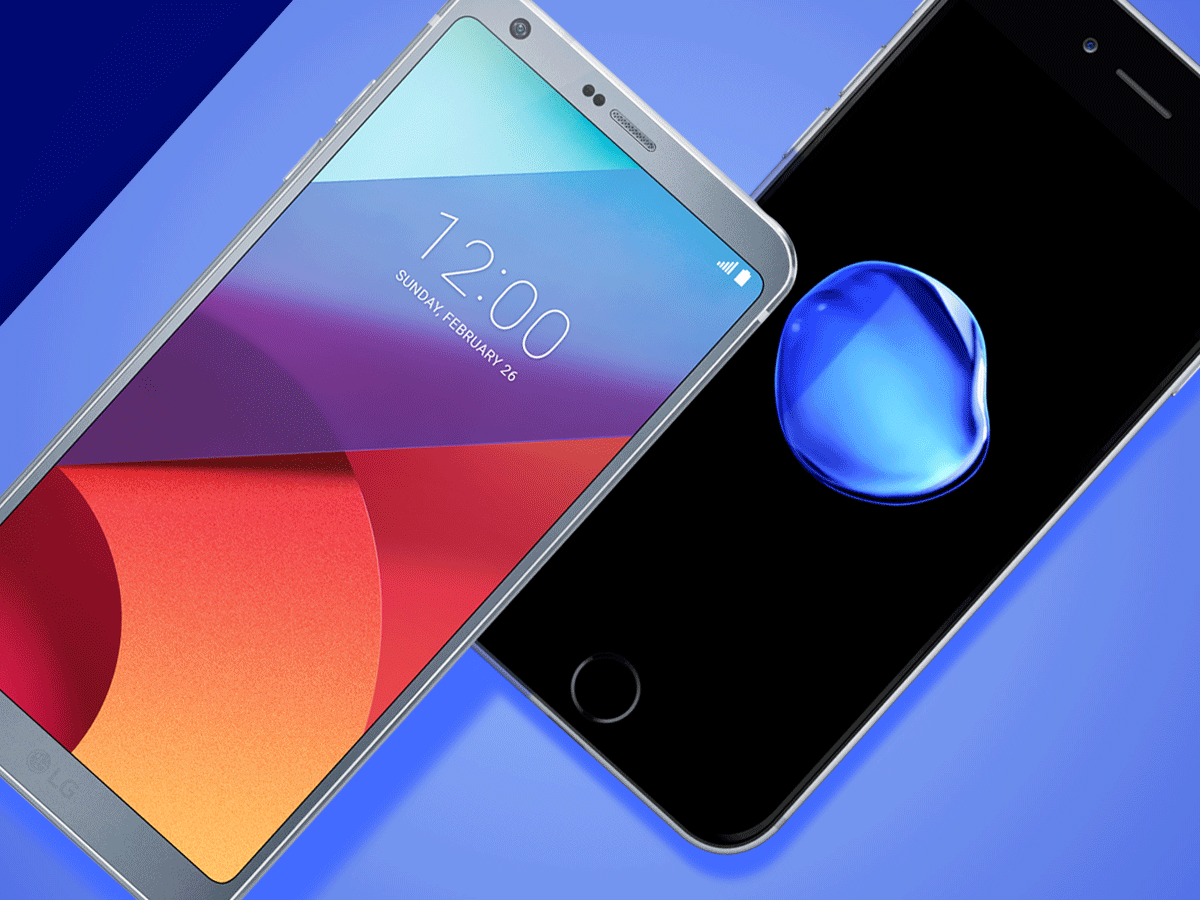 As one of 2017's first flagship phones to get the Stuff review treatment, the P10 Plus was always going to have to work hard to get you to part with your cash. Before you do, there are some rivals to consider.
The Galaxy S8 Plus is guaranteed to turn heads when it arrives, and unless Samsung gets something very wrong indeed – Galaxy Note 7 fiasco aside – it'll be the phone to beat in 2017. It'll be a lot more expensive than the P10 Plus, though, and the curved-screen design might not be to everyone's taste.
Huawei isn't the only game in town when it comes to dual cameras, either. If you don't mind switching from Android to iOS, the Apple iPhone 7 Plus is tough to beat and has a depth-of-field portrait mode of its own.
LG's G6, meanwhile, cuts a mean silhouette thanks to an unusual 18:9 aspect ratio screen, and packs a wide-angle secondary lens for fitting more into every photo.
Beyond those 2017 handsets, the Google Pixel XL is still one of the best smartphones out there when it comes to camera quality, and has phenomenal battery life to boot.
HUAWEI P10 PLUS VERDICT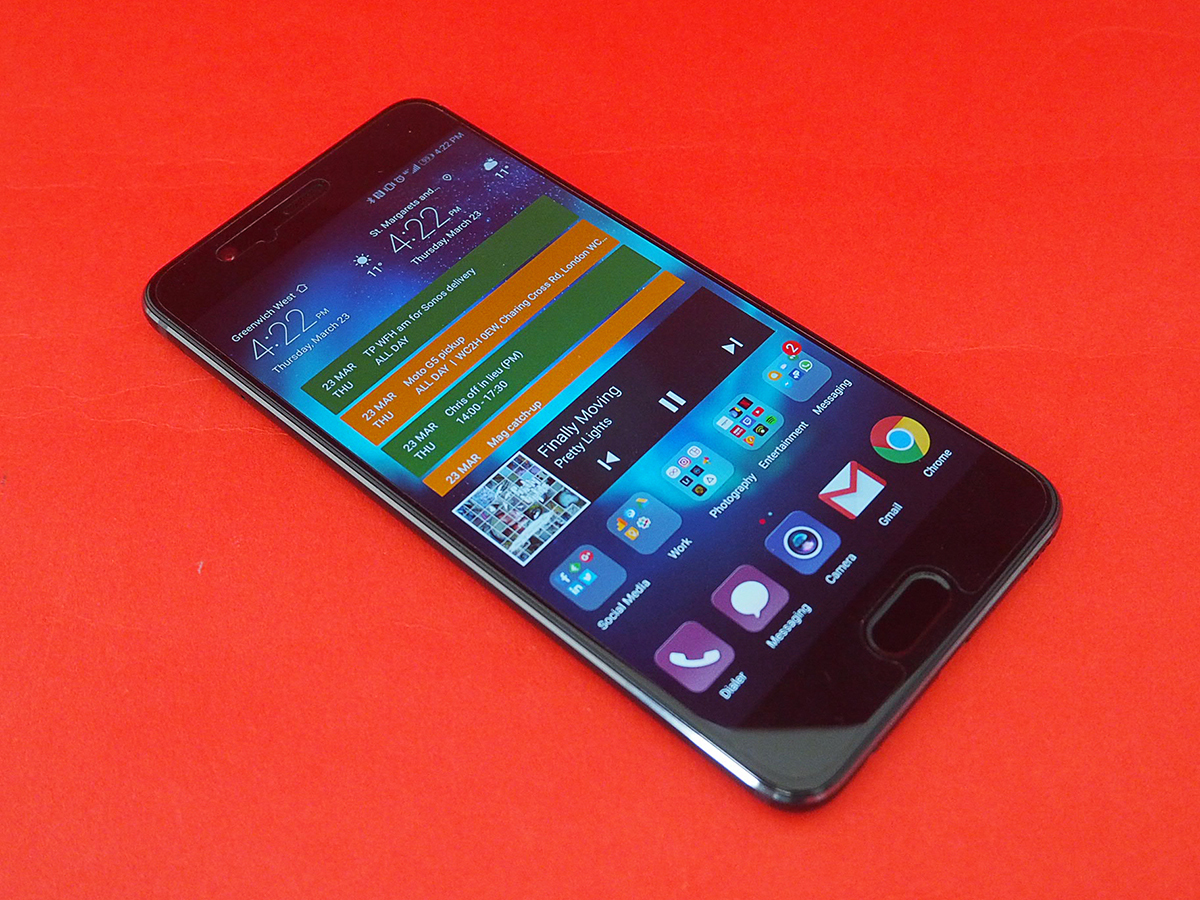 We thought the regular P10 was a great Android phone, with few flaws beyond screen resolution and battery life – which were both average, rather than flagship-worthy.
The P10 Plus doesn't have either of those concerns. The 2K resolution screen is on par with the competition, and you'll easily squeeze a full day of heavy use out of the battery.
When you add those welcome improvements to what was already one of the most comprehensive phone cameras around, there's hardly anything here not to like.
It should demand slightly less of your hard-earned cash than its major rivals when it goes on sale, too.
Yes, it looks an awful lot like an iPhone, EMUI takes some getting used to, and it isn't anywhere near as distinctive as Samsung's curved glass or LG's ultra-slim bezels. But that doesn't stop it from being Huawei's best phone to date, and indeed one of the best plus-sized phones you can currently buy.
The regular P10 is still a decent phone, but this is better, and well worth paying the extra cash for.
Tech specs
| | |
| --- | --- |
| SCREEN | 5.5in, 2560×1440 LCD |
| CPU | HiSilicon Kirin 960 octa-core |
| MEMORY | 6GB RAM |
| CAMERA | 20MP + 12MP rear with f/1.8 Leica lens, OIS, phase detection/laser autofocus and dual-LED flash. 8MP, f/1.9 front |
| STORAGE | 128GB on-board, microSD expansion |
| OPERATING SYSTEM | Android 7.0 Nougat w/ EMUI 5 |
| BATTERY | 3750mAh non-removable |
| DIMENSIONS | 154x74x7mm, 165 g |
Stuff Says…
A true flagship phone which gives you plenty of power, a great screen and one of the best cameras around. It's close to flawless
Good Stuff
Brilliant, versatile camera
Plenty of power for apps and games
Clever, space-saving controls
Bad Stuff
Design isn't truly distinctive
Battery life is about average
EMUI is a bit marmite