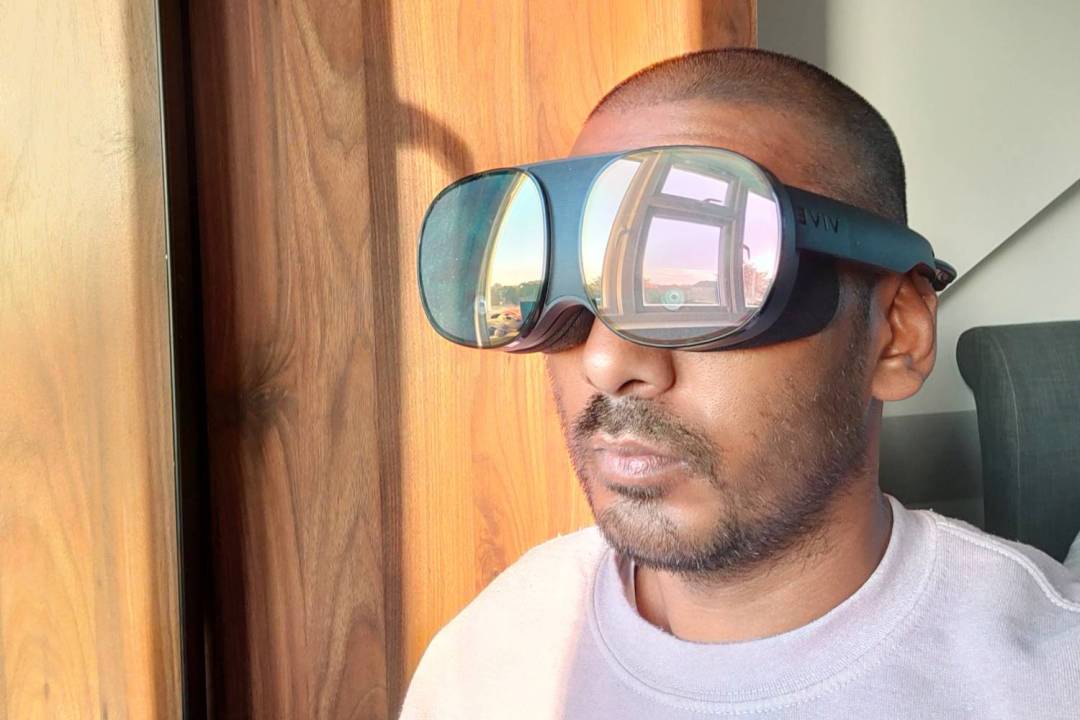 HTC's focus in recent years has been to mainly flex its VR skills for the enterprise and business worlds. Now it looks like it's ready to dip its toes back into all things consumer with the Vive Flow.
This set of virtual reality specs feel like a take on the now-retired Oculus Go, which was less about games and more about enjoying other VR experiences. Think watching 360-degree videos, films and still offering the opportunity for some game time too. With the Flow, HTC is also hoping you'll turn to it to help relax and even get a good night's sleep.
Priced at £499 though, the Flow does not come cheap. It's £200 more expensive than HTC's own PC-powered, high-end Vive Cosmos headset and £100 less than what it costs to pick up a Vive Pro. The Oculus Quest 2 in comparison costs £300.
So is a set of glasses that needs a smartphone and a power bank to offer a more portable VR experience what the world needs right now?
Design and hardware
Let's start by saying that the Flow certainly doesn't look like your typical virtual reality headset. With big mirrored lenses up front and a much smaller frame, it's definitely channelling serious Magic Leap AR glasses vibes for us here. Its weight and stature also throw it back to some other smartphone-powered mobile VR goggles that emerged when Google Cardboard was all the rage.
The Flow weighs 189g with most of that bulk coming from the slightly chunky front end that thankfully doesn't feel top-heavy when they're on. HTC has designed a headset that is light, comfortable so you can both enjoy and take VR wherever you want to.
Keeping those specs on your head are the two folding plastic arms, which also make it easier to pack away into the accompanying microfiber bag. At each end of those arms, you'll find a small amount of padding to help make sure that plastic isn't resting directly on the side of the head. They're attached with velcro, which does mean you can swap in new ones if they start to lose that padded feel or get a bit grimy.
There's no doubt that wearing a VR headset for long periods can start to feel uncomfortable. With the Flow, we still didn't want to wear it for more than maybe 20-30 minutes, but it definitely didn't feel heavy, cumbersome or uncomfortable compared to some VR headsets we've used.
On one side of those arms is a USB-C port and that's because you not only need to pair it up with a smartphone to make this work, but you also need an external power source to keep things running. It's a setup that only works with Android phones and while the glasses have a built-in battery, it only lasts for 5 minutes and that's to make sure you have time to plug in that power source. To go portable, HTC suggests using power banks and with a fully charged 10,000mAh power bank, you can get up to 4-5 hours. If you're just at home, you can simply plug into your nearest free USB-C port as well.
Looking further ahead and the top of the glasses feature physical buttons to turn the Flow on and off and there's a volume rocker over on the other side. There are stereo speakers on the sides of the glasses too, with support to pair up some Bluetooth headphones for more private sessions. HTC also includes a pair of microphones here too, which does mean you can also communicate while immersed in the VR realms.
Stare towards those lenses and you'll find they're surrounded by a soft material face gasket that is built to offer comfortable viewing surroundings. That gasket is magnetically secured in place and is easy to remove if you need to give it a wipe down and clean. There's also a nose bridge here to offer a more snug fit too.
The lenses inside are adjustable with the option to go all the way up to -6.0 for both eyes so that you don't have to wear glasses. I popped them on with and without a pair of glasses to see how well those lenses worked and both options worked pretty well. You can wear glasses with it and not feel incredibly awkward doing it.
What you're getting in terms of a setup to deliver that VR experience is a 3.2k resolution screen, which is 2 x 2.1in LCD displays. That works out to 1600 x 1600 resolution per eye. To put that into context, the Oculus Quest 2 offers 1,832-by-1,920 resolution per eye. You're getting a field of view of up to 100 degrees and there are two front-facing cameras to offer 6Dof head tracking. The 75hz refresh rate isn't quite class-leading and that's perhaps because HTC isn't really expecting you or really let you play out demanding games here.
Setup, experience and software
As mentioned, this is an Android-only setup (sorry iPhone users) and you need to check that your Google-powered phone is compatible, which you can do from the Vive website.
My review sample was provided with a HTC U12+, a midrange smartphone that launched in 2018, so by no means a new handset. The phone provides the Vive and Viveport apps to access content and the connection over Wi-Fi to make it possible to download new content to the Flow. The Flow comes with 64GB of storage, which is a similar capacity on offer on the smallest capacity Oculus Quest 2 models.
When it's time to get up and running and you've plugged in the glasses to a power source and your phone, the Flow takes about a minute to load up and then you're into the main screen where you'll see tabs for the Viveport store, your library, the option to mirror your phone to the glasses and the settings. In the settings you'll find the option to turn on a blue light filter so that the VR is softer on the eyes. There's the option to change the VR boundary safety system to a maximum of 4 metres by 4 metres, which joins the passthrough support that lets you see your actual physical surroundings. We found the passenger mode the most interesting inclusion here as that's designed to reduce drifting when in a vehicle or a dark area.
There are no dedicated controllers so you need to use the phone paired to the glasses to navigate screens and select things. Pressing down with two fingers on the phone screen enables the controls and then you can wave the phone in front of you and press different sections to select things on screen or head back to the home screen.
We weren't a massive fan of this control method. While relatively simple, we found ourselves pressing the wrong area of the phone and having to peer back at the phone to see what part of the screen we were tapping on. We also had some issues with the cursor appearing in the right place, which we're going to put down to the fact this wasn't running the fully polished software.
As a VR experience on the whole, the Flow is good, but we weren't blown away by anything nor was there anything we felt compelled to return to. The resolution seemed sharp enough and aspects like your field of view and responsiveness of head tracking are definite plusses. The speakers are surprisingly good quality too, while the spatial audio support worked well when it came into play.
There are some intriguing inclusions by HTC, such as Vive Lo-Fi, which is essentially a virtual reality workspace where you can do things like draw out on the screen in front of you. Certainly an interesting concept, but we didn't find it hugely useful or something we wanted to spend a lot of time with.
HTC is pitching the Flow as a device to help with your mental wellbeing so there are a few experiences on that front with some more to find in its Vivesport store. We tried the Vive ASMR experience and there's an app called Visitations, which lets you pick a soothing scene and whether lying down or sitting up, plans to soothe you with relaxing environments. Tripp is another mindfulness-centric experience with floating orbs, eagles that you gently guide to collect coins and you're prompted to focus on your breathing.
There are games here too, but very simple ones. Pirate Shooter lets you shoot cannonballs at ships. Memory Wall is a simple memory game and VR pottery lets you make pots and vases and even send them to auction to see if people will pay the big bucks for them.
As mentioned, you do have access to HTC's Viveport storefront where you'll find experiences and videos best optimised to the Flow's hardware. A Viveport Infinity account will get you regular access to select software each month too. Currently though, it's not brimming with stuff.
We were fully prepared to be wowed by the Flow simply on the basis that HTC has already well proved it knows how to make cutting-edge VR hardware. The disappointing fact is that while the VR experience, on the whole, is solid and it does successfully put that tech into a smaller form factor, we're not seeing enough here yet to suggest this is entirely worth spending £500 on. If the plan was to make VR more accessible it feels like HTC needed to have some really compelling experiences to showcase and they don't seem to be there yet. That may well change as the collection of Flow apps on Viveport grows, but that needs to happen quickly.
HTC Vive Flow Verdict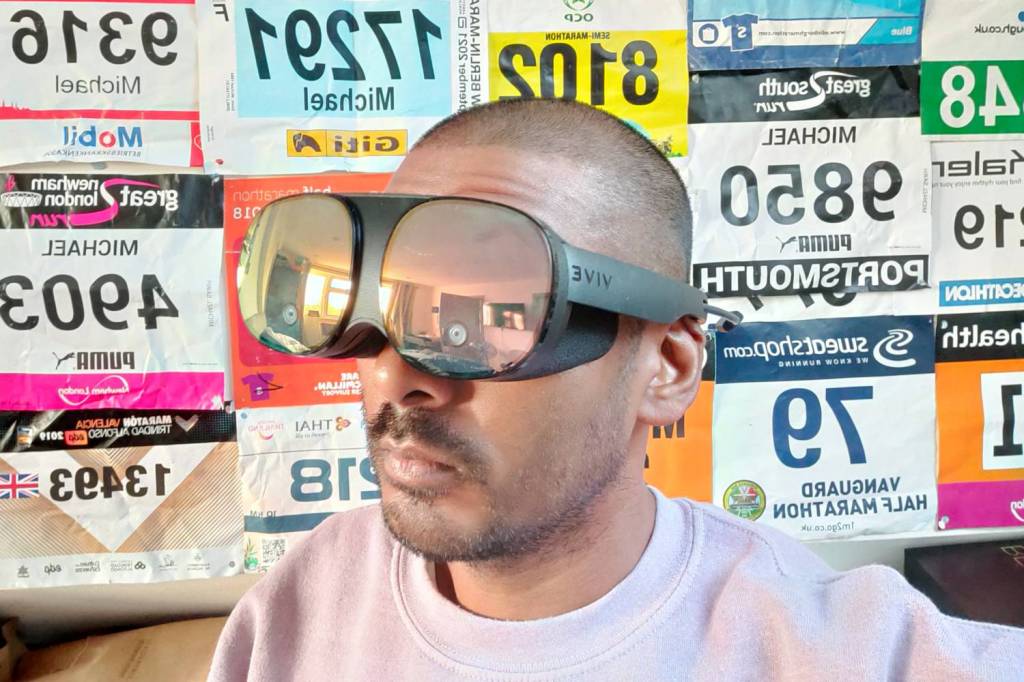 The Vive Flow is a curious move by HTC. The Oculus Quest 2 has proved that there is a place for high-quality VR at a more affordable package than high-end headsets and not everyone will like the idea of having to set up a Meta/Facebook account to use it. The Flow felt like it could offer a compelling alternative, but it's clearly a different beast. One that wants to help VR find a new audience but doesn't quite nail it as a concept.
Watching videos, browsing the web and dabbling with some nice VR experiences are the nicest thing to do with Flow, but it just doesn't feel like enough. The controls feel a bit clumsy, the need for an external power source like a power bank to make it offer a more portable VR experience isn't ideal and you can clearly get better VR hardware for less from Meta. A Flow with a slicker control system, a more pleasing interface and more inventive software would appeal. Unfortunately, that's not what you get here right now with the Flow.
Stuff Says…
The Vive Flow delivers on offering good VR from a light and more portable design. The middling software and need for a battery pack, together with the fact you still probably wouldn't want to wear this outside of your home is still a stumbling block to making VR more travel-friendly.
Good Stuff
Sharp, good quality VR feel
GooLight and comfortable to weard stuff 2
Makes a good portable cinema
Good speaker performance
Bad Stuff
Not great smartphone controls
Feels expensive for what it is
UI doesn't feel particularly slick
Tech specs
| | |
| --- | --- |
| Memory and storage | 4GB RAM + 64GB ROM |
| Weight | 189g |
| Display | 3.2k resolution screen, 2x 2.1-inch LCD 1600 x1600 per eye |
| Audio | Stereo speakers, Dual microphones |
| Connectivity | Bluetooth, Wifi, USB-C |
| Compatibility | Works with Android phones only, requires external power source |