HTC Vive Cosmos review
Out of this world, or space oddity?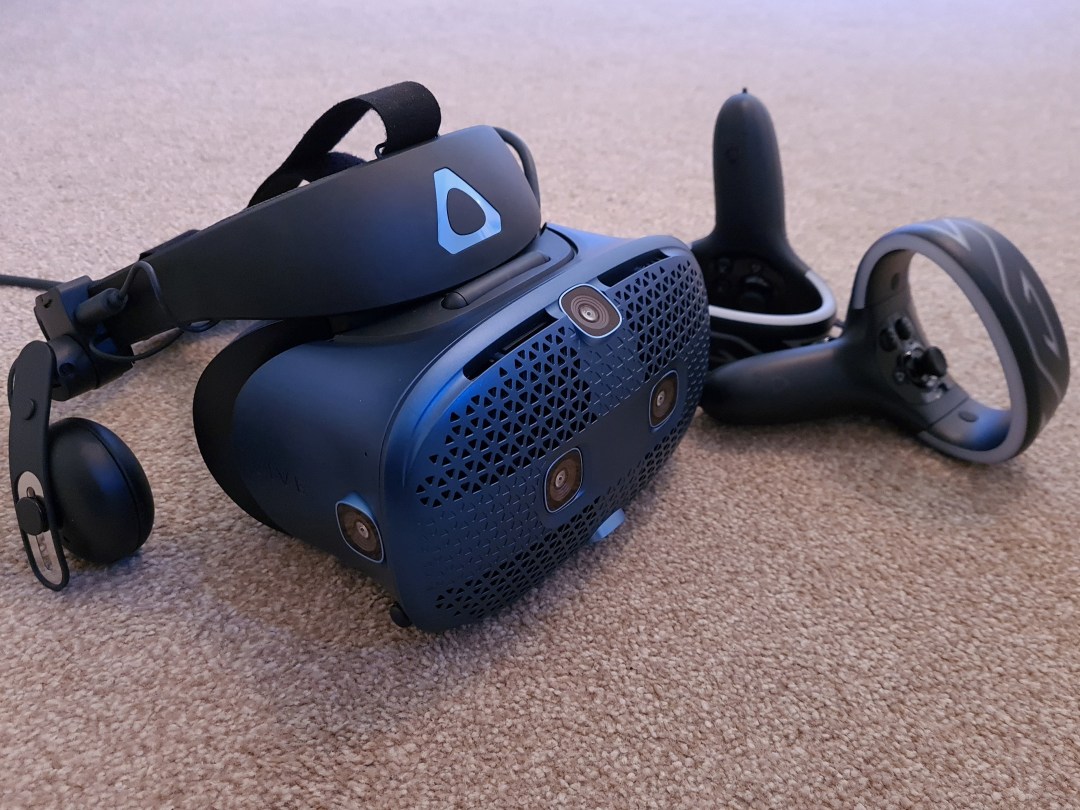 If you weren't already excited about virtual reality, an ongoing global pandemic would suggest now is as good a time as any to get on board. After all, if you can't physically leave your house, why not escape to a digital outdoors instead?
There's also the small matter of the first new Half Life game in thirteen years, designed exclusively for those with a VR headset. But which one to buy? There's never been more choice, with Half Life creator Valve now getting in on the action itself.
HTC thinks you need the Vive Cosmos, an upgrade over the original Vive that gave us the concept of room-scale VR – turning Star Trek Holodeck fiction into a reality that included the occasional tripping over cables and stubbed toes on the corners of sofas.
It's a technical upgrade over the first-gen Vive in almost every way, with new inside-out tracking that doesn't need base stations, slicker motion controllers and the potential for future upgrades. But hardware aside, this isn't entirely a case of "newer means better".
HARDWARE: ONE-BOX OF TRICKS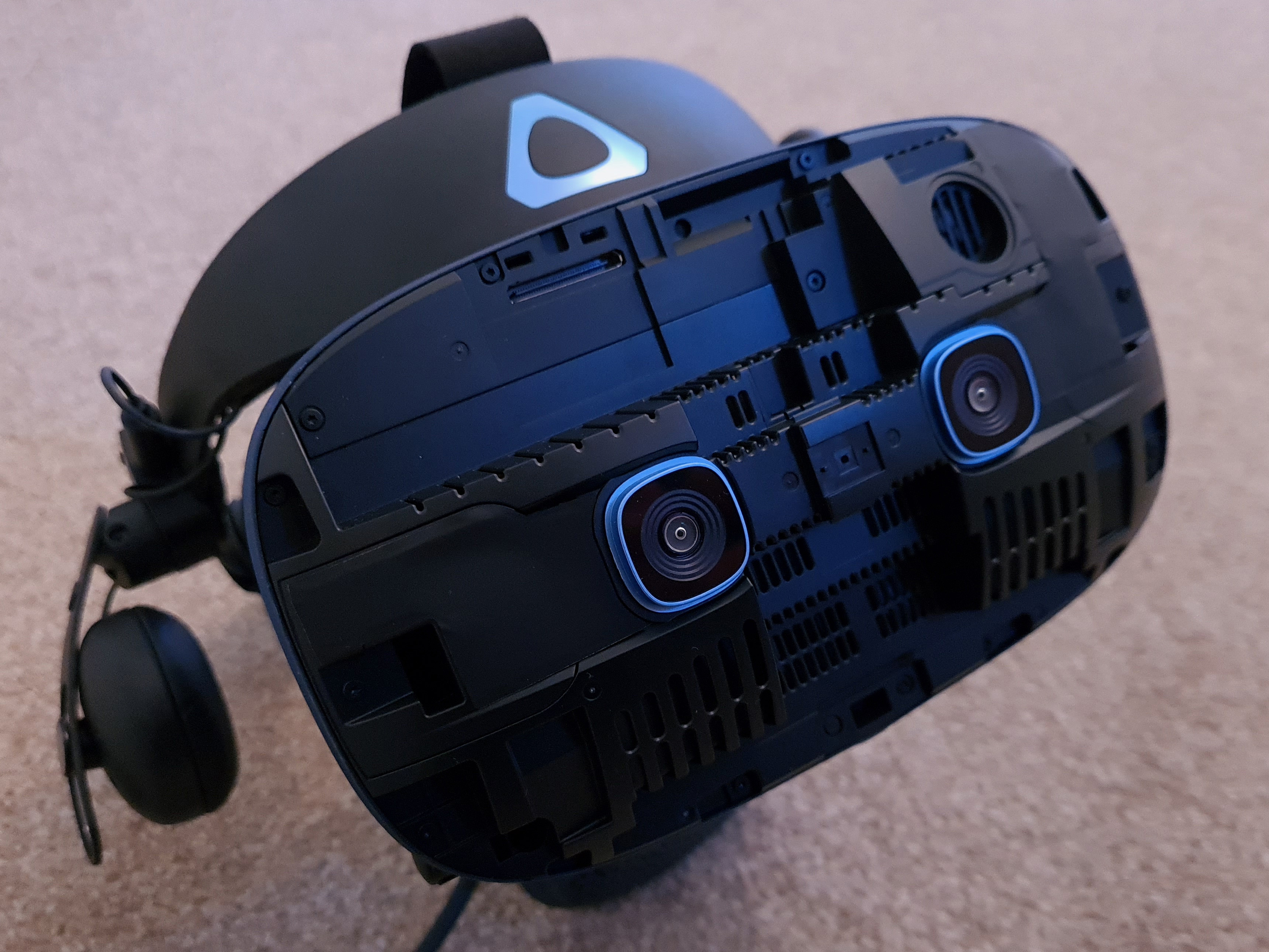 Big, blue and covered in cameras – the Cosmos has a distinctive look, while its redesigned headband, built-in headphones and fewer free-hanging cables make it seem less hacked together than the original Vive.
The modular design means the four-camera faceplate can be popped off and swapped for a different one. Right now that means the two-camera Cosmos Play, or the outside-in tracking Cosmos Elite, which relies on base stations instead of cameras to plot your movements. We'll be testing the latter separately very soon.
All versions have the same dual 3.4in, 1440×1700 LCD displays with a 90Hz refresh rate, so you're not losing out on resolution or refresh rate by going cheap and upgrading later. It gives the Cosmos the highest resolution of all the mainstream headsets right now, which makes the pixel grid 'screen door' effect all but imperceptible, although the Valve Index has a superior refresh rate.
Less impressive? The narrow visual sweet spot, which can be tricky to find. Once you do, looking outside of this small window reveals blurry, out-of-focus details. The Oculus Rift S does a better job here.
The lenses are also fixed, so can't be brought forward and backward to fill your field of view like they can in the Index. That leaves black edges in your peripheral vision, which saps the immersion a bit.
On the plus side, the foam cushioning helps keep light leakage around your nose to a minimum. One cable trails from the headset to the Link box, which has power, USB 3 and full-size DisplayPort connections that hook up to your PC. You can leave it hooked up 24/7, and just disconnect the headset when you aren't using it.
DESIGN: CAN YOU SEE MY HALO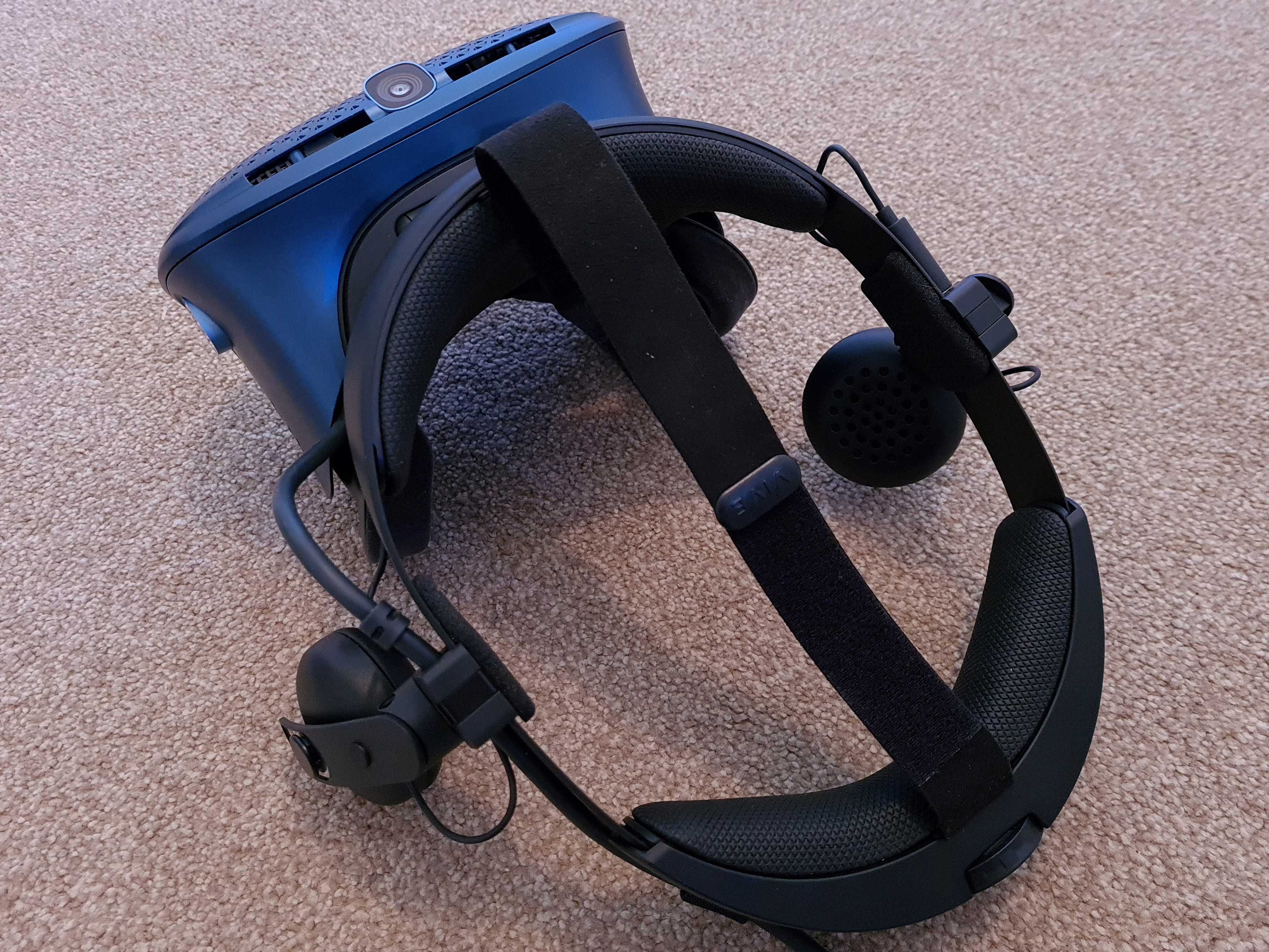 The redesigned headband ditches the original Vive's velcro straps for a plastic halo and flip-up visor that looks a lot like Sony's PS VR. It makes it easier to take a quick break without removing the whole thing, but it puts a lot of pressure on your bonce, so won't let you forget you're wearing it.
Passthrough, a returning mode from the original Vive, uses the built-in cameras to give you an outside view without lifting the visor – but it's quite low resolution, so don't go thinking you can use it to check your PC's screen on the fly. The front-heavy design puts most of that pressure on your forehead, which is a shame seeing how Vive Pro and the Vive Deluxe Audio strap accessory were among the most comfortable first-gen VR headsets to wear.
There's plenty of faux leather padding, at least, and the dial at the back makes it easy to adjust the fit on the fly. On-ear headphones are hooked onto the headband out of the box, giving the Cosmos an instant edge over the Oculus Rift S, which forces you to add your own.
However, the overly flexible hinges pop out of place a little too easily, making it tough to get the cups to sit directly on top of your ears. They're detachable, though, and the 3.5mm port built into the headband means you can use your own if you prefer.
CONTROLLERS: SEEN THE LIGHT
A new kind of motion tracking meant all-new controllers, which get a complete transformation from the old Vive's wands. Smaller, less angular and with a ring of patterned lights used to track movement, the Cosmos' controllers feel bang up to date.
Touchpads are out, analog sticks and gamepad-style buttons are in. Grip buttons and bumpers beneath the triggers mean there's no shortage of ways to interact with games and apps, even if it takes a while for it all to enter your muscle memory.
They're still chunky bits of plastic, mind, with an awkward centre of gravity that makes holding them for long sessions a bit uncomfortable. Each controller needs two AA batteries, which adds to the weight, and means you'll need to swap 'em out on the regular if you're spending a lot of time in VR.
Oculus feels a step ahead here with its lighter Touch controllers, and Valve's Index controllers are the best of the bunch, with per-finger tracking and physical straps that take no effort at all to hold.
PERFORMANCE: TRACK IT BACK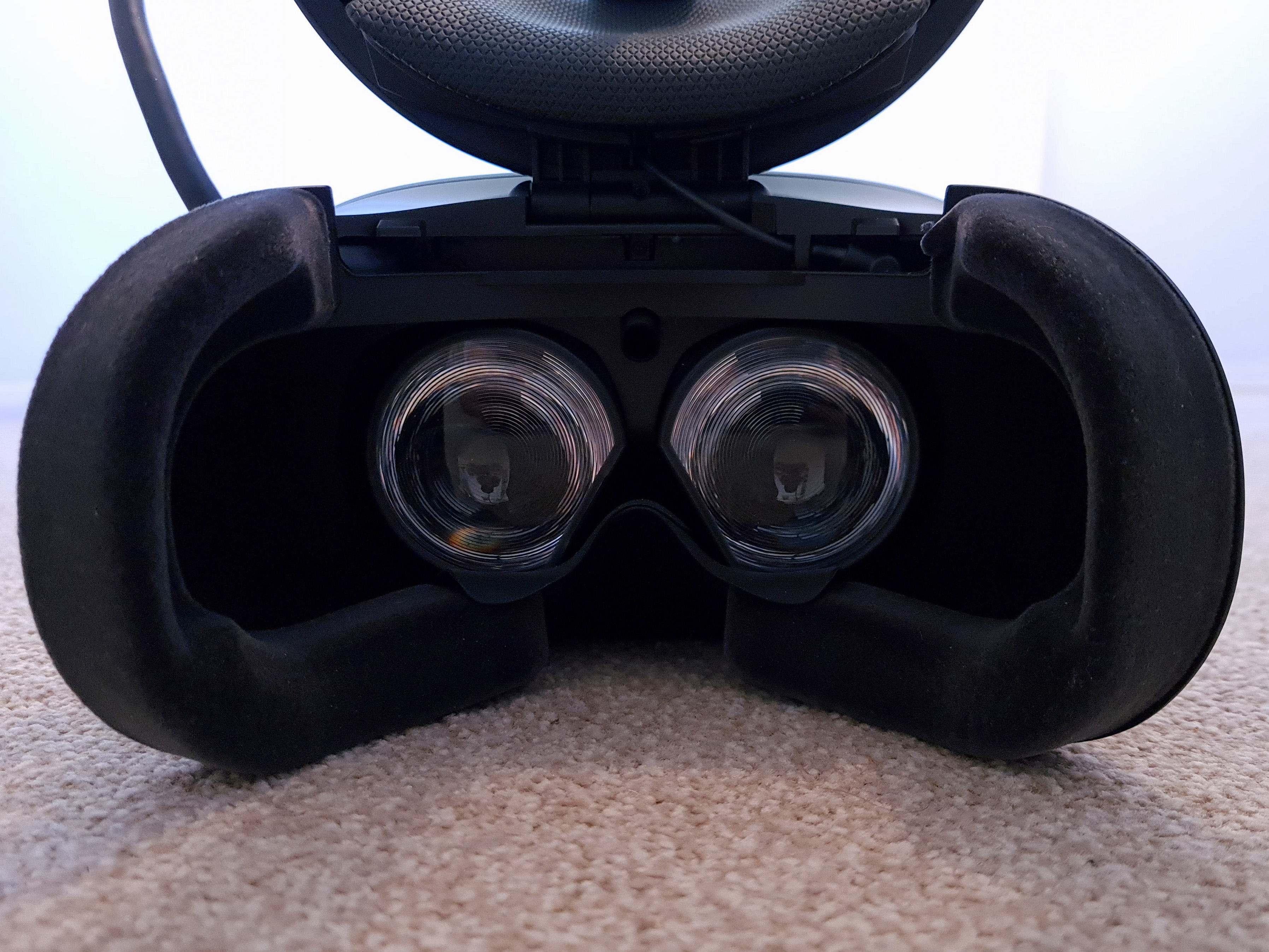 With six cameras and illuminated controllers, the Cosmos delivers competent motion tracking – though it isn't infallible, and not as accurate as an outside-in system that uses base station tracking.
Move the controllers behind your head and the headset can lose their position, with algorithms guessing their location until you bring them back into view. It's a problem for sports games particularly, though less of a concern for any title where your hands are out in front of you. Frantic flailing can be a struggle, too, which can make perfecting Beat Sabre levels on the harder difficulties all but impossible.
Head tracking accuracy is accurate enough to dodge bullets in Superhot VR, but larger movements depend on having enough light in the room, and preferably coloured or patterned walls. Stooping to open drawers in Half Life: Alyx would often embed me into the game scenery until I stood up and the headset could recalibrate.
Without enough light, the headset will complain with an error message directly in the centre of your view, while direct sunlight sometimes meant the controllers vanished from sight. Your best bet is consistent artificial light, and closing the curtains before you start playing. It worked reasonably well in our whitewashed office, but getting too close to a wall could still throw the tracking off.
It's worth remembering that while the single cable isn't all that bulky, and at 15ft is plenty long enough for most room-scale setups, this is still a tethered headset. Unless you're going to get creative and hang it from your ceiling, it's always going to be a tripping hazard.
The HTC Wireless adaptor will set you back an additional £300, and needs some open heart surgery to fit the PCIe adaptor into your PC.
SETUP & SOFTWARE: PLUG AND PLAY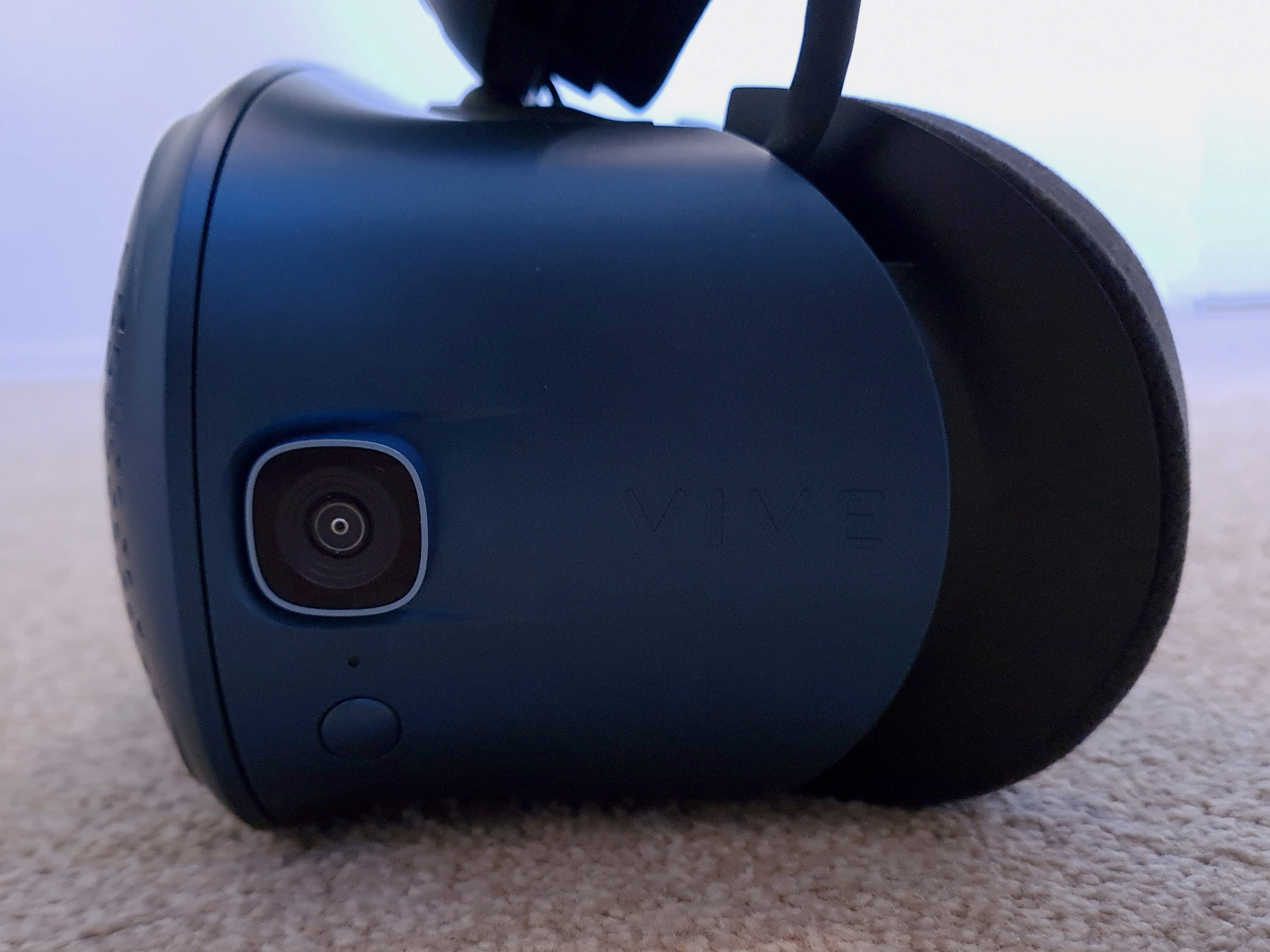 With no base stations to worry about and a setup wizard that takes you through the basics, Cosmos is far easier to get up and running than the original Vive. A quick scan and walkaround of your play area is really all it takes.
It's the way HTC forces its Viveport platform onto you that can be confusing. Cosmos still relies on SteamVR to run, so you're stuck with two separate control panels on your desktop, and are forced to jump between interfaces depending on what you want to play. Origin, HTC's digital hub world, lists games from both stores, but load a Steam game and it'll throw you into a completely different UI. The pop-up Viveport settings screen uses tiny icons with an unintuitive layout, and currently lacks the social features HTC talked up pre-launch.
Don't ignore Viveport, though, as it has a comprehensive list of VR titles available to buy and download. Cosmos includes a six month subscription to the Infinity service, which gives you access to most things in the store for a monthly fee – it's a great service if you're unfamiliar with VR and want to try as much as possible. Viveport already works fine on Index and Rift hardware, though, so it's hardly a unique selling point for the Cosmos.
HTC VIVE COSMOS VERDICT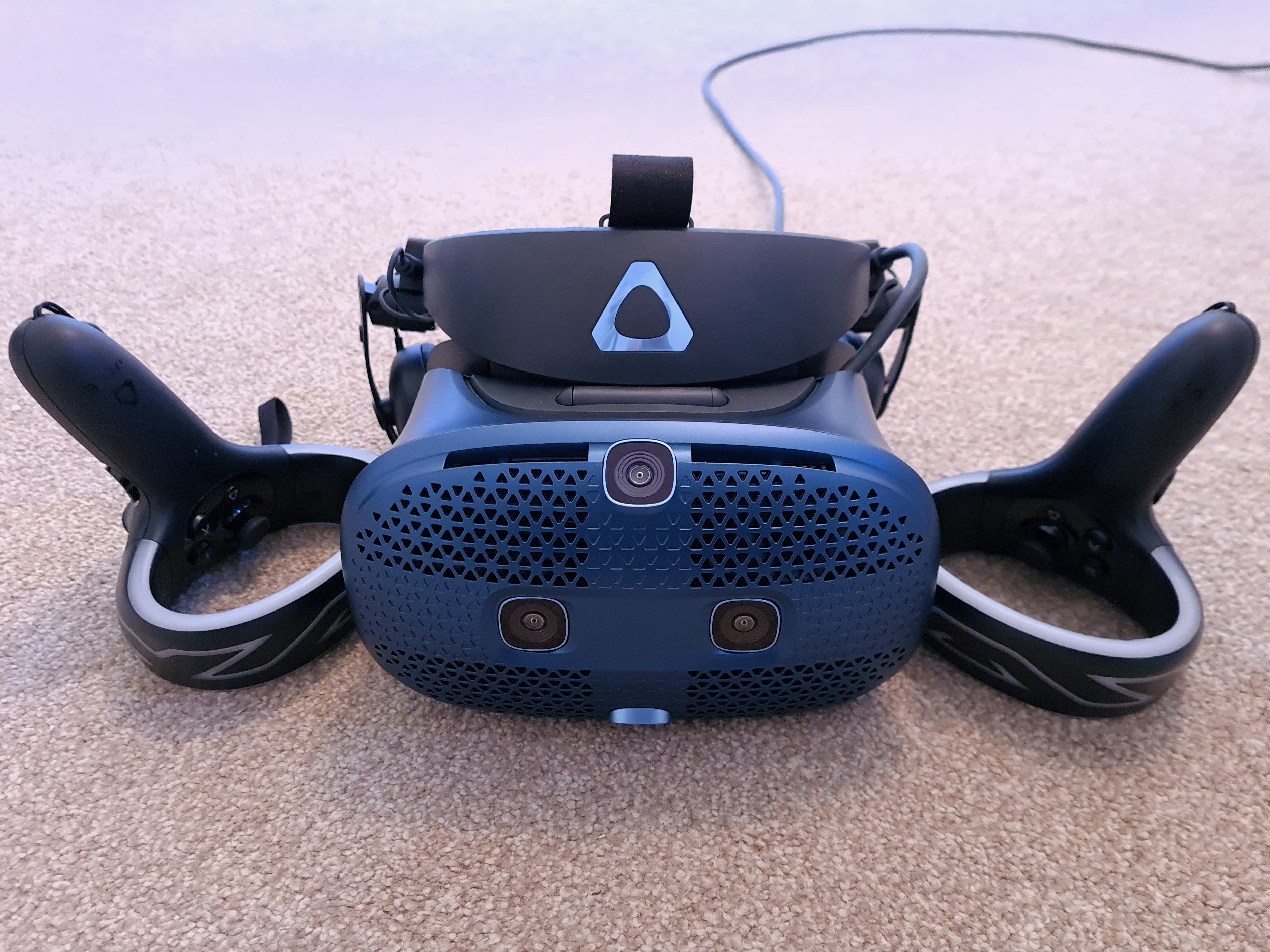 With its streamlined setup, lack of base stations, and tracking that's fairly accurate for the most part, anyone getting their first taste of VR will be rightly impressed with Cosmos. The potential for upgrading in the future sounds tempting, too.
However, at £699, it's hardly entry-level money – and that's before you start adding accessories or faceplates with extra functionality. If you don't plan on buying upgrades in the future, the Oculus Rift S offers a similar experience with only slightly inferior visuals for £300 less.
And anyone wanting the very best VR right now needs to bite the bullet on Valve's more costly Index. Cosmos has potential, and HTC hasn't been afraid to pump out accessories for the OG Vive, so it may still surprise us – but as a one-box system, it's tough to recommend.
Stuff Says…
Modular VR is a neat idea, but if you don't plan on upgrading, inconsistent tracking makes the Cosmos a merely decent headset
Good Stuff
High quality visuals, if not quite the best
Tracking without Base units is convenient
VivePort subscription good for VR newcomers
Bad Stuff
Position and hand tracking can lose itself
Controllers not the most comfortable
Limited upgrade potential right now