HTC One A9 review
The world's best iPhone impersonator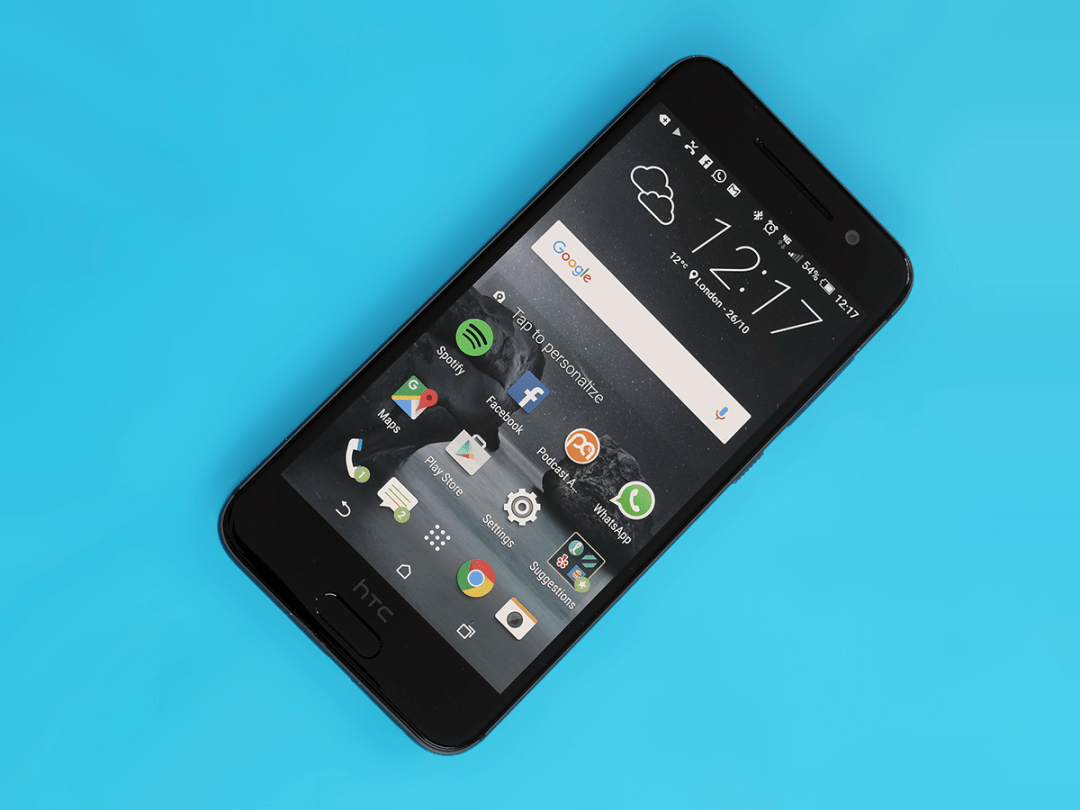 We know what you're thinking. It's the iPhone copy, right?
At first glance the HTC One A9 seems a bit cynical. A dead ringer for the iPhone 6s, is it gunning for people with early onset cataracts who just can't see this isn't an iPhone as they browse the shelves down at the local phone shop?
There is a bit of that desperate flavour to the HTC One A9. However, it also makes some pretty sweet moves of its own, offering a better screen and more versatile camera than the HTC One M9.
We'd have a little crush on the guy if it wasn't selling for close to the same price as Samsung's Galaxy S6 in the UK. It's a nice phone, but far too expensive.
The great iPhoney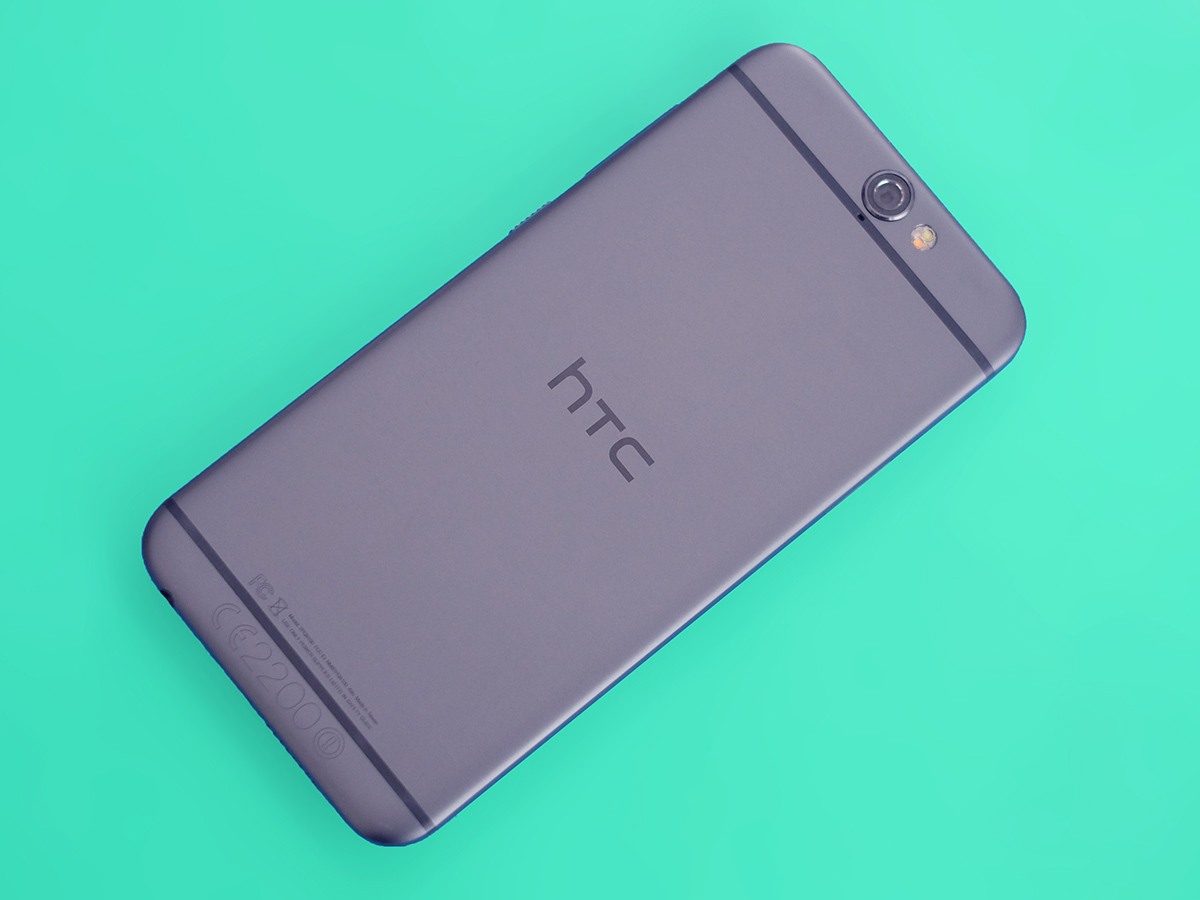 Let's address the thing you're all talking about first. Yes, the HTC One A9 looks almost exactly like the iPhone 6s.
There are plenty of people saying "yeah, but Apple has been copying HTC for years", but never have I seen quite as egregious a case of phone copy-catting. It's as though HTC bought up a few million iPhones, scooped out the insides like a halloween pumpkin and poured in its own phone bits. iPhoney? You bet.
However, if you can cope with every single one of your friends ribbing you about having bought a market trader fake, the HTC One A9 is actually utterly lovely. As iPhone indebted as it is, HTC has been making metal phones for longer than just about anyone else, and it shows.
The HTC One A9 feels as well-made as an iPhone, and with a 5in screen it lives in a very comfy middle-ground between the iPhone 6s and iPhone 6s Plus, size-wise.
Finishing moves
Primed to deliver some harsh words, one of the first things I noticed was how the back of the One A9 doesn't have the same finish as its sides. This seems to be totally deliberate, though.
The rear has a very soft and smooth iPhone-like textured finish (with more of a brushed effect), but the sides are a little bit glossier. This gives them greater friction and makes it seem less like the phone will fly out of your hand and onto the pavement the second you try jogging with the thing.
The HTC One A9's edges are nicely softened off too, and while the back is completely flat rather than curved, the 7.3mm thickness makes it seem pretty slim still. It's a delight, and unlike an iPhone you can add to the storage with a microSD card. The version of the phone we get in the UK has 16GB memory. A bit stingy for £429? Absolutely. Spoiler: this is a running theme.
Fingerprints at 50 paces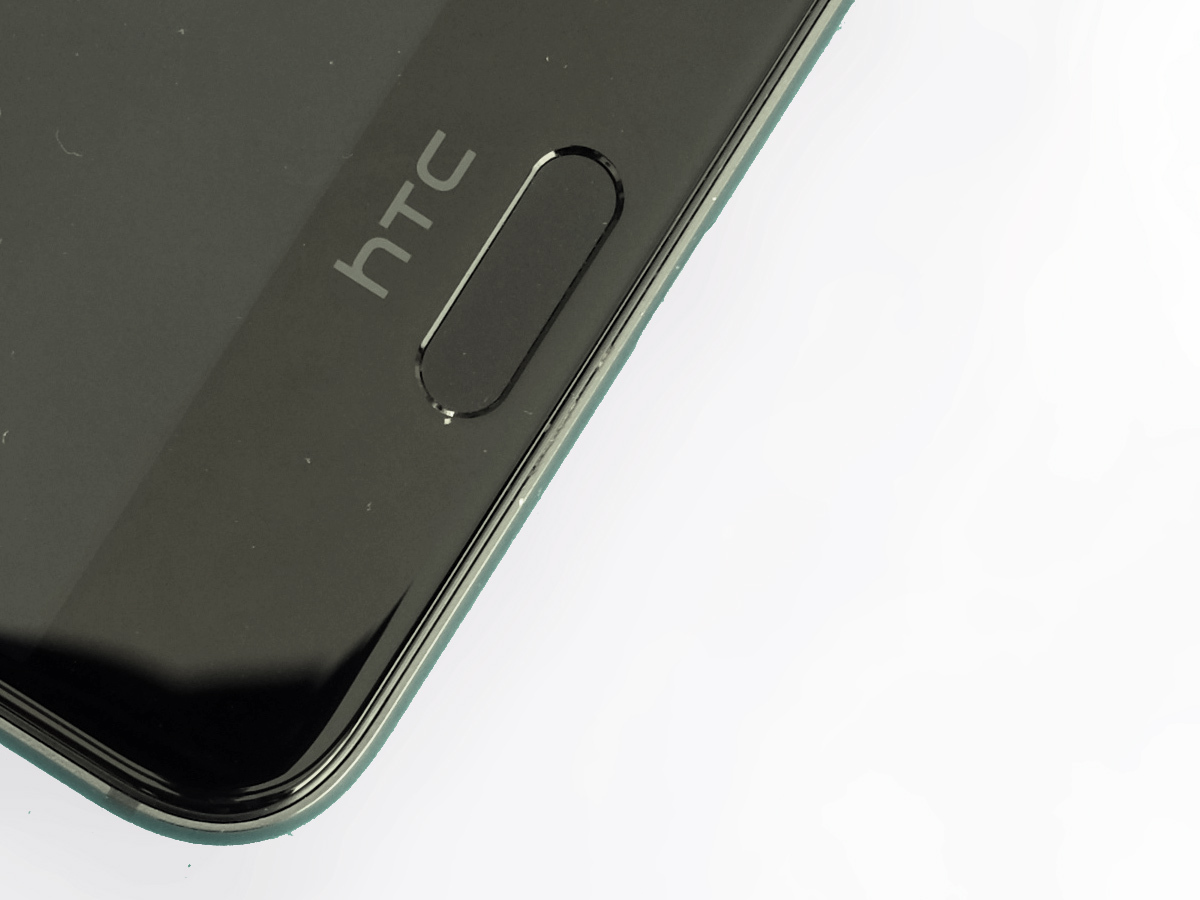 HTC's cherry on top is the fingerprint scanner. And like so many new-wave scanners, it's terrific. It's extremely fast, and doesn't even seem to need to be completely covered by your finger to work. It makes you wonder if the little recessed trench the One A9 scanner lives in actually houses multiple scanner brains.
The thing lives just below the display, which I still find to be the most convenient place for a scanner to be. If only because we've all developed year's worth of muscle memory prodding down there.
Great industrial design plus that scanner means just holding and using the HTC One A9 is great. It feels at least as nice, if not better, than the HTC One M9. But there's a problem.
This new design totally kills the bit HTC normally does best: speakers. The BoomSound brothers have been bumped in favour of a frankly rubbish little speaker on the bottom edge of the iPhone 6s.
Not only is it a massive downgrade from the stereo speakers of the One M9 and co, it's also significantly worse than the similar speakers of the Samsung Galaxy S6 and iPhone 6s. Even the £200-less Honor 7's speaker is better. It gets a bit harsh and slightly distorted at top volume, which isn't as high as the competition anyway. Ball dropped.
The headphone output is a lot better, though. Its more powerful than most phones for those with very good but demanding headphones. And for those with a £20 HMV set, there's BoomSound Dolby Audio. This jazzes up the signal a bit, to make it sound bigger and more powerful. But as with just most DSP modes, if your headphones are remotely good you probably won't want to use it.
OLED boy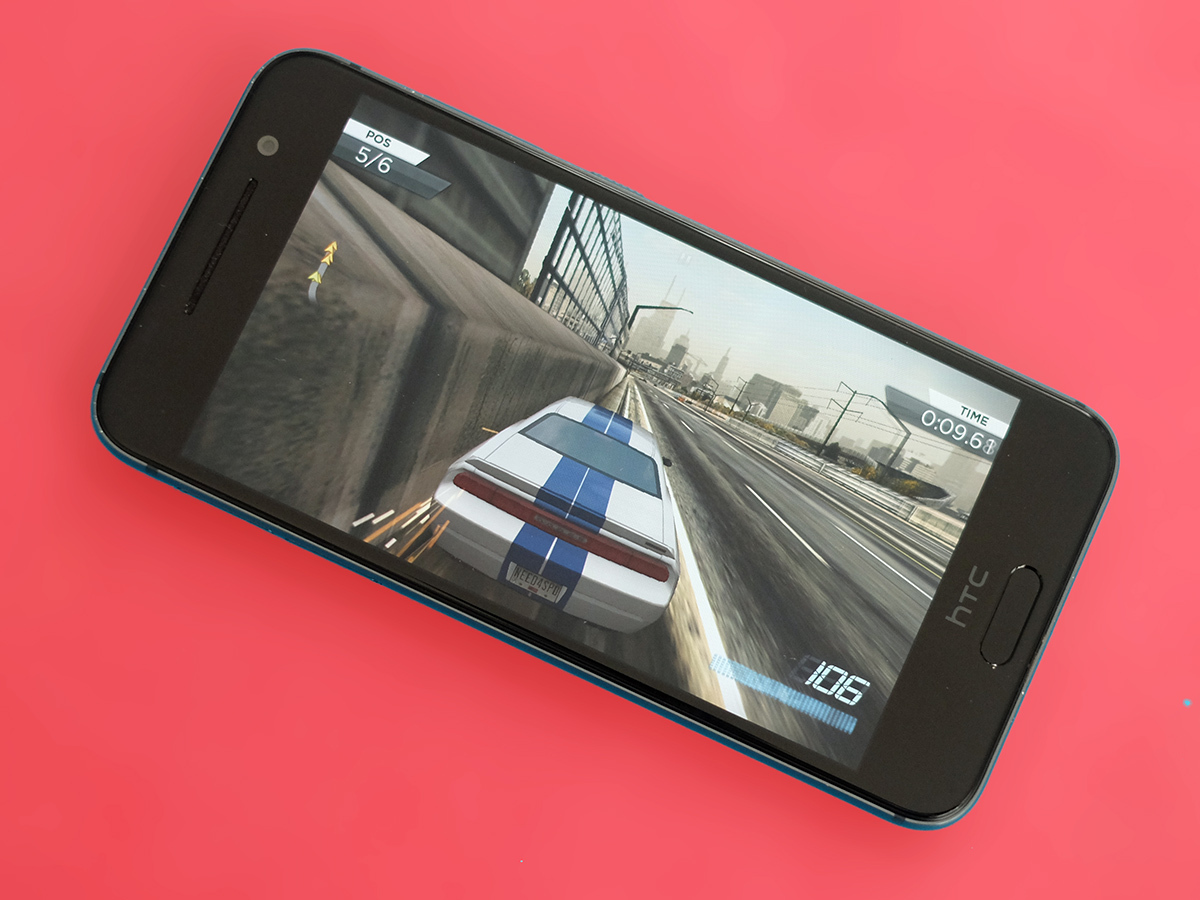 After clinging onto ageing 1080p LCD panels in the previous One phones, the HTC One A9 has a 1080p AMOLED screen. With one eye on display geeks and another on, well, the normal phone buyer, this is a screen of two very different personalities.
Use the sRGB mode and you get very accurate colour. The YouTube logo looks very deep red, the Chrome logo kinda pastelly, just as it should. If you've ever spent hours trying to calibrate your TV to get skin tones looking just so, this is the mode for you.
Just want things to look bold? The 'recommended' AMOLED mode makes much more use of OLED's ability to really deep-dive into the colour spectrum, making every tone look much more vivid and punchy. Reds are way redder than any printer you've owned could hope to replicate.
Unlike some OLED displays, it doesn't look totally unnatural either. The white balance is also skewed away from the warm-ish look you get with sRGB.
Want ultra-restrained colours or a high-contrast look? It's up to you, and I think both modes are pretty great. HTC seems to have put a lot of work into calibrating this bad boy, almost rivalling the Samsung Galaxy S6.
But, of course, it doesn't really. The Galaxy S6 has a QHD screen, and the One A9 a 1080p one. With LCD there'd barely be any difference at five inches, but you can tell with OLED. There's a teeny bit of PenTile fuzziness close-up, telling us this is a Samsung screen panel.
The One A9 also seems to have some issues rendering the very, very darkest shades of grey, seemingly brightening them up a bit to avoid crushing shadow detail into black nothingness. But as a side-effect you get some weird-looking screen contouring at times.
The HTC One A9 is not quite a match for the Galaxy S6. But it's not too far off and feels like an important step on from the HTC One M9 and co.
Sense gets a sense injection
So does the software. This is the first non-Nexus phone I've used to feature Google's new Android 6.0 Marshmallow software, and to go with it HTC has given its custom Sense UI a long-overdue facelift.
All the basic building blocks are still here. You have BlinkFeed the scrolling news widget screen, your normal homescreens and a vertically scrolling apps menu. What's changed is that the look is far more neutral, getting rid of some of the bits that make previous HTC One-series phones seem like they're wearing a Primark-grade HTC fur coat.
The colour palette is a little different, using much more subdued tones, letting Sense sink into the background a bit more. And the ugly settings toggles that used to screen "look at me, I have visual personality" have gone. Sense is not such a try-hard pest these days.
Just to see whether a Nexus-style One A9 would be better, I plugged in the Now Launcher for a few days. This app gets you the look and feel of vanilla Android (and it's only a Google Play download away, if you haven't tried it). It's simpler-looking still and the apps menu is faster. But the new version of Sense doesn't look totally dated next to it and there's nothing stopping you using it if you like it.
Porsche price, Micra engine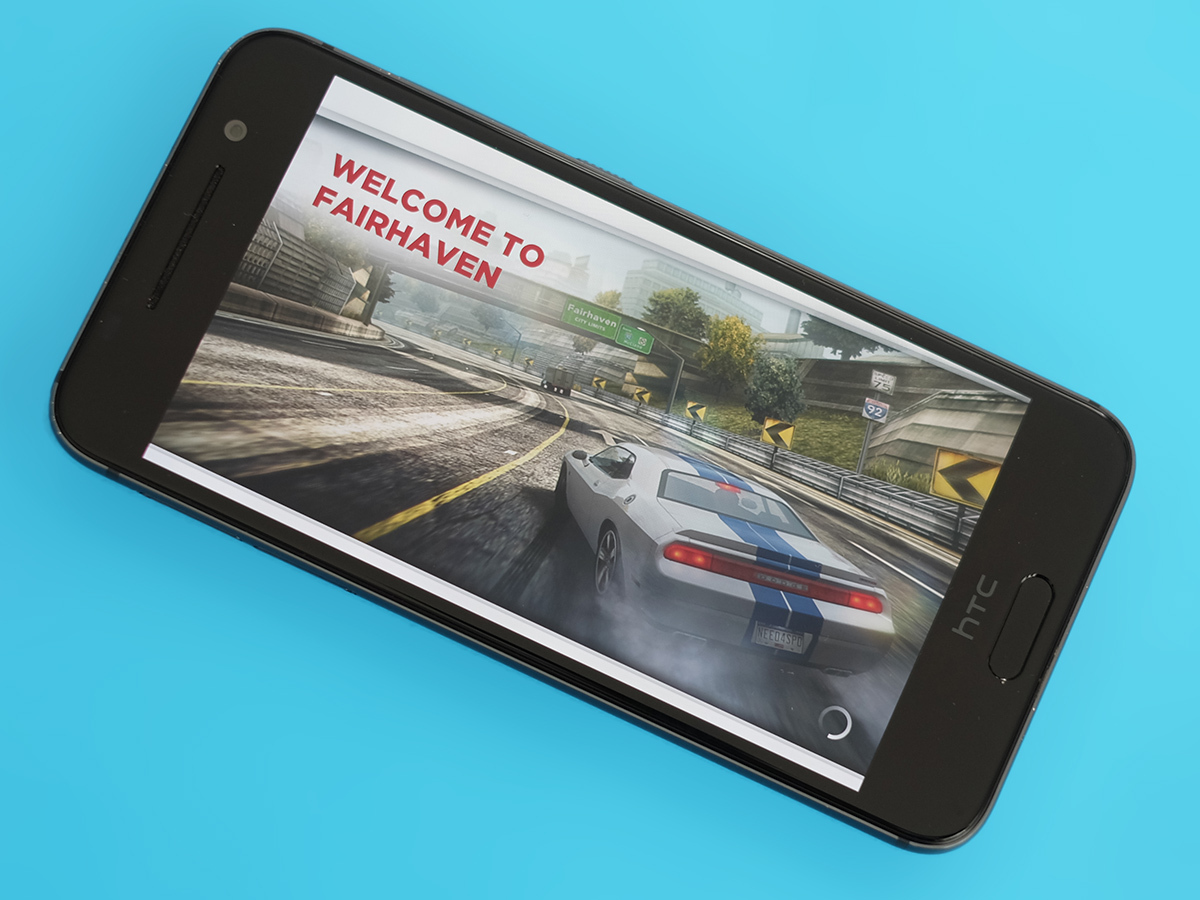 One of the slightly eyebrow-raising parts of the HTC One A9 is that while it has a price that's pretty much on-par with the now-reduced Samsung Galaxy S6 and LG G4, it uses a mid-range CPU. It's the Snapdragon 617 a new version of the Snapdragon 615 with a few different components and a higher clock speed, but ultimately similar power on tap.
It's an eight-core CPU, but uses the kind of cores top-end wall-busters like the Sony Xperia Z5 uses for their 'every day' cores, not the performance ones. General performance is great, though.
Sense UI ticks along nicely, with no sign of interface lag. Add this to the zippy fingerprint scanner and you have an all-round fast-feeling phone.
The only bit that does make you look back to the price and ask, "is HTC for real?" is the GPU. The Adreno 405 you get here is far less powerful than the one in the now-ancient Snapdragon 800, used in phones like the Nexus 5 years ago.
Games still run well, but in a few top titles you may see some less than perfect frame rates. You could just as easily not notice, mind. I tried out Need for Speed: Most Wanted and while there was a slight judder to the background scrolling, you'd probably only notice if you were looking for it.
Hot as Edinburgh in October
The HTC One A9 is also way better at avoiding getting hot that most other phones in this price range. It looks like an iPhone, and sure enough the way it handles heat is iPhone-like too. In 90 per cent of situations it gets, at most, a little bit warm when some of the more powerful competition might get flat-out hot. That's with the Snapdragon 617 actually being, in theory, less efficient than the Snapdragon 810 when you get right down to its atoms. It uses bigger transistors, you see.
But, hey, anything that stops it from ever feeling as though I've lit a match in my pocket is welcome. And it has been a while since I've used a £400-plus Android phone that actually stays cool most of the time.
Back to raw power, it scores 3042 points in Geekbench 3. While a perfectly fine score, it is a little low given how much the One A9 costs in the UK, £479.99. In the US the A9 costs just $399 (£260 in a direct currency conversion), a price at which the One A9 seems like a far better deal. That's more than £200 less than we pay in the UK right now.
Camera corrections
While has gone a bit wrong with the HTC One A9's UK pricing, I do have to give props to HTC for sorting out a lot of what is wrong with the cameras of the HTC One M9, One M8s and co.
First, the camera app has improved. Rather than feeling like a labyrinth you don't have a map for, the One A9 camera app is actually pretty decent. There are handy flash and HDR toggles right on the top layer of the UI, and HTC has added a new Pro mode that gives you manual control over things like shutter speed and focus.
It's actually broken right now, reverting to manual focus almost constantly and refusing to switch back to Auto focusing 90 per cent of the time. But I like what HTC is at least trying to do here, and I can't imagine it'll stay borked for long.
Most of the exposure issues that made the HTC One M9 such a serious disappointment have been fixed too. It's still not quite as good as the very best at dealing with scenes of high light contrast. But, like the app, HTC has made big leaps forwards.
If anything, we see a bit of a turnaround in the One A9. Where the One M9 has high-end-sounding hardware but doesn't always seem to know what to do with it, the A9 makes great use of humbler-sounding stuff.
Here's the rub: the HTC One A9 has a 13-megapixel sensor made by (I'm almost sure) Toshiba. This is not a sensor that reduces resolution to get you massive light-sucking sensor pixels like the Nexus 6P. It's just smaller than higher-res sensors like the Samsung Galaxy S6's.
However, it doesn't half squeeze every drop of image quality goodness out of the thing, through very ambitious use of its optical stabilisation system. You can even tell it's working just by looking at how the preview display moves. Feed it a dark scene and it'll have no hesitation in slowing the shutter down to a quarter of a second just so it doesn't have to raise the ISO sensitivity, which is what introduces more noise and kills detail. In terms of handheld camera shooting, a quarter of a second is a lifetime.
It seems to get away with it too. I didn't find it too hard to take non-blurry low-light shots. That's not to say the HTC One A9 is great at low-light photography. It isn't. It just doesn't actually whack-up the brightness level enough to bring out the detail in dark parts of the scene. Night scenes stay dark, which is a shame.
In daylight the HTC One A9 doesn't quite reach the heights of something like the Galaxy S6 or LG G4 either. You get less detail, and no jaw-dropping bump up in dynamic range or noise handling to make up for it. However, where the One M9 makes it pretty tough to get good photos in certain conditions, the HTC One A9 doesn't. It's particularly good at indoors photography, which often looks pretty naff through the eyes of a phone camera. And it's largely down to the phone's policy of really using the OIS.
On the video side you can only shoot at up to 1080p and the stabilisation seems far less effective there. You can shoot slo-mo and there's a 'fast motion' mode that lets you pick how Benny Hill like the results are (ie how fast) post-shoot too. Nothing too special, then.
The HTC One A9 feels like a completely new camera for HTC, and in a mostly-good way. It has even improved the f/2.0 lens's quality so that we don't get the severe purple fringing all of the top HTC Ones to date have suffered from. It is prone to blooming around light sources, though.
It's around the front that things are a little more familiar. There's a 4-megapixel UltraPixel camera on this side of the HTC One A9, the kind of mid-size, low-res sensor HTC used to use for its rear cameras.
While among the better selfie cameras, I've since been totally spoilt by the Nexus 6P, whose selfies are just in a different league. As with the HTC One M9, it's a fixed-focus setup too, meaning that if you actually fill the screen with your face, your mug won't actually quite be in focus.
Battery magic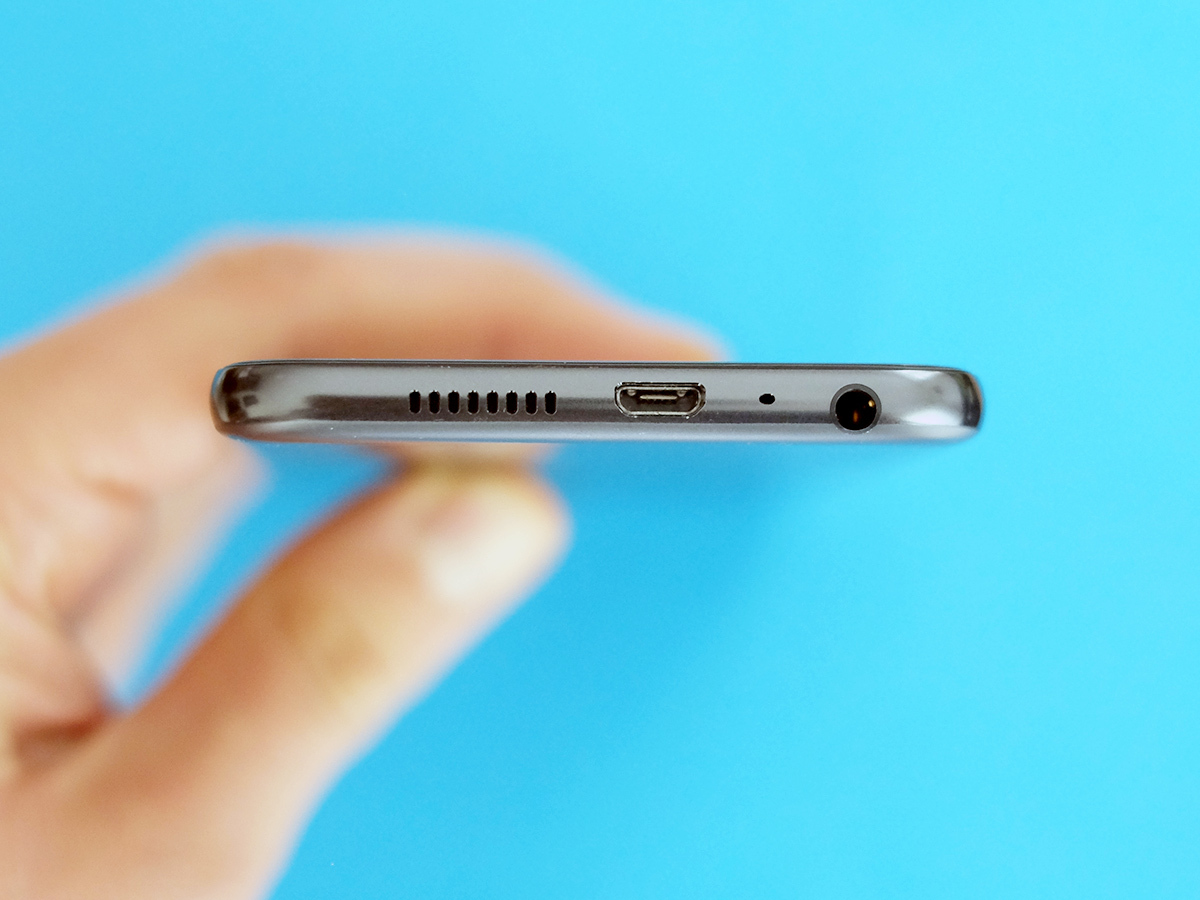 HTC has deliberately refocused its efforts with the One A9, but it also makes an odd move. The phone only has a 2150mAh battery. That's pretty small for any 5in phone in 2015. Even the Moto G has a much bigger 2470mAh unit, and it has much lower screen resolution.
The big surprise: it's not totally awful. Left to play a video stored on-memory on a loop, the HTC One A9 lasts for almost dead on 10 hours. That's a bit longer than the Moto X Style, which has a 3100mAh unit (and a larger screen, fair enough). Exactly how HTC has managed this is a head-scratcher. I guess maybe it picked the screen here for its energy-saving style.
In general use, the HTC One A9 is just about good enough. On one occasion I managed to drain it by early evening, but that included an hour's worth of Netflix streaming over 4G. If you're going to be topping up on whatever blend of digital crack you're into every day, maybe the One A9 isn't the phone for you.
However, with lesser use I was able to get a day's use off a charge without struggling. Given some phones with 50 per cent extra capacity seem to last about as long, it's a bit of a mystery. Maybe the Snapdragon 617's 4G modem runs on air or something. That seems to be one of the main changes between this phone's chipset and the Snapdragon 615, which doesn't have notably amazing stamina.
The phone supports fast charging too, although the charger we were sent wasn't the kind that gets you extra-fast battery top-ups. Given you'll pay up to £429.99 for the HTC One A9, we like to think HTC will include one in the box. And yes, I mean there's a bit of snark on that last point.
HTC One A9 Verdict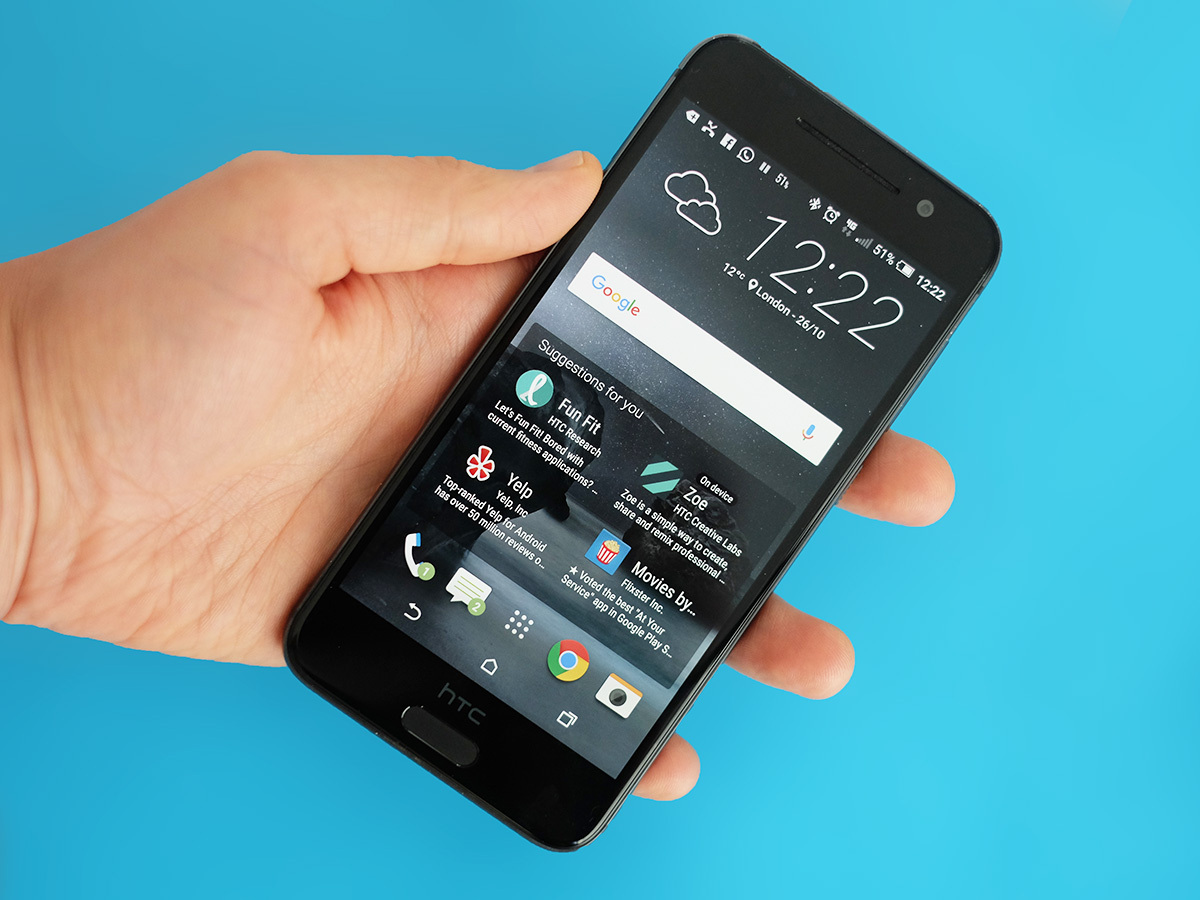 After the all-too-familiar HTC One M9, the One A9 feels like a very different, much bolder phone. Sure, you can dismiss it as an iPhone rip-off if you like, but the work HTC has put in to improve its camera, display and software make this one of the most likeable HTCs in years.
It's just a pity that the UK price of the HTC One A9 makes it just about as expensive as higher-end mobiles like the Samsung Galaxy S6. If you're planning on taking a trip to the US or manage to find a great deal for this iPhone-a-like, it's a good buy if you can live with its just-scraping-by battery life. But right now? It's way too expensive.
Tech specs
| | |
| --- | --- |
| Screen | 5in 1920 x 1080 pixel AMOLED |
| Software | Android 6.0 with HTC Sense |
| CPU & RAM | Snapdragon 617 octa-core & 2GB |
| GPU | Adreno 405 |
| Storage | 16GB with microSD |
| Camera | 13MP rear with dual-LED and OIS, 4MP UltraPixel front camera |
Stuff Says…
iPhone copy or not, this is a top mid-range phone. Pity it sells at a top-end price.
Good Stuff
High-contrast AMOLED screen
Feels great
Much-improved camera versatility
Great finger scanner
Bad Stuff
Yes, it looks like an iPhone
Expensive in the UK
Max one-day battery life