HP Sprout hands-on review
What do you get when you cross an all-in-one PC with a projector and a scanner? A potentially revolutionary vegetable…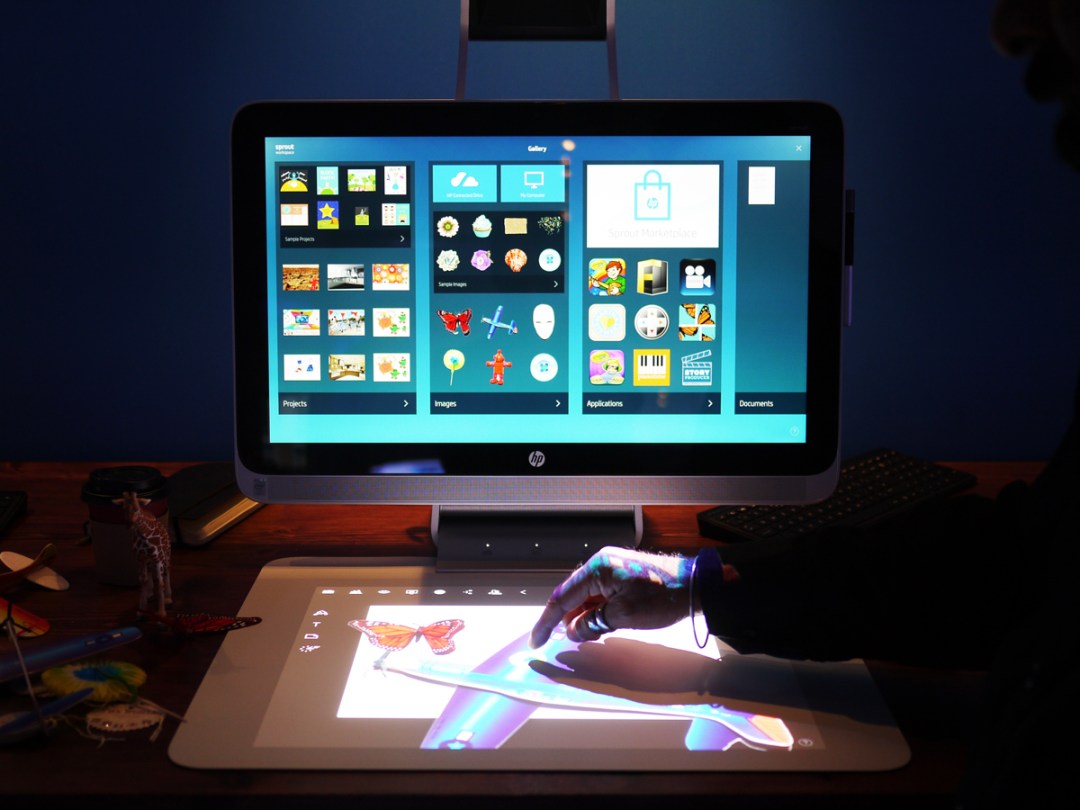 HP's Sprout is the most interesting desktop PC we've met in years and easily our favourite gadget to be named after a vegetable (sorry, Karoto).
Calling the Sprout a PC actually isn't technically correct: 'Sprout by HP' is the name for a new computing platform, with the computer you see above (also called Sprout) its first piece of hardware.
Whatever you call it, the Sprout is no standard Windows 8.1 computer. Above the screen is a DLP projector, plus three cameras including an Intel 'Real Sense' depth-sensing camera. These work in tandem with a capacitive touch mat to create a finger-powered, dual-screen experience that feels like the logical next step towards Minority Report's gestural interface. Yep, it's that impressive.
The crucial link between this tech and your hand is Sprout's custom software, which HP calls 'The Workspace'. Appearing as soon as you boot up the computer, it provides an instant gallery of all your creations, which you can drag straight on to the touch mat's canvas. 
Sketchy details
So what can you do with it? It's obvious from Sprout's early apps that it's targeted at amateur creatives and what HP calls 'fuzzy, front-end creativity'.
"A lot of what we're doing on Sprout is speed and efficiency over perfection", Sprout's creator Brad Short tells us. Its main launch app is HP's 'Create', a kind of super-powered, Photoshop-lite that lets you manipulate images from the web, your own library or, using Sprout's impressive scanning powers, throw real-world objects into the mix.
Scanning might not sound exciting but, like most of Sprout's functions, it's transformed by a slick, lag-free interface into something surprisingly fun. Put an object on the touch mat, press the camera button and the object is almost instantly 'burned' on to the space below it as a hi-res, 2D image.
It's not a toy, Bond
This is all very nice for making birthday cards, but HP does ultimately see Sprout as a platform for grown-ups too. The company has made plug-ins for Office apps such as Powerpoint, and Brad Short told us that "Sprout is the ideal platform for Photoshop – Adobe is very interested in it, you'll see stuff coming out soon."
Two other features could also see the Sprout (which will be available to pre-order from tomorrow here for £1900) appeal to the more mature geeks.
The inclusion of HP MyRoom (think Google Hangouts) in the Create app gives it nifty telepresence powers, enabling you to invite an unlimited number of people to scribble, annotate or edit your document in real-time.
Though both of the Sprouts we saw were on the same network, the lack of lag suggested it could be a real boon for collaborating on shared docs. It's also a potentially useful ally for 3D printing. In around ten seconds Sprout can 3D scan any object you put on the mat, then give you intuitive editing powers thanks to Autodesk's Meshmixer software.
There are also baked-in options to send files to 3D printers or external services such as Shapeways. Full, 360-degree object scanning is also also only a software update away.
Future of the desktop?
The HP Sprout is a really impressive reinvention of the desktop computer. Unlike earlier Touchsmarts, it feels like it's working a different part of your brain to a standard desktop, and does create the convincing illusion that you're directly manipulating digital objects.
But that doesn't mean it will definitely avoid being filed in the drawer marked 'niche curio'. Its currently quite bare apps cupboard, high price and the general move away from desktops mean it's got some work to do to avoid being part of a future 'ahead of their time' Stuff.tv feature.
We'll give you our final verdict in a full review very soon.