Honor 20 review
An affordable flagship with a question mark over its future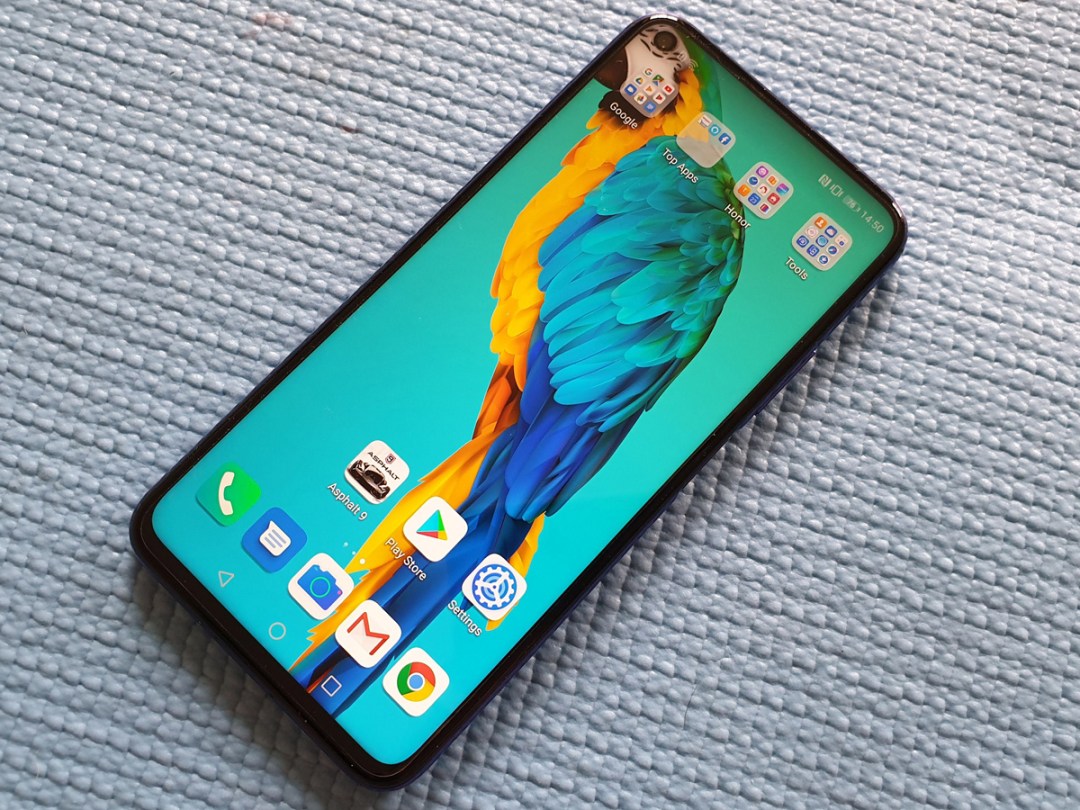 When it comes to buying a new phone, we're going to bet "good screen" and "fast CPU" come slightly higher up the wish list than "subject to a geopolitical sanctions mindfield".
Unfortunately that's exactly what the Honor 20 has to deal with. With the brand's parent company Huawei currently in the US government's bad books, there's a real concern that Android updates might dry up and users get locked out of their favourite Google apps.
That's a pretty big hurdle, but one Honor is hoping some killer hardware and a fantastic price can overcome. This more mainstream take on the top-spec Honor 20 Pro might be one of the best mid-range bargains out there. But is that enough? Time to find out.
DESIGN & FEATURES: A GLASS ACT
Get one look at the Honor 20 and it's hard to see how it counts as "mid-range". You get a glass and metal sandwich with super skinny bezels and a large-but- sensible screen that you can hold in one hand without needing mitts like Andre the Giant.
Look a little closer and you'll see where Honor has held back to keep the costs down, with plastic inserts between the metal frame and rear glass. That glass is completely flat, too – not rounded like the Honor 20 Pro.
Still, it looks great, with a reflective finish that catches the light in all the right ways. It also catches plenty of fingerprints, so you'll be fighting a losing battle to keep it looking clean.
There's no fingerprint sensor on the back, just a four-lens camera array that protrudes noticeably above the glass. That doesn't mean Honor has gone for in-display digit scanning, though: the Honor 20 gets a traditional hardware scanner like the much more expensive Samsung Galaxy S10e. It's perfectly placed for right-handers, but southpaws will need to use their index finger instead of a thumb to bypass the lock screen.
Hunt around all you like for a 3.5mm headphone port, but you won't find one. Honor has ditched it in favour of a dongle (thankfully bundled in the box) or Bluetooth. There's no water resistance either, but that's hardly a surprise in a budget-friendly phone.
DISPLAY & SOUND: HOLE IN ONE
Now that screen bezels are public enemy number one, Honor has broken out the hole punch for the 20's 6.26in screen. The selfie camera sits in the top left corner, poking through the LCD panel and giving the phone a properly modern look.
That panel delivers punchy colours, too, with the default Vivid colour mode being particularly easy on the eye. A more natural setting dials things back for those that prefer realism over vibrancy, although it veers more towards the warm end of the colour spectrum.
Contrast is decent enough. This is a mid-range LCD screen, don't forget – deep blacks on the same level as OLED are out of the question, but darker scenes in Netflix shows were still easy enough to see while indoors.
It's brightness is where things could be better; we struggled to read the screen clearly when outside. Viewing angles are only so-so, too. But unless you're in direct sunlight it's all still perfectly usable.
The single, down-firing speaker isn't much cop, as it's easily blocked by your palm and resonates as soon as you try to crank up the volume. It doesn't quite get loud enough, either, and you'll need to remember to claim the dongle out of the box for any private listening.
CAMERA: NICE TRY, FOUR EYES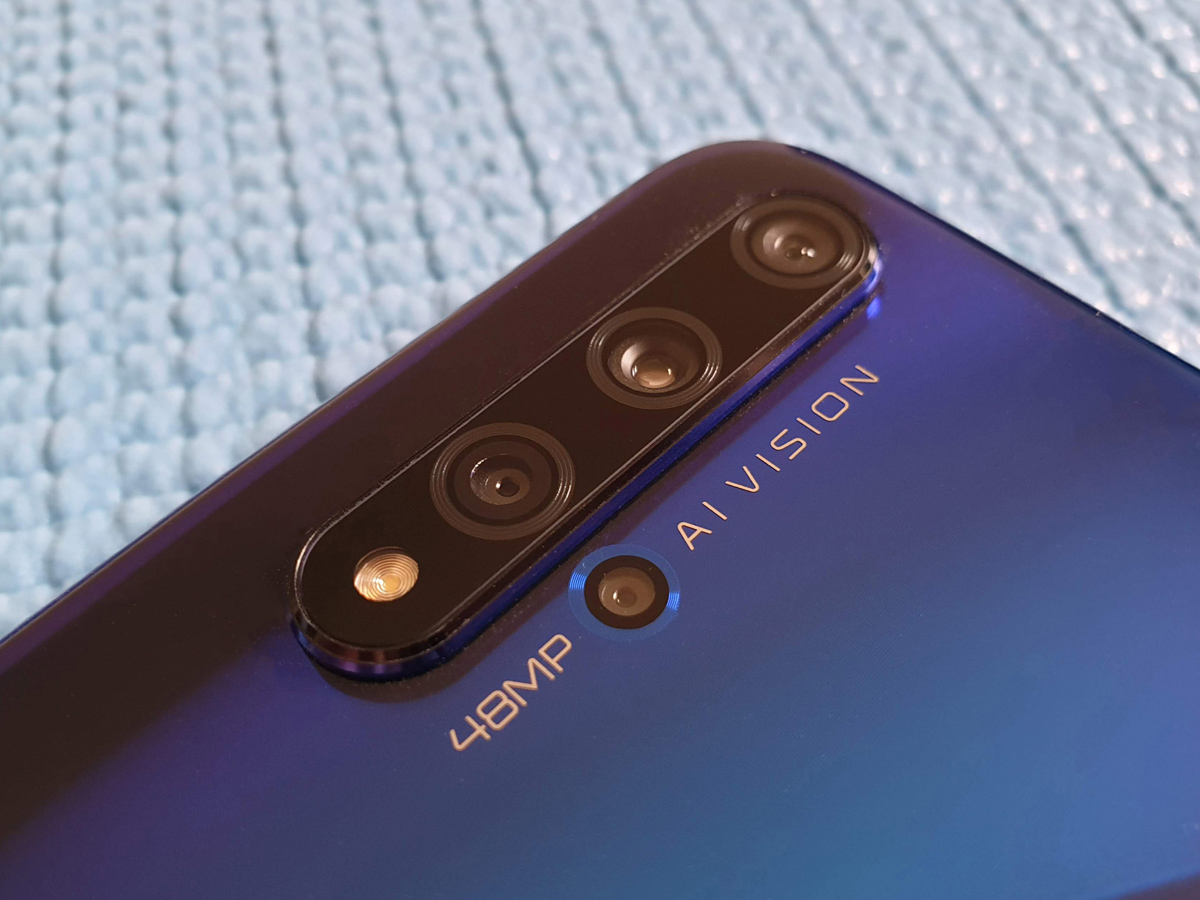 Spin the Honor 20 over and you'll spot no less than four separate camera lenses – but only two are truly worth your attention.
The main snapper has a whopping 48MP, with pixel binning used to optimise your pics down to 12MP. A 13mm ultra-wide secondary lens lets you fit more into every shot, although the pixel count falls to 16MP. Neither have optical image stabilisation, so you'll need a steady hand once the light fades and shutter speeds slow.
Third up to bat is a 2MP macro lens, which is only good for getting exceptionally close to your subjects, and is hidden away in the shooting modes menu of the camera app. Even then, the resolution is so low that the results aren't very pleasing to look at.
Finally, a 2MP depth sensor kicks in when using the Portrait and Aperture modes to create bokeh blur. The effects are no more accurate here than on a phone that does them purely in software, with outlines and fine detail often failing to be detected. What you don't get is any kind of hardware zoom lens – that's reserved for the more expensive Honor 20 Pro.
The 2x digital zoom simply crops the main camera, with the usual loss of clarity. Stick to the main sensor and the Honor 20 takes detailed, well-exposed images with plenty of dynamic range and true-to-life colours.
Zoom in and you'll spot oversharpening on object edges, with some lost fine detail elsewhere like on wood grain or brick texture, which is typical of Honor's image processing.
The selfie cam is excellent, with a massive 32MP pixel count doing some binning of its own in good light to capture your best side. When the light fades things aren't quite as crisp, but the results are usually still good enough for the 'gram.
Low-light shooting isn't a patch on the Huawei P30 Pro, or even the Pixel 3a's Night Sight mode. There is a dedicated night mode here, but it can't completely eradicate noise from dimly-lit scenes and struggles in truly dark ones. The Pixel 3a might have a lower pixel count, but its algorithmic processing does a better job overall. Still, this is a very good camera for the money, with plenty of flexibility thanks to that ultrawide second lens.
PERFORMANCE: SPEED DEMON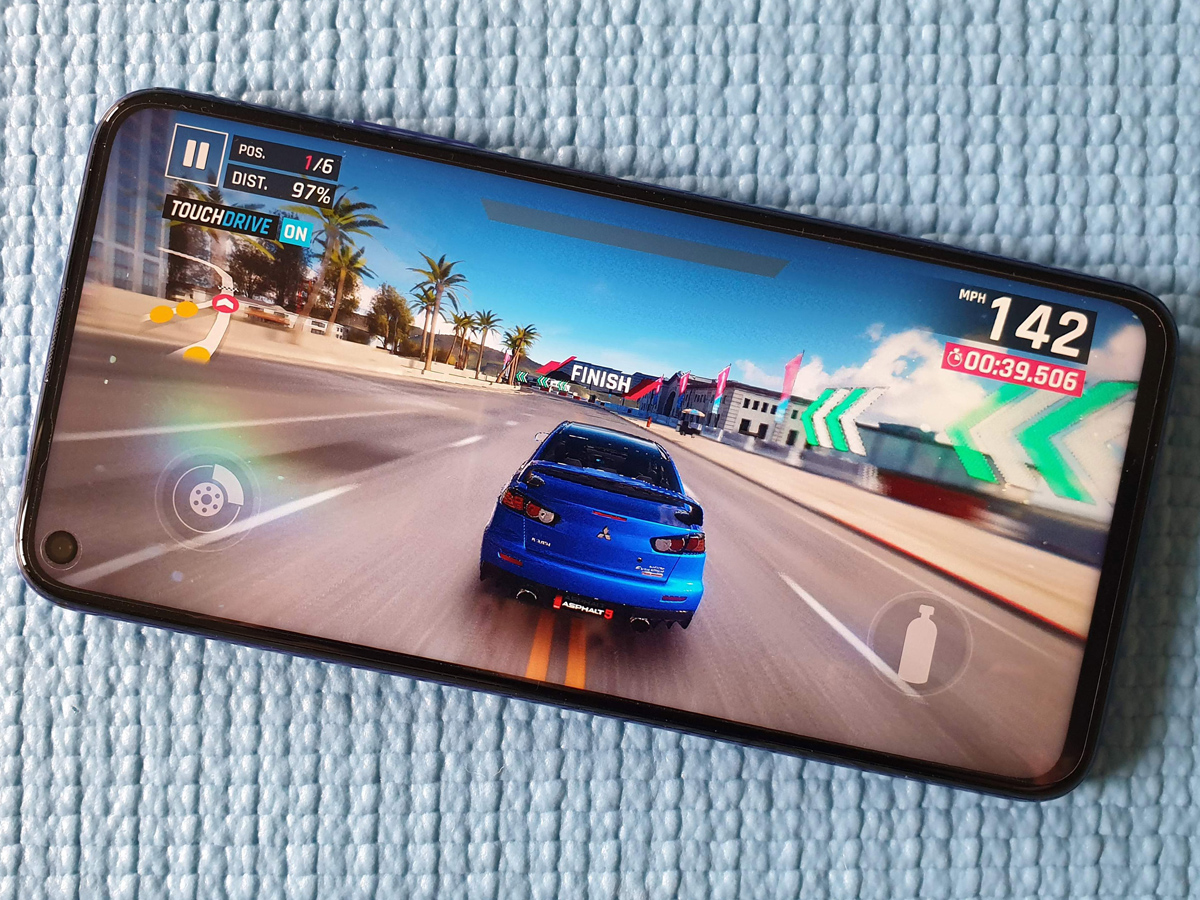 The Kirin 980 octa-core CPU powering the Honor 20 is a bit like lifting the bonnet on a family hatchback to discover there's an F1 engine hiding underneath. It delivers the kind of grunt you'd expect from phones costing twice the price.
It won't top any benchmark leaderboards now the Qualcomm Snapdragon 855 has rocked up, but equally won't leave you twiddling your thumbs when opening apps or multitasking. 6GB of RAM is a bit less than the Honor 20 Pro, but we struggled to notice any sluggishness when switching between apps and games.
Android feels perfectly smooth, and there's enough GPU power to run 3D titles at their highest settings too. A Pixel 3 can't run Player Unknown's Battlegrounds at the Ultra HD preset without tanking frame rates, but the Honor has no trouble. It helps that Honor has optimised some of the biggest games to run better on its hardware, but even those without that helping hand still look pretty great.
It's a shame there's no microSD card slot for adding extra storage, but with 128GB on-board, you'd need a massive music library or photo gallery before it will run out of room.
BATTERY LIFE: WEEKEND WARRIOR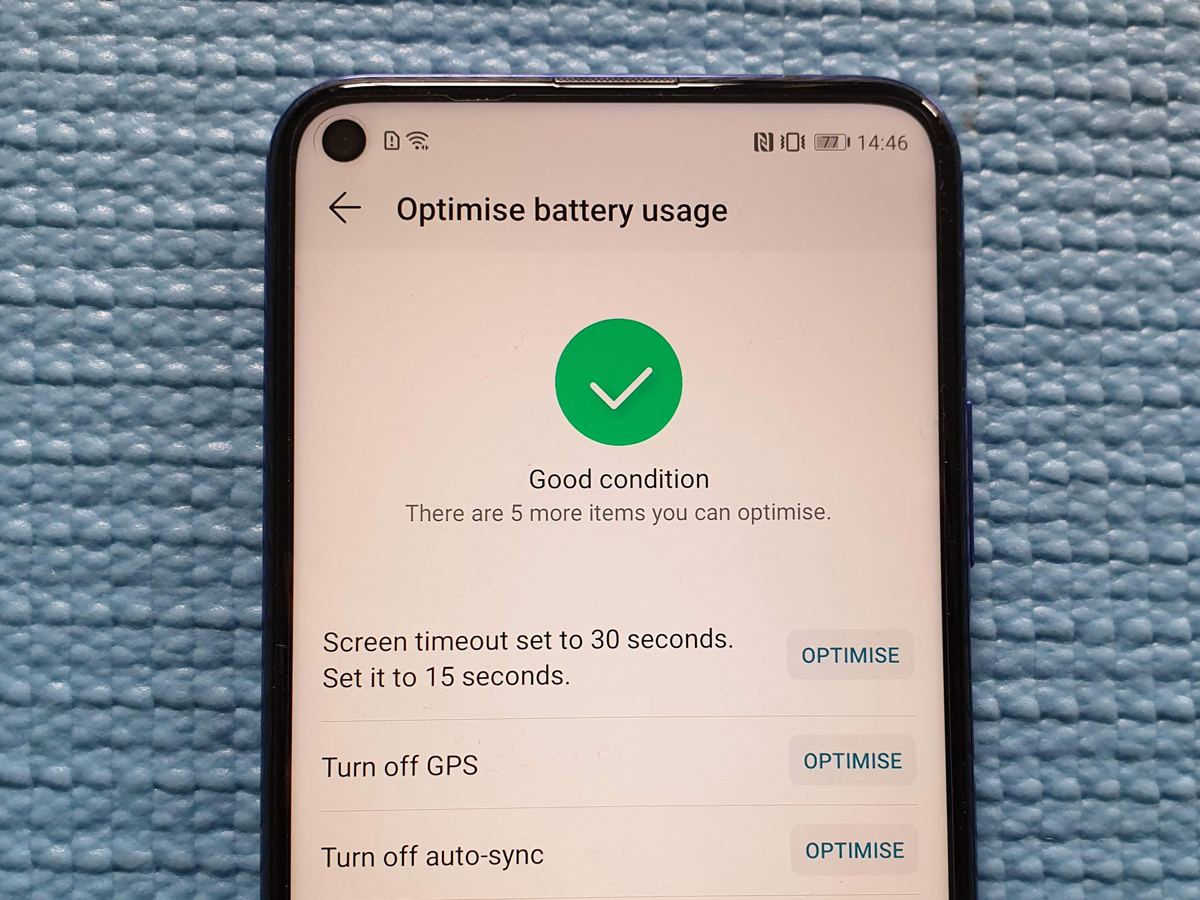 It might lose a few hundred milliamps compared to the more expensive Honor 20 Pro, but at 3750mAh, the Honor 20 can still puts in a shift when it comes to longevity.
We always saw an entire day of charge, with enough left over that it wouldn't need plugging in come bedtime. You might even make it to lunchtime the next day if you steer clear of ultra-demanding 3D games. But even if you have a Fortnite addiction to feed, the Honor 20 should still make it through an entire day.
Honor has some of the best power management optimisations in the smartphone world, with apps automatically getting put to sleep to stop them sapping juice without warning, and when it is finally time to top up, 22.5W SuperCharge fast charging will get you back to 50% in less than half an hour.
OS & SOFTWARE: A KIND OF MAGIC
Parent company Huawei might be busy behind the scenes, working on a mobile OS that doesn't fall foul of US government trade restrictions, but right now the Honor 20 gets good old fashioned Android Pie, complete with a familiar custom skin and plenty of pre-installed software.
In the past, we'd moan that the bundled mail, gallery, calender and the like simply duplicated Google's own, and were largely redundant for us in the West, but now there's a chance they will become the only option for Honor owners if it is forced to remove access to the Play store.
The UI looks almost identical to the Huawei P30, bar a few custom icons and fonts, with the same features and customisation. That means a choice of app drawer or multiple home screens, gesture navigation or onscreen keys, and an abundance of settings screens that can be overwhelming for anyone used to vanilla Android's simpler way of doing things.
HONOR 20 VERDICT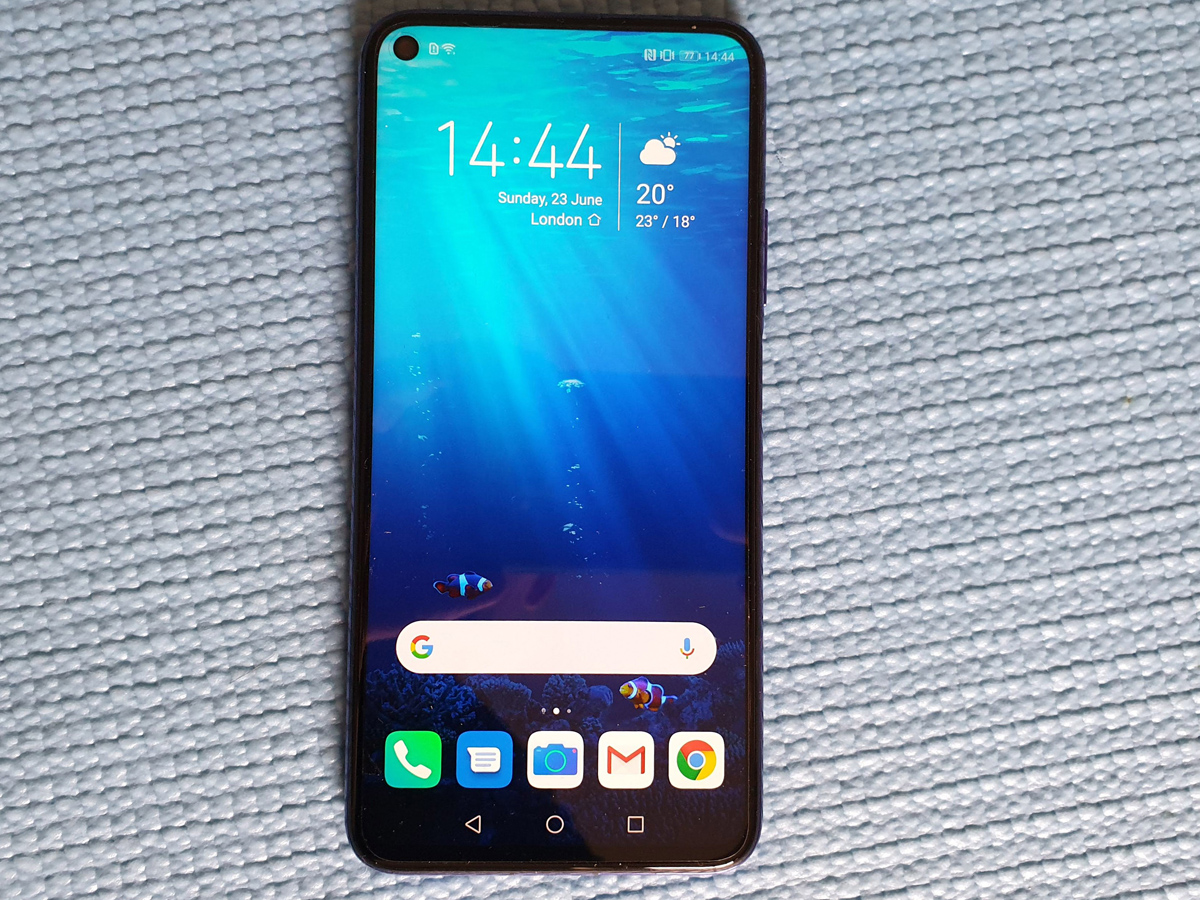 If you don't watch the news, the Honor 20 looks like a fantastic mid-range phone. Only the Pixel 3a takes better pictures at this price, and while it has the purest form of Android, the Honor has it beaten on hardware, design, performance and battery life.
It's impossible to ignore the sticky political situation going on right now, though, with the US government threatening to shut the door on parent company Huawei. An update to Android Q has been confirmed, which should give you at least a year of security, but beyond that is anyone's guess.
That makes the Honor 20 tough to recommend, even if it is clearly one of the best mid-range phones going.
Tech specs
| | |
| --- | --- |
| SCREEN | 6.26in, 2340×1080 LCD w/ hole punch camera |
| CPU | HiSilicon Kirin 980 octa-core |
| MEMORY | 6GB RAM |
| CAMERA | 48MP, f/1.8 + 16MP, f2.2 + 2MP, f/2.4 rear w/ PDAF, LED flash. 32MP, f/2.0 front |
| STORAGE | 128GB on-board |
| OPERATING SYSTEM | Android 9.0 Pie w/ Magic UI 2.1 |
| BATTERY | 3750mAh non-removable |
| DIMENSIONS | 154x74x7.9mm, 174g |
Stuff Says…
A sub-£400 flagship with lots to like, but one major concern: the giant political weight hovering over parent brand Huawei. If that's a deal-breaker, great hardware isn't going to change your mind.
Good Stuff
Flagship-grade performance and battery life
Excellent main camera
Premium design for mid-range cash
Bad Stuff
Macro camera pretty hopeless
No headphone jack
Question mark over future updates