Garmin Epix review: rugged adventurer
The rugged fitness adventurer packs serious smartwatch screen appeal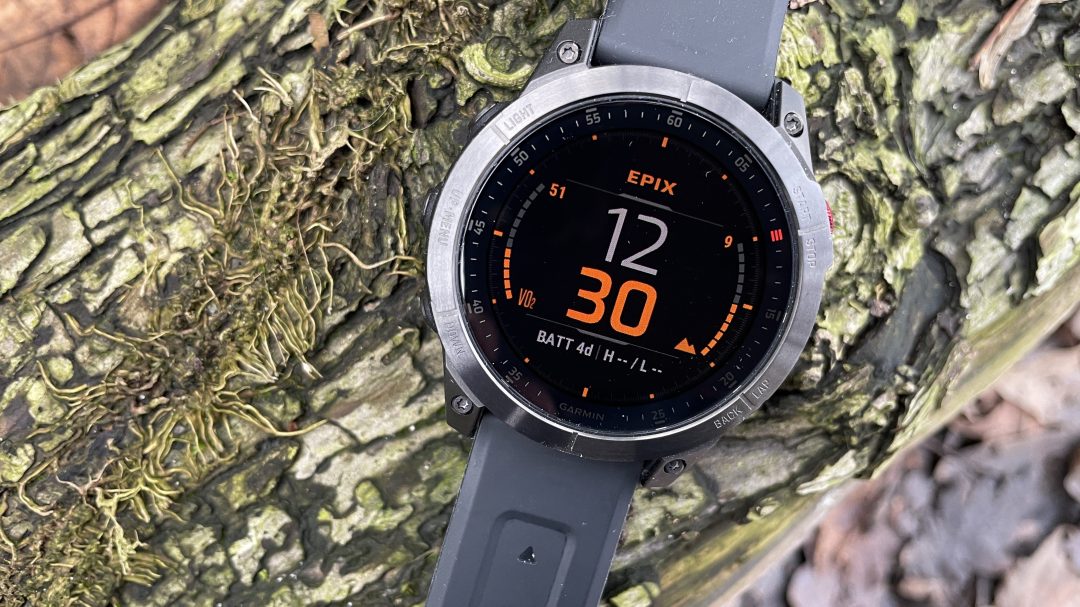 For ages, we wanted a big sports watch brand to treat us to a fully-fledged outdoors adventure watch with a bright AMOLED smartwatch quality display. And we wanted it without having to sacrifice battery life. It was a big ask, a luxury even. But now we have it. The Garmin Epix has answered those prayers.
Despite its new name, the Epix is essentially a Garmin Fenix. It carries much of the same tech, has the same robust and rugged shape and has virtually the same comprehensive feature set. At £799.99-£999.99, you'll also pay a Fenix equivalent price for it. What makes the Epix stand out from its chunky relatives is a crisp, bright, colour AMOLED display, a shinier window into your workouts and adventures. Once you've seen it, it makes all other regular watch displays – even the new Fenix 7 – look dull by comparison.
That vibrancy comes at a cost. You will, of course, sacrifice some battery life over the newer Fenix range and there are no endurance-pushing solar charging skills. But with a battery that lasts up to 16 days in smartwatch mode, 42-hour GPS battery life and the option to tweak the power modes to extend that up to 75 hours, the Epix manages to avoid joining the daily charge fitness smartwatch gang led by the Apple Watch.
But beyond that ever-so-handsome new face, does this newcomer have enough to supersede the Fenix, the Enduro and the likes of the COROS Vertix 2? We put it to the test to find out. Here's our Garmin Epix review.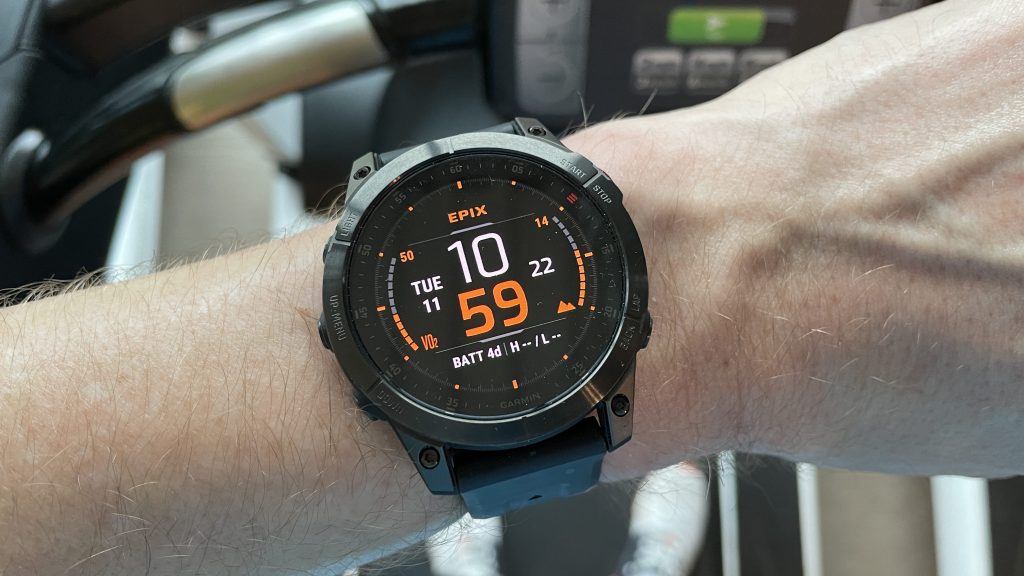 Garmin Epix price
The Epix comes in two editions: a regular fibre-reinforced polymer model with a steel rear cover at £799.99. Or for an extra £100, there's a slightly lighter Sapphire Edition, that packs a Diamond-Like-Carbon (DLC) finish and a titanium rear cover. There's a pricier Sapphire version that comes with a leather strap and extra silicone band included for £999.99.
That puts the Epix in the same ballpark as the Fenix 7 Sapphire Solar, the Fenix 7X Solar (from £779.99 – £989.99) and Garmin's other long battery life watch, the Garmin Enduro.
Only the Fenix 7X Sapphire Solar comes in pricier. It's also a chunk of change more than the Fenix 6X Pro (£619.99) and the COROS Vertix 2 (£599.99).
Features
The Epix carries a comprehensive list of Garmin's training, general activity and wellness and smartwatch features. In fact, there's very little on the Fenix that you don't get here.
That means more than 30 sport modes, including trail running, swimming, running, biking, hiking, rowing, skiing, golfing, surfing, and indoor climbing. Plus new HIIT and pickleball modes.
You get the same optical heart rate tech that powers everything from training load, training effect and recovery time recommendations, to relatively reliable stress-based Body Battery reads, 24/7 heart rate monitoring and sleep tracking. Sleep tracking offers good detail but accuracy was hit and miss in our tests.
There's also breathing tracking and Pulse Oximetry for monitoring blood oxygen levels.
For those who want training guidance, there are suggested workouts based on recent activity, Garmin Coach adaptive training plans and animated workouts.
Fitness progress can be charted with VO2 Max estimates and helpful new trend charts that add useful context to the running race time predictions. The predicted times are still a tad pessimistic but seeing your trajectory is a welcome upgrade.
The major difference to the Fenix 7 is that screen. Which TLDR: is amazing.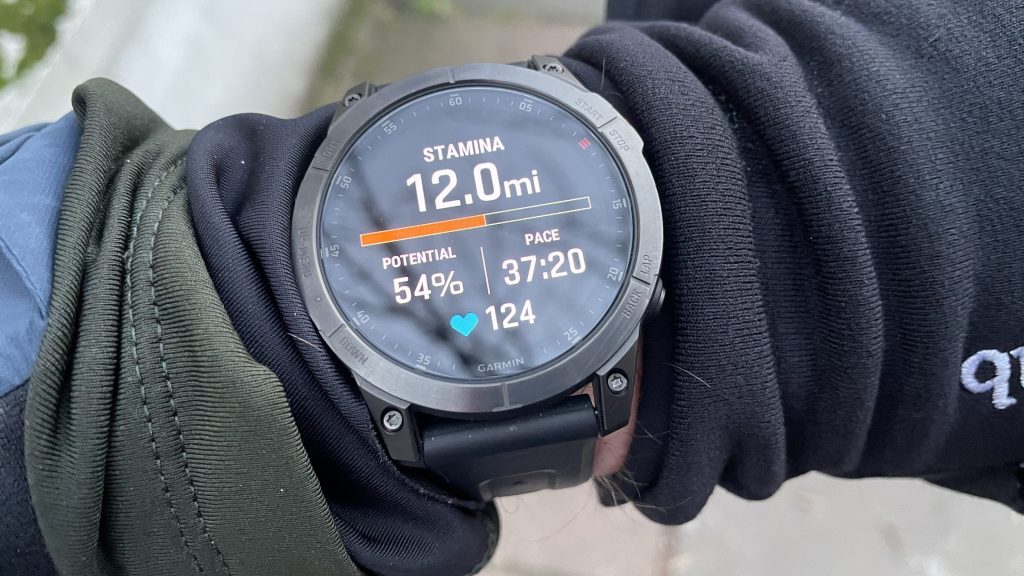 It's easily the brightest and most vibrant display we've seen on a classic outdoors watch with brilliantly legibility in all light. That's not always the case with AMOLED and it's ideal when you're speeding along roads on two wheels, down slopes on skis or along trails on two feet. Once you've seen it alongside a regular Fenix, you'll want a watch with this screen.
All of the colourful training performance, recovery, health and wellness data really pops. But where the Epix screen really excels are the colour TOPO maps and navigation. The details are rich, with great contrast that helps you make more rapid at-a-glance assessments of paths, turns and terrain around you.
That's further enhanced by the new touchscreen skills that let you swipe around. We'd love pinch and zoom here too and the option to have touch controls activated only on the map screen to cut the risk of rogue interactions.
Despite that screen quality, the Epix battery life is competitive on paper. It won't go quite as long as a top-end Fenix 7X or a COROS Vertix 2 but in our tests, we got around 8 days usage, including 10 hours of training in the top GPS modes. And it's definitely possible to squeeze out more juice by playing with the excellent Power Manager. This stand out tool lets you create your incredibly granular, fine-tuned custom power modes. For example, you can choose GPS modes, turn maps on and off, manage the screen brightness, music, optical heart rate and always on display.
When it comes to GPS, only the sapphire Epix features the same new accuracy-boosting multi-band, multi GNSS as the Fenix 7 range. You'll burn around 8% battery for an hour's workout using that mode. But in our tests, it didn't perform noticeably better than regular GPS mode on a Garmin Enduro or the Fenix 7. And this isn't something we think you'll miss on the Epix.
Smartwatch skills include Garmin Pay contactless payments and smart notifications and Garmin's music smarts are here too. You get offline storage and playback for playlists from your Spotify, Deezer or Amazon Music. Connecting wireless headphones to run phone-free is wonderfully simple and connectivity was solid. All of the smartwatch interactions are made easier – and generally more enjoyable – to interact with thanks to that nicely responsive bright touchscreen.
Performance: Mr Brightside
Despite that super bright AMOLED screen, on paper, the Epix boasts up to 42 hours of battery life with full GPS enabled. That can stretch to 75 hours in UltraTrac mode.
In our tests we got 8 days out of the Epix including 7 hours GPS and optical HR run time, using its out of the box power settings. During a GPS workout, the Epix
on average burned through about double the battery compared to the Fenix 7, with comparative power settings on.
An hour was around 4% on the Epix 2% on The Fenix 7X. The Garmin Enduro was around 1%.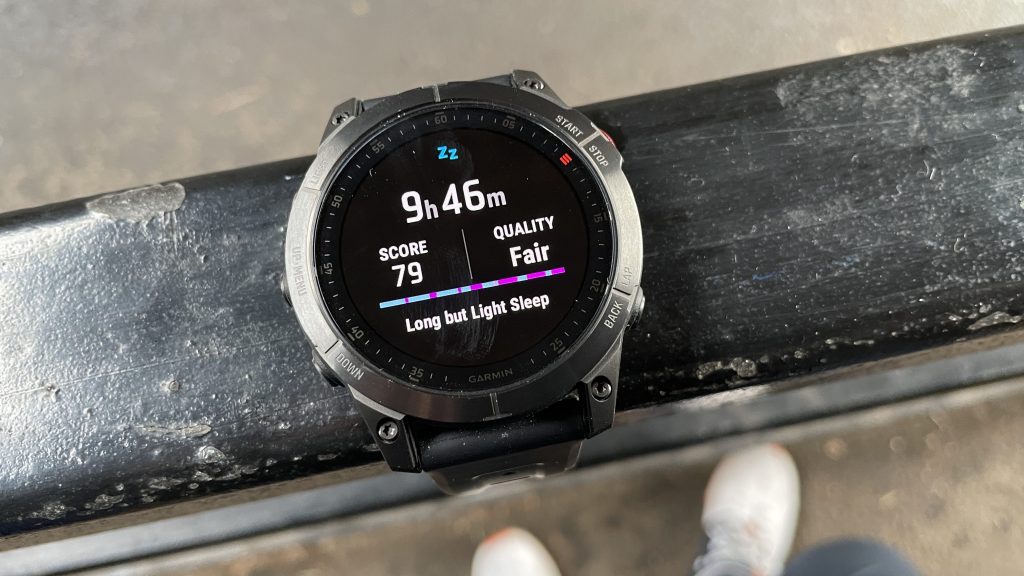 The Epix battery life is still good for single long-endurance stints like an ultra run or ride but it wouldn't survive multi-day adventures like the Fenix 7, Enduro or COROS Vertix 2 would.
The battery skills aren't restricted to longer staying power either. Garmin's Power Manager is a stand out tool that lets you create your incredibly granular, fine-tuned custom power modes. For example, you can choose to switch off optical HR, toggle maps on and off, manage the backlight and, of course, change the GPS tracking frequency and options.
When it comes to optical heart rate, it was a similar tale of accuracy. We encountered the usual lagging and lurching on occasions during runs and workouts with big, sudden shifts in intensity. The max heart rate reads were often higher than a chest strap. The Epix tended to drop way slower than a chest strap during intervals. In short, get a chest strap if you want to make the most out of the fitness insights.
In testing, the general GPS performance was on par with the Garmin Enduro, the Fenix 7 and the COROS Vertix 2. We found little difference using the regular multi-GNSS against the Fenix 7's multiband too.
Comparisons
There aren't many watches that marry excellent screen performance with such an impressive range of fitness features and overall capabilities. The Apple Watch Series 7 (From £369) is obviously a match for the pin-sharp screen but it doesn't come close to battery life, rugged build or baked-in features. In Garmin's line-up, the Enduro (£649.99) offers a better battery life but is no match for the Epix screen. Likewise, the new Fenix 7 (£599.99 – £1049.99) and old Fenix 6 are good options if you care more for workout tracking endurance than that sharp data display.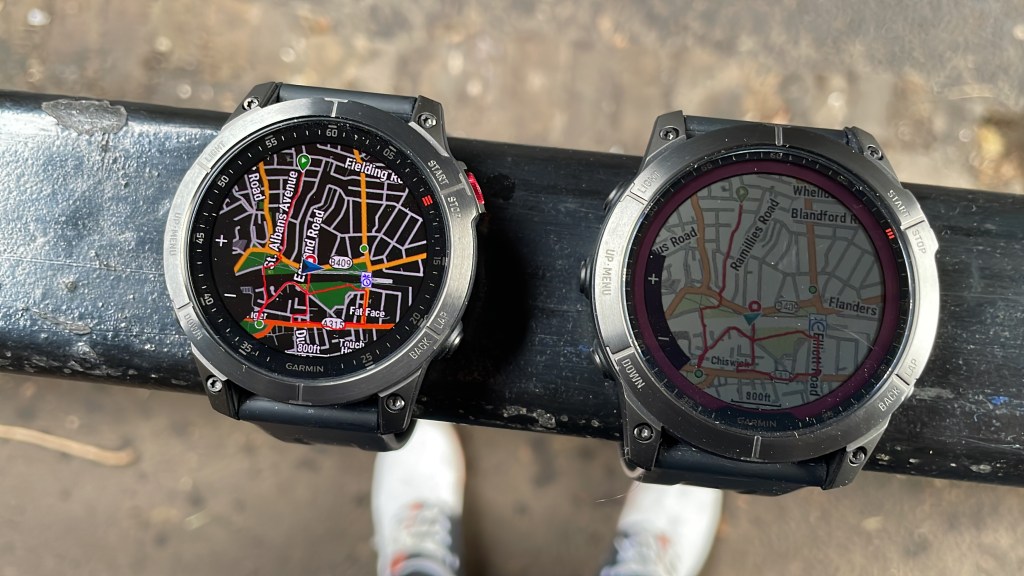 Garmin Epix verdict
You'd expect nothing less for the princely price tag but this brilliant tool is a do-it-all dynamo that comes close to being the perfect fitness and adventure package. You sacrifice some battery life longevity for the best screen in the sports watch business but beyond that, there are very few compromises up against a Fenix 7. In fact, that screen helps it rule on maps and navigation and once you've seen it in action, it makes other watches look dull. You have been warned.
Stuff Says…
A highly capable fitness and adventure all-rounder with hands down the best screen on any sports watch going.
Good Stuff
Best sports watch screen going
Excellent performance tracking tools
Rich colour mapping
Bad Stuff
Bulky on the wrist
Pricey
Garmin Epix technical specifications
| | |
| --- | --- |
| Smartwatch battery life | 16 days |
| GPS battery life | 42 hours |
| Screen | 1.3in (33.02mm) diameter, 416 x 416 pixels Colour, AMOLED (Always-on) |
| Dimensions | 47 x 47 x 14.5 (mm) |
| Weight | 70-76g |
| Water resistance | 10ATM |
| GPS | Glonass/GPS/Galileo with multi-GNSS (multi-band on Sapphire only) |
| Sensors | Optical heart rate, Pulse Ox, altimeter, barometer, compass |
| Connectivity | Wi-Fi, Bluetooth and ANT+ |