Forza Motorsport 6 review
The most comprehensive way to burn rubber on Xbox One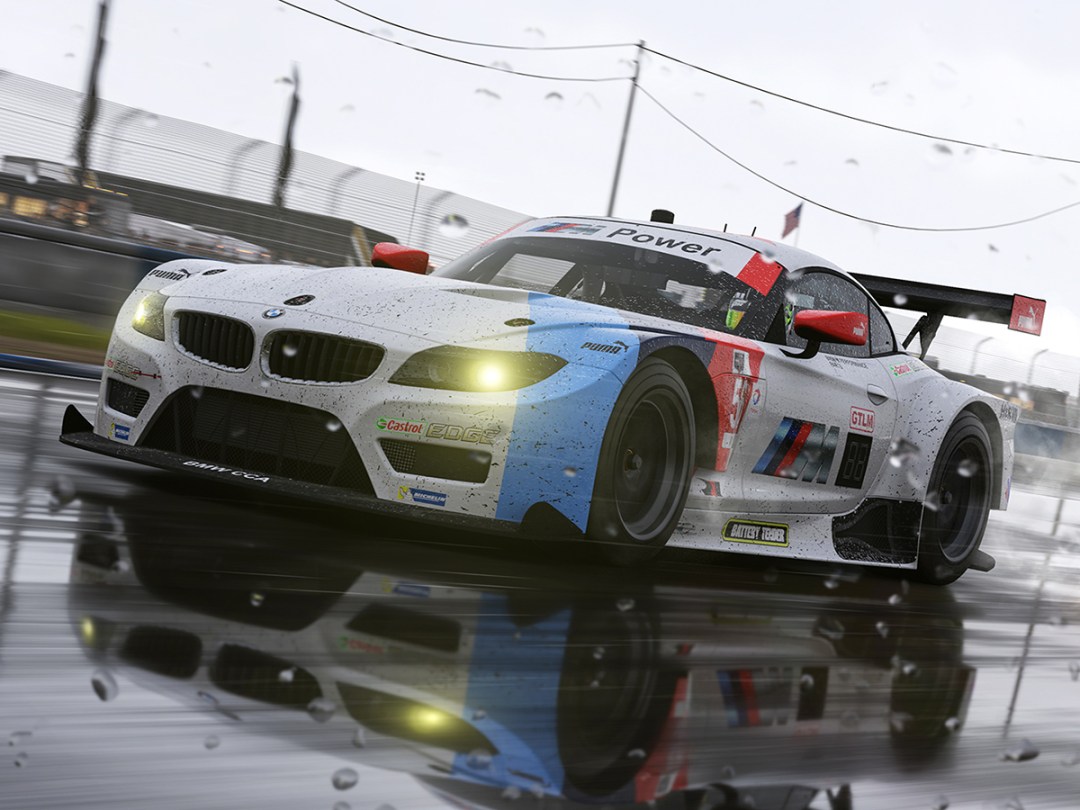 Forza 6 feels like what Forza 5 should have been when the Xbox One launched in 2013.
Picturesque, polished and, importantly, a complete game from the load up. Turn 10's latest effort is much closer to what you'd expect from the driver's seat of a next-gen racing title. Trouble is, the likes of Project CARS and F1 2015 have offered a similar experience for sometime. So what does Forza 6 do to reinvent the wheel?
Ample car porn for automotive fetishists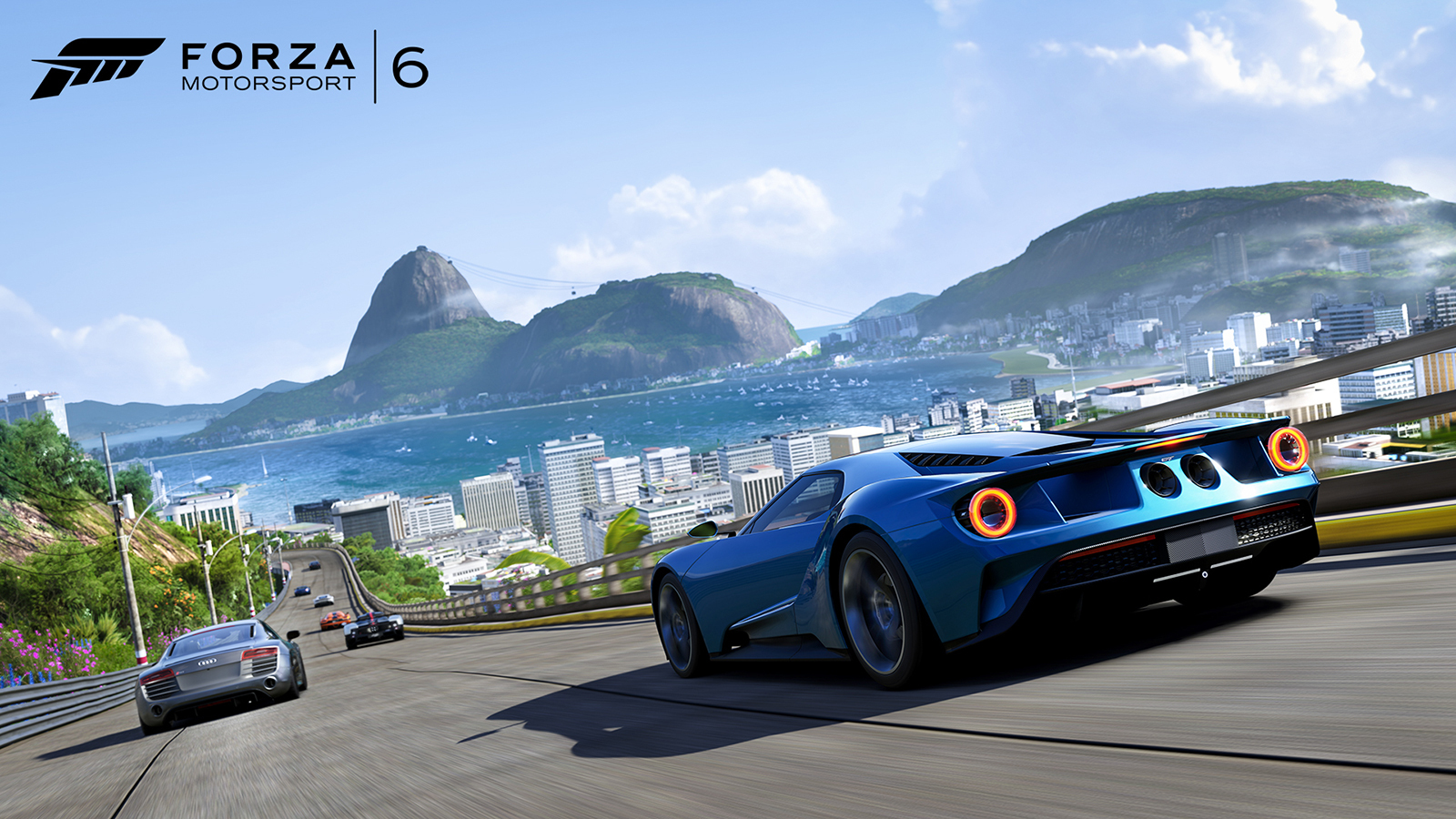 The 10th anniversary edition of Microsoft's flagship racer is breathtakingly great in part. Its graphics are exceptional even in this enlightened age. What makes them so is the rock solid 1080p 60fps rate they run at.
This comes into its own in Forza's new wet weather mode, or the detail in distant depth of field while lapping on one of the distractingly detailed 24 tracks that now include Brands Hatch, Monza and the wonderful Lime Rock sportscar circuit in the US. Sadly there is still no return to Maple Valley though.
The visuals peak when exploring the macro detail of any of the 460 cars in ultra-definition in Forza's Vista car porn section, which now come with various optional backdrops like a house in Brazil. Because, why not?
Loyalty rewards for Forza veterans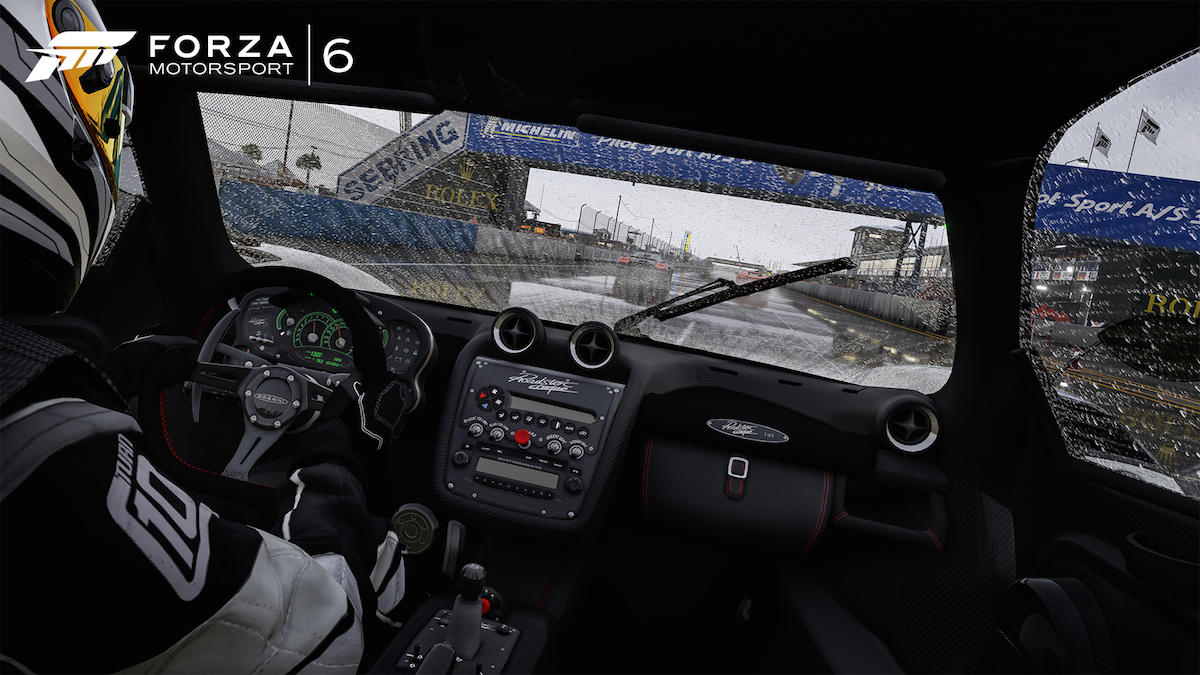 You gain driving access to these cars quickly too. Thanks to a fun new spin reward system you rack up decent credits and garage additions within three races of your first proper session. The cars offered up are not Ford Fiestas either. In our case the first bonus was a Bugatti Veyron.
Fans of the series are given a nice boost too, with a bundle of loyalty Rewards credits and free cars commensurate with the number of previous versions of the game you owned (including Forza Horizon 1 & 2). Reach the top awards tier and you'll be able to drive an Audi R18 e-tron Quattro. Touch.
Watch out for sticky kerbs
Forza 6's in-game engine and cabin noises are as good as we've heard, and there is a clever use of bass to simulate trips across the grass. You know, in case that kind of fate befalls you too.
Thanks to a much-improved handling system, this happens less in Forza 6. The control feedback through both the thumbstick and wheel is close to a match for Forza 4, the series' zenith. And while some of the cars still give up grip sooner than their real world counterparts (particularly in the case of some of the race cars like the Supercar V8s), it happens in way that you can plan for, which makes the whole experience far more satisfying.
This is all sometimes ruined by the vastly irritating 'sticky kerbs' feature that slows you instantly should you run too far off line. It detracts both from the driving flow and game experience, and is daft addition when the gravel traps offer a far more realistic off-track moment.
There is nothing more likely to invoke a smashed controller than going from 140mph to 7mph instantly when you run 3cm too wide on the exit of Le Mans' Maison Blanche.
Showcase events with racing legends
Elsewhere though Turn 10 appears to have taken cues from Horizon developer Playground Games and injected more fun into a necessarily structured format. Forza 6 is playing to a wider audience now and there is more personality and fun to be enjoyed earlier in the single player game.
The main career is now interspersed with cool Showcase events hosted by real aces like Le Mans winner Benoit Treluyer or Australian racing legend Mark Skaife. These give you access all area glimpses from around the world of motor racing, like racing at over 200mph round the Indianapolis Motor Speedway or hot-lapping Top Gear's test track.
Here, as in real life, James May will still attempt to tell you something he really feels you ought to know. Mercifully, now there's the option to shut him and his mates up with a simple press of X.
Undercooked cards and multiplayer racing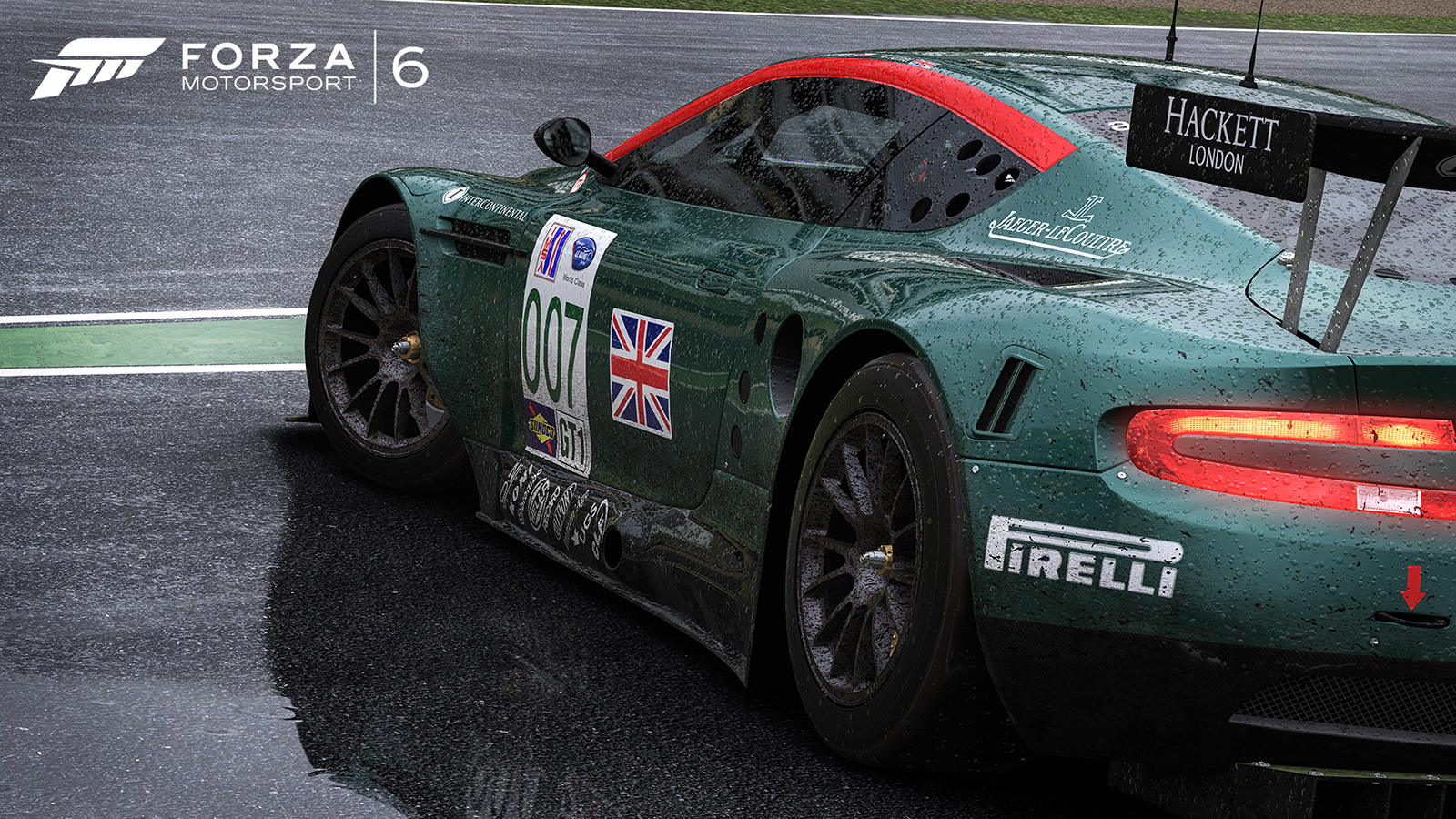 There are also shades of FIFA in an odd boost card system that feels undercooked. These cards are bought using in-game currency and allow you to alter things like your starting position and car's grip – as well as rewarding you for using features like the chase camera. Rather than adding to the game, you often completely forget they are there, and there seems to be no real reason to buy more.
Multiplayer has also been significantly enhanced by the addition of 24-car races and an exciting league system that should match you more closely with players of your temperament, if it works.
Unimpressive AI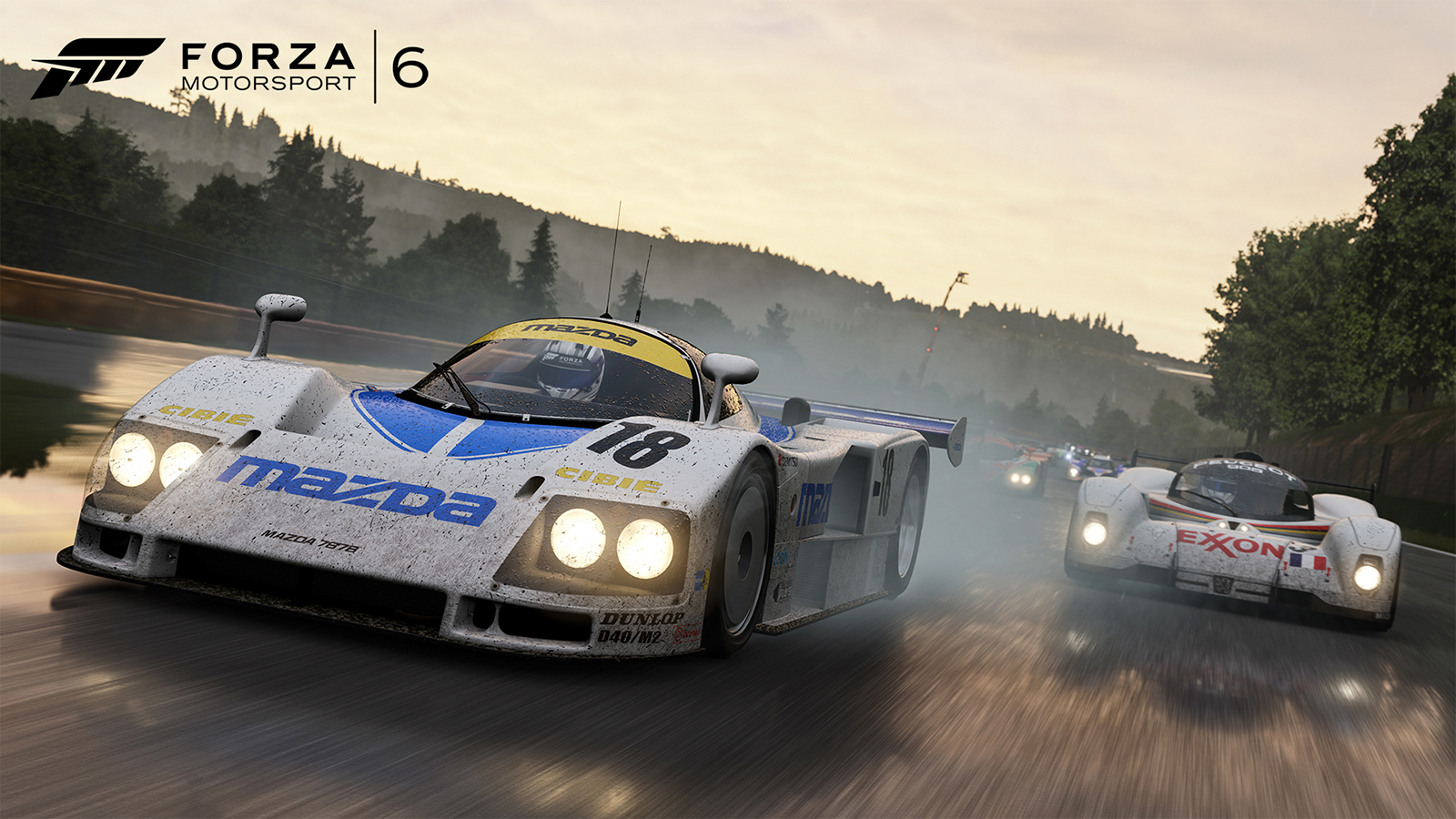 And here comes the catch… in the pre-launch review we played some things didn't quite work. For example the Drivatars introduced in Forza 5, designed to mimic your own driving style show distinct signs of speed fear. None of my friends brake on the entry to Turn One at Indy. They would be ashamed of their virtual selves for doing so. AI is increasingly becoming a key differentiator in single player modes in racing games, and so far Forza's are unimpressive.
And while aquaplaning in Forza 6 sounds and feels exhilarating, its puddles are often placed in arbitrary positions like arcade-style Pole Position oil slicks. Equally, starting and finishing a race at night-time feels old when Project CARS and Codemasters' Formula 1 and GRID series have long-since nailed dynamic weather and lighting.
Forza 6 verdict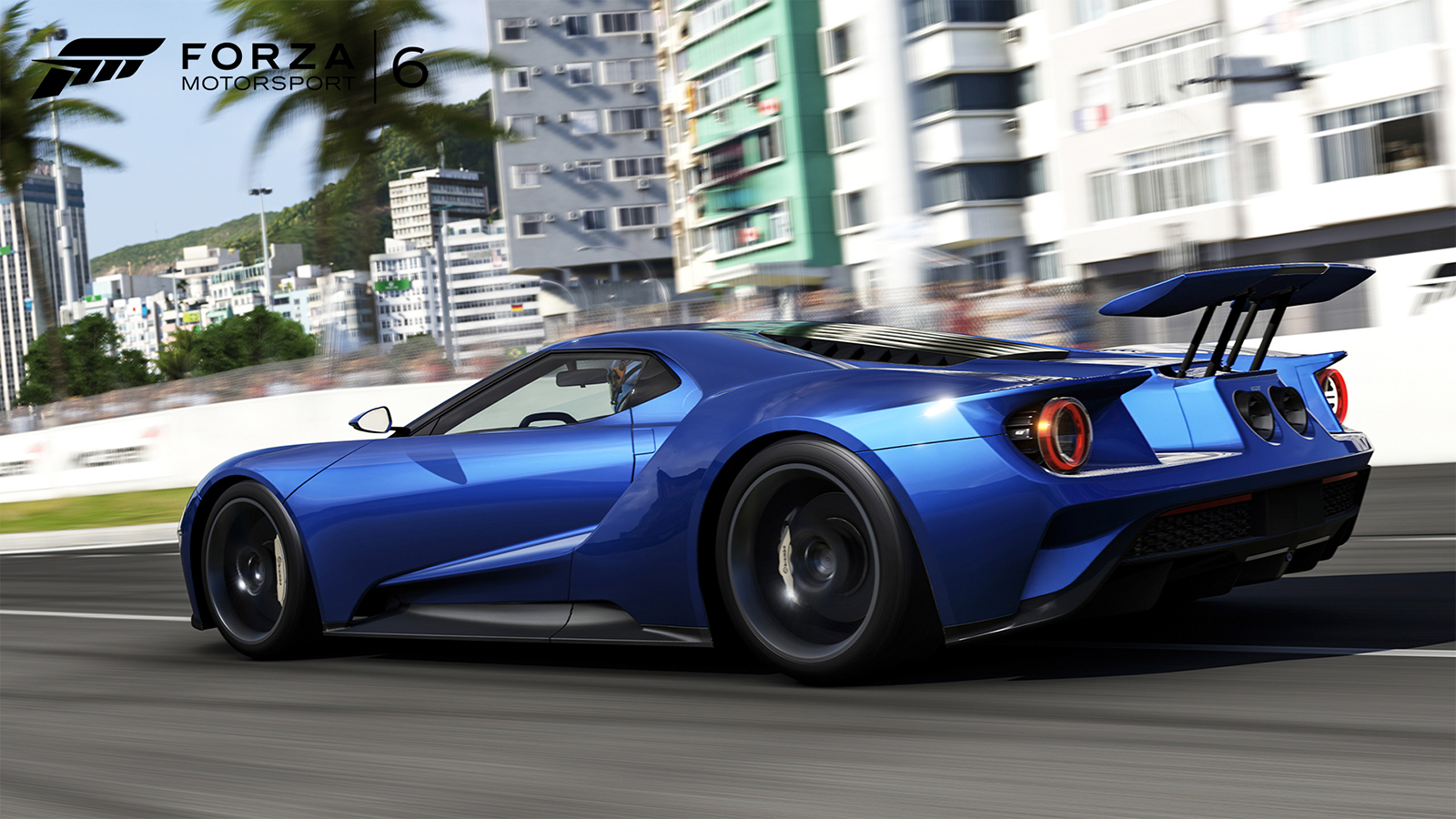 Which brings us back to our first point. Had Forza 6, been Forza 5 at One launch, it would have been astonishing, now it's just merely excellent and in danger of being caught by the talented upcoming rookies – the only thing that saves it is the polished finish and the depth of cars which no other Xbox One racer can boast. Turn 10 must take action with the next iteration if it wants to stay in the lead.
Stuff Says…
Forza 6 just about keeps the series in the essential list for all driving fans
Good Stuff
Amazing solid 1080p 60fps
Deep and engaging car and track list
Vastly improved multiplayer systems
Bad Stuff
Drivatars appear to be frightened of fast corners
Baked in weather feels old hat