Forza Horizon 3 review
UPDATED: Hot Wheels get in on the fun in a brilliant new add-on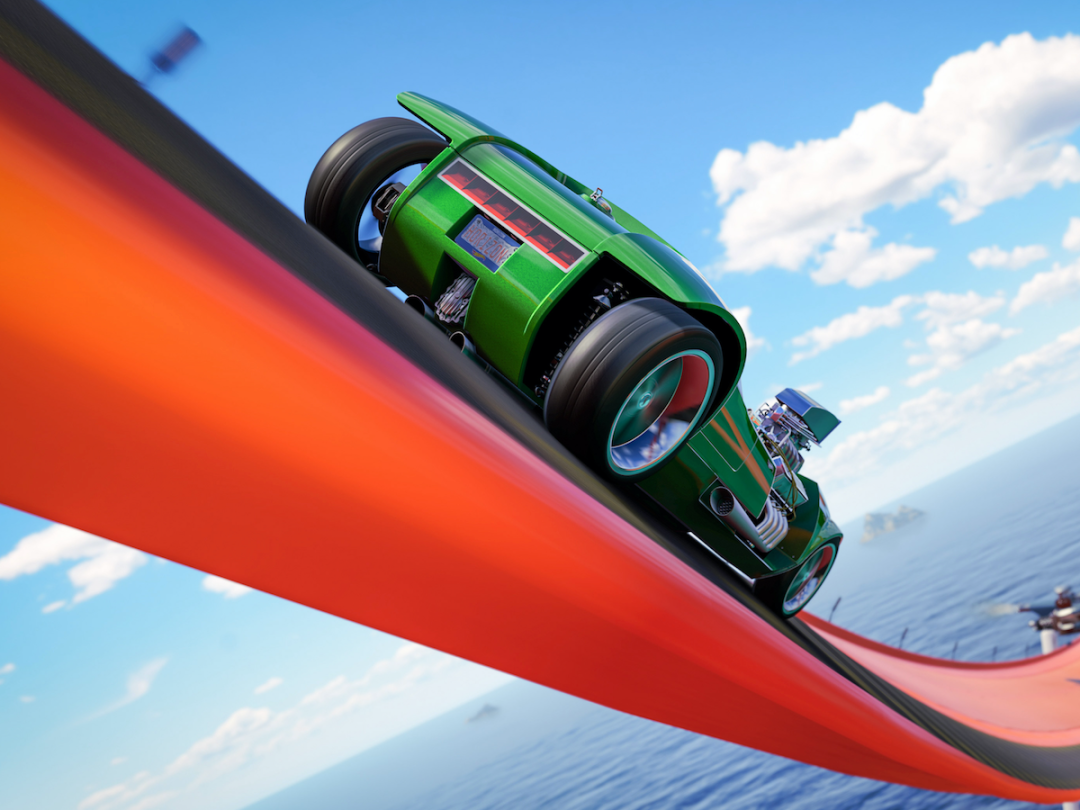 Since making the leap up to Xbox One, Forza's open-world Horizon spinoffs have handily surpassed the more serious Motorsport originals.
What starts as a fun aside from the mainline entries delivered open-road thrills across the Franco-Italian countryside with 2014's brilliant Forza Horizon 2. Now, Forza Horizon 3 is here to cement its pole position with an even larger and more exhilarating romp across Australia.
Between mud, beaches, country roads, and urban blacktop, there's a wealth of terrain to cover – and a mind-boggling amount of events and challenges to keep you cruising ever along.
It's your festival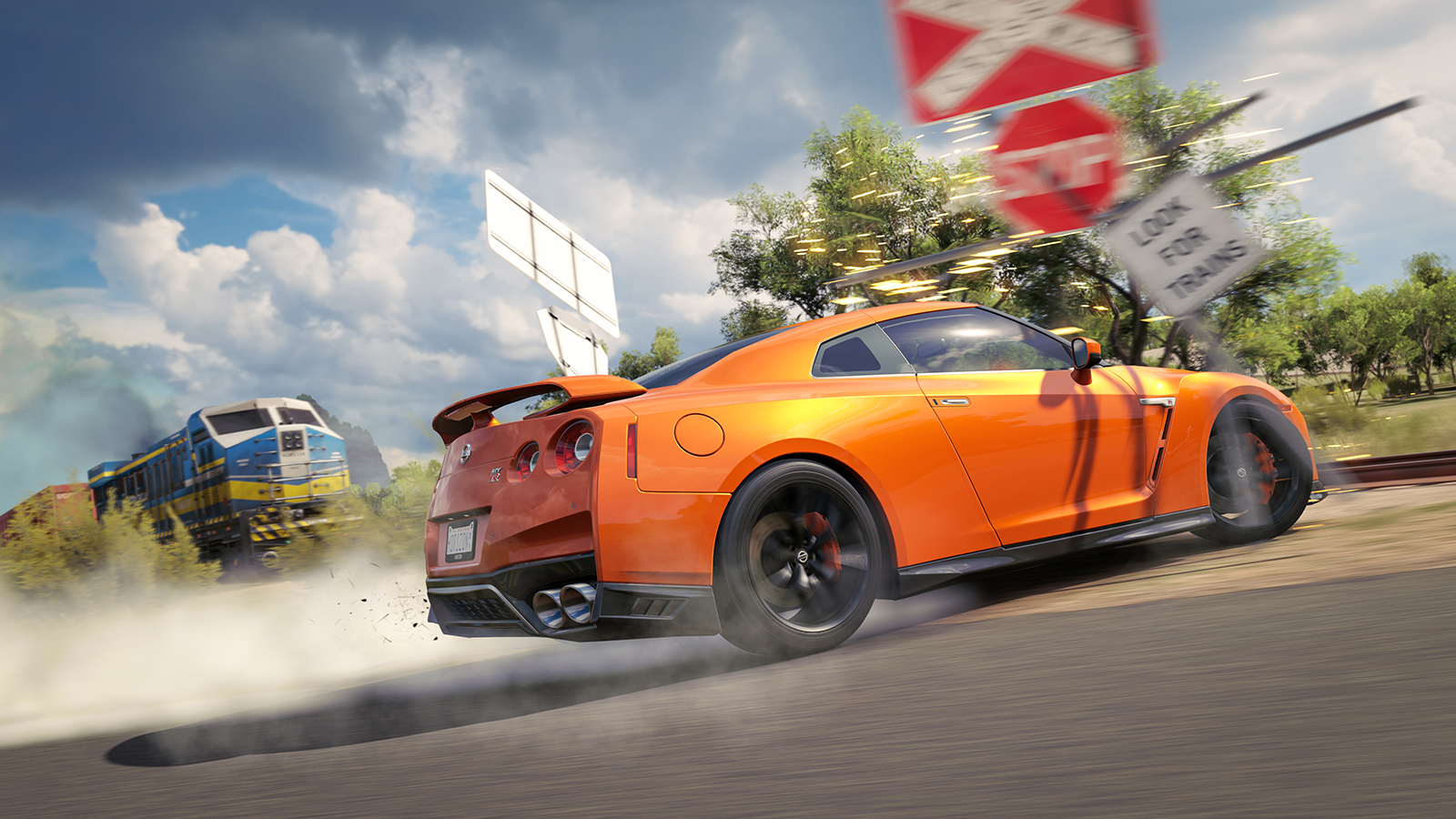 In earlier Horizon games, you were a speed demon taking part in a racing-meets-music festival. Now, you're the one running the show.
You'll still be racing around the outback and showing off some incredible rides, but now you're driving to amass fans for the fest and help construct new Horizon outposts around the country.
Don't worry, Forza doesn't turn into a building simulation or make you micro-manage anything along the way. When you have enough fans tallied, you'll simply choose one of multiple next destinations based on the type of environment you want to explore next, or press a button to upgrade a location and unlock another wave of events. It's simple stuff, but helps frame the experience a bit differently than before.
Oh, and you'll occasionally try to outrun a speeding cargo train, or race a Jeep being swung around a twisting jungle while suspended beneath a helicopter. You know, normal car-driving things.
Road warrior
You can't clobber kangaroos with your Lamborgini Centenario (which is probably for the best, really) but shifting the action to Australia unlocks a much larger focus on off-road racing.
Horizon 3's play area is double the size of the last one, and offers a lot more variance in road types and surroundings. Horizon 2 let you blast through fields and farms and shape your own path to the finish line at times, but Horizon 3 spends even more time off the asphalt.
Agile buggies and meaty mud trucks help you navigate slippery jungle slopes, and you'll definitely want something grippy for gliding along sandy beaches or across rivers. Horizon 3 also has plenty of paved roads and dirt paths, too, and there's quite a bit of mixed terrain found during events. In other words, make sure you've got the right car for each job.
It feels endless
Obviously, there are loads of them: some 350 cars in total, ranging from zany supercars like the Centenario and its ilk to old-school rally rides – and even the Warthog from Halo as a special bonus for anyone who has played Halo 5 or The Master Chief Collection.
In terms of real rides, your garage might house everything from a 1965 Alfa Romeo Giulia Sprint GTA Stradale to the Local Motors 2014 Rally Fighter, and from the painfully sluggish and hilariously large 2011 Ford Transit SuperSportVan to the zippy electric dream that is the 2016 Tesla Model S P90D. It's a brilliantly broad mix.
You've got loads of opportunities to drive it all, too. Beyond the championship races and exhibitions that further the festival's cause, there's an absolutely immense amount of stuff to do.
You've got wild bucket list events, PR stunts, speed trap challenges, barn finds (which hide classic cars to recover), illicit street races, signs to smash through, and roads to discover. You can custom-tweak any championship and share it with friends or the wider community too.
On the road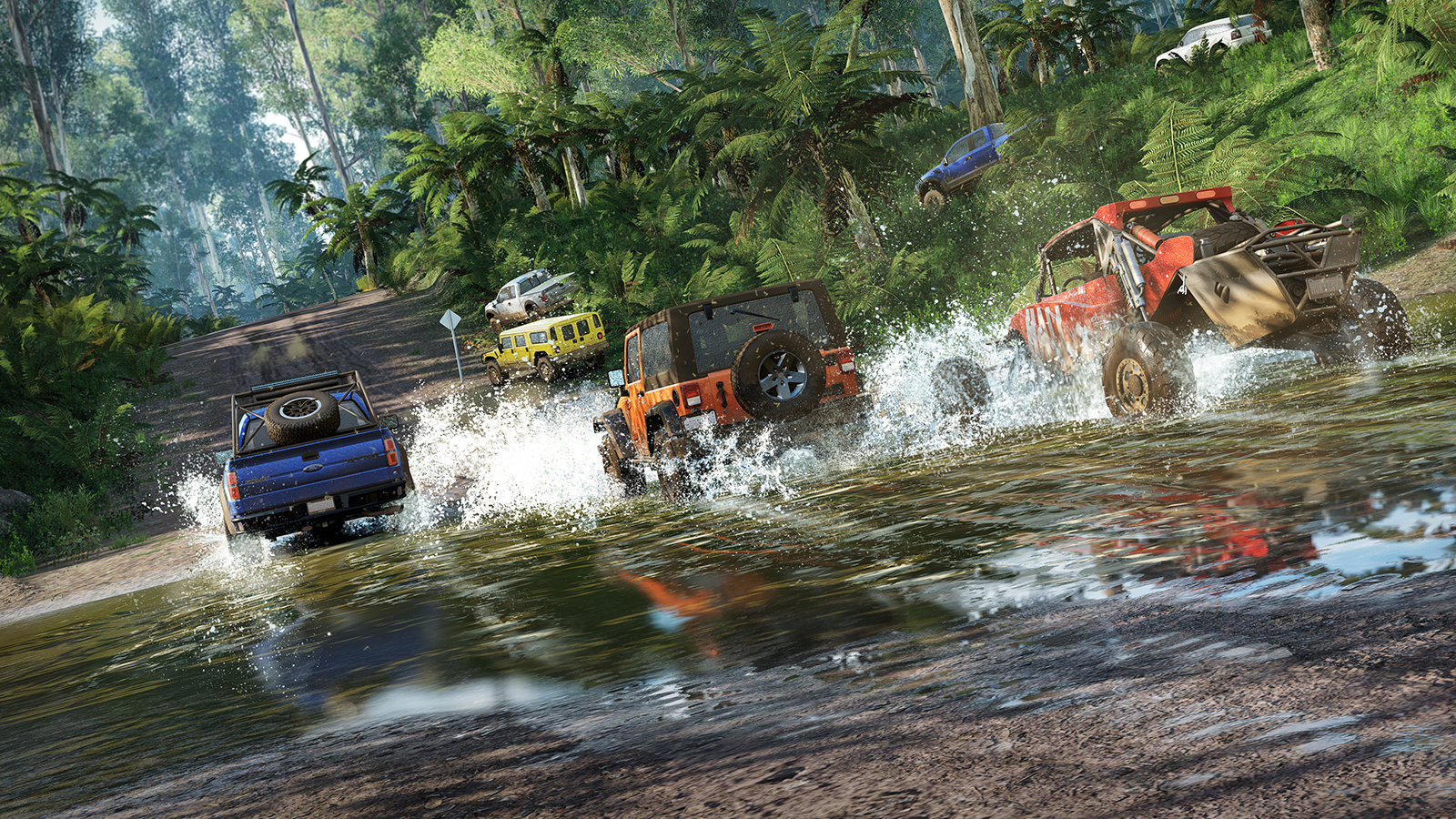 There's Xbox Live play too, naturally. In addition to cruising around your own world with the A.I.-powered Drivatar versions of your Xbox Live pals and club mates, Forza Horizon 3 is the most online-friendly entry to date.
Now you and three other mates can jump into campaign co-op in an instant, whether you're playing on Xbox One or PC. Better yet, that shared progress carries back into your solo campaign.
The Online Adventure mode lets up to 12 people group up and go on a cross-country journey, making multiple stops along the way for races and party games – and also tallying up XP earned by driving recklessly (sorry, stylishly) from point to point. It's a blast, and it gives Horizon 3 even more meat on its bones than it seems at first glance.
You can also recruit your online Drivatar friends into your crew, and hiring and firing them to earn bonus rewards plus there's the auction house and player-created liveries to download. Just when you think you've seen every feature, it tosses a couple more your way. It's mad, really.
Heavy Gloss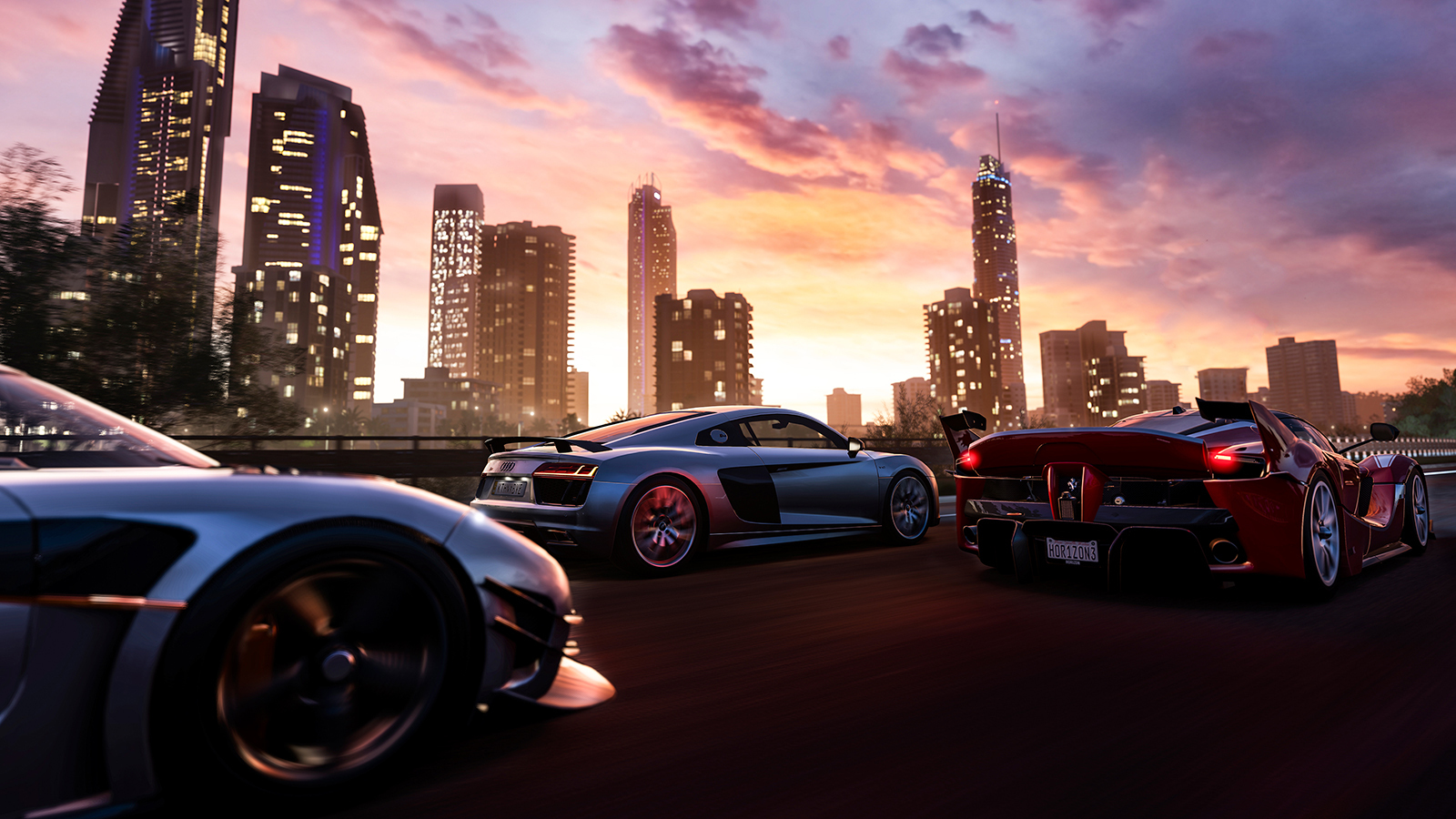 For the most part, Forza Horizon 3 keeps the same style and structure as 2014's entry – which makes sense, given how much fun that was. It was gorgeous a couple of years back, and Horizon 3 looks a smidge better, delivering dazzling effects across the island. Powering through the pouring rain from cockpit view is amazing.
It's also the first game to offer high-dynamic range (HDR) support on the Xbox One S – in fact, it's the first game to offer HDR anywhere, and it looks incredible.
HDR essentially adds far greater contrast, which means brighter whites combined with darker blacks in a single image. When you're in a race that moves from night to sunrise, you sure will be impressed by it. What's more, there's an increase in perceived detail – everything just looks crisper.
In short, if your TV can handle HDR you should definitely give Forza Horizon 3 a go.
Update: Hot Wheels DLC
UPDATE (10/5/17): Whether you're still cruising around Australia or you've taken a break from Forza Horizon 3 of late, here's something that's sure to take your interest to soaring new heights.
Just released yesterday, the brand new Hot Wheels Expansion is an absolute delight, and a massive chunk of extra game to explore. As the name and images suggest, it's a fresh playground inspired by the classic die-cast cars and tracks, and the homage is sensational.
The expansion's islands are surrounded by miles and miles of the bright orange track pieces, all glistening faux-plastic and joined together by the familiar blue connectors, and they're linked up in loops, corkscrews, and other insane arrangements. You'll find boost pads, flaming hoops to vault through, death-defying jumps, and even a robotic dinosaur along the path. (Sure, why not?)
Forza Horizon 3 was already a load of fun, but the Hot Wheels DLC takes it to the next level with those wild, sky-high layouts. You'll also get 10 new cars, including die-cast classics like Twin Mill and Bone Shaker, and the location is filled with new races and other events in a self-contained campaign mode. You can even tweak the track layouts like you're playing with the real toys.
It's so joyously over-the-top that it's tough to resist cracking a smile… especially as you're looping above a mountain on a sideways track hoisted hundreds of feet in the sky. Child's play? Maybe, but there's no reason why adults won't also love it. I've had a few hours already whipping around the islands and there's still plenty more left to explore and conquer.
The Hot Wheels Expansion itself sells for £16.74 (or US$20), or if you missed the previous Forza Horizon 3 add-on – the snowy, slippery Blizzard Mountain – you can get the bundle for £29.24 (US$35) and really have a heap of extra fun to take in. It's well worth the cost in either case.
Forza Horizon 3 verdict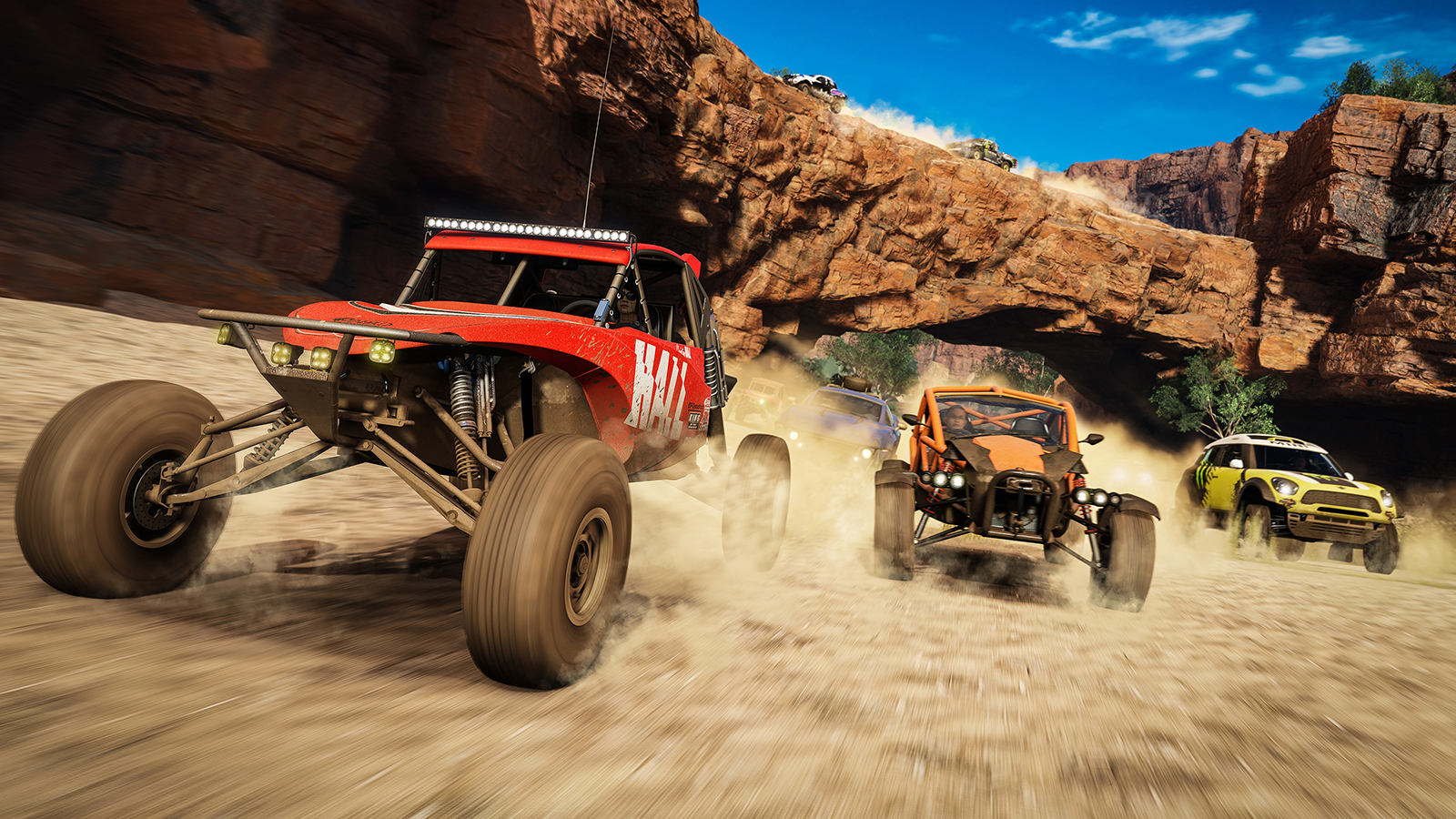 If the core Forza Motorsport games have felt a bit too dry, then look no further: Forza Horizon 3 serves up thrilling fun, and in incredible amounts too.
There are harder-core simulation experiences out there and certainly more raucous, arcade-style affairs – this isn't Burnout, to be sure. While some players might want more of one extreme or the other, Forza Horizon 3 nails that sweet spot of being fun but not silly or obnoxious, and serious but crucially not too serious.
For racing fans who only have a PlayStation 4, Forza Horizon 3 will surely make an Xbox One S or gaming-capable PC a mighty tempting proposition, especially with Gran Turismo Sport predictably delayed into 2017.
Really, it's tough to ding the game for anything significant at all. It's the kind of game we can see ourselves playing for 100 hours or more; in fact, that sounds like a fine plan.
Buy Forza Horizon 3 here from Amazon