Fairphone 5 review: fixes up, looks sharp
Ethical, easy-to-repair, and now better than ever
Initial verdict
Fairphone continues its worthy goal of making a more ethical phone for the average buyer, and it's more easily repairable than ever.
Pros
Super-easy repairs
Quick-change battery
Decent camera hardware
Cons
It's a chunky chap
Mid-tier performance CPU
Introduction
While the makers of most top-tier smartphones largely salivate over specs, Fairphone continues on its decade-long mission to put the planet first. Unrivalled repairability, recycled materials and fair wages for workers are still key to its fifth-gen effort – but Fairphone 5 also aims please more than the firm's existing fanbase of environmentally-conscious customers.
It takes everything that impressed us about previous Fairphones, including a replaceable battery and capable cameras, then adds some welcome upgrades like an OLED display, more powerful CPU and even better water resistance. Not too shabby for a phone that pops apart with a few screws. But does it all add up to a more than fairly good phone?
Design & build: Fixer-upper
Pop off the Fairphone 5's backplate with a fingernail and you'll find a battery that can be replaced just like a late 90s Nokia; a single screwdriver then lets you remove a whole stack of other components, like the camera modules, speaker and screen. A big upgrade this year is that the cameras are all separate, instead of one unit, so you can replace them individually rather than the entire array should you scratch a lens.
Each core component has a little interface cable that clips into the main board. It's not unlike a very small, rather fiddly Lego set; we dismantled the lot and put it back together again in about ten minutes. What would be migraine-inducing repairs on other hardware are a breeze here, even if getting the smaller components in place needs decent manual dexterity.
Rounded corner screen bezels and an aluminium frame help it look like a modern handset, but Fairphone 5 is still a bit chunky. Screws are also heavier than glue, so it feels substantial in the hand compared to most rivals. The sensible screen size means it's not unwieldy, though. The side-mounted fingerprint sensor should be easy for lefties and right-handers to reach, and it was quick to detect our digits. There's also face unlock, though it's not secure enough for banking apps.
IP55 resistance lets it survive rain showers; non-repairable rivals go better, but being able to survive showers is still impressive for a phone that can be stripped down by a simpleton.
Screen & sound: see the difference
An OLED display is a huge upgrade over the old Fairphone, which made do with a smaller LCD screen. At 6.46in it's a decent size, and while the bezels aren't the skinniest around, they don't distract from the satisfyingly vibrant panel. Colours really pop, while
The unusual 2700×1224 resolution is still plenty for Full HD video streaming, and ensures everything looks suitably sharp from arm's length. Refresh rate defaults to 60Hz out of the box, but a quick dive into the settings lets the panel tick along at 90Hz. There's no variable refresh, and 120Hz is the norm everywhere else at this price, but it still delivered stutter-free scrolling and we didn't see a noticeable impact on battery life.
According to Fairphone it can reach a respectable 880-nit brightness. Again, this is now middle-of-the-road performance on paper, but we were just about able to see things clearly enough outdoors. You'll need to seek shade on an especially bright day, though.
The stereo speaker setup lets the down-firing main driver do the heavy lifting. The earpiece speaker is considerably quieter, which can leave videos sounding unbalanced when holding the phone sideways. Volume is decent enough but it leans heavily on the mid-range, leaving music sounding quite hollow.
Cameras: simple shooter
The Fairphone 5's trio of 50MP camera sensors (two at the rear, one up front) sound impressive on paper, especially as the main snapper uses a Sony IMX800 – the same sensor seen on the Xiaomi 13, among others. It's no slouch. The third rear 'lens' is actually a time-of-flight depth sensor, helping with low-light focusing and portrait mode.
Shutterbugs should temper their expectations a bit, though. With nothing close to the level of computational photography smarts seen from the top brands, Fairphone 5 captures only average-looking daylight shots. While the main sensor can capture a respectable amount of detail, colour processing regularly left our scenes. and subjects looking washed out. It can't match the similarly-priced Pixel 7 for vibrant colours – or even the cheaper Pixel 7a.
Clever sensor cropping effectively means 2x zoom shots have just as much detail, and colours are in sync, but they are often just as flat. You can digitally zoom further, but details quickly drop off.
The ultrawide lens rarely matches the main sensor's colour output, and doesn't seem to make the most. ofits high pixel count. Details are lacking, and not just at the edges of the frame, with trees and brickwork appearing quite smeary.
Low light shots are serviceable enough, but the competition fares much better, and when it gets properly dark the automatic Night mode isn't able to rescue areas of heavy shadow. Colours become even more muted and it can't cope with moving subjects very well at all.
It would be harder to nitpick this performance in a phone costing half the price, but the Fairphone 5's rivals all do a much better job across all lighting conditions. Whether that's a dealbreaker will depend on how important phone photography is to you.
Performance and battery: All the big names
The Fairphone 5 doesn't have the same internals you might find in a phone of this price from, say, Samsung or Google. It uses an almost unheard-of Qualcomm QCM6490 CPU, which seems to land in the same performance ballpark as something like the Snapdragon 778G seen in a Nothing Phone 1.
Apps and games run about as well as phones costing half the price, and even with 8GB of RAM, you'll be waiting a half-second longer for apps to open than you would on more mainstream rivals. You can still play most 3D titles at good frame rates, even if they will usually default to lower quality settings, and you could hardly call it slow in general use.
Going with this chip does mean Fairphone can promise an extensive five major Android versions and eight years of security updates, but what performance will feel like that far down the line is unknown.
The one other bit that might make you pause is battery capacity. 4200mAh is pretty low by 2023 standards. One benefit of a fixed, non-repairable design is you can fit much more battery per cubic centimetre of phone. There's still enough to get through a full day of sensible use, though; we entered the red by mid-afternoon with a heavy amount of camera use, streaming video and web browsing over 5G.
On the plus side, spares cost just £36 directly from Fairphone, so you could keep a second one around in case you're ever caught short. And if the original cell starts struggling to hold its charge, replacing it can be done in seconds.
Fairphone 5 verdict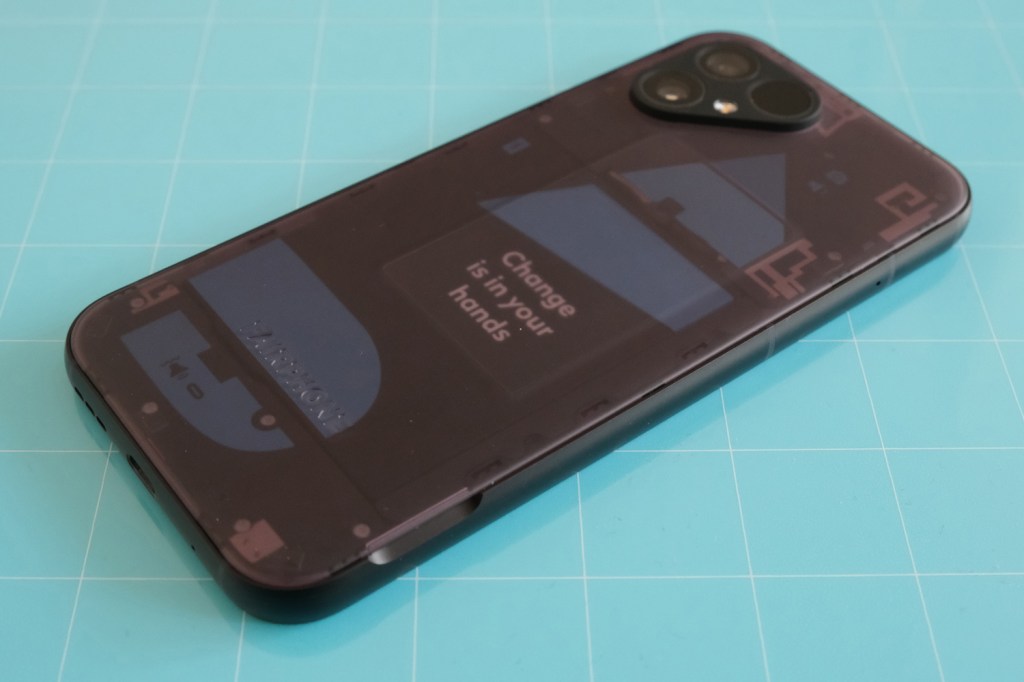 Fairphone continues its worthy goal of making a more environmentally conscious phone for the average shopper. While not as powerful as a Pixel or as sleek as any Samsung, the outstanding repairability and promise of lengthy software support make it a whole lot more sustainable than any rival.
It's not a total tech minnow either, with clean looks, respectable performance and a sharp screen to justify the dent it'll leave in your wallet. At a not-insubstantial £649 (there's no word on a US release just yet) you do pay a premium for a clean eco-conscience, and those cameras are merely OK – but we still feel there's enough here to convince plenty of people to buy into Fairphone's commendable philosophy.
Stuff Says…
It won't win many tech Top Trumps, but Fairphone 5 brings its maker's environmental and ethical ambitions more into the mainstream than ever
Pros
Super-easy repairs
Much improved screen
strong environmental message
Cons
Cameras aren't much cop
Mid-tier performance CPU
Merely OK battery life
Fairphone 5 technical specifications
Screen
6.46in, 2700×1224 OLED w/ 90Hz
CPU
Qualcomm QCM6490 hexa-core
Memory
8GB RAM
Cameras
50MP, f/1.9 main w/ PDAF, OIS
50MP, f/2.2 ultrawide w/ PDAF
TOF 3D depth sensor
50MP, f/2.45 front
Storage
256GB on-board, microSD expansion
Operating system
Android 13
Battery
4200mAh removable w/ 30W wired charging
Dimensions
162x76x10.5mm