DJI Osmo Mobile hands-on review
Filming on your phone will never be the same again
That 30 second lip-sync music video you stuck on Facebook and got twenty likes with? Just imagine the kind of viral megastar you'd be right now if you filmed it with one of these.
DJI's latest Osmo is the handheld smartphone stabiliser that wannabe YouTube stars have been screaming out for. Ditching the original Osmo's built-in camera for a bracket that'll hold any phone helps slash the price, smoothly opening the door to more filmmakers than ever.
It's a quality bit of kit in action, and I should know – I had to be prised off of DJI's booth at IFA after draining the batteries on their demo unit. Here's why it should be on your short film shortlist.
PHONE IT IN
Your smartphone is always in your pocket, so why not put it to good use? The original Osmo had an optional bracket for bolting a phone on for live preview, but that just added to the bulk – not what you want when you've got a £600 gadget held at arm's length.
Now, the bracket is built in, swapping the whole gimbal mechanism out for one that'll hold just about any phone. The arms are adjustable so you'll have no trouble fitting a phablet in there, and lock tightly to stop your phone from decorating the pavement.
The trigger grip has changed a bit too. It's not quite as upgrade-friendly, but the rosette attachment point will still let you bolt on an external mic or other accessories. The gimbal battery will keep going long after your phone has drained from filming, but as it's removable you can jam another one in place so your next shoot doesn't suffer from downtime.
ROCK STEADY
DJI's 3-axis gimbal tech has been stabilising Phantom drones for years, and it did a great job in the original Osmo, so there's no surprise it can cut the mustard here too.
It calibrates itself when you first switch it on, getting used to the weight of your phone, so a chunky brick will look just as stable as an ultra-thin flagship.
You've got the choice of portrait/landscape shooting, flashlight and underslung grip styles, so you can get pretty much any shot on the fly. The rig recognises which one is right for the job, and flips smoothly into position.
It all ties in over Bluetooth to DJI's app, letting you line up shots, set ISO and shutter speed, and even live stream straight to the web. I had a few dropouts on an iPhone 6s, but a Huawei P9 had no problems – the struggles of early firmware, apparently.
KEEPING TRACK?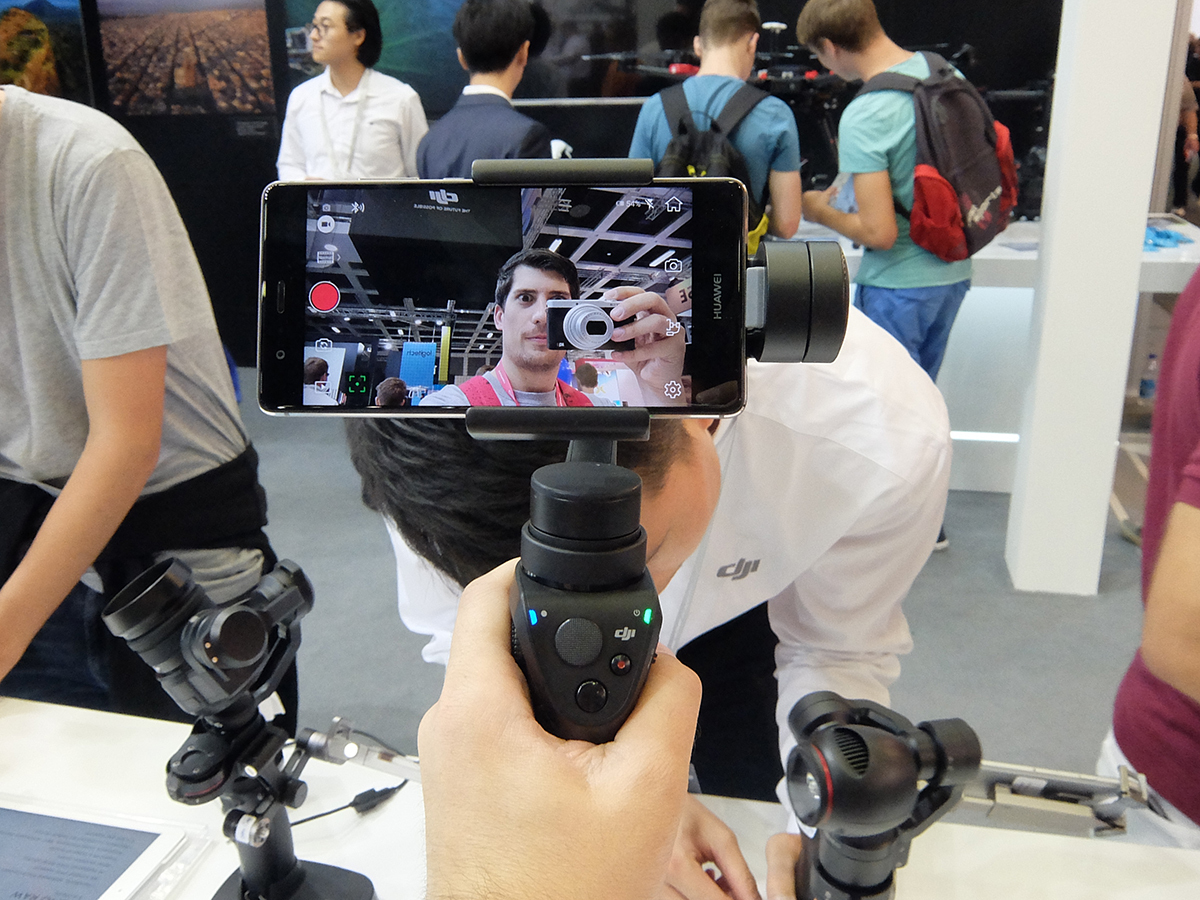 The best new addition is ActiveTrack, a trick the original Osmo never had. You can basically tag something onscreen to force the camera to track it, panning and tilting smoothly as it moves about. Think filming a selfie video, without worrying if it's just your shnozz in shot or if you're actually filming your whole face.
It works brilliantly, recognising faces and keeping mouths in focus, or following someone through a crowded room. There's some clever object detection going on behind the scenes, something DJI has had a lot of luck with in its drones.
It works in selfie mode and regular mode, and you can pull the trigger instead of tapping the screen for a seamless transition onto your next subject. You've got to pause recording whenever you flip between your phone's two cameras, though.
DJI Osmo initial verdict
Your YouTube channel might have a million subscribers, or you might just share your videos with mum and dad – either way, this'll make your footage look that little bit more professional.
Axing the camera has dramatically lowered the price from the original Osmo, which should mean more filmmakers are able to get their hands on one, and it's stupidly easy to use. Seriously, point and shoot – it takes care of pretty much everything else.
Some smartphone cameras can shoot stunning footage now, so you might as well make the most of it. I can't wait to get one in and give it a proper test.