DJI OM 5 review
If you like to gimbal, I tell you I'm your man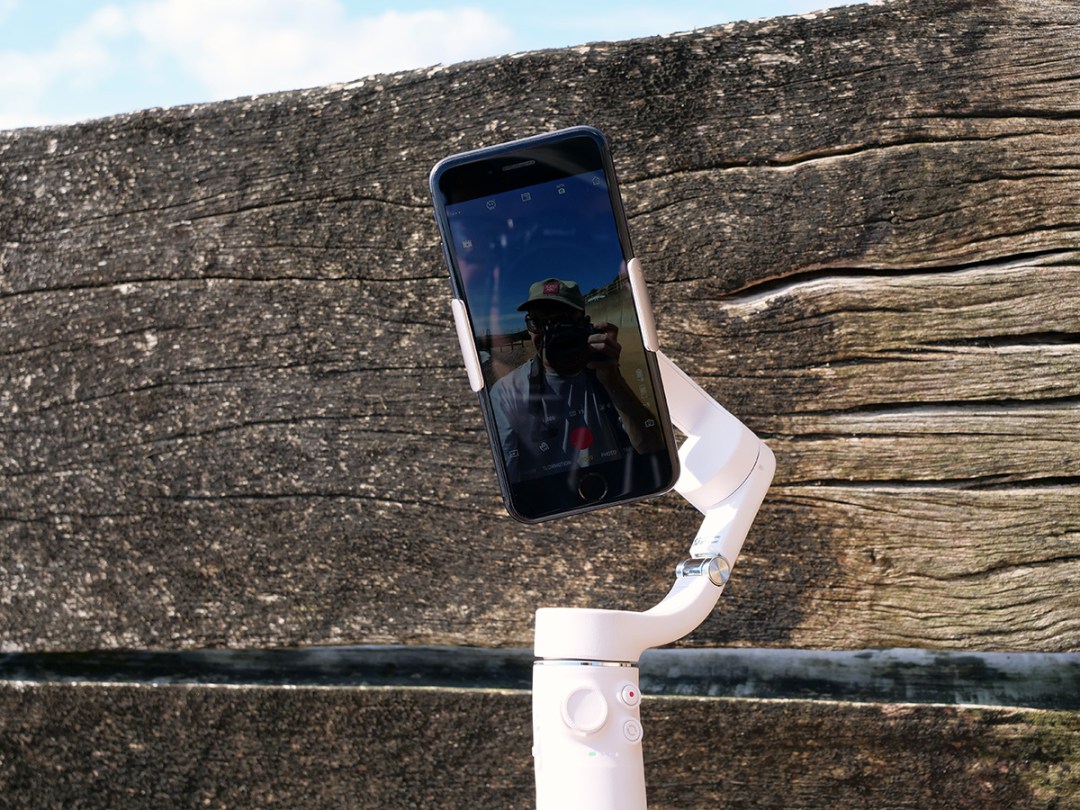 DJI might be best known for its superb drones, but it does a cracking side-line in gimbals: those clever gadgets that keep your camera level and steady as a rock while you're walking around.
The OM 5 is the fifth and latest in the company's line of mobile gimbals, designed to work exclusively with smartphones. At £139 it's quite pricey for a product in this field, and following only a year after the excellent OM 4 (which we awarded a full five stars in August 2020) it has some big shoes to fill. So, without further ado, let's find out if it can improve on a winner.
Design: Welcome to the fold
Put simply, the OM 5 is handle with a three-axis gimbal stuck on top. To get your smartphone fixed to the gimbal, you place a small clamp around it; the clamp locks into place on the gimbal through the use of a powerful magnet. It's very clever and makes the process of mounting and unmounting your phone simple and fast; it's also strong enough to hold a phone up to 290g, and feels reliable – you never get the impression a freak gust of wind or stumble will result in your mobile flying off to its destruction.
With the phone and clamp removed, the OM 5 folds down into an easily storable shape. There's a soft storage pouch included in the box to keep it protected, which also has enough space for the folding mini tripod attachment (also included) and phone clamp.
At first glance the OM 5 looks very similar to the OM 4, which also has a magnetic clamp and folding design, but it's actually 100g lighter and about 30 percent smaller when folded – a pretty significant improvement in portability, we say (there's a price to pay for this shrinkage, however, which we'll get to in the Performance section below).
The other big design difference isn't immediately obvious, but give the gimbal arm a hard pull up away and you'll find it: there's an extension rod that works a little like a selfie stick. It only extends as far as 21.5cm, but that's more than enough to add a nice measure of working room between the OM 5 user and their phone – very handy if you want to fit more in the frame while vlogging or snapping a selfie.
The aforementioned mini tripod screws into the base of the handle and lets you set the OM 5 up on a flat surface to video or photograph without being held. It uses a standard tripod screw too, so you can mount it on a regular tripod or similar.
The build quality is reassuringly solid and the controls are all well-placed, allowing you to use the OM 5 one handed: there are buttons to toggle phone orientation between portrait and landscape (got to cater for the Insta stories and TikTok folks!) and a thumb stick for manually adjust the gimbal angles, while holding the trigger will keep your phone facing the same direction no matter which way you move.
App: Make me beautiful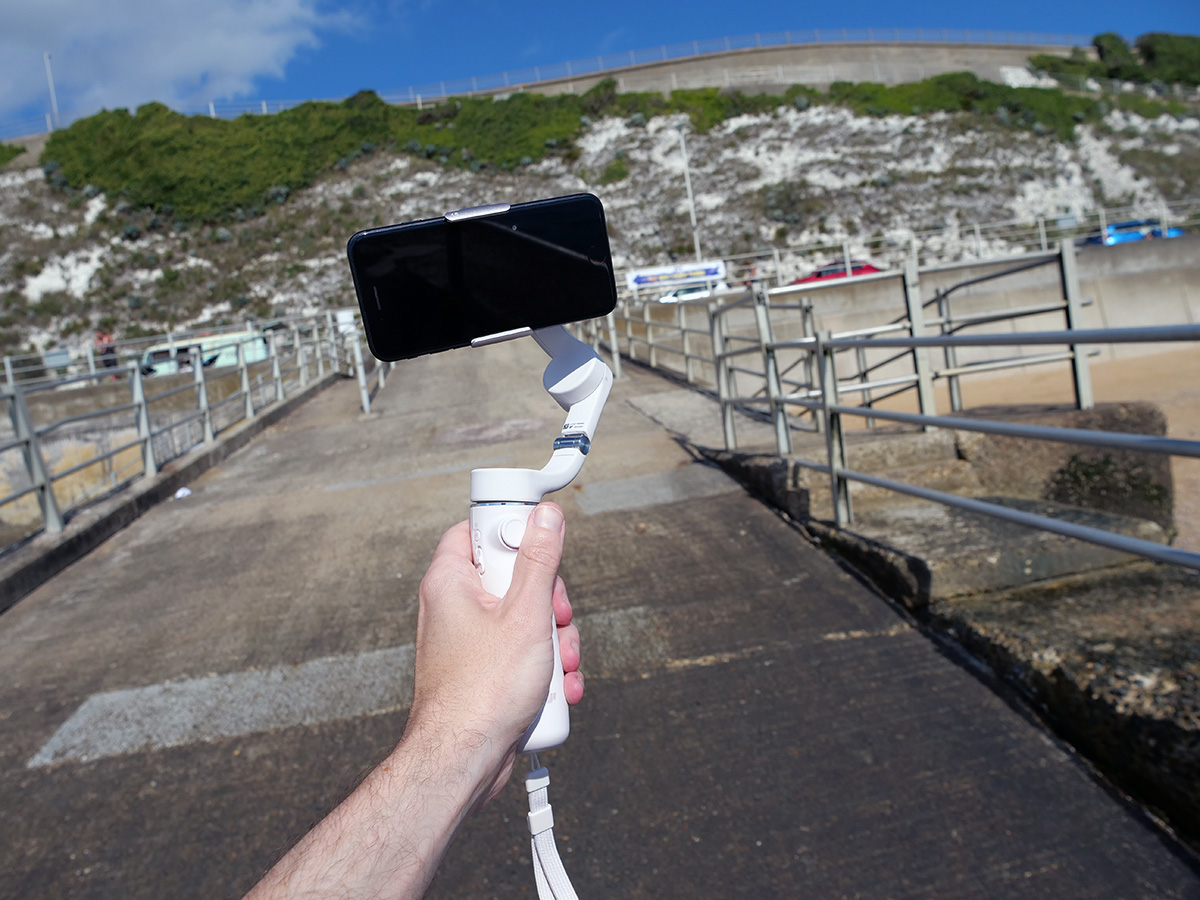 The gimbal does work without Mimo, DJI's companion app (you could use it to make your FaceTime calls a lot less shaky, for instance) but it really comes into its own when the two are paired up.
Mimo gives you access to ActiveTrack 4.0, the (recently updated, according to DJI) tracking system that'll keep the gimbal automatically pointing at a single object: draw a box round your cat, your nephew, or your face and marvel as, no matter how you shift the OM 5 around, the camera follows the tracked object. It's really good when the OM 5 is tripod mounted too: you can wander around the and the camera will follow you, keeping you centred. ActiveTrack can be foxed by abrupt moves off-frame or if the tracked object is covered or blocked for a time, but it's quite good at re-acquiring a lock with faces.
Speaking of faces, the app lets you lavish a frankly bonkers range of beauty effects upon your own. Smooth and lighten (really?) your skin, slim your face, make your eyes bigger – all finely controlled by sliders. So if you simply must resemble some kind of demonic crypt-dweller in your TikToks, the tools are all here to make that happen.
Also in the app are a wide range of special shooting modes to help you create panoramic photos, dolly zooms, hyperlapse and timelapse videos and more. You can also trigger the camera using gesture controls – flick it a V-sign to snap a selfie – which sounds gimmicky but comes in genuinely handy (no pun intended) when the gimbal is set up on a tripod. One new feature for Mimo is ShotGuides, a collection of creative tips and tutorials that shows you, in app, how to pull of certain types of camera move with the OM 5. I found the pop-up suggestions quite annoying (you can turn them off, of course), but for beginners struggling to make their content sing, these themed suggestions could make a big difference.
Performance: Steady as she goes
The OM 5 is a great stabilisation platform for your phone: as close to your own tiny Steadicam rig as you can get for £139, we think. The gimbal arm has its limits, obviously – fling it around too much and it'll judder as it struggles to keep up with your motions – but used properly it'll give your video footage a smoothness that even the steadiest pair of hands couldn't achieve.
In conjunction with the Mimo app, the gimbal's customisability is also a big plus point: you can quickly tweak its speed and responsiveness to suit your needs. If it's not behaving quite as you'd like, chances are you can alter that by adjusting these parameters.
It's particularly suited to vlogging using your mobile's front-facing camera, as ActiveTrack 4.0 and the gimbal take most of the work out of shot framing, leaving you to concentrate on walking and thinking of something interesting to say. The lower weight compared to the OM 4 and the inclusion of the new extension rod don't hurt either, putting less strain on your arms.
The one downside of the smaller size that we mentioned earlier? It's a smaller battery, which cuts the OM 4's 15-hour battery life to 6.4 hours (according to DJI's spec sheet). While that's a big drop, we think the trade-off of the more portable size and addition of the extension rod is worth it; the battery recharges via USB-C in any case, so finding a way to top it up during longer shoots shouldn't be too tricky.
DJI OM 5 verdict
If you already own an Osmo Mobile 3 or OM 4, there's probably no pressing reason to immediately upgrade to this new model. At its heart the OM 5 is not a great leap forward over its recent predecessors, and with the battery life reduction you could even argue that the OM 4 is a better bet for some people (especially given that its price is likely to drop in the wake of the OM 5 launch).
That said, we think the portability of the OM 5 will prove a big boon for most users, and the extension rod is a smart inclusion too. DJI has certainly found some ways to improve on the already-excellent OM 4 here, and for first-time mobile gimbal buyers we'd certainly recommend the new model.
Tech specs
| | |
| --- | --- |
| Compatible phone weight | 170-290g |
| Compatible phone width | 67-84mm |
| Compatible phone thickness | 6.9-10mm |
| Connectivity | Bluetooth 5.0, USB-C |
| Battery Capacity | 1000mAh |
| Battery life (approx) | 6.4 hours |
| Weight (gimbal only) | 290g |
| Folded dimensions | 174.7 x 74.6 x 37mm |
Stuff Says…
A rock-steady gimbal in a travel-friendly size
Good Stuff
Excellent phone stabilisation
Smaller and lighter than OM 4
Handy extension rod
Bad Stuff
Shorter battery life than OM 4