Dell Visor hands-on review
Mixed Reality made simple, without the neck ache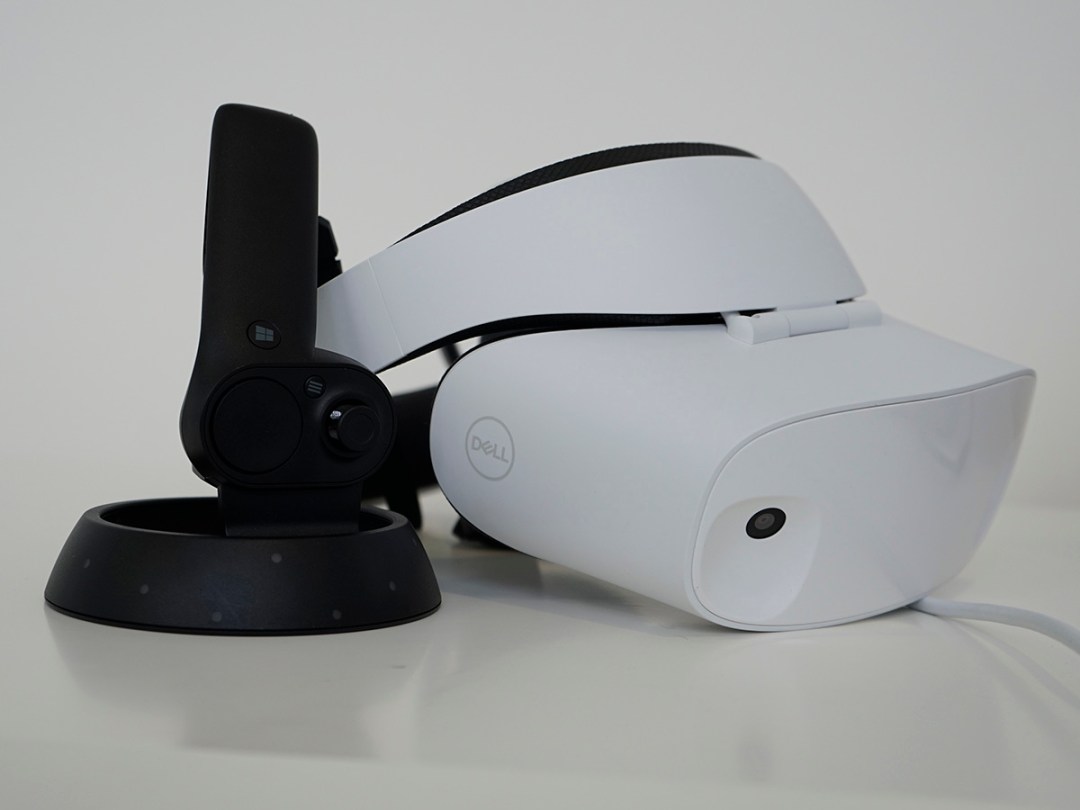 It might look like some of the test kit you'd find in an Aperture Science laboratory, but don't panic: the only portal Dell's Visor headset will be opening is to a world of virtual reality.
Or, should I say, Mixed Reality.
Y'see, this kit is based on a Microsoft reference design, and Microsoft isn't only interested in VR. Eventually, it wants to add Hololens-style augmented reality into the mix, but you've got to start somewhere, right?
Microsoft's reference starts out like a self-contained Oculus Rift or HTC Vive, with a headset and motion controllers opening Windows up to the virtual world. Companies like Dell then do their thing, and this is the result.
Dell's version focuses on comfort and convenience, because VR might be fun, but not if it comes with real-world neck troubles.
HEADSET
Like every other Mixed Reality setup, the Visor uses built-in cameras to track its motion controllers. The glossy white plastic contrasts well with the black camera lenses, making it look like a pair of squinty alien eyes. It's cute, and I love it.
Dell has clearly been paying attention to Oculus, HTC and the rest of the VR world, and avoided stepping into the same potholes of discomfort. Instead of putting the bulk of the weight over the front of your face, dragging your neck down under the heft of the headset, the Visor is balanced so all the weight is shifted towards the top and back of your head.
It's much easier on your neck, even if you do need to tighten the headband up significantly to keep everything in place while you're bobbing and weaving in VR.
With no fixed headphones, you're free to add your own, and cable hooks help keep wires under control – not that there are many, mind, with just one leading out of the headset and splitting into HDMI and USB at the end.
The headset itself is also on a hinge, so you can swivel it up without taking the whole thing off. This is huge news for glasses wearers, as it's much easier to find a comfortable fit without the faff of taking your specs off each time you need to adjust the straps.
I'd say it doesn't feel as premium as a Rift headset, but then it's nowhere near as expensive, so I guess that's a fair trade.
CONTROLLERS
With cameras in the headset doing all the tracking, the bundled motion controllers don't need to be paired with any sensors – so HDMI and a single USB port is all you need to get going.
The controllers themselves are a bit like the Oculus Touch controllers, with triggers, grip buttons and analog sticks, surrounded by a ring of LEDs acting as marker points. Keep 'em in front of you and they'll accurately appear in VR; bring 'em behind you and they'll vanish. Room-scale, this is not, but considering the whole setup is half the price of a Rift Touch combo, I think that's fair.
We're looking at Microsoft's reference design here, so you'll get the same experience no matter which Mixed Reality headset you go for, but they're a little on the chunky side. I kept accidentally prodding the Windows button while shooting red baddies in Super Hot VR, sending me back to the virtual hub world. Oculus still has the edge here, so hopefully Microsoft will let companies tweak the layout a bit to make them more comfortable in the long run.
INTERFACE & EXPERIENCE
So how does it all play, then? Just like a Rift or a Vive setup, really. Having everything self-contained in the headset, with no need for external sensors, but maintaining such consistent motion tracking is really quite impressive.
The 1440p resolution in each eye keeps everything looking very sharp, and the controllers work well too – even if they're not quite as nice to hold as a pair of Oculus Touch controllers.
I don't quite know what to make of Microsoft's virtual hub portal, though. It's essentially a virtual house, where you pin apps and games to the walls like huge canvas paintings, and you can wander around by pointing and clicking the motion controllers.
If you're a fan of the Sims, though? Then you'll probably love it. You can customise the whole thing, adding pot plants, changing wallpapers and generally making it feel like home. There's even the option to open a hovering virtual version of your desktop, right in front of your eyes.
I put on a VR headset to play games or watch VR videos, so don't spend much time staring at menus, and the whole thing felt a little lost on me. Still, it's a good demo for anyone that doesn't already have a library of VR games to jump straight in to.
DELL VISOR INITIAL VERDICT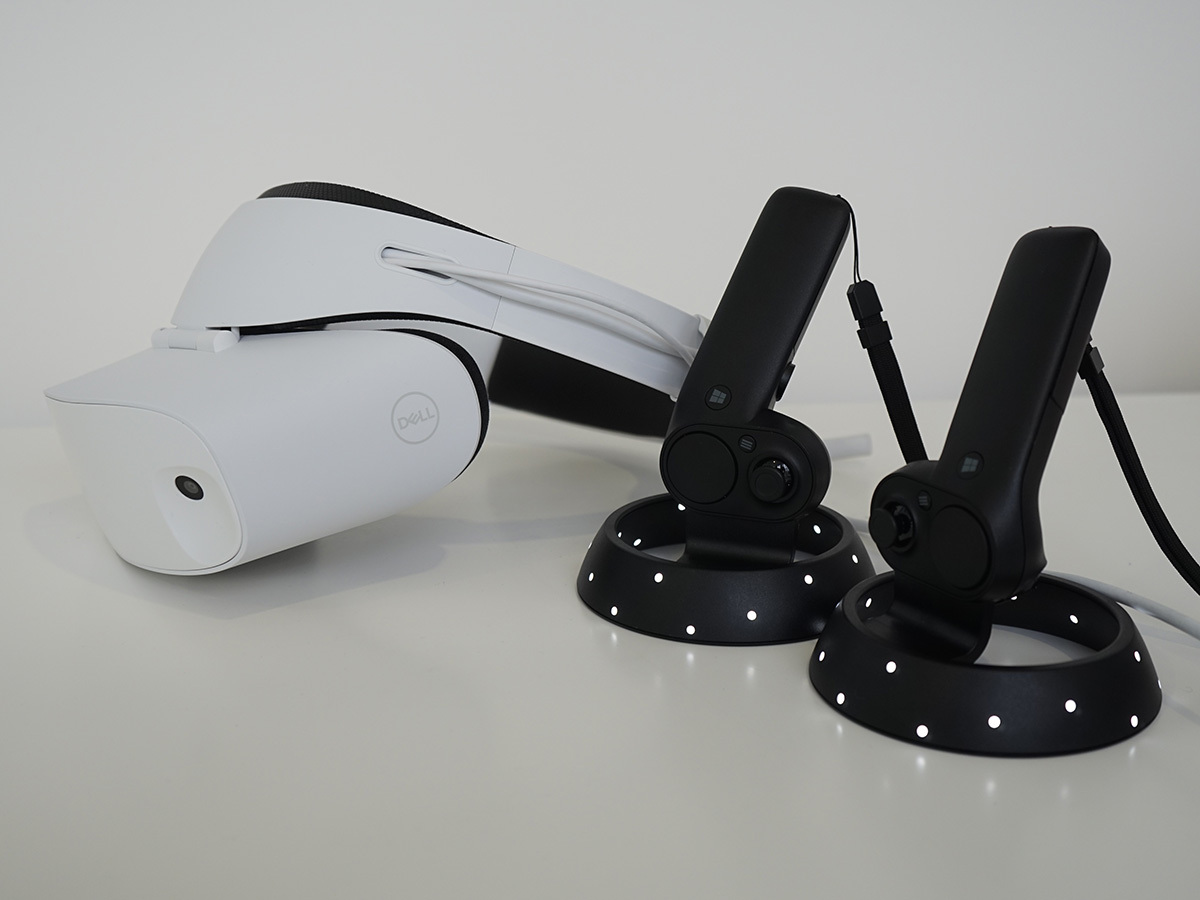 Mixed Reality is a bit of a fib right now – these headsets are purely VR. Still, Microsoft is putting the cogs in place now, so it can roll out a combo headset in the future – it's a sensible move, if a little misleading today.
At least the tech is sound, and Dell's version is comfortable – even for a speccy-wearer like me. It might not feel quite as secure as a Rift or Vive headset, but the flip-up action is a godsend if you've got glasses.
The price is right, too, which could give HTC and Oculus cause for alarm. Especially because Mixed Reality headsets will play Steam VR games right out of the box, meaning a healthy catalog of games at launch.
It will be launching in October, but with Acer, Asus, Lenovo and HP all working on their own versions, we'll be spending a heck of a lot of time in VR before we can decide which is best.