CyrusLink Link Mini Two review
It won't win any beauty pageants, but can CyrusLink's LinkMini Two overcome its traumatic encounter with the ugly stick and prove itself the ideal home for your iPod?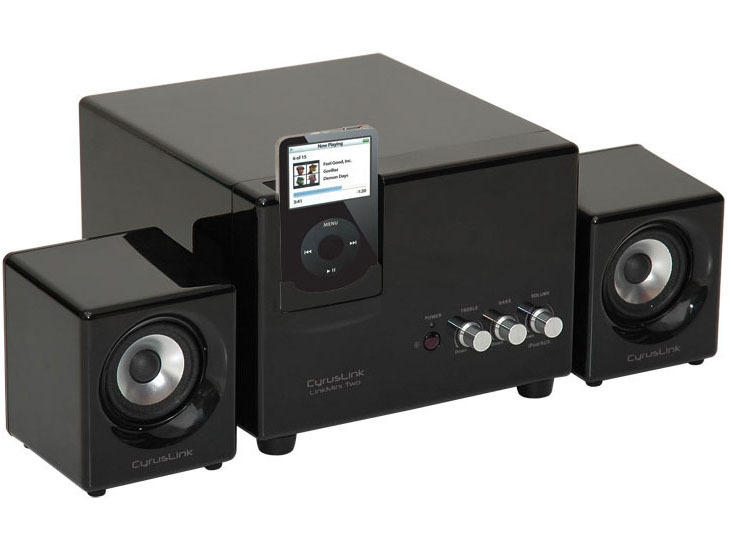 Let's not beat about the bush: this iPod speaker system is so brutally designed it manages to make Apple's milk crate-inspired iPod Hi-Fi look wondrously sleek.  
But as you may have noticed from the star rating above, we here at Stuff are far from the tut-tutting aesthetes you might take us for. Despite its looks, we think the LinkMini Two is pretty damn fine. That's right, we appreciate its personality.
Remote possibilitiesFor starters it's a very accommodating sort, offering a comfortable nesting place for all iPods third-gen and onwards within its main active subwoofer unit.
It's also easy to get along with thanks to a dinky remote that not only gives you full control over your iPod but also lets you alter the sub's treble, bass and volume controls.
Connectivity's good too, with an S-Video out on board so you can view images and videos stored on your iPod on a big screen TV.
A sound choice
But what really clinched our love for the LinkMini Two was the incredible sound that it produces.
Despite those tiny satellite speakers and the fact that the bass, treble and volume controls don't have the widest range, the whole package works really well. It produces decent mid-range and bass, provides real detail and seems more than content with most musical styles.
You may have trouble stuffing it into your holiday suitcase – Logitech's mm50 is a better bet for travelling – but as a desktop solution, the Linkmini Two is fine buy for the price.
Related reviews