Cambridge Audio Azur 540A review
Clean-cut looks, solid and reliable. No, it's not Brandon Walsh out of Beverly Hills, 90210. It's a hi-fi amplifier!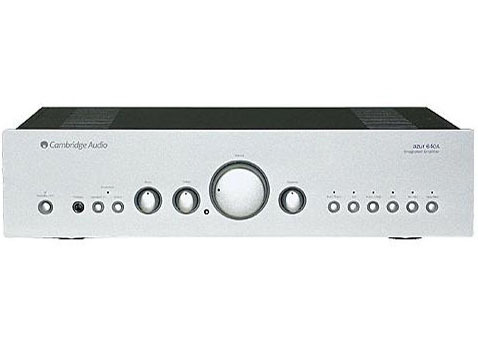 Darwin would've been pleased with Cambridge Audio's design philosophy. The company lets a single basic amplifier evolve into a variety of models depending on the situation: thus the Azur 540A is the junior sibling of another fine product, the 640A.
The main difference? The 540A has a slightly reduced output of 50w per channel against the 640A's 65w – and this goes hand in hand with a useful £100 off the price.
Full metal jacket
Otherwise, the two amps are all but identical, meaning that the 540A looks just as good as the more-expensive version and is just as well built, with a high-quality look and feel to its aluminium fascia and casework.
And the beauty's so much more than skin deep: the amp's built on a substantial vibration-absorbing chassis, and uses a large toroidal transformer for hefty power delivery, short signal paths for optimal resolution, and a buffered output stage to avoid distortion.
No lack of inputsBasically, that's all nifty stuff. Six line-inputs are provided, along with two tape outputs, and one of the inputs can be converted to accept the signal from a turntable with the addition of a £20 moving magnet phono board.
Your flexible friend
The amp also has two sets of speaker outputs and a headphone socket, and a remote control comes as standard. The handset can also drive the Azur CD players and tuner.
And if all this flexibility makes you wonder about the sound quality, features such as tone control defeat should provide some degree of reassurance. As, of course, will the way the Azur 540A sounds. It benefits from a decent run-in, and after a few days becomes capable of a big, powerful, hard-charging sound when the music demands, having plenty of headroom for dynamic slams even when running at high levels.
Handles whatever's thrown at it
At the same time, it offers excellent control and refinement. What we particularly love about this amp is that it's such a great all-rounder: whatever type of music you throw at it, it always comes up trumps, responding perfectly to everything it's asked to do.
Use the 540A with a decent CD player and speakers (such as Cambridge Audio's own £200 Azur 540C and a pair of £180 Wharfedale Diamond 9.1s), and you'll soon be revelling in big, deep soundstages, marvelling at the precision with which performers are placed.
This highly affordable amplifier is an ideal building block on which to build a fantastic budget system.