Archos 604 WiFi review
The most feature-packed Archos yet, with Wi-Fi and a large touchscreen added to the full media centre party. For extreme gadgeteers only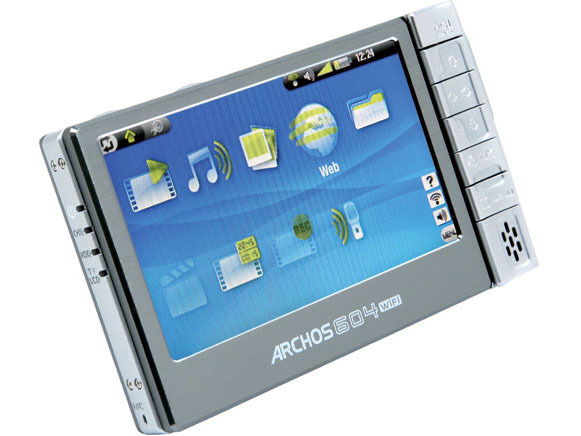 Archos kick-started the portable video revolution back in 2002, while most of us were only just waking up to the charms of the first-generation iPod.
The latest addition to its growing family is the 604 WiFi, a 30GB media player with built-in wireless connectivity – a hot feature right now thanks to the hype surrounding Microsoft's Wi-Fi enabled Zune.
But unlike the Zune, which only lets you temporarily share heavily DRM'd music with other Zune users, the 604 offers proper networking capabilities, such as web browsing, PC file transfer and audio and video streaming.
Frustrating set-up
Yet while Archos has come a long way, it still hasn't found a way to make wireless networking easy: in all, set-up took us about five hours. And we managed to lose our stylus because there's no place to store it in the unit itself – only in the supplied slipcase.
Once connected you can use the touch-sensitive screen to feel your way around the web using the preloaded Opera browser. The 4.3in screen is similar in size to Nokia's excellent 770 Wi-Fi tablet, but at 480×272 pixels only has about half the resolution, which means you have to choose between seeing a portion of the website with legible text, or the full width without being able to read. Still, it's a nice added-value feature and it's better than either the PSP or Nintendo DS browsers.
You can play anything from the shared folders of your Windows PC – though we couldn't make the Archos see our Mac, even with SMB sharing enabled. DVD rips played perfectly across our network, and the battery seemed up to the task.
Essential add-ons
Unfortunately, video content on your PC won't play if it's in the iPod's H.264 format – you need to spend an extra €20 (£14) for the Archos software plug-in. Another €20 will get you MPEG-2 support for DVD quality movies and surround sound through the optional docking station (another £70). This bumps the price for the entire package up to around £440.
It may sound excessive, but the dock is essential. You can connect the 604 to a TV through a composite connection, but you need the dock's S-Video or component outputs to enjoy decent quality video on the big screen. The docking station also allows direct recording from your TV or DVD player, encoded to MP4 by the Archos unit.
This easy way to get video onto the Archos is a killer feature, as anyone who's endured the pain of ripping and converting DVDs on a PC will attest. However, it also shows up the biggest limitation of the 604 Wi-Fi – with just 30GB of hard drive space, you're going to fill it up rather too quickly. The same cannot be said for the 160GB 504 – but you'll pay £140 more for that, and it doesn't have wireless. Decisions, decisions!
The bottom line
If you're the sort of gadgeteer who enjoys tinkering, don't hesitate. If you're after a great portable video player, go for it. But if you're just shopping for an iPod rival, think twice: the Archos is a far more demanding beast than Apple's user-friendly music player.