Apple iPhone 8GB (US) review
The most hyped and anticipated phone of all time has finally arrived. Can anything else compare to this multi-touch-sensitive widescreen iPod / phone?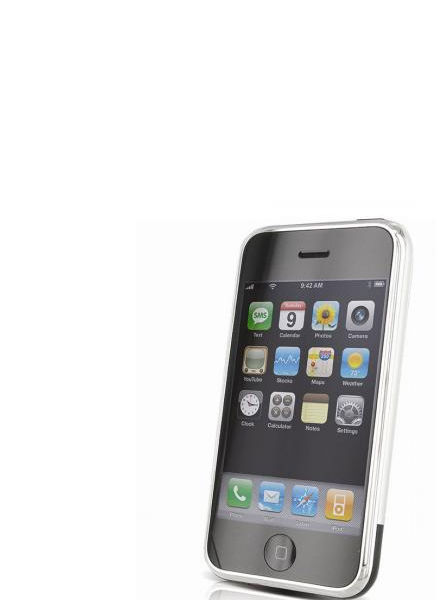 UPDATED: see our new hands-on video review
For years the iPhone has been whispered about as technology's holy grail, destined from its conception to be the greatest gadget ever made. Take the world-beating iPod, add a mobile phone and a few extra years of user-interface evolution, then package it up with the genius of the world's most imitated industrial design team. Surely success is guaranteed?
Maybe. But history is strewn with the carcasses of technologies that didn't live up to the hype. Just ask Motorola, whose previous attempt to produce an iTunes mobile met with nothing but derision.
Fortunately, the iPhone is no ROKR. In fact, Apple has succeeded in crafting a unique phone that is superior everything else on the market. In one great leap Apple has rewritten the rules for mobile web browsing, invented a completely new touch-sensitive interface, and evolved the iPod.
It's all in the touch
In the hand, the iPhone oozes sexiness; its wide, high-resolution screen is encircled by a halo of chrome and wrapped on its back side by cool brushed metal. When you hold it, it's thinner and lighter than pictures would suggest: it feels like you are holding the future.
Worried about a phone interface that relies on poking a screen with your fingers? Don't be. Navigating through the iPhone's applications is incredibly intuitive, and whatever you do you'll use the same system of taps, flicks, and pinches – all of which produce almost instantaneous, fluidly animated responses.
As a music player, the iPhone's Cover Flow album browsing (which, thanks to the built-in accelerometer, automatically appears when the device is held horizontally) puts the iPod's fabled Click Wheel to shame.
Connecting to a PC is gloriously simple, too – iTunes content is synched an iPod and, thanks to the iPhone's dock connector, the device can be used with any of the innumerable iPod listening stations. The iPhone even detects when it is docked for music playback and offers to turn on 'Airplane Mode' to minimise screeching feedback caused by its wireless transmissions.
The internet, not watered down.
Web applications, like Google Maps and YouTube, feel like integrated components of the iPhone when Wi-Fi is available. Browsing the globe from a satellite's point of view is glorious, using simple finger flicks for scrolling and pinches for zooming in and out is glorious. Though the phone lacks GPS, it can produce turn by turn directions when given start and end addresses. The YouTube application is likewise excellent, and the new selection of H.264 encoded clips look stunning on the iPhone's display (though the lack of Flash on means you can't access YouTube via the Safari browser).
But it's not all good news…
The iPhone's few failings are relatively minor. But, for new US users, AT&T's EDGE data network is terribly slow and brings the iPhone's web apps to their knees when a Wi-Fi connection is unavailable. Europeans will be distraught to learn that most GPRS networks aren't EDGE-compatible. Let's keep our fingers crossed that a 3G version is coming soon.
Learning to text via the iPhone's on-screen keyboard takes a bit of getting used to, and until you learn to trust the predictive and corrective software it will be significantly slower than a BlackBerry.
And there's no getting away from the fact that the iPhone is expensive (even in America) – $499 for the 4GB model and $599 for 8GB, in addition to a two-year service commitment with AT&T.
And if you're concerned about a smudged screen, then you'd better start worrying now. But heck, that's what sleeves are for.
In fact, you might need to keep it to hand – a few hours with the iPhone is guaranteed to be a very steamy experience.
So, who's up for moving to the States?
Use it with…
Stuff Essentials – Bluetooth headphones
NEW video: Hands on with the iPhone
Video: the iPhone launch in San Fran
News: iPhone price plans unveiled
News: Apple gives iPhone tours
Essentials: iPhone rivals roundup