Apple iPhone 7 Plus review
The new Product (RED) version adds more colour - here are our thoughts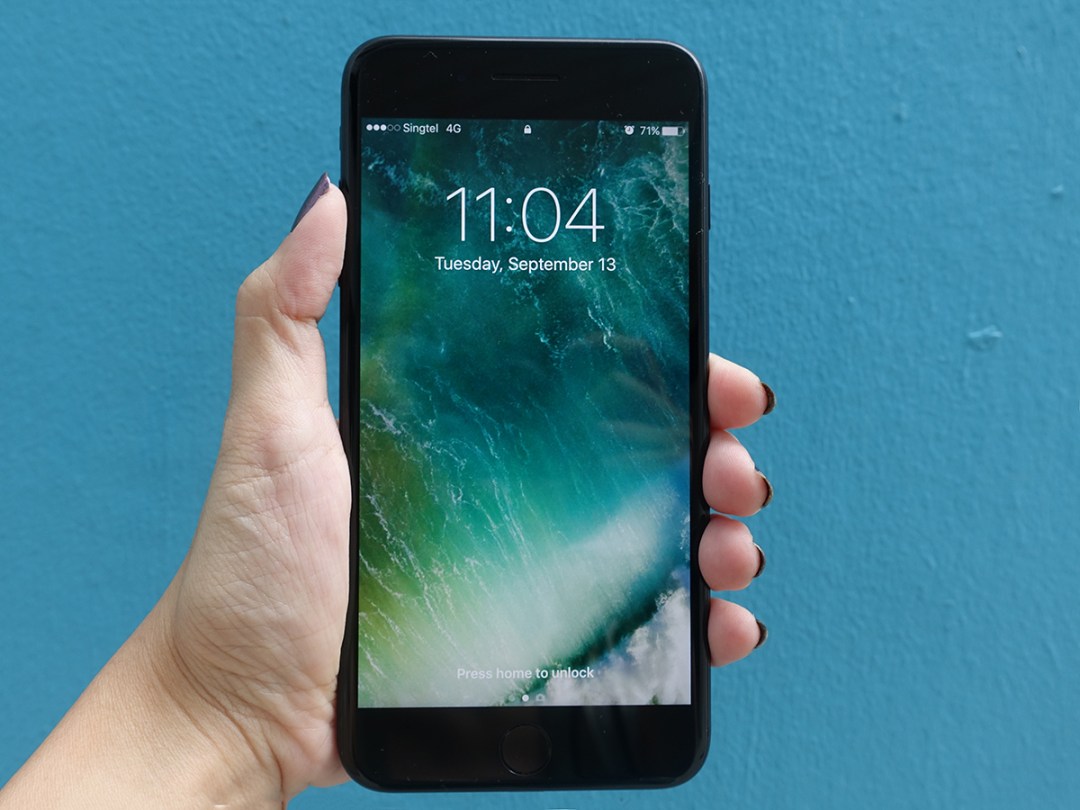 Fact: things are better when they come in pairs.
The rozzers would have a hard time arresting anyone with a single handcuff. Good luck knitting that ugly Christmas jumper with only one needle. And as if a solitary KitKat finger could ever last your entire tea break.
The particular pair we're interested in, though? The two cameras pointing out the back of the Apple iPhone 7 Plus.
What used to just be a plus-sized version of the vanilla iPhone has now fully stolen the spotlight from its smaller brother, thanks to some clever camera tech. Combine it with all the other tweaks and upgrades Apple has made for 2016, and you're going to find yourself needing bigger pockets – because this is now the best iPhone out there.
APPLE IPHONE 7 PLUS CAMERA: DOUBLE TROUBLE
Dual cameras are nothing new: Huawei's got a secondary black-and-white sensor on the P9, LG went wide-angle for the G5, and HTC had depth-of-field fanciness in the One M8.
Apple's approach for the iPhone 7 Plus? One sensor for close-up snaps, and another for zooming in on the action. It's a genius idea that has a genuine effect on the shots you take. This ain't no gimmick.
So how does it work? Well, hop into the camera app and you'll find a new 1x icon at the bottom of the screen. Tap it and you'll switch from the f/1.8 wide angle sensor to the f/2.8 telephoto, for 2x optical zoom. You can tap and hold, then drag up or down to digitally zoom in up to 10x. Optical image stabilisation goes a long way to keeping your shots steady, even when you're zoomed in, so you'll be able to pap unsuspecting wildlife without spooking them, or get closer to the action at a gig without having to brave the moshpit.
Bear in mind though that the optical zoom only works up to 2x, and that even Apple's legendary image processing can't rescue the detail that gets lost once you start dialling up the digital zoom. As you'd expect, results at 10x look a bit too fuzzy to print, especially when you're in the middle of a crowd of EDM ravers, but it's still handy to use as a set of mobile binoculars.
Zoom also works when filming video, but only at 2x optical and 6x digital magnifications. That's fine though, because whereas the pinch-to-zoom feature on last year's iPhones could leave your footage looking shakier than something out of the Blair Witch Project, you'll now have two hands to steady the phone. That, combined with OIS, really smoothes out video recording.
It helps that iOS 10 lets you swipe the lockscreen to the left to jump straight into the camera app now, too. The sizable Plus was prone to toppling over with the old swipe up gesture, but you can now keep a firm grip on it when you're getting ready to snap that perfect selfie.
Unfortunately, the camera app's Portrait mode, which Apple reckons puts its phones on par with DSLR cameras (yeah right, Apple. We'll be the judge of that), isn't yet available.
It could be a killer feature if it works, creating convincing depth of field effects and beautiful bokeh, but we're staying sceptical for now. Other phones have tried, and failed, to do something similar. We'll update this review once we've spent some time with it.
Overall picture quality is staggering at times, with the wide f/1.8 aperture really helping the 12MP wide-angle sensor capture loads of light with every tap of the shutter button. There's an impressive amount of detail, even compared to the higher resolution Android competition, and the fact that you can now shoot in RAW gives you more control over the editing process.
Low light can't spoil the fun either. The iPhone 6s Plus could be a bit like Donald Trump searching for common sense, struggling to get a fix on something right in front of it, but focusing is a lot faster now. Noise still creeps in a little, but night photos look better than ever. The TrueTone flash has also been boosted with two extra LEDs, so you'll be able to light up even the darkest scenes.
It's easily one of the best smartphone cameras around right now, and one which gives the Samsung Galaxy S7 a real run for its money.
APPLE IPHONE 7 PLUS DISPLAY: SEE THE LIGHT
The reason all your photos look so damn good on that 5.5in display is that they're both shot and shown in a wide colour gamut. That doesn't just mean more colours, but also more lifelike ones – so you get greater vibrancy, without deviating from how a scene actually looked when you pressed the shutter button.
It's also the brightest iPhone screen yet, with a 25% boost to peak brightness which means you can now read the screen in direct sunlight. Yep, there's finally no need to run for shade whenever a WhatsApp message comes through.
It hasn't had a resolution bump, in line with Apple's feelings on Retina displays, but that's not a major problem. Images and text still look sharp enough, even stretched over 5.5in, so while it falls behind the QHD Android competition on paper, you won't notice the difference in the real world unless you really look for it.
Samsung's screen tech still has the upper hand when it comes to Netflix-binges thanks to the deep blacks and incredible contrast you only really get with OLED panels, but this is at least the best iPhone screen yet. And we'll just have to wait for the iPhone 8 Plus for OLED, eh?
Meanwhile, Apple's 3D Touch pressure-sensitive screen tech is now that little bit more useful thanks to iOS 10. Most of the major apps now feature pop-up menus which allow you to jump straight into the bit you want – the kind of change that you won't fully appreciate until you use it regularly.
For a more detailed look at iOS 10, make sure to read our full review here.