Apple iPad Pro 12.9 review
Apple's tablet colossus is upon us
When Apple goes big, it tends to follow suit.
The iPhone 6 Plus was a well-executed response to Samsung's Galaxy Note phablets and now the iPad Pro is coming for Microsoft's Surface Pro range. That means it's a monster tablet that's here to get stuff done, not just doss around with you on Netflix. And it's best used with a keyboard and stylus. Sorry, we meant Pencil.
So has Apple lost its nerve when it comes to tablets? Of course not. The iPad Pro is really about Cupertino catching up with its competition, and it does a good job of that.
Peak-xel
At 12.9in, the iPad Pro looks like someone ripped the MacBook display off its hinges. Yes, it's ginormous. Especially when you see it for the first time.
Pick the Pro up and that thought will fade right away. At 713g, it's light enough to negate any misgivings you might have about its gargantuan proportions. And, aside from the speaker grilles lining each of its four corners, it looks exactly like the other iPads.
Apple is extremely proud of the fact that it's managed to cram 5.6 million pixels into the Pro's screen giving it a 2732 x 2048 pixel payoff. So despite the bigger display, you're still getting the blisteringly sharp viewing experience you're used to with iOS devices. Vibrant colours, deep blacks, and no discernible pixels as far as my eyes could detect.
Despite all this super-sized tech prowess, the Pro doesn't pack in 3D Touch. Shame, those touchscreen shortcuts are extra useful on a bigger display like the iPhone 6s Plus'.
Not just a pretty face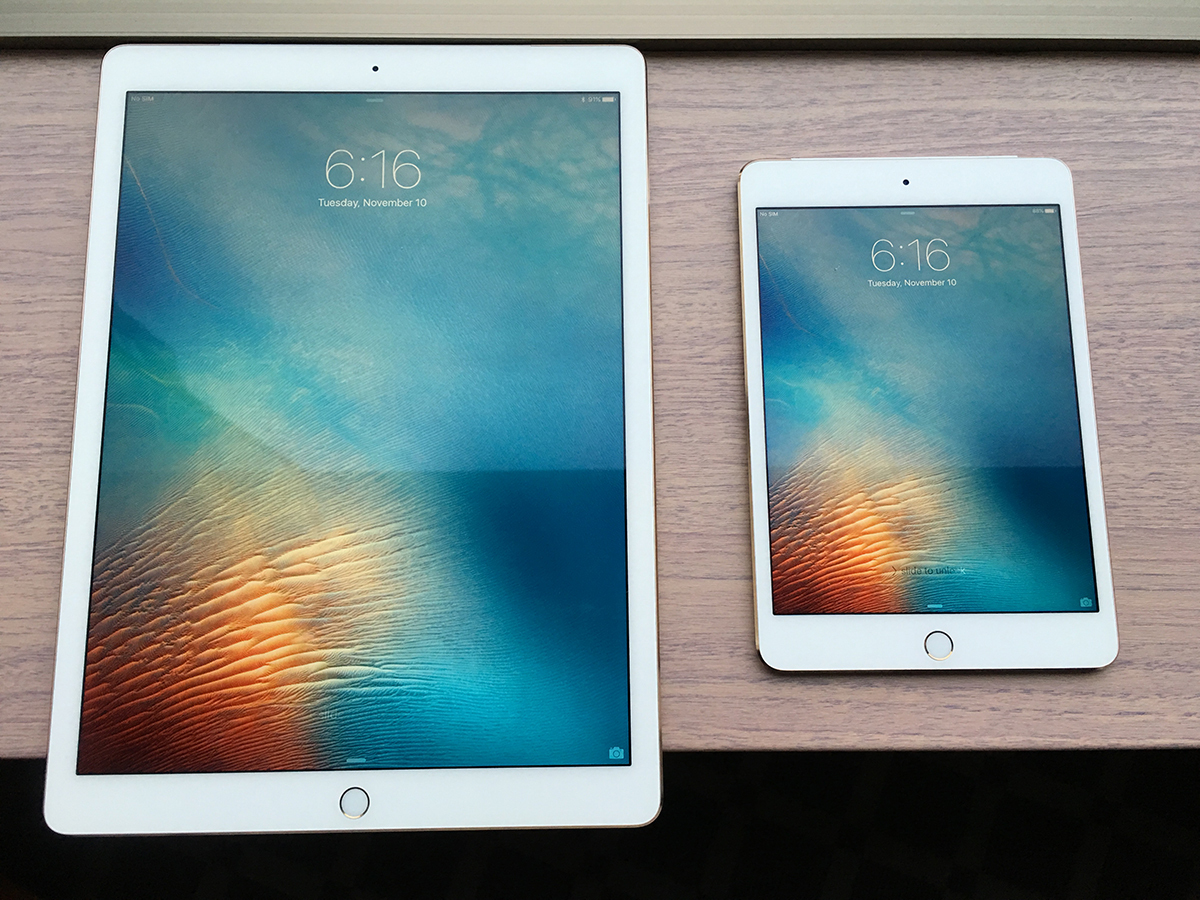 One feature the iPad Pro does have over the new iPhone 6s is speed – that's thanks to the incredibly powerful new 64-bit A9X chip. How powerful is it? This processor can simultaneously render up to three streams of 4K video footage in iMovie, or rotate a 3D model of a skeleton in the 3D4Medical app without succumbing to the stutters.
Basically, it's quick. Supremely quick, which is good for the professional creative sorts this iPad is aimed at.
Even high performance games like Geometry Wars and Asphalt 8 will flow without a hitch on this tablet. That said, playing a racer is tricky on such a large screen. Sure, it makes for an incredibly immersive experience, but one that's kind of like driving a super-luxurious bus. Simpler, tap-based titles fare a lot better on this work-centric iPad.
Sound expert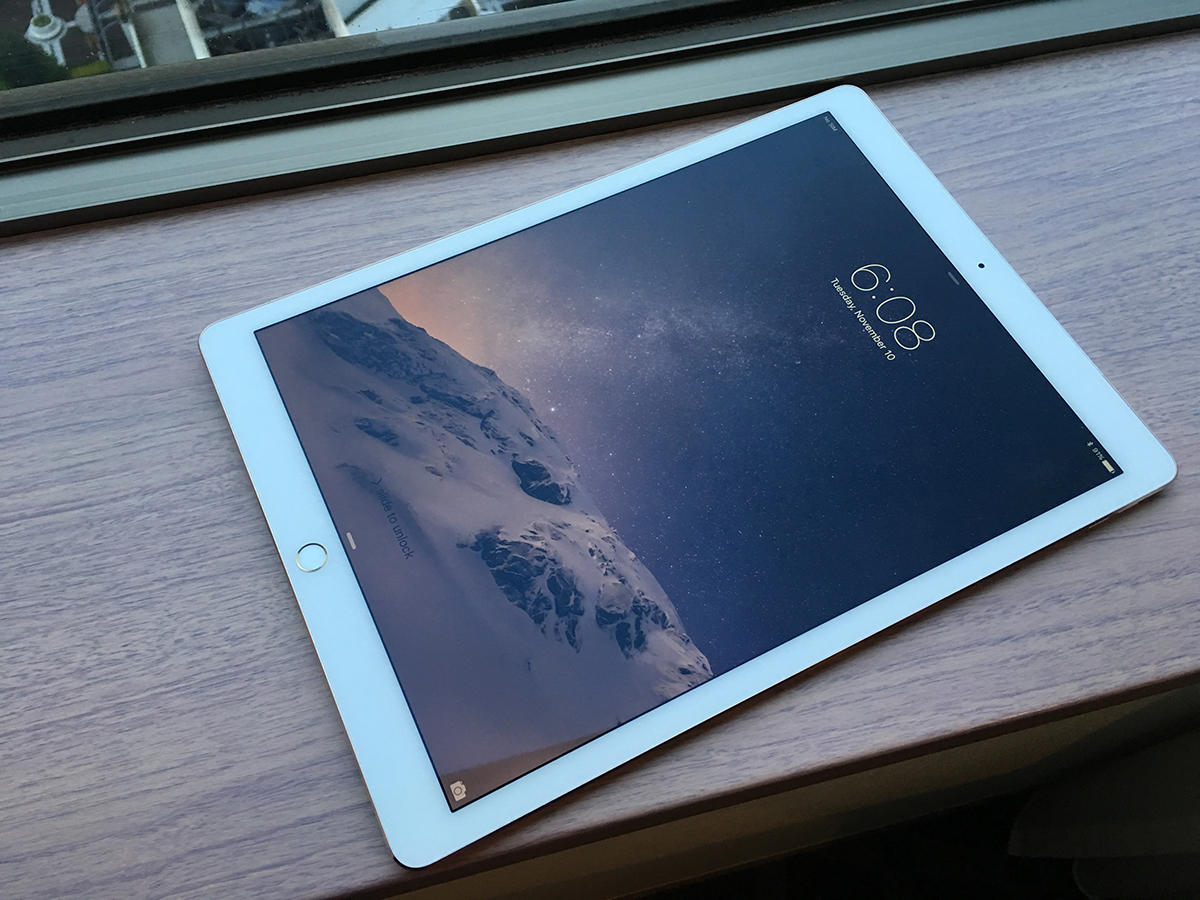 There is one thing the iPad Pro excels at when it comes entertainment: sound. If you've always hated gaming on the iPad without headphones thanks to its one dimensional audio, the Pro will change your mind. No matter which orientation your iPad is in, it will automatically channel the highs and mids to the top two of its four speakers.
However you hold your iPad, the result is a full-bodied version of the latest Adele tune. Or whatever you're into.
This feature immediately elevates the iPad Pro to entertainment hub status. Whether you're gaming or watching a movie, the experience is immersive and addictive. Playing Crossy Road on a tablet this size is the height of decadence.
OS-some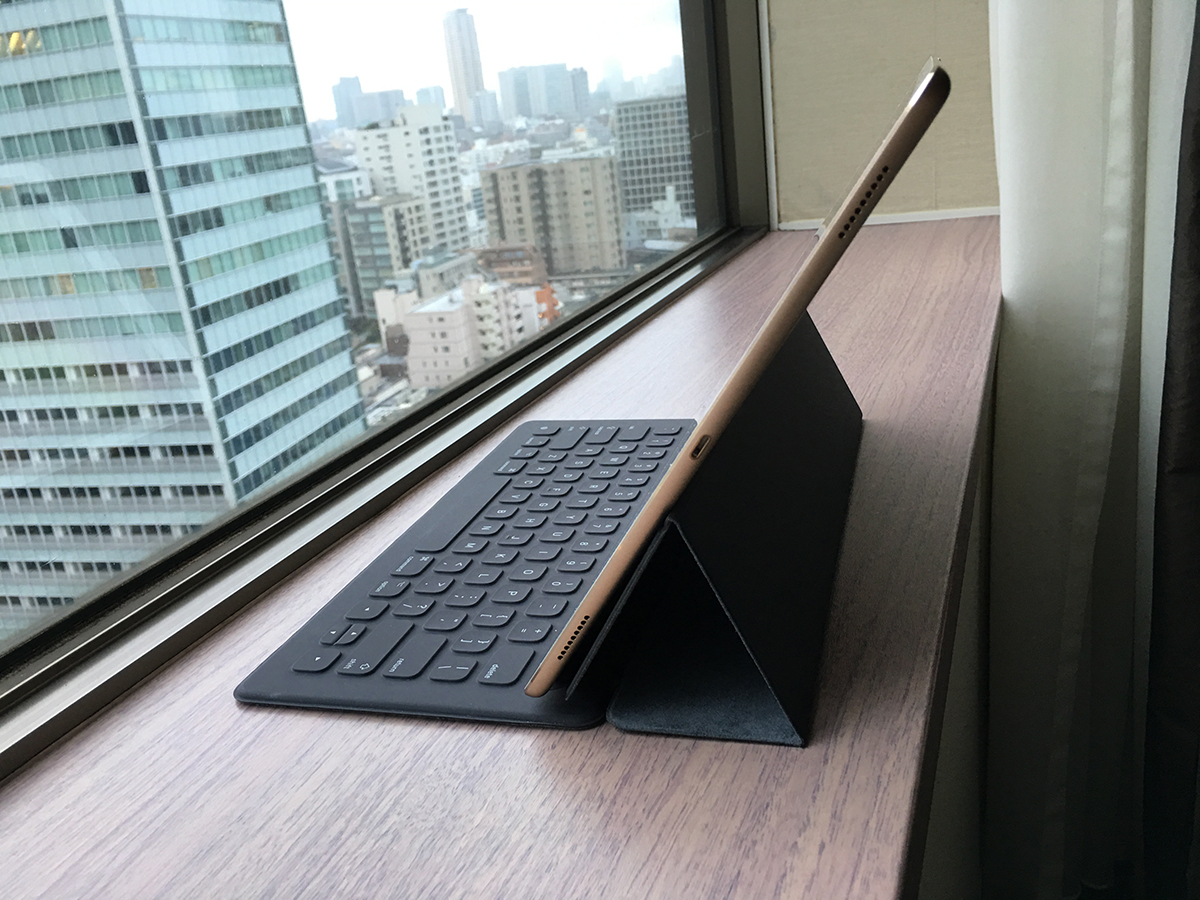 Although Apple's latest operating system brings multitasking to every iPad, iOS 9 makes most sense with the Pro. Using the tablet in Split View mode is like having two full-sized iPad Minis side by side – except in a way that's actually useful. It means you can comfortably read emails and look up information without having to zoom in on details.
And when you press the Home button while you're watching a movie or FaceTiming, you shrink the video down to activate Picture in Picture mode, which is useful for firing off a quick message or browsing your Facebook feed while the opening credits roll.
Clearly, if you're going to compare the iPad Pro with a certain Microsoft-made alternative, iOS 9 is the main point of difference between the two. Surface Pro tablets run on full fat Windows 10, whereas the iPad Pro skimps on El Capitan. This means the Pro gives you all the apps you're used to on your mobile devices, but they're maxed out in terms of visual experience and power.
The downside is that you can't use the desktop versions of Photoshop or InDesign on the Pro, which really holds it back in the productivity stakes. In terms of working from anywhere to meet a last minute deadline, Microsoft's Surface Pros have the edge. Even though they won't last as long as the iPad Pro, which is a beast when it comes to battery life.
Our Geekbench 3 battery test with the Pro lasted 14 hours 18 minutes and 50 seconds to be exact. However, do note that this was only one time with a fresh battery, so you can expect the Pro's performance to decrease over time even though it's a very positive starting point, more than the 10 hours Apple promised.
Just the right type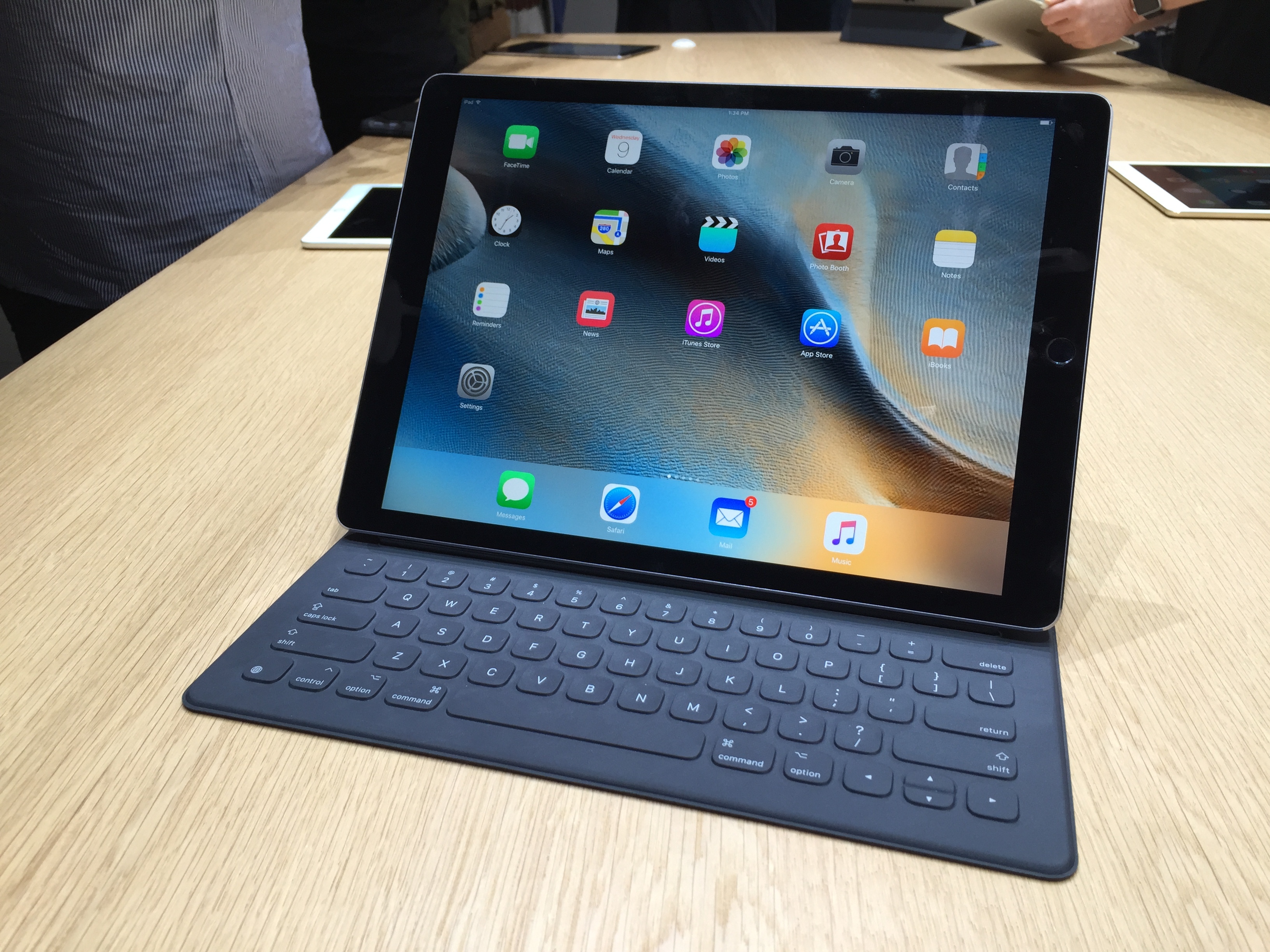 Of course, you aren't really meant to use the iPad Pro in isolation. Apple has released two major accessories for its mega tablet: the Smart Keyboard and Pencil.
If you can only afford to buy one of these, go for the Smart Keyboard. Not only will this make typing much easier, as per Microsoft's Touch and Type Surface covers, it also means you can use your Pro like a laptop.
The Smart Keyboard is covered in a smooth mesh-like fabric that's water and stain-resistant so you can clean it quite easily. Connecting it up to your Pro is easy too, there's no need for a power button or even Bluetooth connectivity; all you have to do is line the iPad Pro up with the keyboard and it clicks into place for you to start typing right away. Just like that.
Once united in magnetic union, both products have a surprisingly study hold on each other. It might not look the most stable combination when compared to the Surface Pro's kickstand but, thanks to a triangular fold at the back, it passes the lap test. I've typed most of this review using it balanced on my lap and at some point, even on a pile of blankets comfortably thanks to the greater surface area.
The Smart Keyboard's keys have a nice give to them too, with more depth than you'd expect. For those who've been using MacBooks, the keyboard layout is the same so your fingers won't be tripping over uncharted typing territory.
Ink-credible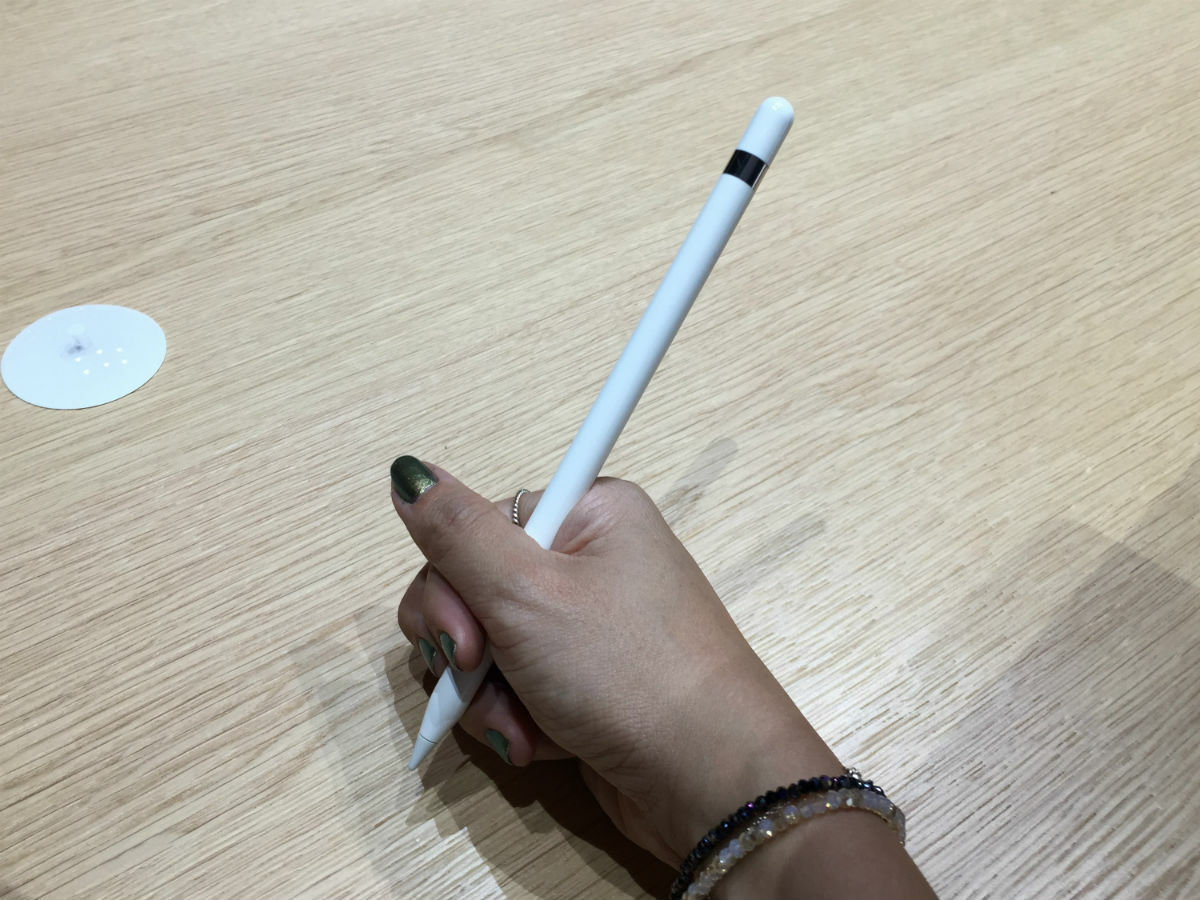 Ah, the Apple Pencil. The one that saw Apple receive much ridicule in September when it was first announced.
Why? Well, Steve Jobs once said "Who wants a stylus?" at the original iPhone launch and apparently his wisdom is infallible, just like the Pope. As much as we'd like to join in with this parade of derision, the Apple Pencil really works quite well with the Pro's 12.9in screen.
In essence, it's a very handsome pure white stylus with silver accents that works with the iPad Pro via Bluetooth. It's bigger than most in the market because it's designed to replicate your experience with a real life pencil. Just touch Pencil to the Pro and magical digital ink will flow straight out of its nib. It's almost like writing on paper, if paper ever came covered in glass and cost £679 per sheet.
As someone who prefers writing over typing, I loved scribbling ideas down on the iPad Pro. It would be great if the native Notes app could convert my handwriting into text, instead of saving my scribbles as artwork. Paper by FiftyThree comes ready for iPad Pro doodling and it's delightful to use thanks to its range of tools and realistic shading function. The app is also smart enough to differentiate between your palm and Pencil, so you don't get to give yourself a cramp using it awkwardly.
Best for big pockets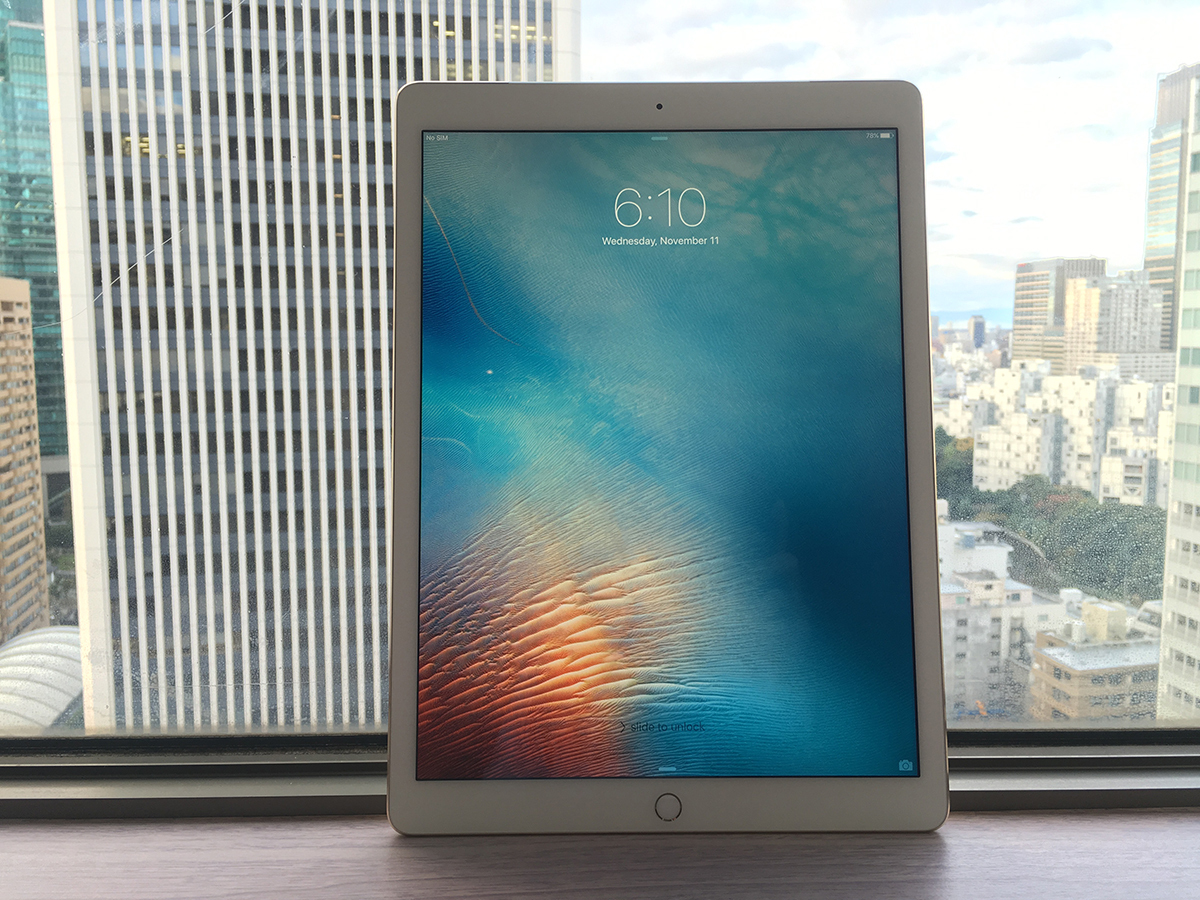 The monster iPad comes with an equally monstrous price tag. It's £679 and £799 for the 32GB and 128GB Wi-Fi versions respectively. If you're looking at the cellular model, there's only a 128GB version and it costs a princely £899.
That means this model is more expensive than the £849 MacBook Air 13in, but not by much. Throw in the Smart Keyboard for £139 and the Apple Pencil for £79 and it's on par with the £1,049 MacBook's pricing. Also note, there's no Rose Gold version – yet. You might have noticed that there's no 64GB option in typical Apple upsell fashion.
So if you're going to splash out on this giant tablet, might as well get cavernous 128GB storage while you're at it. Unless all you're going to do is watch Narcos on it, and then you're kind of missing the point.
iPad Pro Verdict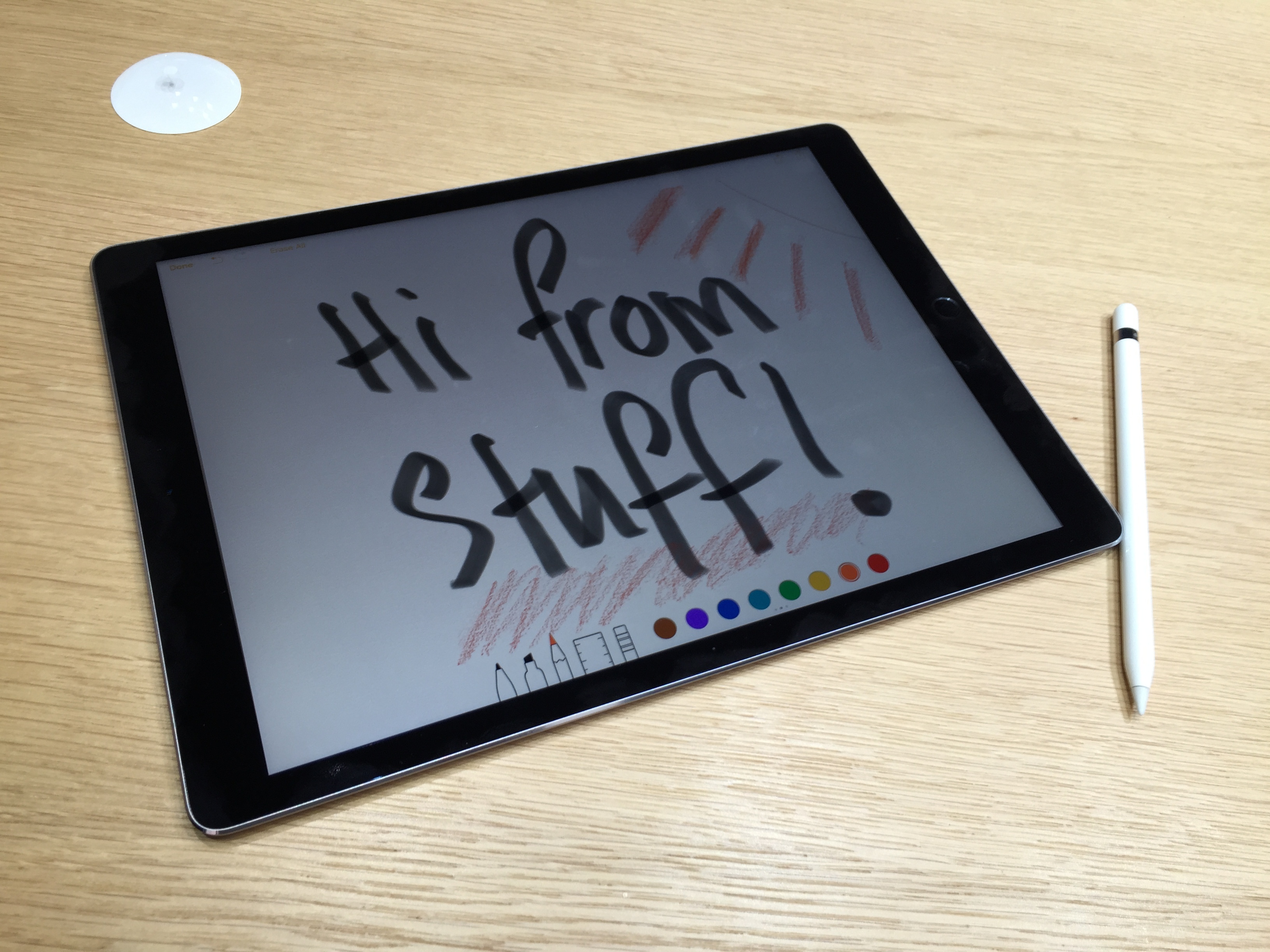 The iPad Pro is not for everyone. If you don't see the value of owning such a large tablet, then its generous curves won't be enough to persuade you to buy one. That's OK, just get the iPad Air 2 instead – it's still our top tablet all-rounder.
Because it runs on iOS 9, the iPad Pro isn't as serious a device as the Surface Pro 4. It means business, but works even better as a premium entertainment hub. It's the perfect digital coffee table book that just about doubles as a laptop. So long as you can get by with the app-based incarnations of desktop software like PhotoShop and Excel.
If you're happy to pay a high price for this limited functionality, then make sure you pick up a Smart Keyboard and Apple Pencil with your iPad Pro. That's a lot of screen you'll have just bought yourself, best make the most of it.
Stuff Says…
The supercharged iPad Pro is for serious creatives with seriously deep pockets
Good Stuff
So much crisp display
Improved immersive sound experience
Super long battery life
Bad Stuff
Not 3D Touch-enabled
Accessories not included
Supersized price tag