Apple iMac with Retina 5K 27in (2015) review
All your pixels are belong to us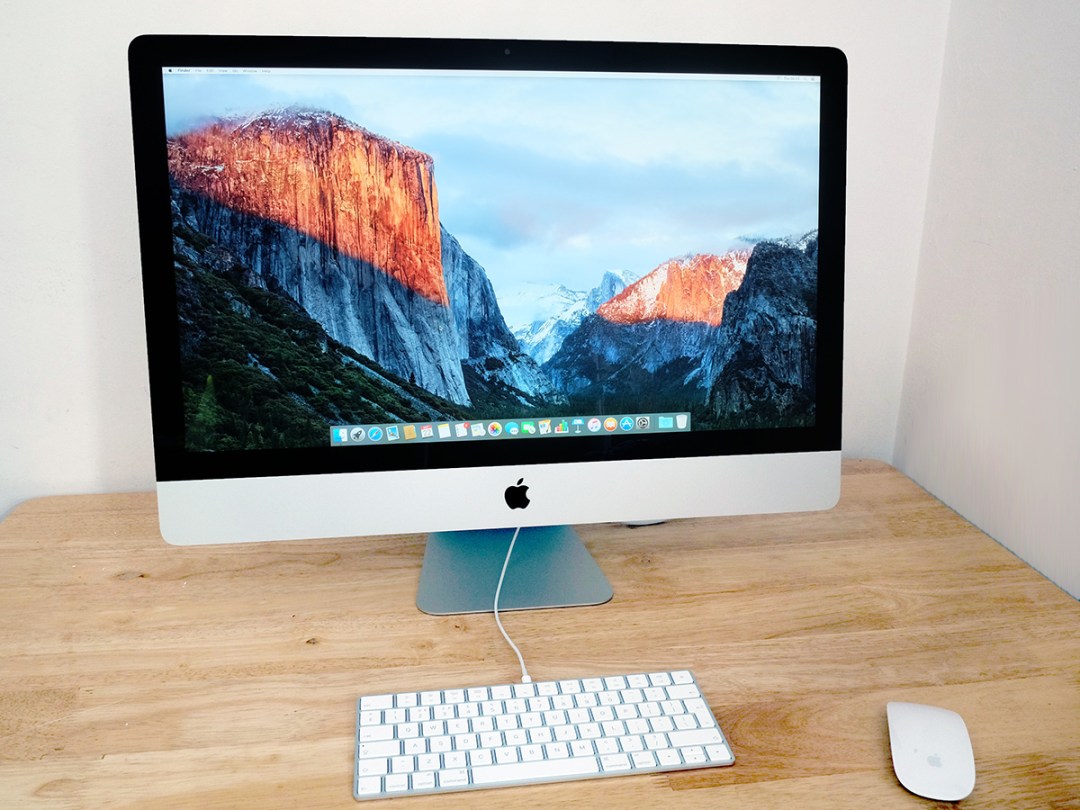 Over the last 12 months, Apple's approach to computing has totally changed (again). It's redesigned the MacBook and came up with a brand new giganto iPad, the iPad Pro. But why would it mess with the 5K-screen 27in iMac?
You want it thinner? Lighter? Are you mad? The new iMac with Retina 27in isn't about that.
Apple hasn't messed with the big daddy iMac too much this year other than by bumping-up its brains a bit, with new GPUs and Skylake-generation Intel CPUs. But let's take another look at if maybe it's time for all of you to upgrade.
Catalogue model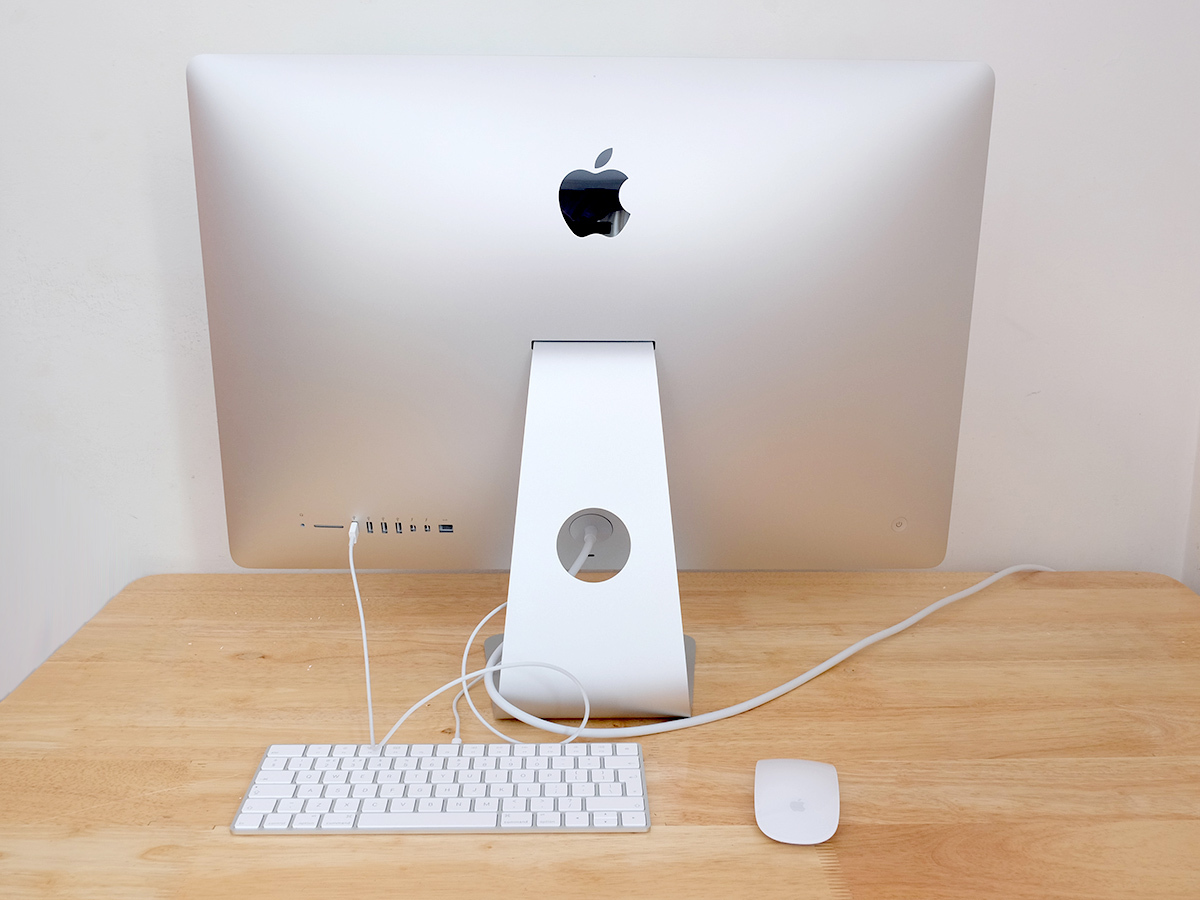 The iMac with Retina 27in looks just like its predecessor. But it still made my jaw drop when I first got the thing out of the packaging. I'm a MacBook user day-to-day, and the iMac design just isn't pummelled into our eyeballs so often that it becomes ordinary – like every iPhone five minutes after it has gone on sale. There's still room to be impressed.
Apple's iMac is a curved metal display whose careful design helps trick you into thinking it's as skinny as a MacBook when it actually houses all the bits you get in a desktop PC. Including, in the one I'm using, a dedicated graphics card that'd soundly beat the GPU of your PS4 in a drag race.
This is an all-in-one computer with a difference. For starters, you'll actually want it.
There's no assembly to an iMac other than plugging-in the dead simple power cable. That's right, even the power supply unit is built into the casing. The stand is fixed to the display, and lets you tilt the iMac screen back and forwards a bit.
This is a totally mainstream device, though, as expensive as it is. It doesn't try to do anything weird like letting you lay the display flat or twist it around. As with all the other iMacs, it doesn't have a touchscreen either.
Looking great matters more, apparently. The one bit I don't love about iMacs in use is the way all the connectors sit on the back. I often end up jamming a camera SD card in and out of the computer several times a day, and it being on the back just isn't that handy. Sure, you can just get an external reader and USB hub. But even the most hardened Apple fan has to admit a few little bits and bobs wouldn't be as they are if it wasn't for that slim, curved design.
Want to know what ports you get? Four USB 3.0s, two Thunderbolts, headphone jack, SD card slot and Ethernet. There's no USB-C nonsense here, as seen in the 12in MacBook.
If you're reading this, you're probably already sold on the design. The real question is whether the 5K display is worthwhile.
Is 5K worth £2K?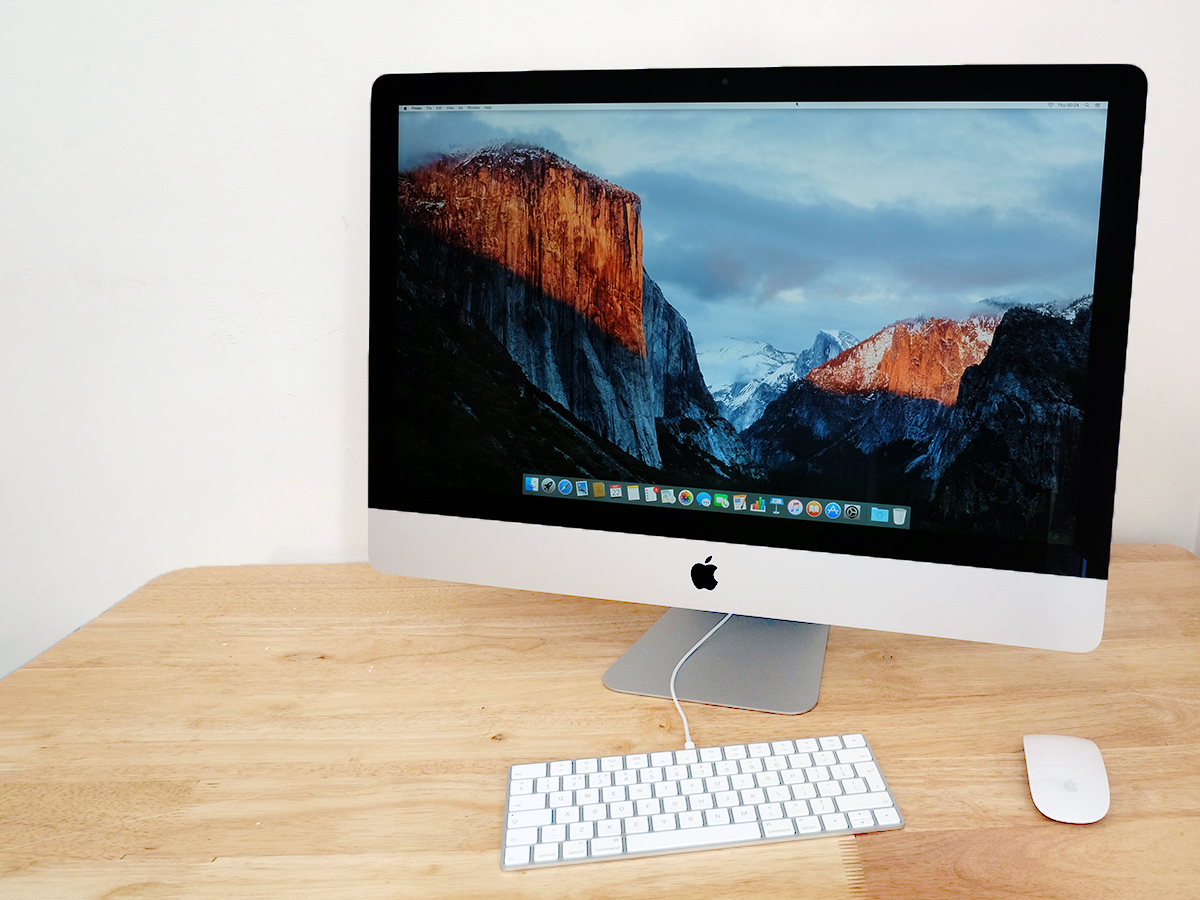 That's not an easy question, but I can tell you it's gorgeous. This 27in model uses 5120 x 2880 resolution, with more than 14 million pixels across the entire screen. It can almost match the output of many compact system cameras, pixel-for-pixel.
It's incredibly sharp, especially for a display this large. Most of the time I work off a Dell 1080p monitor that's plugged into a Retina MacBook, and the iMac with Retina 27in isn't going to make it easy to return. People often talk about how movies and games really benefit from super-duper resolution, but it's actually the most boring thing of all, plain old text, that improves the most.
Seeing text as smooth as sharp as it is on a high-end phone, but on a 27in screen, is an eye-opener.
Colour performance is great too. iMacs aren't just favoured by designer-y types because they like OS X. As standard it uses its own colour profile that's like sRGB with a bit more pop, contrast and red depth, but there are plenty of other colour profiles to match the other professional standard. Not a display nerd? This basically means you can alter the screen personality in two ticks: more saturated, less saturated and so on, but with all the shades set to match each other.
The one part that feels a little ordinary in an all-round extraordinary display is black level. Next to the pure black of the glassy display surround, you can tell the iMac with Retina 27in screen is at heart still a normal IPS LCD display machine.
One dead neat feature is that the iMac with Retina 27in, like a laptop or phone, has an ambient light sensor that lets it dim down the backlight when you turn the lights off. We imagine some of you might only be able to justify the 27in iMac if you can use it as your main 'TV' too, and it'll do the job pretty well.
I watched a bit of bonkers sci-fi TV show Fringe with the lights off: it looked pretty good. The raised black level is fairly obvious in cinema-style conditions, but you weren't going to try to replace your plasma or OLED TV with one of these. Were you?
For bright conditions, the iMac with Retina 27in also has a pretty terrific anti-glare coating. Even better than the MacBook one, to my eyes. This really helps minimise reflections and means you can plonk the iMac in more-or-less any room, especially as the screen goes incredibly bright when needed too.
iMac vs games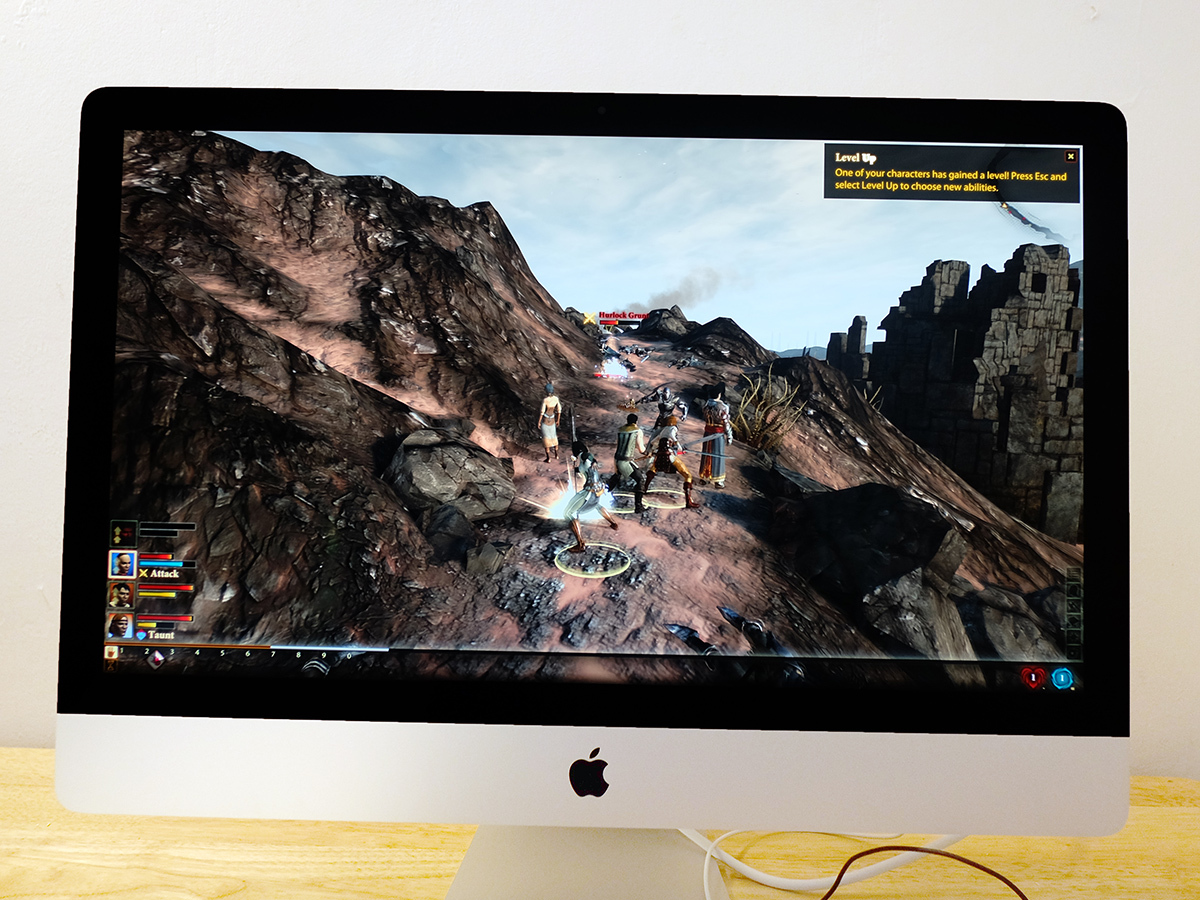 OS X has much less trouble with scaling for this kind of ultra-high resolution display than Windows. Unless you're a designer, this sort of resolution is still largely useful for the eye candy factor above all else.
I spent a while trying to figure out whether the added resolution was any good for gaming. For the most part, it isn't.
OS X still has very limited games support compared to Windows, and really desirable titles like The Witcher 3 aren't available for it. I'm not sure any 'home' PC has the power to render that particular GPU-power-vacuum at 5K resolution anyway, but the AMD Radeon R9 2GB GPU packed into iMac with Retina 27in version I'm using could certainly hack it at 1080p.
Dragon Age II just displayed a distorted pattern of coloured boxes as soon as I edged the resolution above 2560 x 1440 pixels too. After trying a half-dozen of OS X's higher-end games, all of which run just-about perfectly on the iMac, the first I found that would render at the system's native resolution was X3: Albion Prelude. It's a 2011 space game, roughly based on the Elite conceit.
Funnily enough, it seems to run pretty well at 5120 x 2880 resolution. Those space stations: dead sharp. Of course, as a four year-old game whose engine was already dated in 2011, the graphics still aren't going to splatter your eyeballs onto the back of your skull. And parts of the interface become so small at that resolution you'll need a magnifying glass to see them. But hey, I did it.
A bit later on I also got Elite: Dangerous to run at the screen's native resolution. What is it with these space sims, eh? It too works reasonably well at 'high' settings, albeit with some enough frame rate dips to put off the elite crowd (sorry), and the interface looks dandy. Switch on the bells and whistles of 'ultra' mode and the frame rate nosedives. You're probably better off chipping the resolution down a bit if you must have fancy lighting effects. 4K gaming is why people start strapping £500 graphics cards together. And you can't do that in an iMac.
My point here is that for normal folk, the main benefit of the bonus resolution is in making the interface, web pages and basic apps look incredibly sharp. Let's not undervalue this, though. The 27in Retina iMac has a screen so big and sharp I can comfortably read a web page that takes up just a third of the screen from 4ft away. It's just stunning.
Spec fest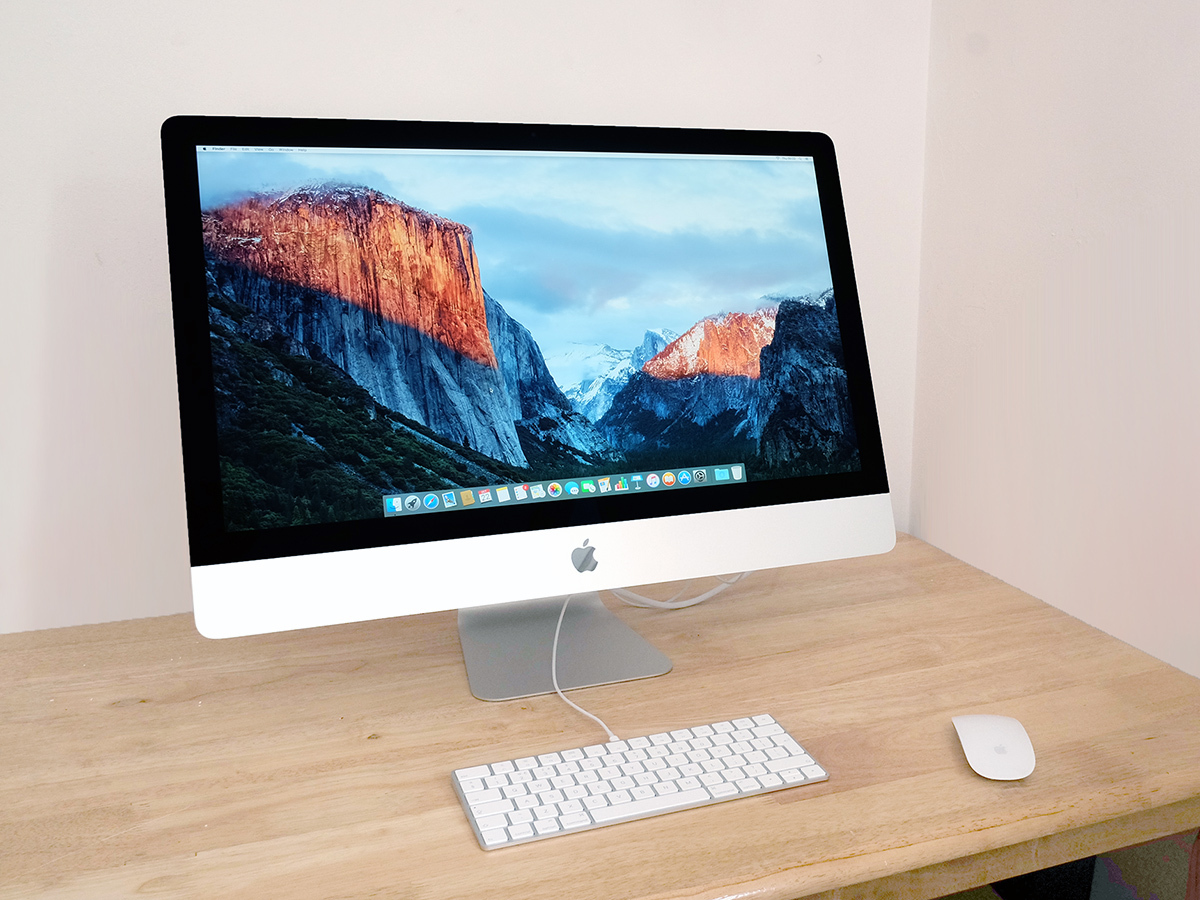 If you want to intensely edit high bit-rate 4K video, you should consider the basic spec as much as the screen. You see, the entry-level specs of the 27in iMac are quite ordinary. Just as they should be. The version I'm using is one of these all-purpose beasts.
It has 8GB DDR3 RAM, a 3.1GHz Intel Core i5 CPU and a 1TB fusion drive. All the CPUs are Skylake-generation models, bang-up-to-date and with slightly better core performance than the last set. It's reasonably muscular, but no crazy powerhouse.
What's a fusion drive, though? It's a 1TB hard drive with a bonus 128GB SSD attached to let it read and write data at higher speeds than a HDD, without the almighty cost of a 1TB SSD. However, giving it a test run I did find find it substantially slower than the full-blood 256GB SSD in my now-ageing MacBook. Where the iMac's fusion drive writes at up to 350MB and reads at 700-800MB but frequently downshifts to read/writing at 170MB/s, the MacBook writes at 676MB and reads at 690MBish all day long. And that's not a latest-gen SSD either. Those in some of the latest MacBooks are much faster.
Still, if you think the extra SSD performance really matter to you, a 1TB full SSD upgrade costs a whopping £560. What's the benefit here? Other than speed, it's noise. Like any mechanical hard drive, the fusion drive does emit some quiet clicks while it's writing data. However, it's a very good storage/performance trade-off and those clicks are hushed.
Ultimately, you'll find the base iMac's specs in fairly affordable PCs. If you want a true Core i7, 16GB RAM powerhouse with full-SSD storage, you'll pay almost £3000. And the top configs go even higher than that.
Even the most basic spec of the iMac would suit my needs, though. And would probably do the trick for a lot of you too. Our review spec scores 11953 in Geekbench 3, almost double that of my day-to-day Core i5 MacBook. It's not a world-changing improvement over the last-gen iMac. Intel's new chipsets care as much (if not more) about efficiency as power.
Under pressure, the iMac is masterful at managing heat. Most of the time the fans are silent, only kicking in when you've taxed the system for a little while. In testing, this ended up being after 10 minutes of gaming. Even then they're pretty quiet, kicking out much less noise than your average gaming PC. After zooming about for a couple of hours in Elite: Dangerous, the fans were still just kicking out a fairly light whirr.
Whether you think the iMac expensive or not, you have to agree it's an engineering marvel.
Weakest links
Still, there are bits that could definitely be improved. Like the webcam. Just recently I've been using the Nexus 6P Android phone, whose selfies aren't that far off the shots from a proper camera, but here the front camera is pretty poor. It takes 720p images and is pretty rubbish at getting the colour/white balance right, making my face so red it looked as though I'd been on the gin all day.
Should anyone care enough to stop them buying an iMac? Of course not.
The speakers are a bit more a substantive item on the upgrade wish list. The iMac wants to impress you with its big-bass drivers that can can pump out serious volume and low-end power for a computer that looks as thin as a pack of cards (it's a bit thicker in reality). However, the sound is not particularly well-balanced, with the bloomy bass not that well integrated with the rest of the output. Given all the work Apple has put into balancing of the iPad and iPhone speakers, I know it can do a lot better than this.
Of course, if you care as much as I do, you'd probably be pairing up the iMac with some decent speakers anyway. No matter how many holes I find in the 27in iMac, I still want one more than just about any other gadget available right now. That says a lot.
In the box you get a basic Apple keyboard and a Magic mouse, but I also got to try out the £109 Magic Trackpad too. It's not cheap, but adds the Force Touch gestures you get in some of the latest MacBooks. If you're going to allow yourself an accessory or two, this one matches-up perfectly.
iMac with Retina 5K 27in (2015) verdict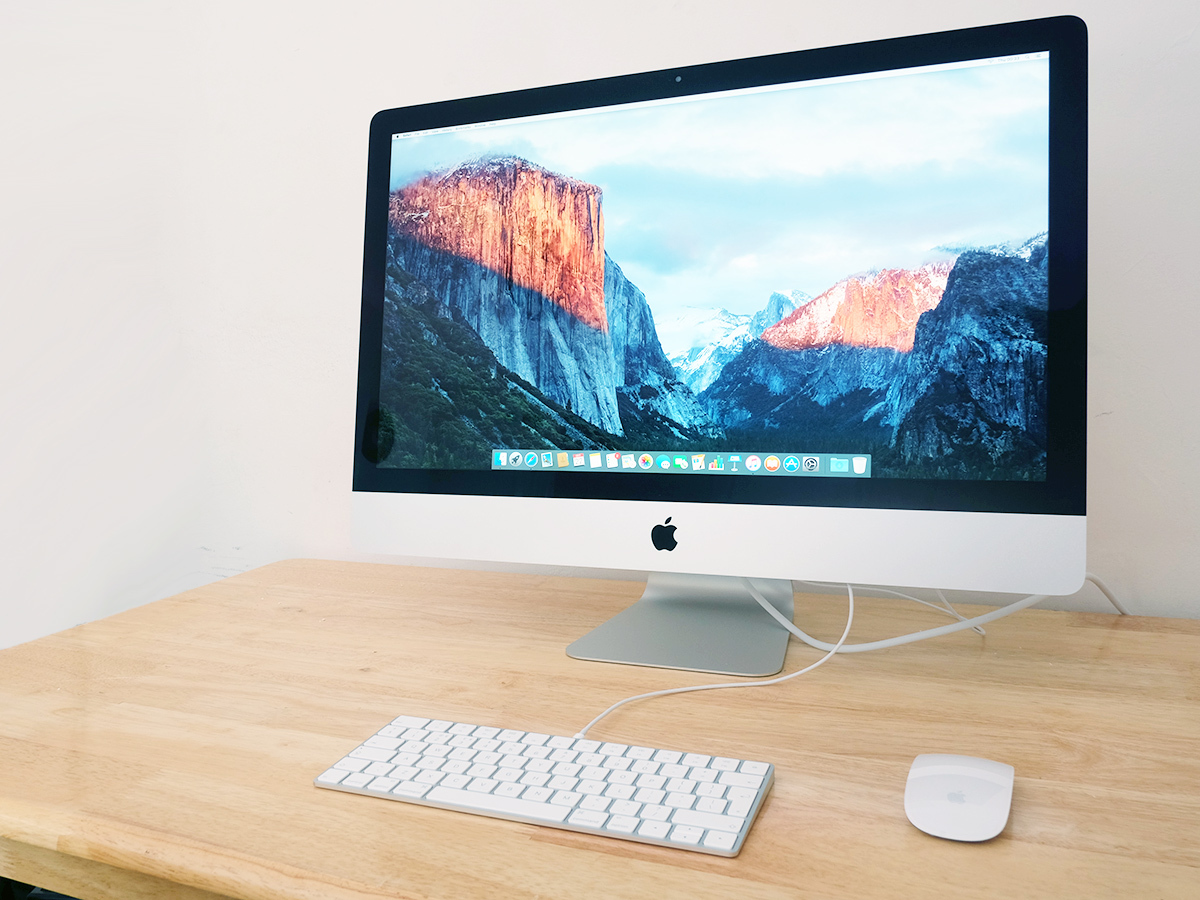 The 5K 27in iMac is the most desirable home computer in the world. It doesn't try any funny stuff or any 'revolutionary' gimmicks. However, fantastic hardware design, great software and a still-terrific screen make it a joy to use day-to-day.
There are plenty of bits that could be improved, and despite the fancy screen this is ultimately a good old-fashioned home PC in a fancy box. But what's wrong with that, eh?
Tech specs
| | |
| --- | --- |
| Screen | 27in 5120 x 2880 IPS LCD |
| Software | Mac OS X El Capitan |
| CPU | Intel Core i5 or i7 Skylake-generation |
| RAM | 8GB, upgrades available |
| GPU | Integrated Intel HD or AMD Radeon R9 M380 |
Stuff Says…
Still the most desirable all-in-one PC in the world. Some upgrades are due, but it's a smash.
Good Stuff
Incredibly sharp, smooth 27in screen
Excellent heat management
Stunning design
Bad Stuff
Speakers and webcam need improving
Rear sockets aren't the most convenient
Pretty pricey