Amazon Fire TV review
Watch out Apple TV – Amazon's box is a smarter variety of streamer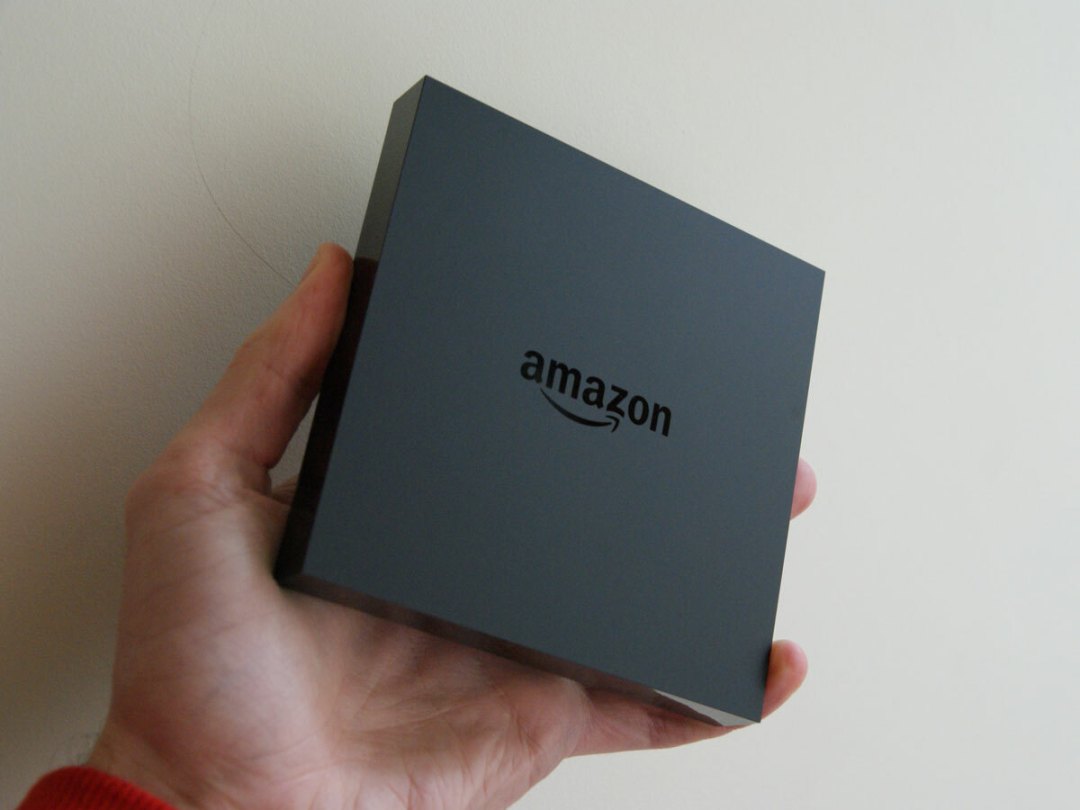 Not content with "copying" Apple by producing its own tablet and a smartphone, Amazon has gone three for three by launching the Fire TV, a tiny black box that lets you stream video, photos and music to your telly. Remind you of anything?
But despite costing the same as the Apple TV, the Fire TV sets its sights higher: it's a games console too, says Amazon, and thanks to wide support for apps, it doesn't force you into buying stuff only from its makers.
Do these claims bear out? Has Amazon just made the Apple TV obsolete? Let's take a closer look at the Fire TV to find out…
READ MORE: Apple TV video review
Design and setup
The Fire TV is a small black square-shaped box, a little wider and flatter than the Apple TV. We think it's reasonably attractive, and it's small enough that you can hide it away if you don't agree.
It connects to your TV via HDMI, which can carry either 720p or 1080p HD video, and also offers an optical output for Dolby Digital Plus surround sound. Dual-channel, dual-aerial Wi-Fi is the internet connection we expect most people to use, and we found it worked flawlessly, but there's also Ethernet if you prefer the reliability of a wired hookup.
A USB 2.0 port rounds things off, but as far as we can tell this is included purely for the purposes of charging external devices – it doesn't support external drives and won't allow you to expand the storage beyond the 8GB of built-in space (only 5GB or so of which is actually available once you account for Amazon's OS).
There's a small, rubbery-skinned remote control included too. But you'll need to buy your own HDMI cable. The gamepad controller required for many of Fire TV's more complex games is a £35 optional extra.
Amazon Fire TV tech specs
Video output: 1080p or 720p at up to 60fps
Processor: Qualcomm Snapdragon 8064
Memory: 2GB
Storage: 8GB
Connectivity: HDMI; optical audio; Ethernet; USB 2.0; Bluetooth 2.1 (for remote)
Weight: 281g
Dimensions: 115 x 115 x 17.5mm
User interface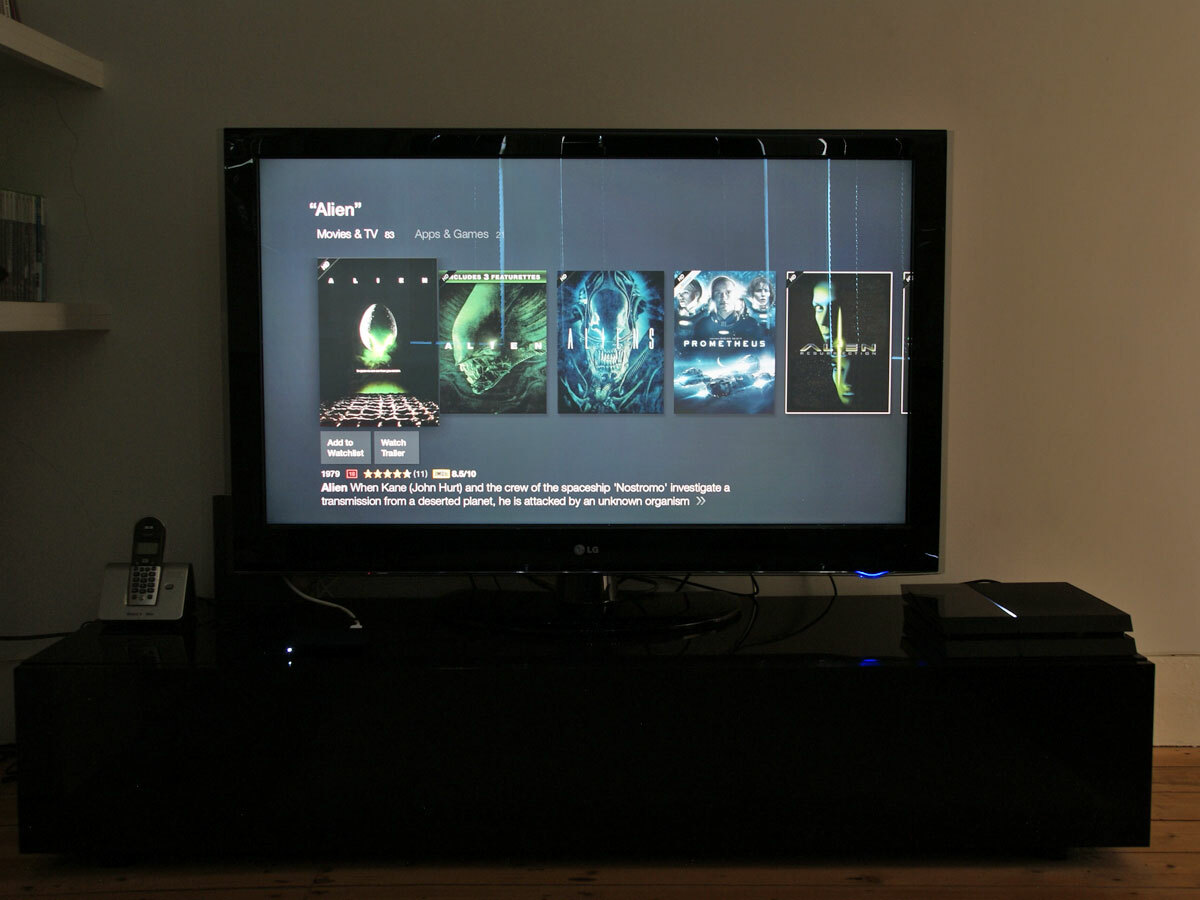 Once you've hooked the box up to your TV and broadband supply and sat through the autoplay introductory video (which concisely explains what you can do with the Fire TV and how you can do it) you're presented with the simple home screen: a list of categories on the left edge and a mosaic of content filling the rest.
Using the remote, you can zip around these menus to browse things to watch – either streamed through your Amazon Prime Instant Video account or rented/purchased for extra cash. You can also install apps and games (more on all that below), and adjust the Fire TV's settings.
The remote control is a simple one, with only the buttons you need on board: cursor, back, home, options and playback controls, plus a microphone button that fires up voice search. It mostly works just as it should, except for the occasional bout of lag (more on that below).
The cloud-powered voice search works very smoothly. Hold the mic button, wait for the tone and speak and the Fire TV will quickly bring up a list of content based on the term. It's so accurate (it never once slipped up when we used it) and fast enough that it'll swiftly become the default way you search for things. There's one issue with it, however: it only searches for Amazon-derived content, and won't delve into third-party services. So if, say, you were to voice search for "Sons of Anarchy", the results would list only the Amazon Prime version and Amazon's rent/buy options, not the show on Netflix.
Owners of Amazon's Fire Phone or Kindle Fire HDX tablets can use their device as a second screen while watching Prime movies (viewing info on the actors etc. – it's all a bit basic and pointless in our opinion, but some might enjoy it), or fling pages from their mobile device onto their living room telly through the Fire TV. Other phones and tablets don't work.
Movies, TV and music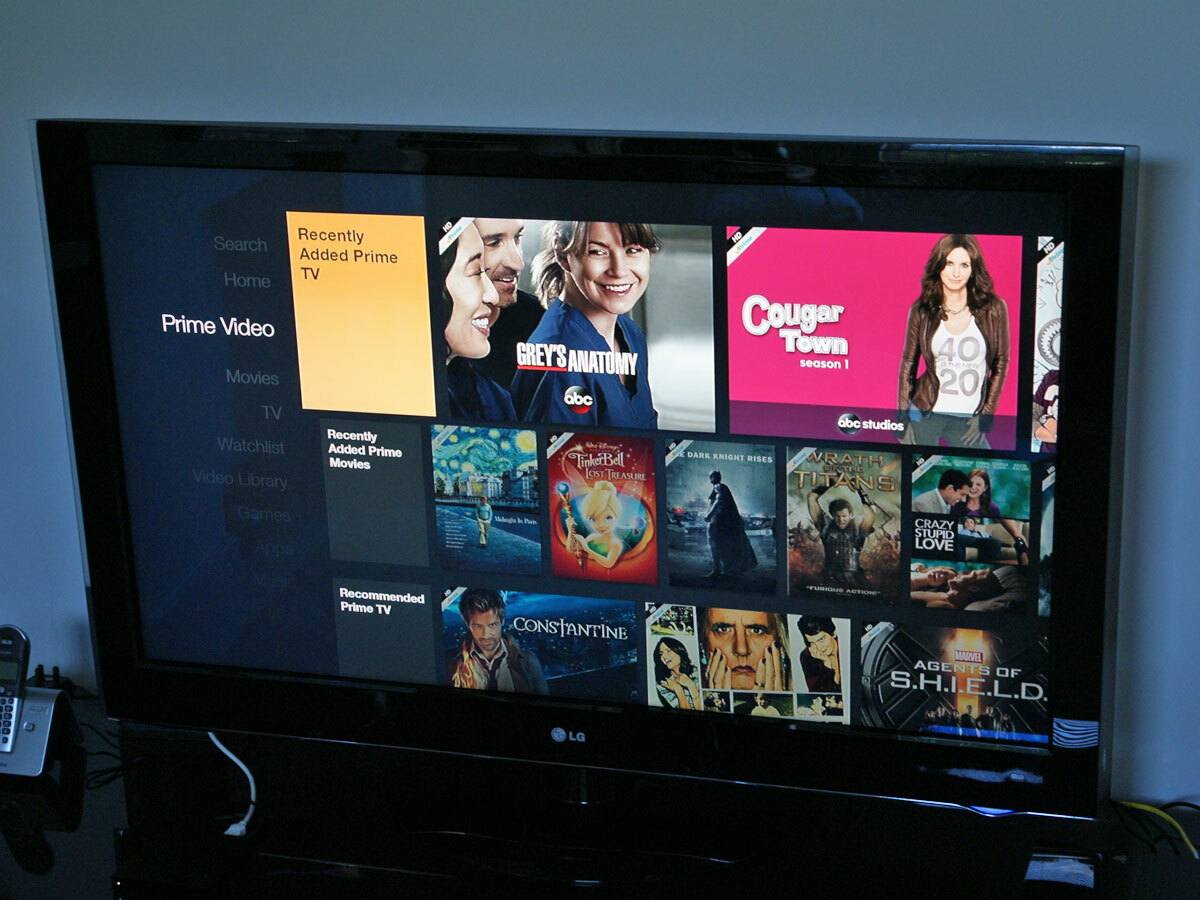 Amazon Prime members will get the most out of the Fire TV. A subscription to the service allows you to stream a wide selection of films and TV shows through the box, many of them in 1080p HD quality. The streaming picture quality isn't up to Blu-ray standards – we found it a little soft at times, even with big ticket films like The Dark Knight Rises, and there's visible contouring in smooth colour gradations – but it's not bad at all.
Amazon Music users can also access their cloud-stored MP3 collections by linking the Fire TV with their account. Obviously, you're probably not going to want to use your telly's tiny speakers in place of a proper hi-fi, but if you've got the Fire TV wired to a decent speaker system this is a handy way to access more music.
But it's not limited to Amazon's own services. You can also rent or buy individual films and shows for a fee (most films are £3.49 to rent and between £7.99 and £9.99 to own), and there's also, via installable apps, access to third-party video services like Netflix, BBC iPlayer and Demand 5. Streaming video quality is also impressive with these, although as mentioned above you can't scout their libraries using the Fire TV's voice search option – you'll have to type in text using the remote instead.
Another app lets you turn the Fire TV into a Spotify Connect music player, meaning you can grab your smartphone or tablet, fire up the Spotify mobile app and (provided you're a premium subscriber), play your tunes through the Fire TV.
READ MORE: Why you should care about Spotify Connect, the tech that'll fill your home with streamed music
Gaming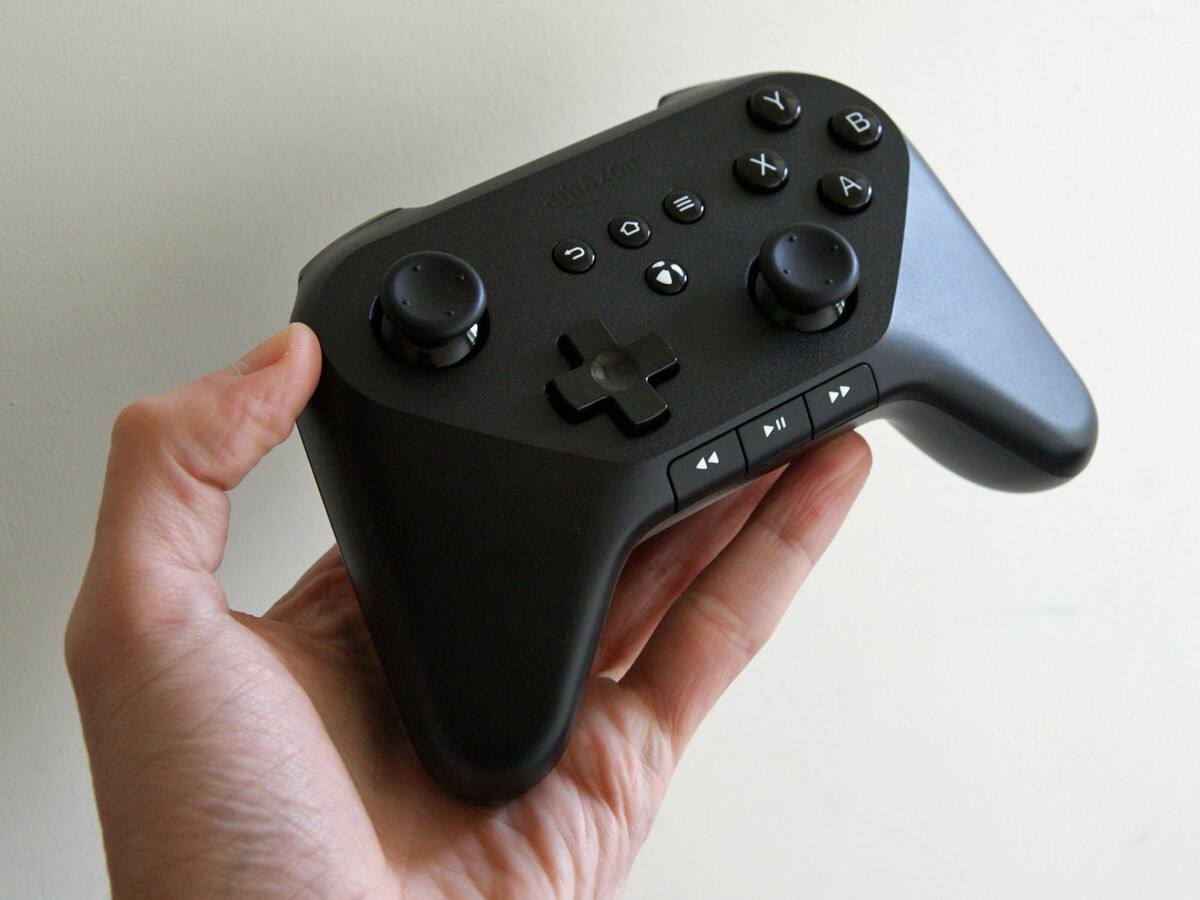 Amazon has made much of the Fire TV's capabilities as a games console, but in reality it's not going to give the PS4, Xbox One or Wii U any sleepless nights – it's basically the equivalent of a powerful tablet as a gaming device. There's nothing wrong with that, of course, and for those who don't want to shell out megabucks for a "real" console there are some good games here, albeit mostly reworkings of mobile titles. Telltale's The Walking Dead is probably the highlight at launch (both "seasons" of the game are available for free, if you're a Prime subscriber), but there are a handful of other reasonably diverting games – and more are on the way.
The £35 wireless controller resembles a squarer Xbox 360 pad. It's not as comfy as that controller, and there's no rumble function, but overall it's a fine gamepad that means you can actually play action games. The Fire TV's regular remote can be used to play more sedate, simple games.
We have noticed severe input lag at various times when using the gamepad and the remote, and it's been so bad (three to four seconds) that it made the Fire TV nigh-on unusable. A reset of the box (which involves literally unplugging the power cable, then plugging it back in – there's no other way) sorted it, but it's happened more than once. Hopefully Amazon this is a simple bug that Amazon is in the process of squashing, because having to monkey around with cables gets old really fast.
READ MORE: Sony PS4 long-term review
Amazon Fire TV verdict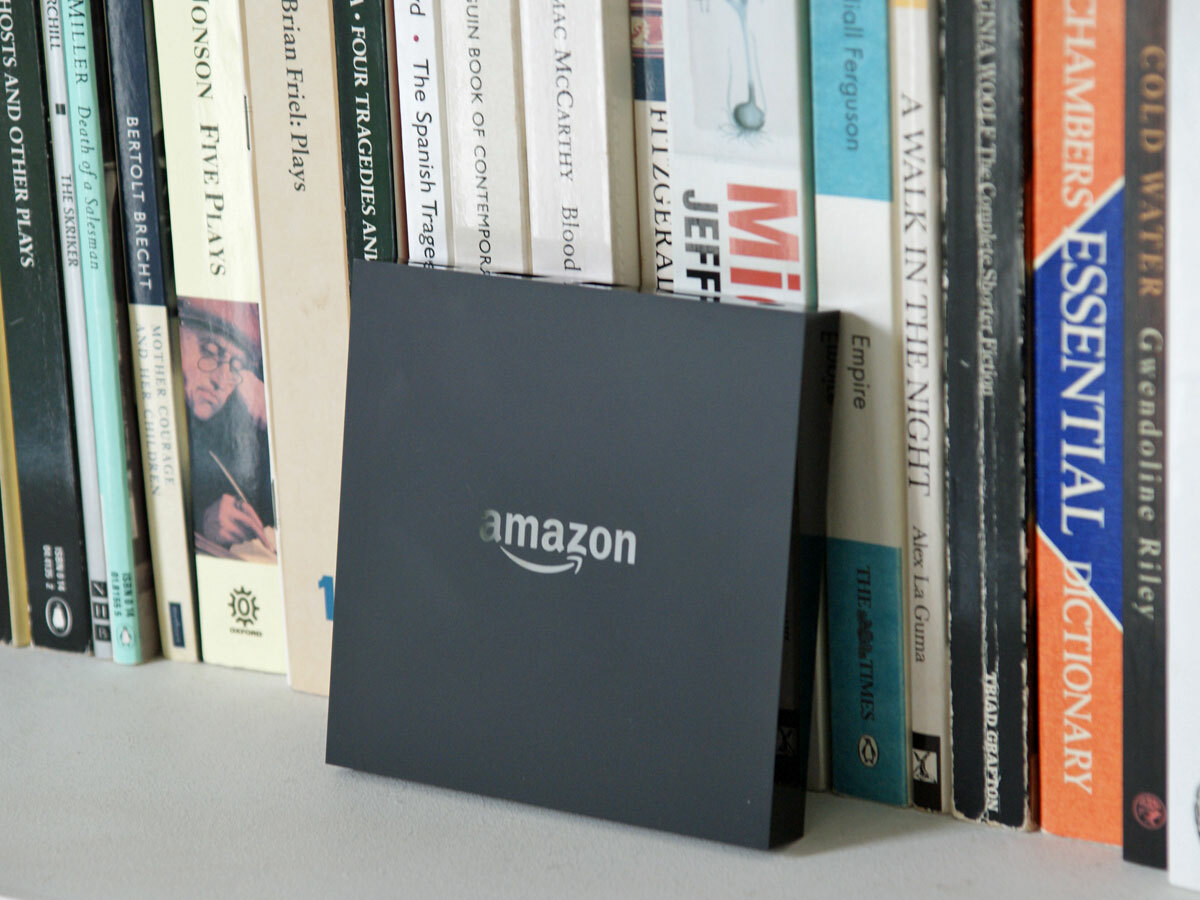 While you couldn't call it totally open, the Fire TV isn't locked inside its walled garden quite as tightly as the Apple TV is – let's say the gate is ajar. It embraces more third-party providers than Apple, including rivals such as Spotify. It's a games console, too – OK, it's more Ouya than PS4, but it's a step in the right direction and already works well – when it works.
That lag issue needs fixing pronto, and we want to see more (or expandable) storage and wider scope for voice search in future updates, but this is a great first effort at a living room streamer from Amazon.
It might look like an Apple TV rip-off, but this is an altogether smarter breed of streamer. Its power, voice search, support for third-party content and passable impression of a games console nudge ahead of the competition.
Time to step up, Apple.
READ MORE: Amazon Fire Phone review
Stuff Says…
Powerful, flexible and user-friendly, Amazon's box has staked a spot among the streaming elite
Good Stuff
Simple setup and UI
Good AV performance
Compact, tidy design
Bad Stuff
Voice search limited to Amazon content
Occasional remote lag