Amazon Fire HD 10 review
An arid expanse of tablet
Amazon's tablets range is ripe for lazy shoppers.
Buy all your Christmas presents online? There's a whole array of these things for all budgets, from £50 to £200, suited for everyone from kiddywinkles to your uncle who gets a bit aggressive after a few brandies. Just step in and open your wallet…
Theoretically, the Fire HD 10 is Amazon's most premium tablet. It starts at £169, creeping up to £209 if you want the 32GB version that doesn't display Amazon ads all the time. As it turns out, this device's display is so blocky it could have been beamed from the 16-bit era.
Couch potato shopper's delight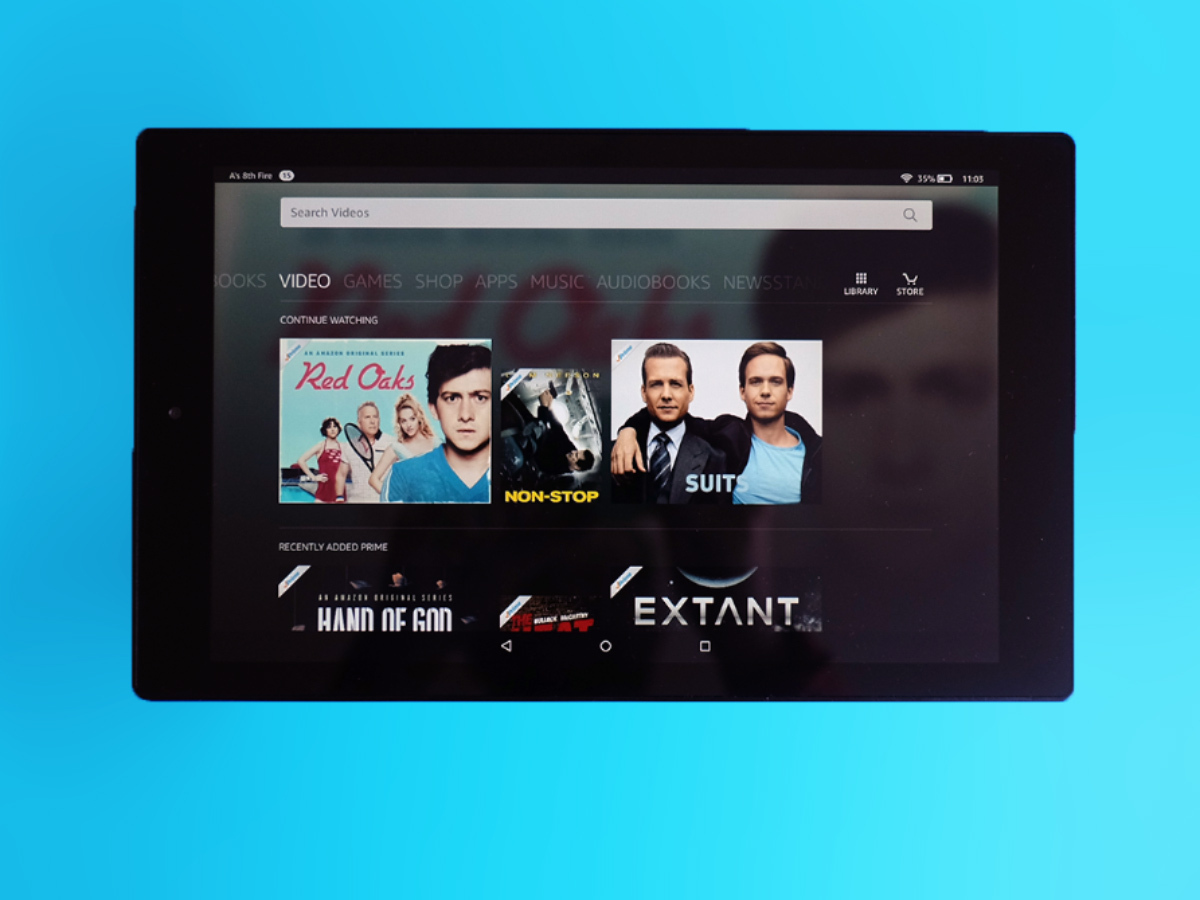 I can't imagine too many people who spend a good time researching their gadget purchases settling on the Amazon Fire HD 10. It's fine, but it's not going to set your world on fire. Boom! Boom!
First of all, there's the design. The spec list makes it sound amazing. It's 7.7mm thick and is 5g less heavy than an iPad Air 2. Wow, right?
However, in person it's a bit less special. The outer layer is ultra-super-glossy black plastic that feels cheap and collects fingerprint smudges as if this tablet runs on the things. Living with the Amazon Fire HD 10, what puts me off more is the sheer practicality of the shape. Or lack thereof.
The Amazon Fire HD 10 is a 16:10 aspect tablet with a 10.1in screen. Back in 2011 we saw Android tablets like this all the time. However, nowadays they're part of a category for people who simply must have a bigger tablet, because their sheer size makes them feel a bit too big for supremo portability, partly because the weight distribution across all that tablet area seems awkward.
It's no coincidence that the 'official' Nexus 9 Android tablet switched to a 8.9in screen with a 4:3 aspect like the iPad.
If I was looking for a tablet to use on the way to work, I'd certainly pick the 8in Amazon Fire HD 8 over this. However, if you want something to use while sprawled across the sofa, maybe that size issue just doesn't matter.
With two hands to spare and no onlookers silently asking 'cripes, what are they using?' the Fire HD 10 makes much more sense. And while it feels like a budget tablet, underneath the plastic skin is a metal frame that makes it totally rigid.
There's also a microSD card slot on the side, a handy extra if you're planning on using the Fire HD 10 for what Amazon told us it envisions: playing video. Sure enough, a big screen is always going to be a good fit for video. But the Amazon Fire HD 10's screen quality is very disappointing.
Minecraft in screen form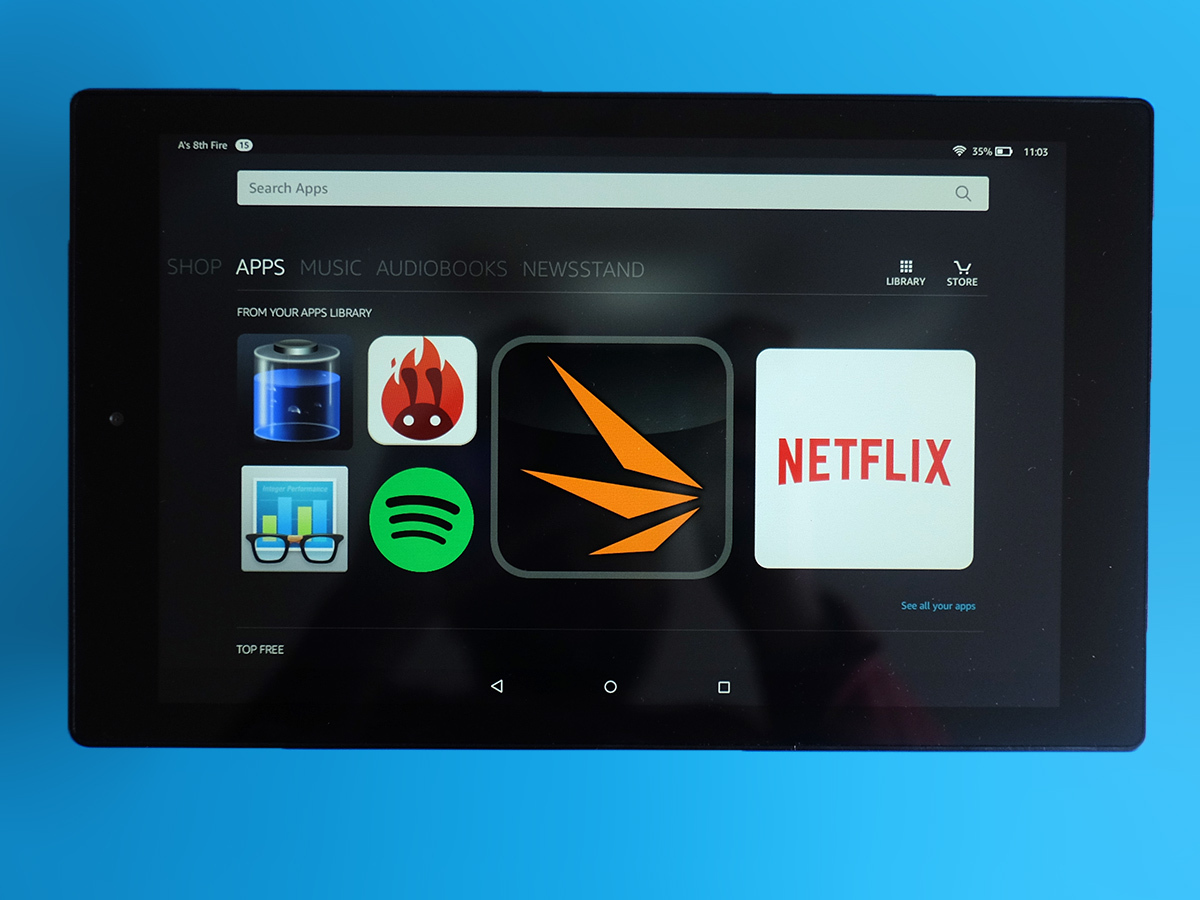 Spreading 1280 x 800 pixels across 10.1 inches in 2015 is like stretching pizza dough so thin you can see through it. So stretched you can see between the pixels. It's dead blocky, to the extent that any other good elements of image quality are completely overshadowed by this naff pixel density.
Remember how I was comparing the Amazon Fire HD 10 design to tablets of 2011? This is the resolution we got back then too.
Feed the tablet a well-encoded 720p movie and it'll still look sweet, but read Stuff.tv articles on it and the text looks a bit crude. And yes, that's down to the tablet, not us.
To really bring it home, consider that the 5.5in Sony Xperia Z5 Premium screen has 8,294,400 pixels. This one has 1,024,000 pixels.
The Amazon Fire HD 10 display isn't terrible in all respects, though. It's an IPS LCD screen like the iPad's, and looks alright from any angle. It also uses an up-to-date screen lamination technique, meaning that the image looks like it's right on the surface rather than recessed.
It's not dated in all areas, but that makes the ultra-low resolution even more head-scratching.
Fire OS: the shop front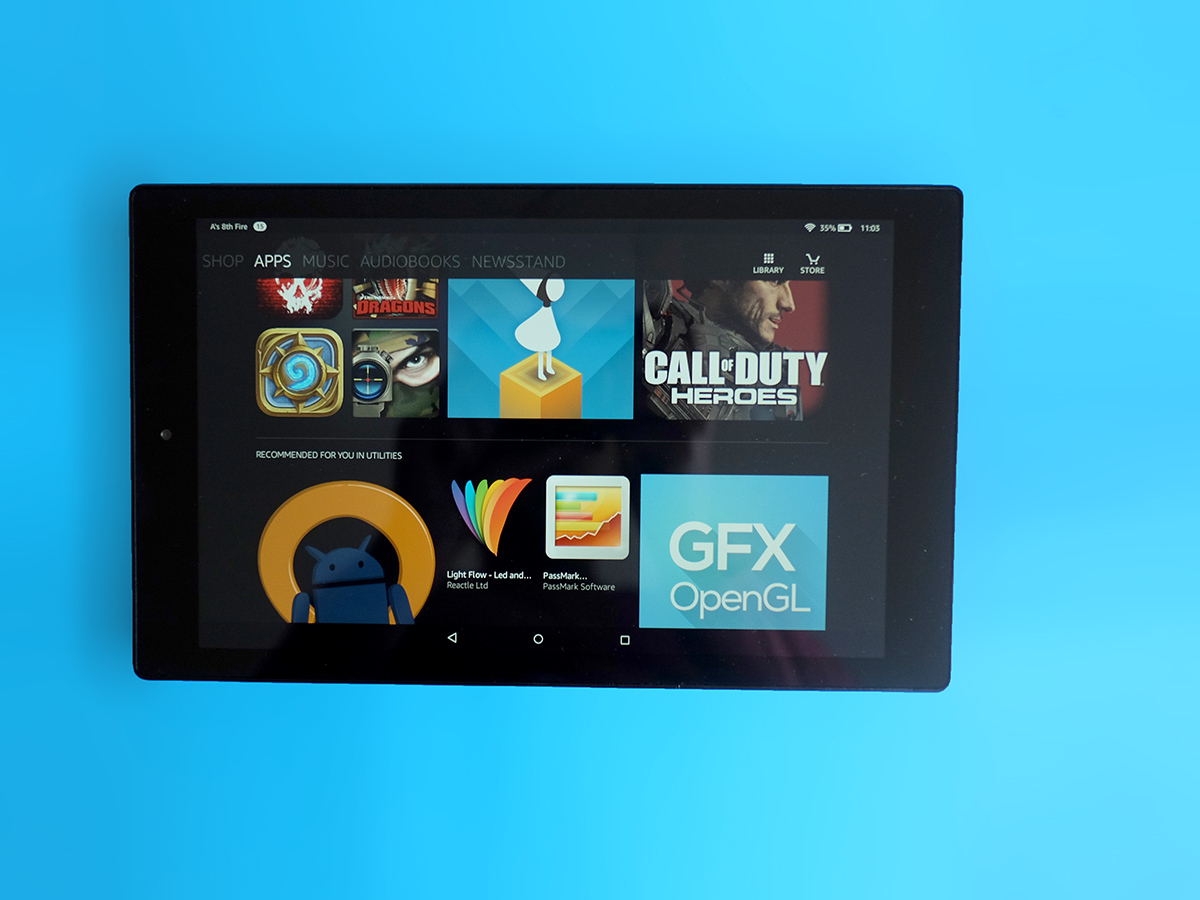 Then there's the software. The Amazon Fire HD 10 runs Fire OS, the custom Amazon version of Android.
It's quite different to normal Android and iOS in that an awful lot of its interface space is taken up by content from the many Amazon silos rather than apps you've already downloaded.
Amazon was once a website where you'd buy stuff, and it'd get delivered. However, now it sells pretty much everything digital, including music, audiobooks, ebooks, apps, video… and let's not forget the Amazon Prime Instant Video Netflix-a-like service.
Fire OS is a set of horizontally-scrolling home-screens, but only one is dedicated to the stuff you own. The rest is really about pointing you towards more stuff from these various places that you might like.
It's app-discovery-tastic, but if you want a tablet that'll just let you get on with the business of actually using it, the Amazon Fire HD 10 might get on your nerves. I also found it slower to operate than a 'plain' Android tablet. Just getting from A to B takes longer, and there's interface lagginess act times too. It's just not that quick.
Part of this likely comes from so much of the interface being made up of little bits of digital fluff that live in cache memory, to be written over and replaced regularly.
CPU wars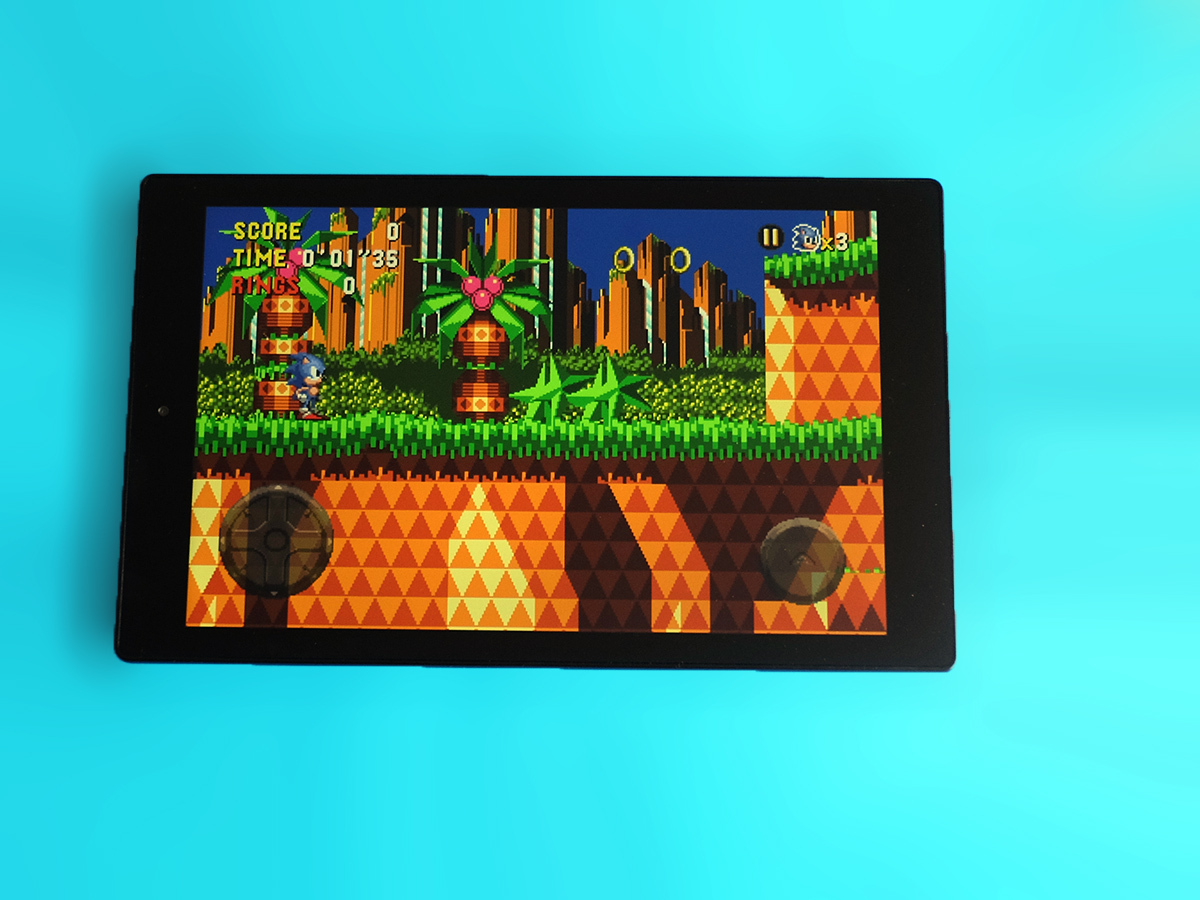 The actual power it has on tap is fine, but not close to what you get with the Nexus 9. It's actually less powerful than the CPU of the Nexus 7 from 2013.
What you get is a quad-core MediaTek CPU with two power cores and two easy-going ones used when not all that much grunt is required. In Geekbench 3 it scores 1440, which is pretty similar to the Snapdragon 410 CPU you'll see in plenty of cheaper mobile devices these days.
There's not much of a practical knock-on of having a lower-end CPU, though. After all, thanks to the 1,280 x 800 pixel screen the processor doesn't actually have to work any harder than it does in the old Fire HD 6. It's increasing resolution that drains more CPU power. Increasing the display size only puts more strain on the battery. Potentially, anyway.
I was pretty happy with how long the Amazon Fire HD 10 lasts, as it goes. Amazon claims it'll last for eight hours, but when playing a locally-stores MP4 movie at the sort of brightness you might use indoors, it lasts for 11.5 hours.
Revving the engine a bit more, it seems clear the CPU can turn itself down pretty effectively, as when 3D gaming you'll only get about four hours off a charge. Even the iPad Air 2 battery life dips to around six hours when you challenge it, though.
Speaker quality is fairly good too. You get a pair of speakers built into the bottom edge of the tablet, at either end. It sounds much fuller than we usually hear from a lower-end ultra-skinny tablet, with a bit more warmth and weight down there in the lower frequencies. It's a speaker you can happily listen to without feeling like you're slowly grating your eardrums. Of course, packing-in relatively decent speakers is nothing new for the Amazon Fire range.
Holiday snap fail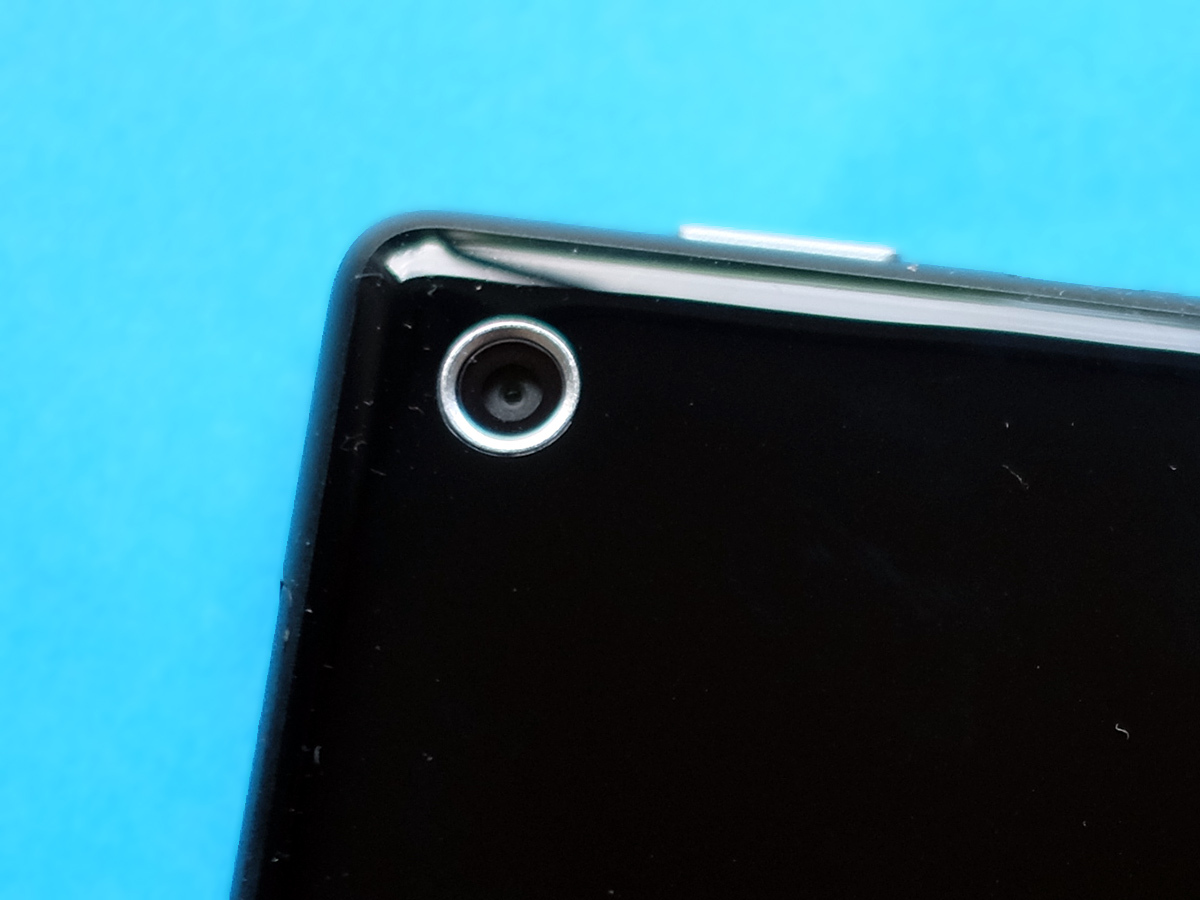 In areas like the speakers and battery life, Amazon seems to have 'pulled an Apple' in making sure it delivers a certain level of performance. However, the cameras feel a bit more like the bog-standard tablet-grade stuff.
The Amazon Fire HD 10 has a 5-megapixel camera on the back and a VGA one on the front. It's basically the least you'll see in any brand-name phone or tablet these days.
On both sides, you'll get better performance from your phone. Unless you have a really bad, really old phone. Of course, the Amazon Fire HD 10 will still be better for video chat than a 4.5in phone no matter how good its selfie camera is. You're just not likely to end up wanting to frame any photos you've taken with the tablet. The intense processing used to deal with the tiny, low-res sensor just makes your photos look quite unnatural.
Kindle Fire HD 10 verdict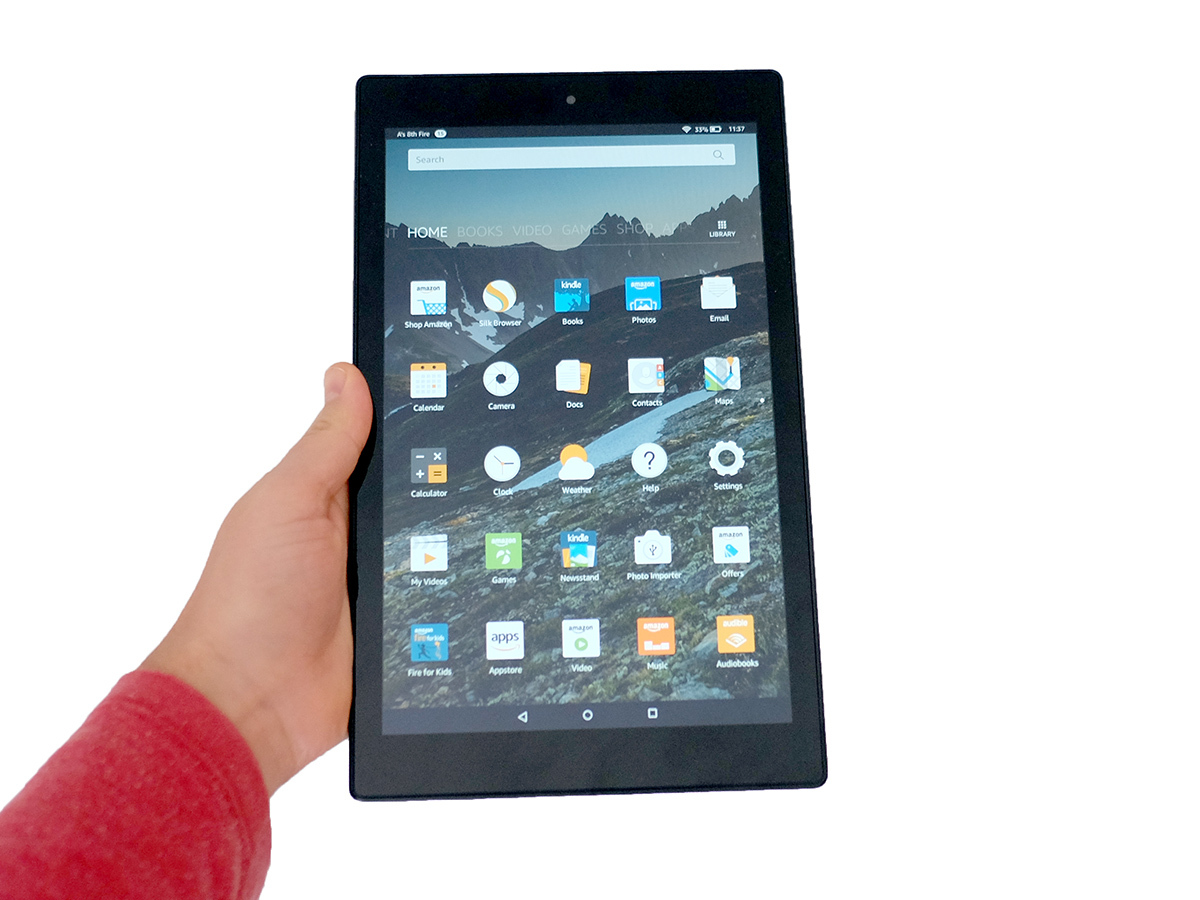 With a metal skeleton, decent speakers and solid battery life, it seems clear a big-boots at Amazon made it clear that the Amazon Fire HD 10 had to reach a certain level of performance in some key areas. It's just a pity that the screen isn't one of them.
With pixel density that's years out of date, the Amazon Fire HD 10 just doesn't offer the screen quality that'll get us spending upwards of £150. The funny thing is that while the larger display is what'll get people buying this instead of the Fire tablet or Fire HD 8, those extra inches actually are what make the screen worse.
The Amazon Fire HD 10 makes getting your hands on content easy. But for the price you can do better. Even the Nexus 9 has been seen on sale for less.
Tech specs
| | |
| --- | --- |
| Screen | 10.1in 1280 x 800 IPS LCD |
| Software | Android 5.1 with Fire OS 5 |
| Storage | 16GB or 32GB with microSD |
| RAM | 1GB |
| CPU | MediaTek MT8135 quad-core 2GHz |
| Camera | 5MP rear (no flash), VGA front |
Stuff Says…
A tablet that mixes the good, the bad and the ugly. But focuses too much on the last two.
Good Stuff
Sturdy metal skeleton
Big display
Decent speaker for lower-cost tablet
Bad Stuff
Very pixellated screen
Often feels a bit slow
Fire OS is a bit overbearing
Feels a bit cheap