Amazon Echo review
Are you ready to hand the keys to your digital life over to Alexa? We find out just how smart Amazon's smart speaker can be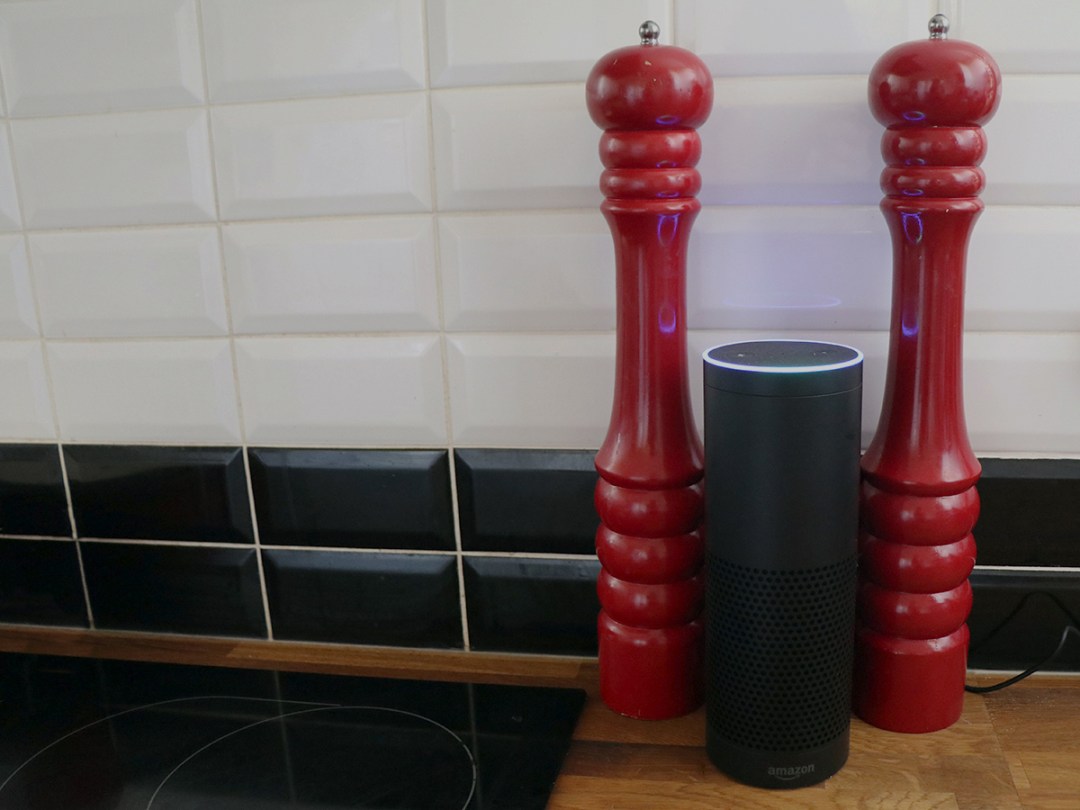 Why would you want to shout at a speaker? It's a question half the Stuff team asked me when I first pulled Amazon's Echo out of the box, and honestly, I wasn't too sure why I would either.
Start firing questions or tasks at it, though, and everything starts to make sense.
Amazon's smart speaker is hooked into the web, so it can do a lot more than simply control your music. Whenever Echo hears you ask for "Alexa" (60th most popular girl's name in the US, dontcha know) an LED ring on the top flashes blue and it does its best to follow your orders.
That could be anything, from playing music from TuneIn, Amazon Music and Spotify, answering simple questions or reading out Wikipedia pages, to telling awful Dad jokes, setting timers or recording hands-free lists.
Plug it in (there's no battery), download the Android or iOS phone app and you'll be up and running in moments. There's an optional voice training exercise but, to be honest, the speech recognition is at least as good as Apple's Siri right out of the box. It's all so quick, too – no faffing with a phone just to look up who won the first Great British Bake Off.
LITTLE VOICE
At its most basic, Echo is essentially a reboot of the kitchen radio for the 21st century. Instead of waiting for news reports to arrive on the hour, you can get a quick briefing from the Guardian or BBC Radio 4 whenever you ask for it. The hyperlocal weather forecast summaries are great, too.
Smooth, sleek, and with only the tiniest of Amazon logos, Echo's industrial look is as inconspicuous as a tube of high-tech kitchen roll. That's the idea, really: it should lurk on a table or countertop, listening to everything anyone says without becoming the centre of attention.
I haven't got any mates called Alexa, but if one came to visit I could tap the mute button on top – it'll turn the LEDs around the twisting, volume controlling top rim red and stop it interrupting your conversations. There's an 'action' button up top, too, in case you want to wake Alexa without speaking – but really, why would you?
The Echo can hear pretty reliably up to about 10 feet away, so I barely touched it once I'd set it up. It can listen over music or talk radio, so you don't need to yell to change stations.
Sound quality is very good, and easily a big step up from the DAB radio it's replaced on my bedside table. The separate woofer and tweeter keep distortion down, and can cope with pretty high volumes. Think dinner parties, talk radio and civilised music to cook by rather than earth-shaking bass, but it still delivers a kick when you crank it up.
Naturally, Amazon Music features heavily. All your music and playlists in cloud storage are available, and Amazon also has a hit-and-miss Amazon Prime Music category that offers a range of free music for Prime members – like a bargain-basement Spotify. If you ask for something in your own library, Echo sometimes plays something from Prime instead (which is annoying) but then you can just shout out 'Johnny Cash' or 'chamber music' and there's a good chance you'll hear something appropriate.
If there's nothing in Prime, Echo will play 30-second samples of music to purchase that you can move to your collection just by saying 'Buy this'. It's pretty cool. Talking of parties, take a minute to check the app after entertaining. One 'hilarious' visitor instructed Echo to set the loudest alarm for 4am.
CHILD'S PLAY
Aside from impressing my housemates with an encyclopaedic (or should that be Widipaedic) knowledge of 90's jungle artists, Alexa has only had to listen out for my voice. The Echo responds to anyone, though – which could make it a nightmare for anyone with kids.
You probably wouldn't let a three-year old child choose your playlist, and definitely wouldn't give them your credit card, but Echo could let a clever toddler shout constantly for mindless Sesame Street songs, interrupt the news when it gets to the interesting bits, or add insane quantities of sweets to your shopping list.
Keeping an Echo in the kitchen is still a good idea, though. You can ask Alexa to convert cups into litres or Celsius into Fahrenheit, set timers and alarms, and add items to a shopping list in the cloud – it's like having your own virtual sous chef.
When it comes to the little things, though, Echo can still be a bit dim. Alexa can't remove misheard items from your shopping list (did I really want pistols rather than pesto?), will happily create multiple duplicate items, and when you say "cheese and wine", for example, they come up as a single line on the list.
HOME IS WHERE THE SMART IS
I've pretty much forgotten where my light switches are after a few weeks with an Echo. Alexa can control Philips Hue, LIFX and Samsung SmartThings smart bulbs, so a yell from the cosy confines of your duvet will shine a light on your morning routine.
Other smart home tech like Nest, Honeywell and Hive works as well, so you can set the temperature with your voice. It's that little bit more convenient than fishing your phone out of your pocket every time you feel a little chilly.
Alexa is always learning, too. Download new skills and she'll be able to order you an Uber, check how borked your commute route is, get dinner recipe suggestions and cheat at just about any trivia game going.
The lights may be off a lot of the time, but there's always someone listening. Don't get paranoid: Echo only wakes up when you ask for Alexa by name. You can mute the mics if you really want, too. Everything Echo hears once you wake it is stored in the cloud, though – and you can listen back to yourself in the app by hitting a tiny play arrow next to each entry.
While this isn't really any more intrusive than Facebook turning your status updates into adverts, there is something particularly sinister about thousands of tiny audio clips of myself lurking on a server somewhere.
Amazon Echo verdict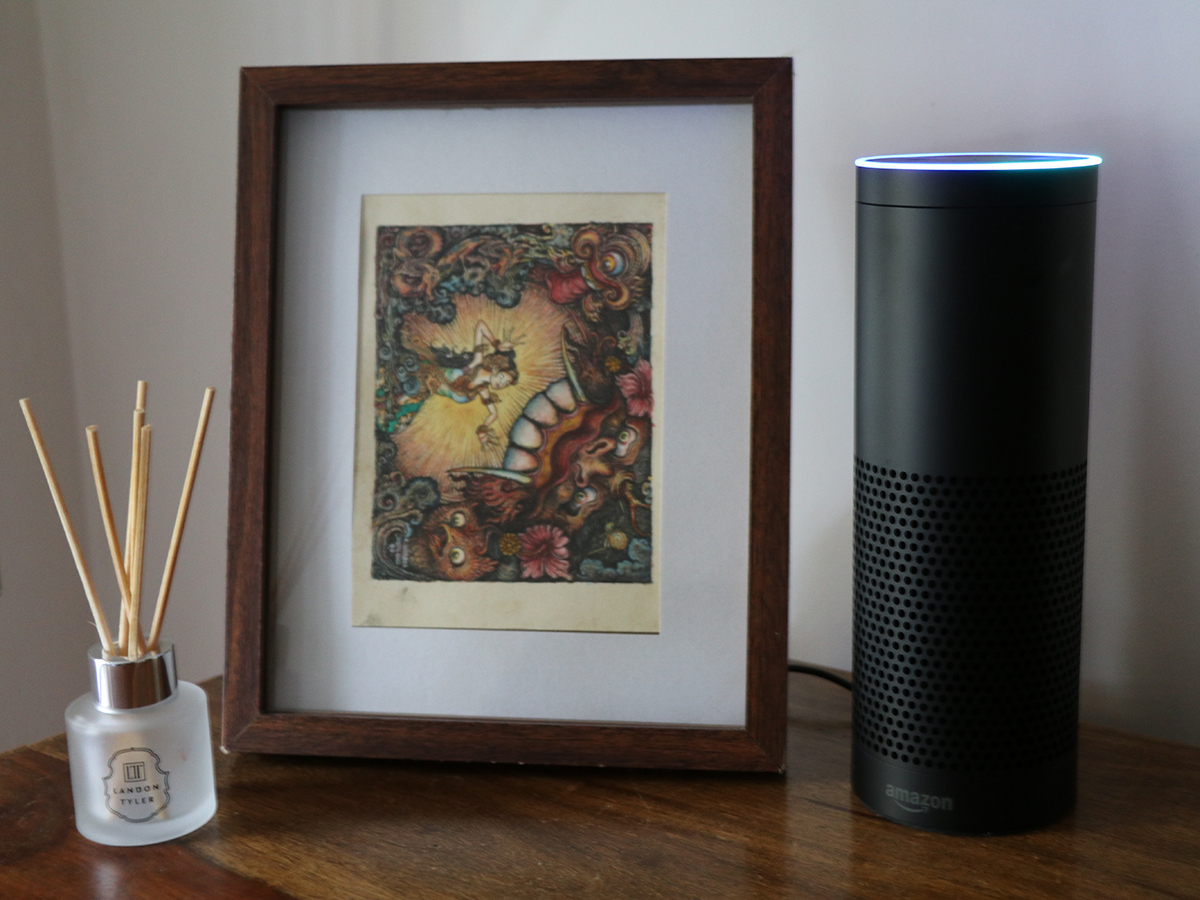 You'll either think Echo is creepy or convenient, then. Put it this way, notorious AI-paranoid Elon Musk probably doesn't have an Echo on his kitchen countertop.
Just as society has had to adapt to screens and cameras everywhere, though, it's time to realise that eavesdropping robots are here to stay.
For all its limitations and frustrations, Echo is so much smarter than a radio and so much easier than a smartphone – in the kitchen at least – that there's no way I'm getting rid of Alexa now.
Tech specs
| | |
| --- | --- |
| CPU | Texas Instruments DM3725CUS100 |
| MEMORY | 4GB |
| SPEAKERS | 64mm woofer, 50mm tweeter, 15W Class D amplifier |
| MICROPHONES | 7 (far-field) |
| CONNECTIVITY | Wi-Fi, Bluetooth |
| DIMENSIONS | 235x83x83mm, 1064g |
Stuff Says…
The AI revolution starts here – Alexa can control your house, and pulls a great double duty as DJ
Good Stuff
Stellar audio quality
Impressive voice recognition
Useful hands-free apps
Bad Stuff
No hands-free calls, texts or emails
Somewhat creepy