Amazon Echo (2nd Gen) review
Alexa gets a brand new look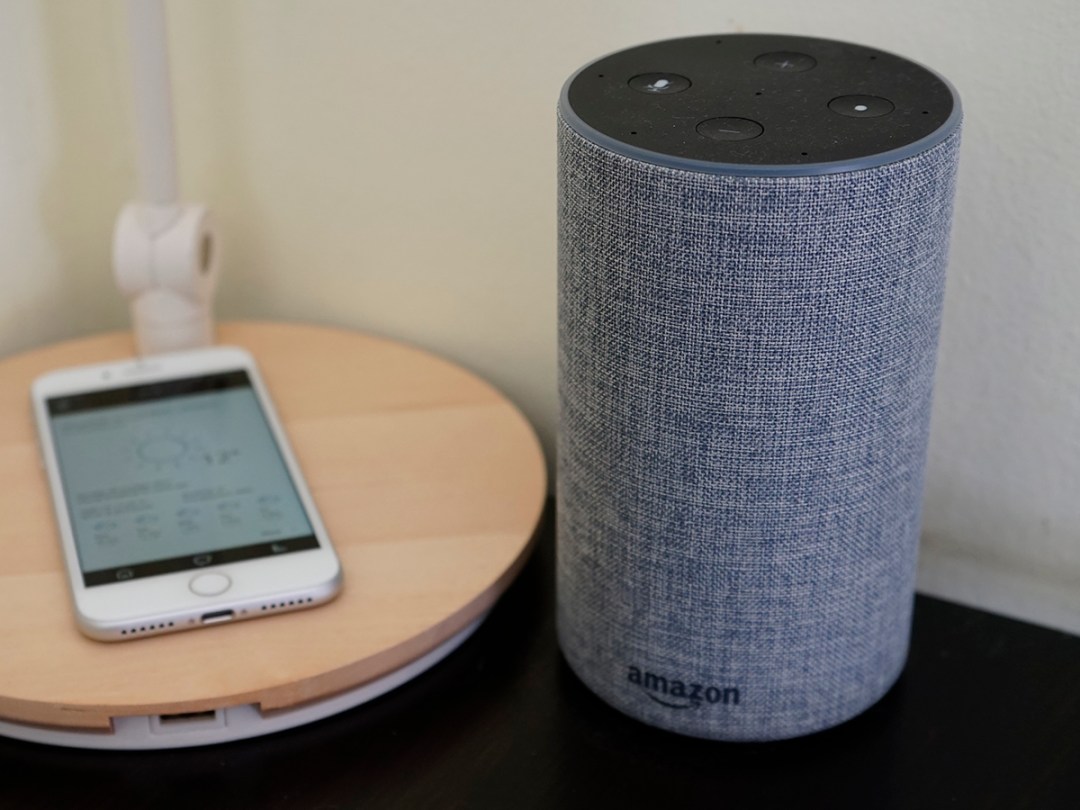 When the original Echo kick-started the whole smart speaker revolution, Amazon had things all its own way.
Alexa has been acting as DJ, secretary, personal shopper and pub quiz master for almost two years now, in all kinds of different shapes and sizes, but now Google, Microsoft and Apple are all after a piece of the action.
Kooky alarm clocks like the Echo Spot and touchscreen video callers like the Echo Show weren't going to cut it: the Echo needed to get with the times, and that's exactly what Amazon has done.
This all-new Echo is smaller, simpler, and most importantly, cheaper. Alexa might not have picked up too many new abilities, and still might not have the best singing voice, but £89 is a proper bargain.
DESIGN & BUILD: SMALL AND STYLISH
The all-new Echo is stubbier, lighter and looks a lot like a Google Home, thanks to those replaceable fabric covers.
It's cute and is a much easier-to-accommodate package now, compared to the oversized original Echo. You'll have no trouble squeezing it onto a bedside table or kitchen worktop.
Push up from the bottom and the unit slides out of its fabric sheath, ready to fit into Amazon's five other finishes, including wood and silver metal. They fit snugly, with no rattling or vibration when you crank the volume up. The thick rubber base helps out here, too.
The top still lights up blue whenever you get Alexa's attention, or red when you mute the seven far-field microphones – handy if you're talking about Lexus cars in another room, and most certainly don't want a daily news briefing (yes, this did actually happen).
There are now four manual controls, with volume buttons joining the mute and action buttons in place of the twisty volume dial of the original Echo. This isn't a big deal, because most of the controlling should be done with your voice or the Alexa app.
The only other external change is the addition of a line output. This means you can easily connect a legacy speaker system should you want to upgrade your sound – even if Amazon would say the Echo sounds perfectly decent by itself.
FEATURES: ALL THE BETTER FOR HEARING YOU
Beyond the fresh new duds, it's business as usual underneath with the same voice-activated, AI-controlled life assistant we've been using for the past two years.
Amazon has upgraded the listening technology inside, though. The seven microphones are now much better at hearing your commands in a noisy room, over your music, or if you're not particularly close to the speaker. Google Home struggles here, but the new Echo has no issues.
The speakers have been upgraded, too. The 2017 Echo has a new tweeter and woofer combination that Amazon reckons will boost audio performance – despite this new model coming in at a much smaller size than the original.
Listening to some Alexa-selected Amazon Music playlists (what else?), the Echo delivers audio that has enough volume to out-shout the first-gen model, but it doesn't quite match up to the claim of truly superior sound.
Everything feels just a little bit weak, with clear vocals but a rather weedy bottom end. Bass doesn't have much weight once you crank the volume beyond half way, and the overall mix can sound a bit cluttered.
Voices do sound more rounded, though, making it a great choice for podcasts. Generally, it's difficult to complain for £89, and if high quality audio is a priority, you're probably best served by a Sonos One or Echo Dot plugged into a more beefy sound system, or possibly the new Echo Plus, which we're in the process of testing right now.
AI SMARTS: ONCE MORE WITH THINKING
Alexa is constantly getting smarter, and not just because of the thousands of new Skills you can enable. Amazon has added a few new extras of its own, including "routines". These let you set a group of actions when you say a specific phrase, like reading the weather forecast, calendar appointments and a news briefing for the day ahead.
Google Assistant has done this for a while, so it's great to see Amazon catch up. It works with smart home kit, too, so saying "goodbye" can turn off the lights.
This new Echo still works with all your smart home kit, although it's not quite the same one-box solution as the Echo Plus – it still relies on each gadget having its own hub to talk to, rather than taking direct control of your tech.
The new Drop In mode now lets you call your Echo through the Alexa app on your phone, so you can hear what's going on while you're not in. Handy if someone's asleep and won't answer their phone, but are supposed to be waiting up for a delivery driver.
You don't have to "answer" the call, though – it just dials through and starts listening. If it was even possible to breach your own privacy in your own home, this gets pretty close.
Finally, you can also call or send messages to other Alexa-equipped devices. It's a bit like a hands-free speakerphone, but only to other Echos – which is cool if you know the details of your mates that also happen to own one.
Alexa dictates your written messages if you tap them in through the app, and repeats your voice messages in her own unique way, although speech recognition isn't always on point, so it's handy to have both.
AMAZON ECHO (2017) VERDICT: A MORE AFFORDABLE UPGRADE
As the Alexa family gets bigger, with an impressive array of differently-shaped and ever more complex devices, the new Echo delivers on a simple upgrade promise: it's cheaper, looks sleeker, and performs (mostly) better.
It's not without compromise. For anyone after a smart speaker with truly bangin' sound, there are better (if more expensive) choices, including the Sonos One and Amazon's own Echo Plus, or even an Echo Dot plugged into an existing stereo. If you've got an original Echo, it's probably not worth upgrading, either.
For £89, though, there's nothing else out there that looks quite as good, and gets the job done quite as well.
Tech specs
| | |
| --- | --- |
| SPEAKERS | 2.5in woofer, 0.6in tweeter |
| DIMENSIONS | 148x88x88mm, 821g |
Stuff Says…
All the same smarts, but for a lot less cash. For first time smart speaker buyers, the new Echo is a no-brainer
Good Stuff
More compact and colourful
Alexa is constantly getting smarter
Great price
Bad Stuff
Sound is merely OK