Alienware x14 review: graceful gamer
Alienware's slimmest 14-incher delivers great performance in a tiny package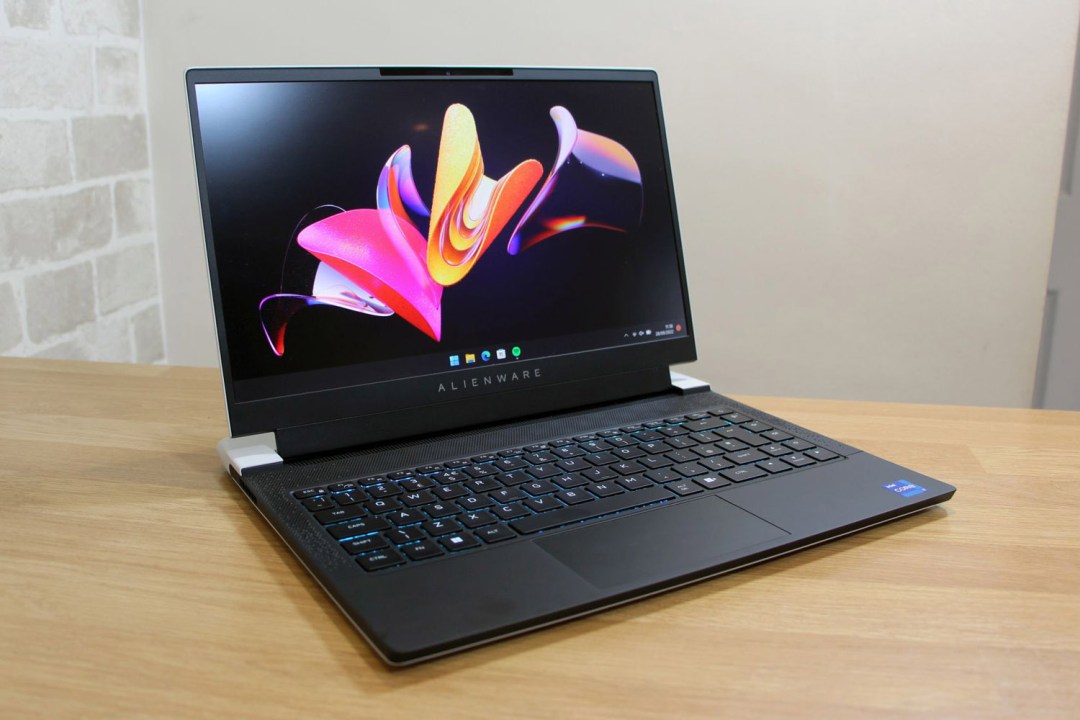 Ask people about Alienware laptops and they'll enthuse about powerful rigs that weigh more than most people's cars. The Alienware x14 is not that. The brand's first compact gaming notebook punches far above its weight.
On the inside, this tiny device deploys rapid Nvidia GeForce RTX graphics, and on the outside you'll find Alienware's familiar, stunning two-tone design and a bright, crisp screen. It's certainly tempting if you want a gaming laptop that won't strain your back – and, at £1929 for the model we've reviewed, it's cheaper than many larger notebooks, too.
Dell's sub-brand isn't the first to release a tiny gaming notebook, though. The innovative bods at Razer have their own 14in Blade, which has the potential to slice through Alienware's challenger.
Design & Build: A legendary exterior?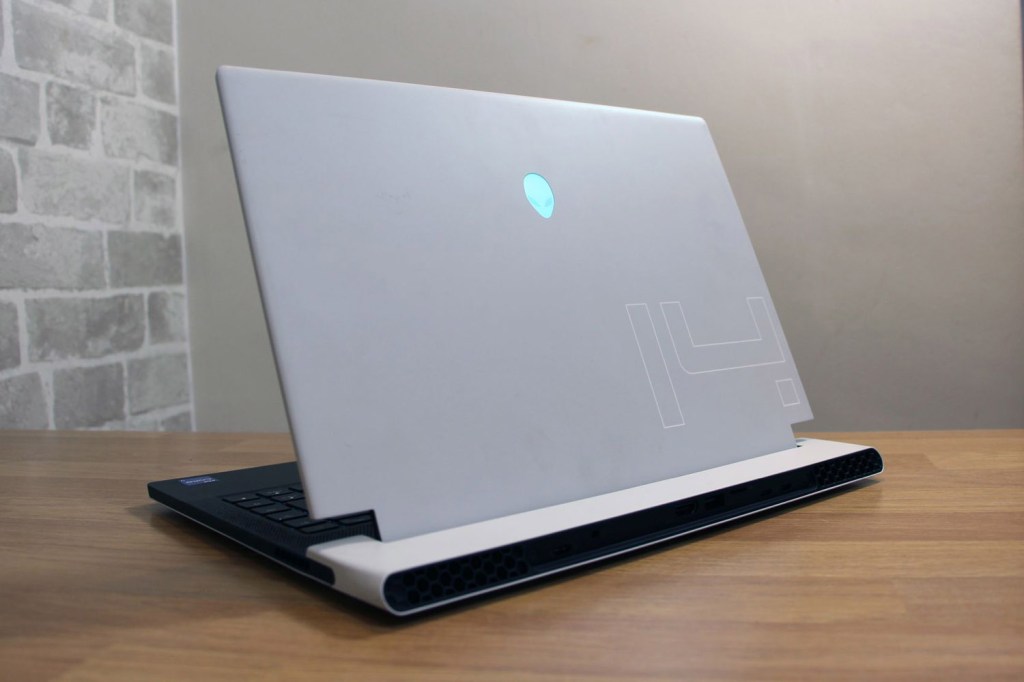 Regardless of rivals, there's no denying the Alienware x14 looks brilliant. On the outside you've got white magnesium alloy and an RGB LED Alienware logo, and the interior is black and brooding. Around the back there's hexagonal venting, while slick air intakes and speaker grilles surround the keyboard.
It's certainly bolder than Razer's all-black design, and the Alienware also features impressive build quality. Toss this laptop into a bag and it'll survive journeys without a scratch. At 14.5mm thick and 1.79kg on the scales it also matches the Razer for weight, and is a bit slimmer. 
Swing the laptop around and you'll find ports along the back edge, which is great for keeping your desk tidy. The x14 has two Thunderbolt 4 connections, a future-proofed HDMI 2.1 socket, a full-size USB port, and a Type-C port that also provides power. There's even a microSD slot, and a webcam above the display that handles Windows Hello facial recognition. 
That's a good selection, although many people will want more than one full-size USB port. The x14 doesn't have a fingerprint reader, which isn't a major catastrophe, but serious gamers might bemoan the lack of wired internet port.
Screen: Sync or swim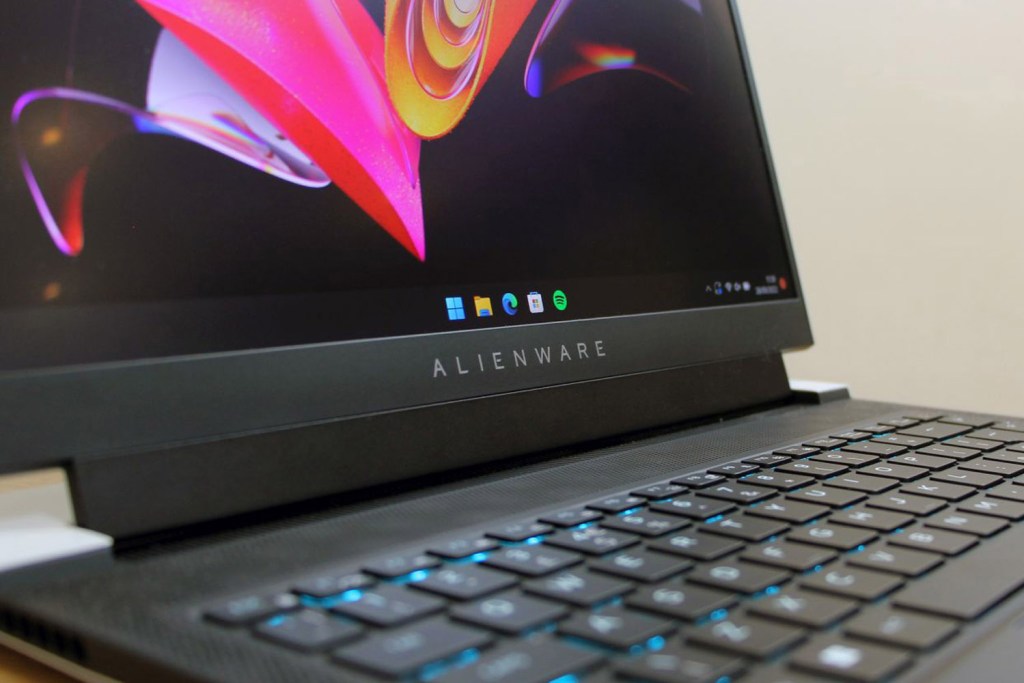 The Alienware x14 has a 1080p display that runs at 144Hz, with Nvidia G-Sync adaptive refresh. That's a modest resolution which won't force the graphics card to work overtime, and should guarantee smooth playback. Keen esports fans might want an even faster refresh rate, though.
Brightness clocks in at 446 nits, which is high enough for indoor and outdoor use, and the contrast ratio of 1312:1 is great – high for an IPS panel, and enough to ensure lashings of punch and depth. The screen renders the sRGB and DCI-P3 colour gamuts with solid accuracy, so games look superb.
There's little to choose between the x14 and the Razer Blade's entry-level screen, although you will get a faster, sharper display on the Blade if you're willing to pay more. The Alienware doesn't have those upgrade options.
Performance: Pretty fast, but not flawless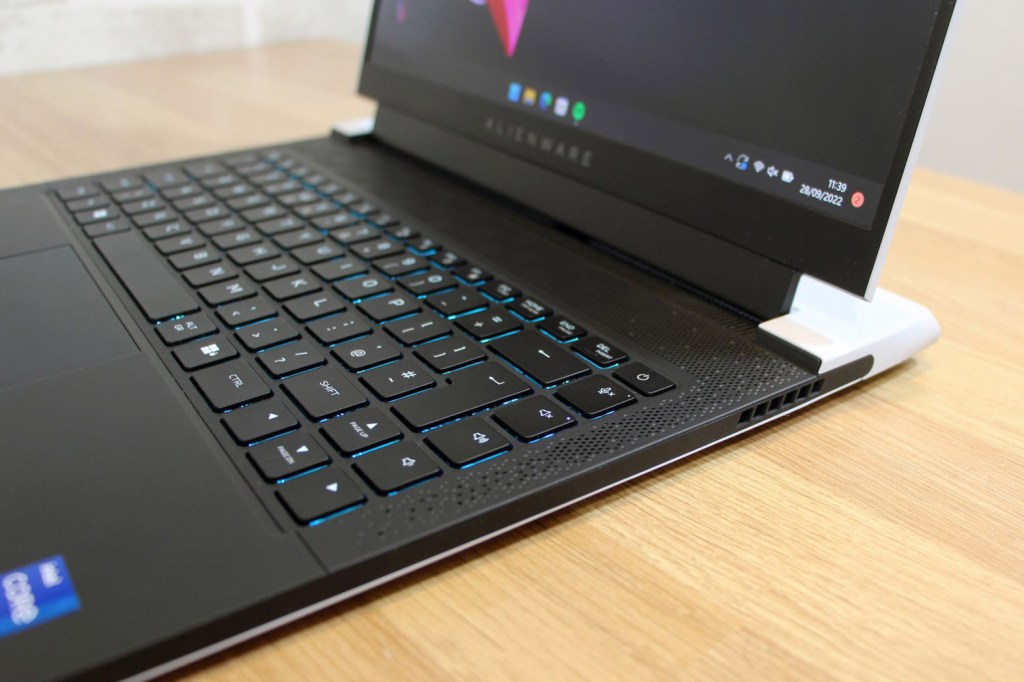 The Core i7-12700H powering the Alienware x14 is another impressive bit of Intel silicon, with six high-performance cores that peak at 4.7GHz. The GeForce RTX 3060 graphics card it's paired with isn't Nvidia's beefiest mobile GPU, but that's no surprise in this slim machine – and it still gets 3,840 stream processors, along with 6GB of dedicated memory.
Our review model also has 16GB of memory and an impressively quick 1TB PCIe 4 SSD. Connectivity comes from dual-band 802.11ax Wi-Fi 6E and Bluetooth 5.2.
There's no shortage of 1080p gaming grunt here. We loaded Assassin's Creed Valhalla at the game's toughest settings and the Alienware averaged 49fps – and it hit the same pace in Red Dead Redemption 2. You can play every big-name game on this laptop without big compromises – you'll only have to tweak settings if you want to deploy ray tracing or run games beyond 60fps.
Don't worry if you're a big esports fan, either: the Alienware scythed through Rainbow Six Siege at 262fps, which is ample pace for the x14's 144Hz screen.
It's not all good news though. The Razer Blade 14's RTX 3060 can draw more power, so delivers extra pace – it hit 53fps in Assassin's Creed. The same chip will be even faster in larger laptops, too. Alienware's overclocking modes do little, and the x14 doesn't really have the muscle to fully take advantage of the 4K/120Hz and 8K/60Hz abilities afforded by its HDMI 2.1 output.
But that's no real surprise when you look at the pricing. The x14 we've reviewed costs £1929, while an equivalent Razer Blade 14 costs £2199. 
Still, those are acceptable compromises in a small laptop, and the x14 fought back in desktop benchmarks – the Core i7-12700H is comfortably faster than the Razer's AMD Ryzen 9 6900HX. The Alienware is the better choice if you want a notebook for photo-editing, everyday work or any other creative tasks.
Push those internals and the Alienware churns out more fan noise than the Razer, which is no surprise given its dimensions – but a headset will block that out. And, as an added bonus, a headset will provide better quality than the x14's loud, muddy speakers.
You might think a tiny laptop will have lengthy battery life, but that's not necessarily the case. The x14 only ran games on battery power for ninety minutes and lasted an hour longer during a work test. Those results mirror the Razer, but the x14 only ran video for seven hours – the Blade managed twelve. Only the Razer can handle a whole day of light use.
Keyboard & Touchpad: Small but (almost) perfectly formed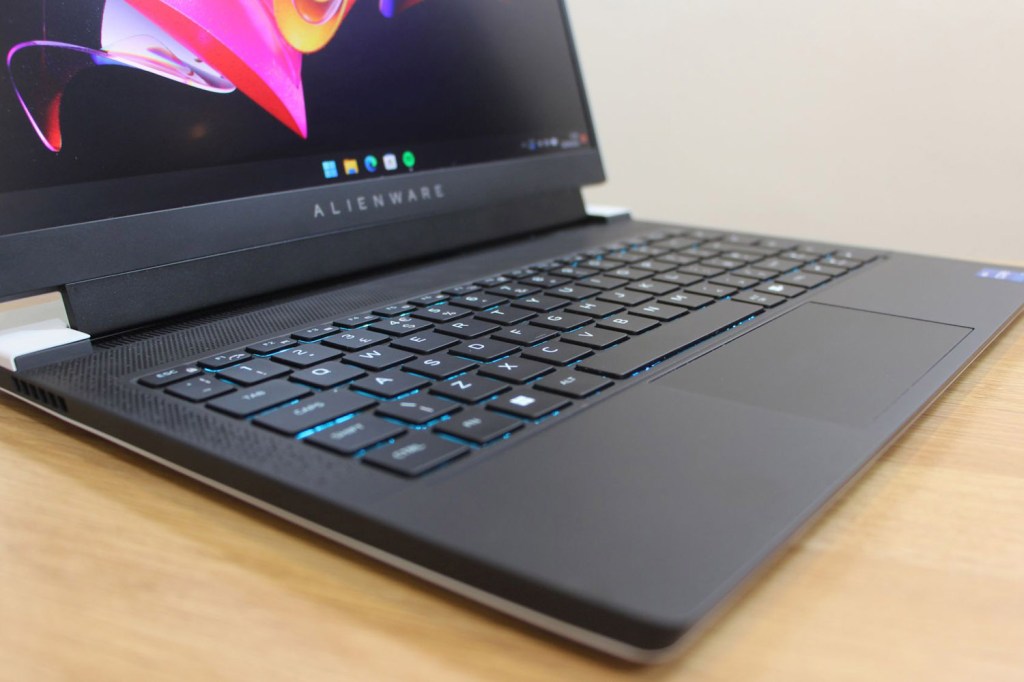 The Alienware's keyboard is excellent: fast, crisp and with 1.2mm of travel, which is decent considering the size of the machine – and it's got n-key rollover for independent press detection. This typing gear easily copes with long gaming sessions, although you'll understandably get extra travel and a meatier action on larger laptops. It's a more satisfying unit than the Razer's shallower keyboard.
Unsurprisingly, there's no numberpad – but you do get an extra column of media keys. And while there are RGB LEDs, it's just one bank of lighting rather than per-key illumination.
Don't expect much from the trackpad, either: it's tiny. Use the sole USB port to connect a mouse. 
Alienware x14 configurations
Just like any regular Dell laptop, the Alienware is highly customisable when you place an order. Opting for RTX 3050 or RTX 3050 Ti graphics, smaller SSDs and a Core i5-12500H processor will save you cash, with the cheapest x14 costing £1549. Bear in mind, though, that those low-end GPUs are only suitable for casual games and esports titles. 
The x14's customisations concentrate on affordable components, which makes sense on a small laptop, but Razer's rig goes in the other direction. Pay £2699 and you'll get RTX 3070 Ti graphics and a 165Hz, 2560×1440 display. Stretch to £3599 you get the RTX 3080 Ti.
That's huge expense, and those beefier cores won't get near their full potential in such a small laptop. If you do want an RTX 3070 Ti or RTX 3080 Ti, you'd be better off with a larger notebook.
Alienware x14 Verdict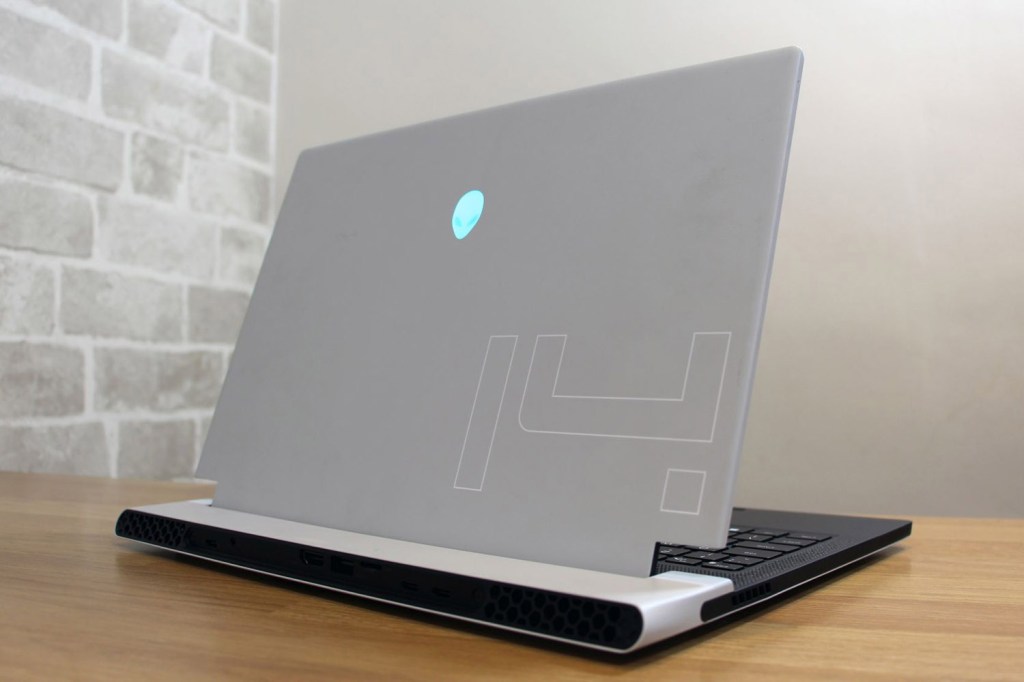 The x14 is the slimmest 14in gaming laptop on the planet, and it's one of the lightest too. Combine that with its solid mainstream performance, Alienware's impressive build quality, a great keyboard and sharp screen, and you've got the ideal partner for compact gaming.
At this size, though, you'll have to accept compromises. The speakers disappoint, and the pricier Razer Blade 14 has better battery life and quieter operation. If you've got a hefty bank account, that laptop is also available with faster components.
You shouldn't really tick every box in a tiny gaming laptop, though, and the Alienware gets the key stuff right thanks to solid quality and performance in almost every important area. 
Stuff Says…
Rock-solid mainstream performance inside a slim, attractive and sturdy chassis – although you'll get more power and longevity elsewhere.
Good Stuff
Great mainstream gaming speed
Excellent 1080p display
Impressive ports and connectivity
Robust, good-looking and slim exterior
Bad Stuff
Mediocre battery life
Noticeable fan noise
Tiny trackpad
Alienware x14 technical specifications
| | |
| --- | --- |
| Screen | 14in, 1920×1080 IPS LCD |
| CPU | Intel Core i7-12700H hexa-core |
| Memory | 16GB |
| Graphics | Nvidia GeForce RTX 3060 6GB |
| Storage | 1TB |
| Operating system | Windows 11 Home |
| Connectivity | 802.11ax Wi-Fi 6E, Bluetooth 5.2, 3.5mm headphone, 2 x Thunderbolt/USB-C/power delivery, 1 x USB 3.2 Gen 2 Type-C, 1 x USB 3.2 Gen 1, 1 x HDMI 2.1, 1 x microSD |
| Battery | Up to 7 hours |
| Dimensions | 322x263x14.5mm, 1.79kg |