Razer Blade 14 review
Razer breaks ground with AMD power for its first 14in portable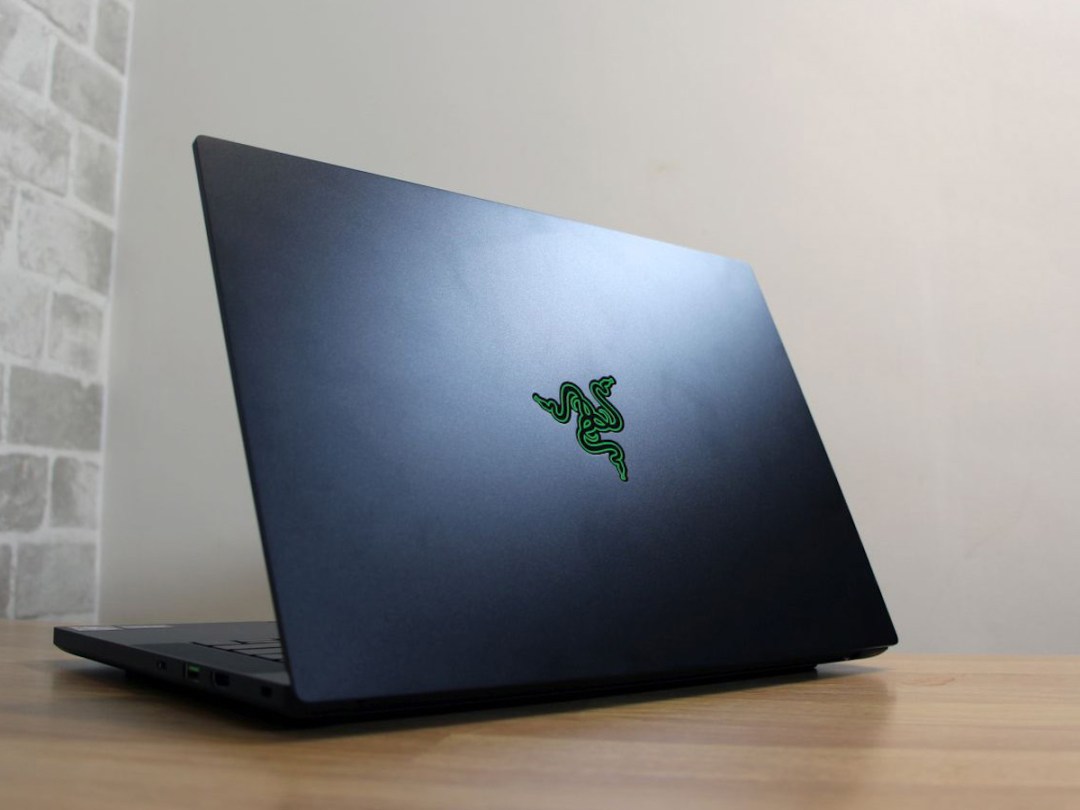 Razer laptops are usually top of the list if you need a portable gaming machine, thanks to stylish designs, top-notch performance and reliable 13in, 15.6in and 17.3in sizes.
But familiarity breeds contempt and Razer's been reluctant to break the mould in recent years. Its laptops tend to be iterative: better graphics, perhaps a processor upgrade, but nothing revolutionary.
That's not true with the Blade 14, which pushes things forward in a couple of important ways. On the outside, this is Razer's first 14in laptop. On the inside, it's Razer's first notebook with an AMD processor. At £1799, it's also the most affordable of three new Blade models – and it deploys an Nvidia GeForce RTX 3060. But is it any good?
Design & build: Razer sharp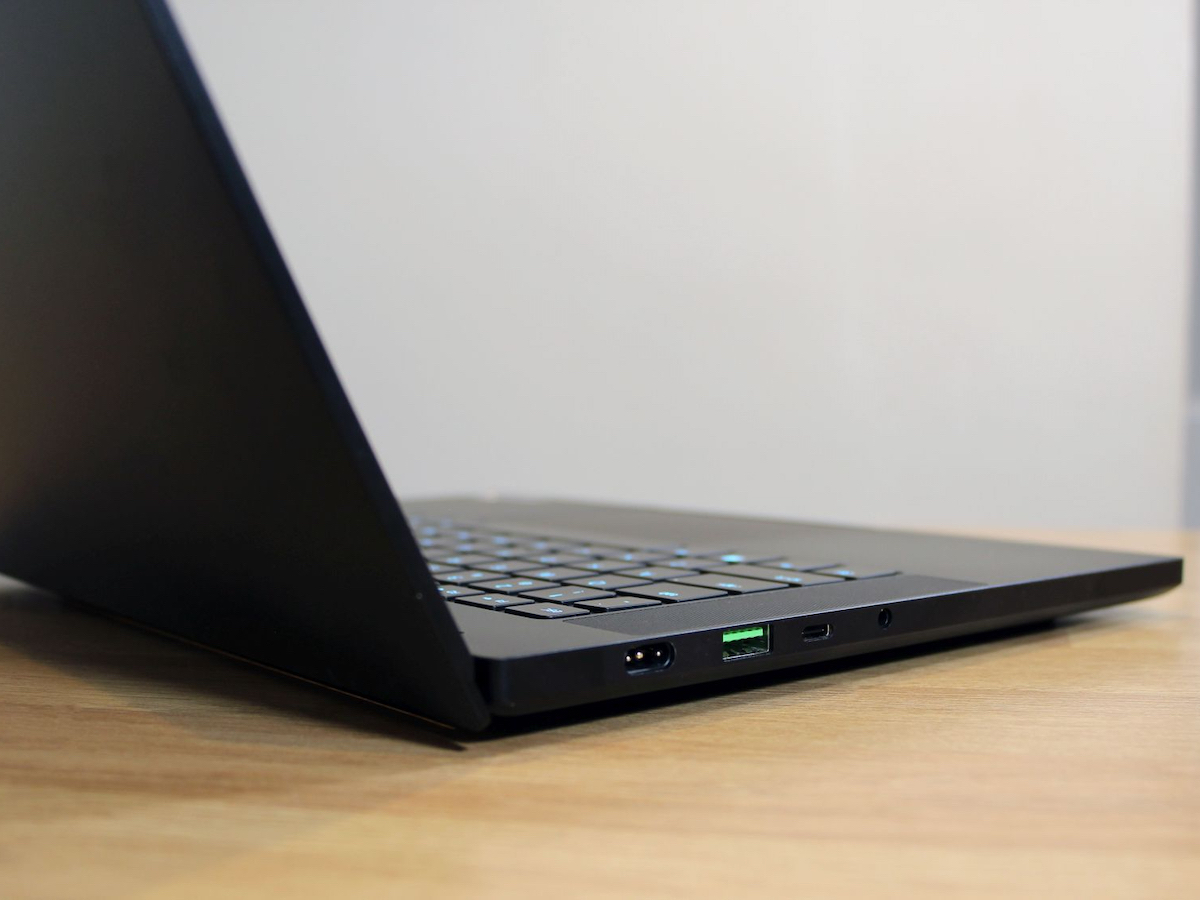 Like the rest of Razer's notebooks, the Blade 14 is wrapped in black CNC-milled aluminium. It looks fantastic – sleek, smart and with no obnoxious gaming design. It feels top-notch, too, with reassuringly robust build quality on every surface. It'll easily withstand frequent trips out of the house.
That's impressive when you consider the Blade's dimensions: this 14in laptop weighs just 1.78kg – and it's only 16.8mm thick, so it won't take up much space in your backpack.
The Blade is also impressive in practical departments. On each side you'll find USB-A and USB-C ports. There's an HDMI output, too. Internally, connectivity includes dual-band Wi-Fi 6 and Bluetooth 5.2, plus the Blade's webcam has Windows Hello support so you can open Windows 10 with facial recognition.
That's a good feature slate, but the Blade is not a complete package. There's no fingerprint reader, card reader or wired internet, while larger laptops usually have more USB ports. That said, the Razer's main competitor – the Asus ROG Zephyrus G14 – suffers similarly. There's just not enough room to add much more to a 14in chassis.
Specs & speed: strong stuff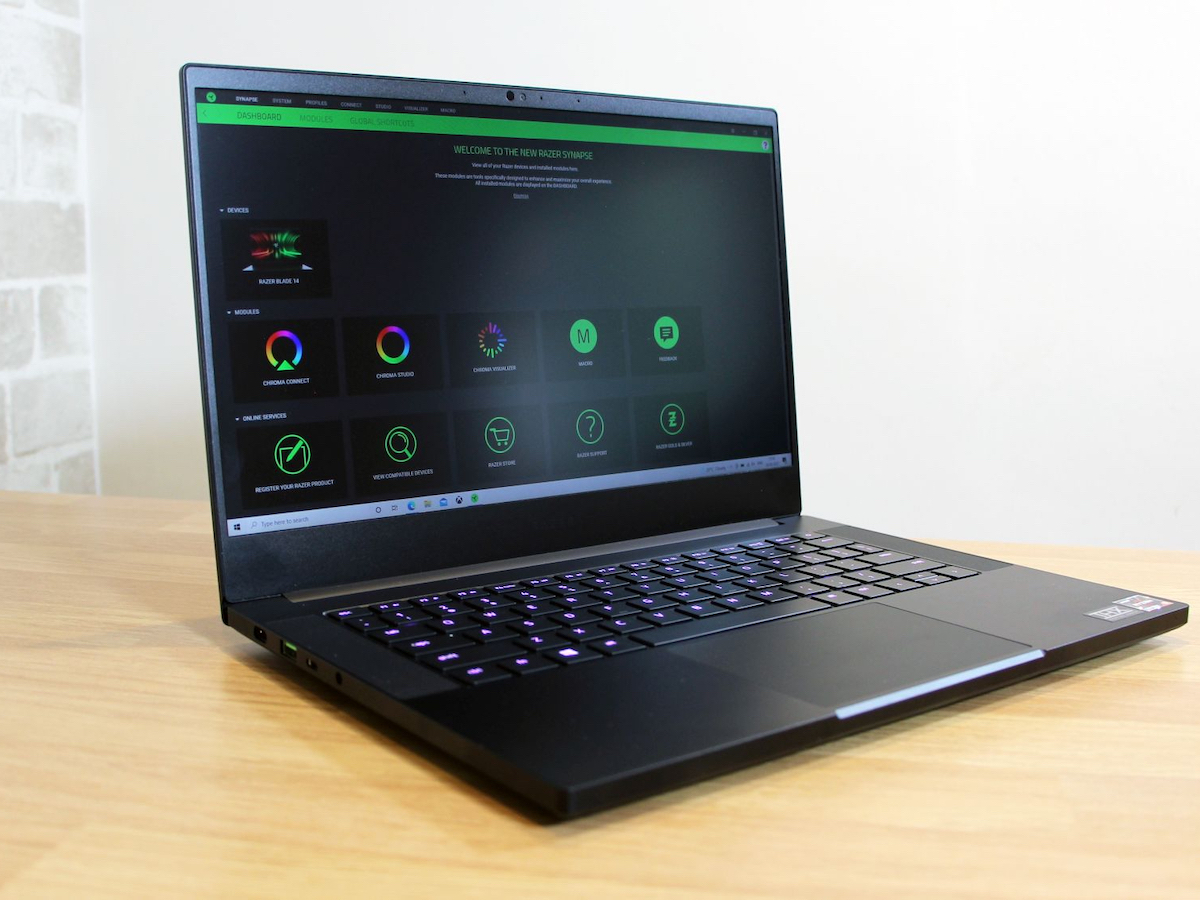 Razer hasn't messed around with the Blade's internals: the eight-core Ryzen 9 5900HX is one of AMD's best laptop chips. It's great for content creation, especially when paired with 16GB RAM and a 1TB SSD.
As for graphics, the Nvidia GeForce RTX 3060 is a mid-range laptop GPU with an impressive 3,840 Nvidia Ampere cores and 6GB RAM. Nvidia allows manufacturers to choose how much power those cores consume, to prioritise performance or battery life. Razer runs the RTX 3060 at consumption levels between 90W and 100W, which is towards the top of the range for this core.
Unsurprisingly, the RTX 3060 proved capable. It played Assassin's Creed Valhalla at top graphics settings at 55fps, and zipped through Red Dead Redemption 2 at 65fps. It handled the esports-friendly Rainbow Six Siege at a monster 191fps.
The Blade will play top single-player games smoothly and the best esports titles at the pace required by the 144Hz display. It's a great all-around GPU. It's also faster than the RTX 3060 inside the Asus, which tops out at power levels between 60W and 80W – despite that machine also costing £1799.
The processor is no slouch, either. In Geekbench, the AMD chip returned single- and multi-core scores of 1,456 and 7,408 – which are excellent. This chip can handle any day-to-day workload, alongside mainstream photo and video editing. It's impressive.
Performance & battery life: compromised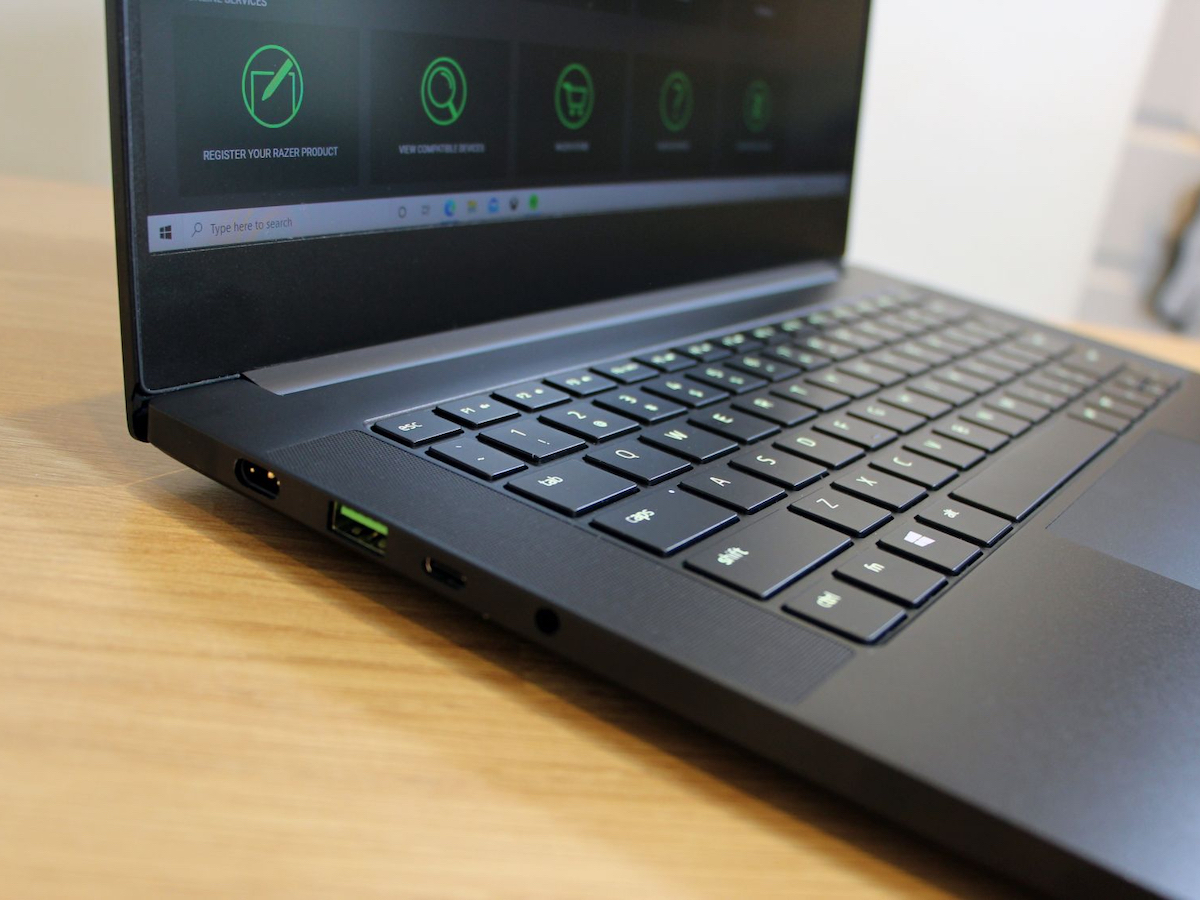 So there's lots to like about the Blade 14's performance. But it also pushes the limits – and that causes issues.
The RTX 3060 runs at 90W on most occasions, meaning you'll get a little more speed from larger laptops with beefier cores. And at 90W, the Razer's underside runs hot, while fan noise is moderate but noticeable. The RTX 3060 hits 100W in the Blade's Turbo mode, but that increases heat and only delivers a couple of extra frames, so it's hardly transformative.
On the processing side, the eight-core AMD chip doesn't achieve its theoretical Turbo speeds – it can't because the chip gets too hot under load. So while this CPU is impressive, it's faster in larger laptops – and in some scenarios, Intel's new Core i7-11800H is quicker.
None of this is a surprise: Razer has crammed powerful hardware inside this tiny machine, and compromises are inevitable. More speed is available elsewhere, albeit in larger notebooks; the 14in Asus is afflicted similarly.
You can also find more graphical power from other Blade machines, because Razer sells this notebook with the RTX 3070 and RTX 3080. Expect about ten frames extra from the RTX 3070 and a twenty-frame boost from the RTX 3080 – albeit at hefty prices of £2199 and £2799 respectively. This is a boon for the Blade if you want more speed, because the 14in Asus isn't sold with those beefier GPUs – just the RTX 3060.
Battery life is decent, no matter which Blade you buy. During gameplay, it lasted for about 90 minutes – a typical lifespan for a gaming notebook. It's better without the GPU draining the 61Wh power pack: the Blade lasted seven hours in a work test and ten hours when playing video. Those are decent results, but the Asus is a couple of hours better. And as with any notebook, it makes sense to stick to the mains if you want a solid gaming session.
Screen & Sound: Vibrant, bold and smooth
The RTX 3060-based Blade has a 1920×1080 display with a 144Hz refresh rate, which is ideal for mainstream games and esports. Quality levels are good, too. The contrast level of 1,900:1 is top-notch for an IPS display, and it helps the Blade's screen serve up lashings of punch, vibrancy, and depth.
No matter what game you run, it'll look bold and eye-catching here. The colours are accurate, and the panel renders almost all of the sRGB gamut, so you'll be able to display virtually every shade needed by your games.
The pricier versions of this machine have better screens, with 2560×1440 resolutions and 165Hz refresh rates – so single-player games are sharper, and esports titles quicker.
The speakers have impressive punch and volume considering the Blade's svelte design – they're easily capable of filling a room and plenty good enough for casual games and movies. They've even got a bit of bass, which is a rarity on smaller laptops. The mid-range is a little muddy, though, and even an affordable headset provides more mid-range depth and clarity.
Keyboard & Touchpad: Bright and breezy
When it's time to get tapping, Razer's keyboard has n-key rollover for independent press detection, plus customisable RGB LED lighting, a comfortable design and a crisp, fast typing action. It's perfect for hammering through games and documents with speed and accuracy.
The key gear is solid for mainstream games, but the 14in machine has no number pad, which some users may find limiting. Plus some of the secondary buttons are a little on the small side.
The trackpad is reasonable, with a smooth surface and fast, pleasingly crisp buttons. But as ever, anyone who wants total clicking control should connect a USB gaming mouse instead.
Razer Blade 14 Verdict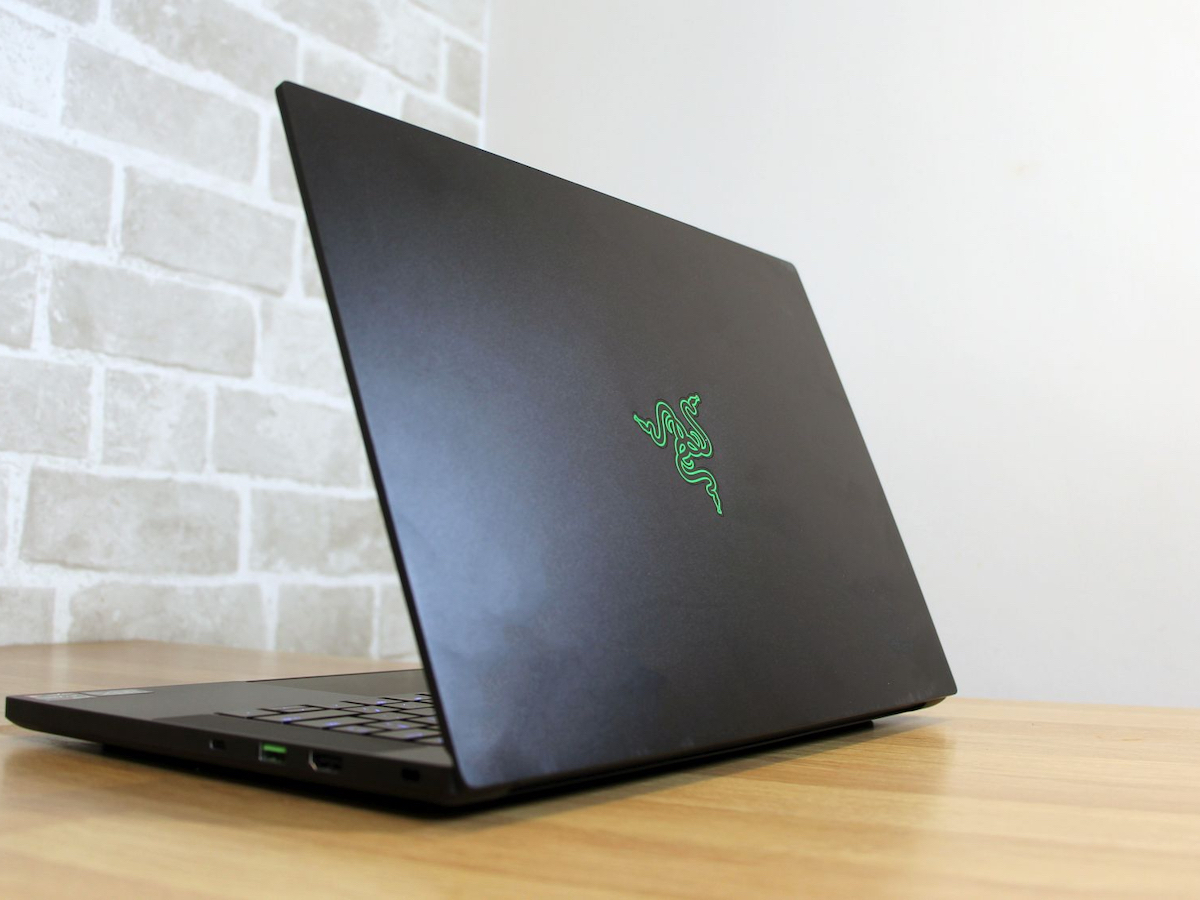 The Razer Blade 14 has the performance to handle any modern game, plus the CPU grunt to tackle content creation. It's slim, light and good-looking, with a superb screen and responsive keyboard. So if you want a small and capable gaming machine, the Blade ticks many boxes.
But it's not perfect. Larger laptops extract more speed from the same components and the Blade sometimes runs too hot. Razer's machine is expensive, too: these components can be found cheaper, albeit in chunkier portables.
Its arch rival, the Asus ROG Zephyrus G14, is better if you want a 14in gaming notebook with lengthier battery life, but it suffers in many of the same areas as the Blade – and it doesn't cost any less.
Plenty of people will be happy to pay the price for this level of power in such a slim and portable package. But be aware of what's available elsewhere.
Tech specs
| | |
| --- | --- |
| Screen | 14in 1920×1080 IPS |
| CPU | AMD Ryzen 9 5900HX octo-core, 3.3GHz |
| Memory | 16GB |
| GPU | Nvidia GeForce RTX 3060 6GB |
| Storage | 1TB |
| Operating System | Windows 10 Home |
| Battery life | Up to 10 hours |
| Connectivity | 802.11ax Wi-Fi 6, Bluetooth 5.2, 3.5mm headphone, 2x USB-C/DisplayPort/power delivery, 2x USB-A |
| Dimensions | 320x220x16.8mm |
| Weight | 1.78kg |
Stuff Says…
It's undeniably expensive, but with impressive power in a good-looking, robust and compact package, the Razer Blade 14 is a great portable gaming laptop
Good Stuff
Sleek, slim and light design
Impressive all-round performance
Crisp, fast keyboard
Decent battery life and screen
Bad Stuff
Pricey considering the hardware
Components are better elsewhere
Some missing connectivity features