Acer Switch 5 hands-on review
Acer is gunning to unseat Microsoft's Surface with this helpfully hinged hybrid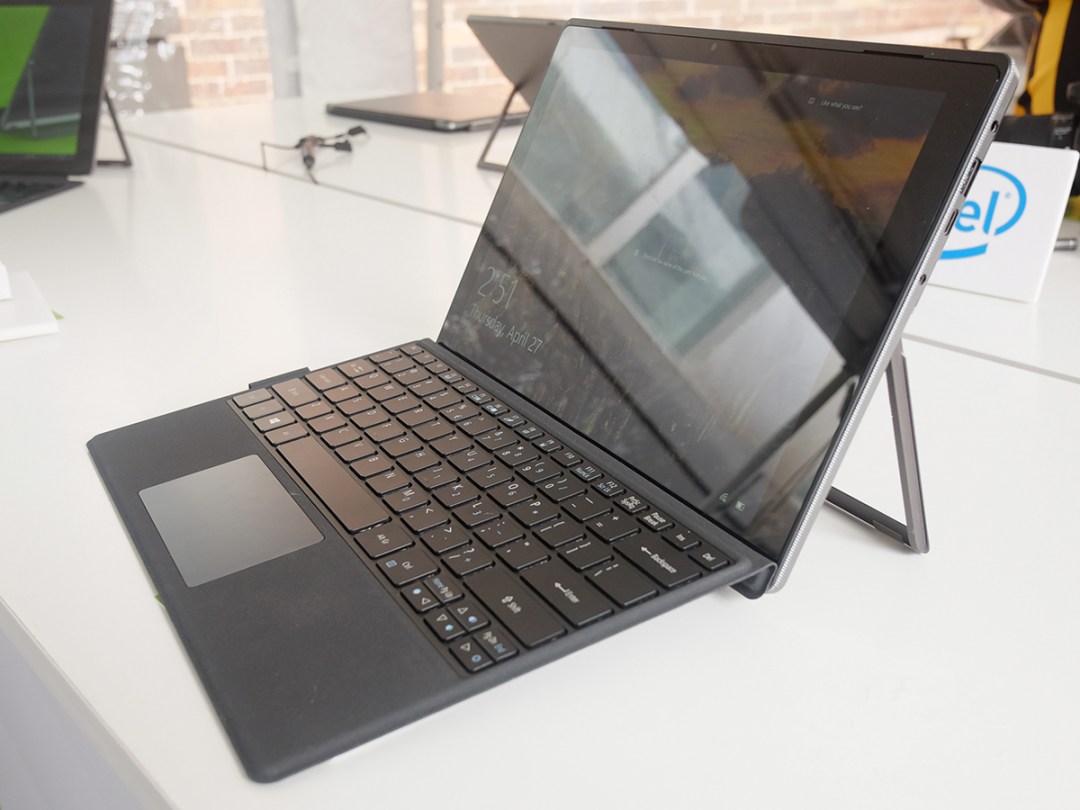 High-end hybrids have one job: beat the Microsoft Surface Pro at its own game. Plenty have tried, but few have succeeded.
Acer might have finally cracked it this year, though, and it's all thanks to a quirky hinge, which takes inspiration from (of all things) kitchen cupboards.
Instead of a fixed kickstand you adjust by hand, the Switch 5 automatically folds back up when you pick it up to take on the move – neatly returning home just like Ikea's fanciest flat-packs.
There's more to it than that, of course, and after putting one through its paces at Acer's Global press launch, I walked away impressed.
Here's why.
The Switch 5 is an evolution of last year's Switch Alpha 12, borrowing the same silent-running LiquidLoop cooling tech that means it'll stay quiet no matter what you do with it. Even with the latest Intel Core i7 CPU under the hood, you won't need to plug your ears to escape fan noise with one of these sat on your desk.
Paired with 8GB of RAM and up to 512GB of SSD storage, it's plenty powerful enough for day-to-day work, and can handle heavier loads like image and video editing too. Acer reckons it'll last for ten hours away from the mains, but we'll have to wait until a full review before we can test that claim.
You wouldn't know it was packing such powerful hardware, as it's only 9.6mm thick – putting it firmly in tablet territory, even with the large 12in screen. There's still room at the sides for a full-size USB3 port, though, along with a future-proof USB-C charging port.
Back to that funky hinge, though. The U-shaped metal frame pops out from the back of the tablet with minimal effort, and then locks into place as you push it back to a comfortable angle.
It tilts really far, so you can use the Switch as a drawing easel as well as a lightweight laptop replacement. It even comes bundled with a stylus, so you haven't got to spend moe cash just to doodle and make notes on your new toy.
Lift it up and the spring-loaded arm snaps back into position. It doesn't lock in particular positions, so you can infinitely adjust it until you're comfortable.
I'm not convinced by the textured edge that surrounds the screen – it looks a little cheap. And this hybrid certainly isn't cheap, with European prices starting at €1099.
You do get plenty of other features for your money, though, including a fingerprint reader built into the tablet frame for quickly logging in to Windows. The magnetically attached keyboard cover is included too, which is a great little bonus. It's comfortable enough to type on, has a large touchpad for laptop-style working, and a slot to slide the stylus into as well.
The 12.2in screen is a beauty as well. The 2160×1440 resolution packs in plenty of detail, and while you don't get AMOLED, brightness is high and colours are vibrant enough from the LCD panel.
ACER SWITCH 5 INITIAL VERDICT
The clever hinge and bundled stylus make the Switch 5 a great Surface alternative for anyone looking to draw, doodle or write instead of type. The infinitely adjustable positioning is far more flexible than Microsoft's rigid kickstand. The keyboard cover is a great inclusion as well, meaning it works just as well as a laptop as it does as a tablet.
The price is high, but it has the performance and screen resolution to match. Silent operation is a big bonus, and might be just enough to convince us to pick it over the Surface.
It's not expected to launch in the UK until June, but when it does, we'll be sure to put them side-by-side and see which one comes out on top.