Acer Predator Helios 700 review
Ticket to slide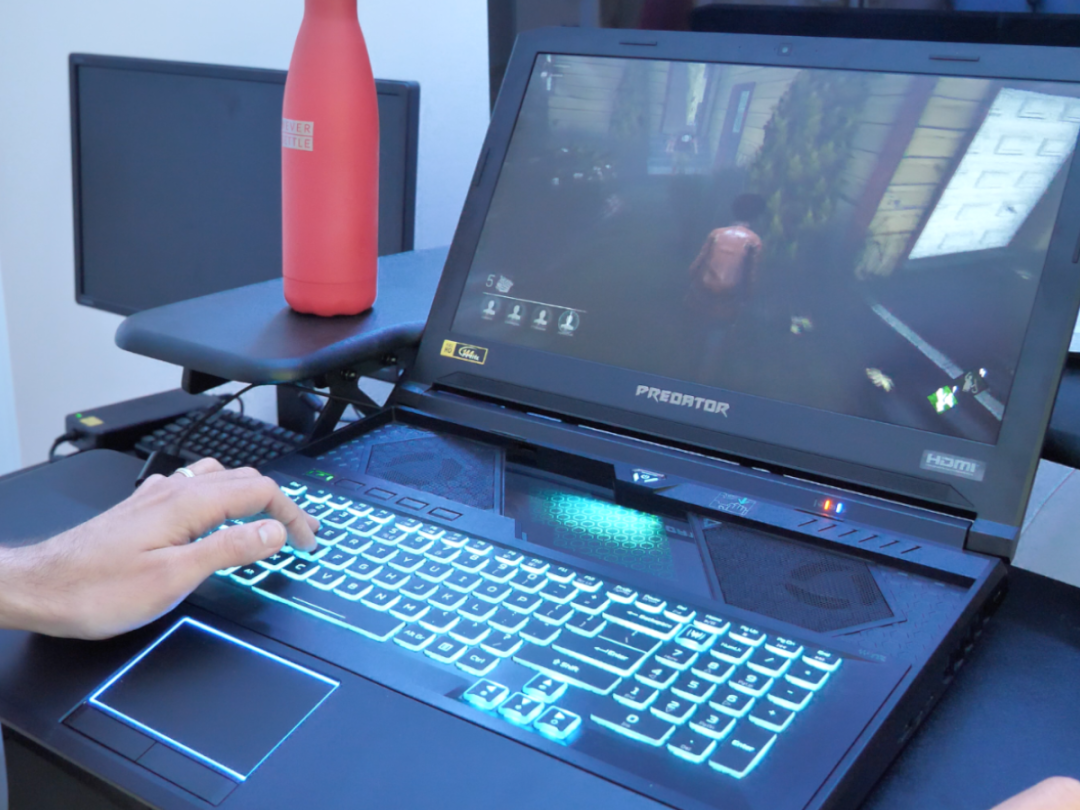 Acer's flagship Predator laptops are built for the most competitive and demanding gamers out there, serving up buckets of power, effortless overclocking and plenty of smart gaming features. The Helios 700 is one of Acer's most powerful offerings of 2019, with a 9th generation Core i9 chipset, RTX 2080 graphics and the unique HyperDrift keyboard which slides out to reveal the powerful Aeroblade fans.
This gaming notebook is certainly an all-out attack on the senses, in both the good and the bad sense. But is it worth the asking price?
Design: Portability impaired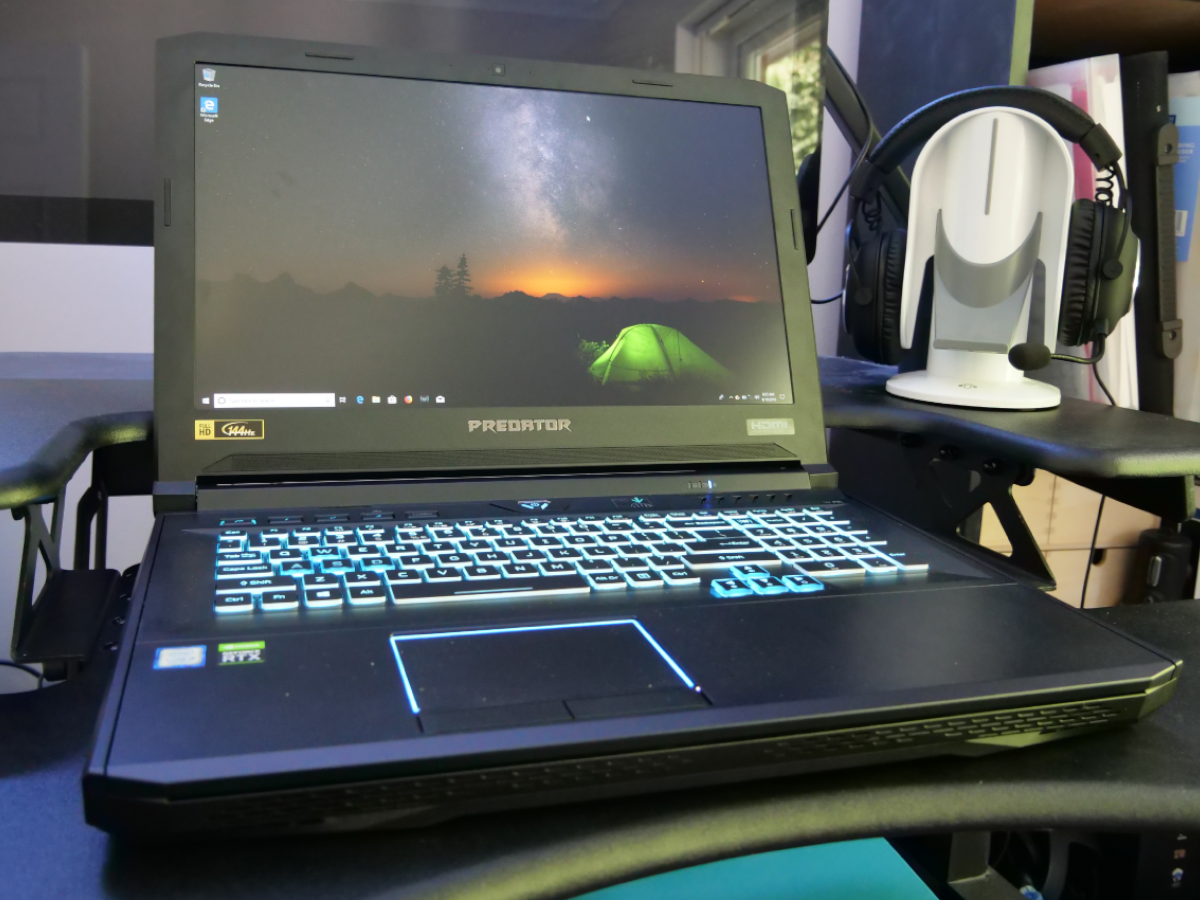 While the Predator Helios 700 is technically portable, I wouldn't recommend actually carrying it about the place – and that goes double if you're a skinny wastrel like myself. This is one of the heftiest laptops around at 4.5kg (not including the super-sized brick of an adapter), while that extremely chunky metal chassis certainly won't fit into any conventional backpack. You'll logistically need a suitcase to get it anywhere at all.
Of course, if you're only after a notebook to drag from room to room in your house, then no problem. Just remember – lift with your knees, not with your back.
Beyond the dimensions and weight however, this monster impresses. The Helios 700 is clearly a gaming machine, with the usual glowing logo, angular edging and a few other frills, but the metal chassis is also sturdy and well constructed. Plus, that bulky build means plenty of ports. Three full-sized USBs are joined by a pair of Type-C connections for peripherals, one of which supports Thunderbolt 3. External screens can be hooked up via DisplayPort or HDMI (with the ports conveniently located around the back of the laptop), while you have Ethernet for nippy networking.
Display – Slightly blunt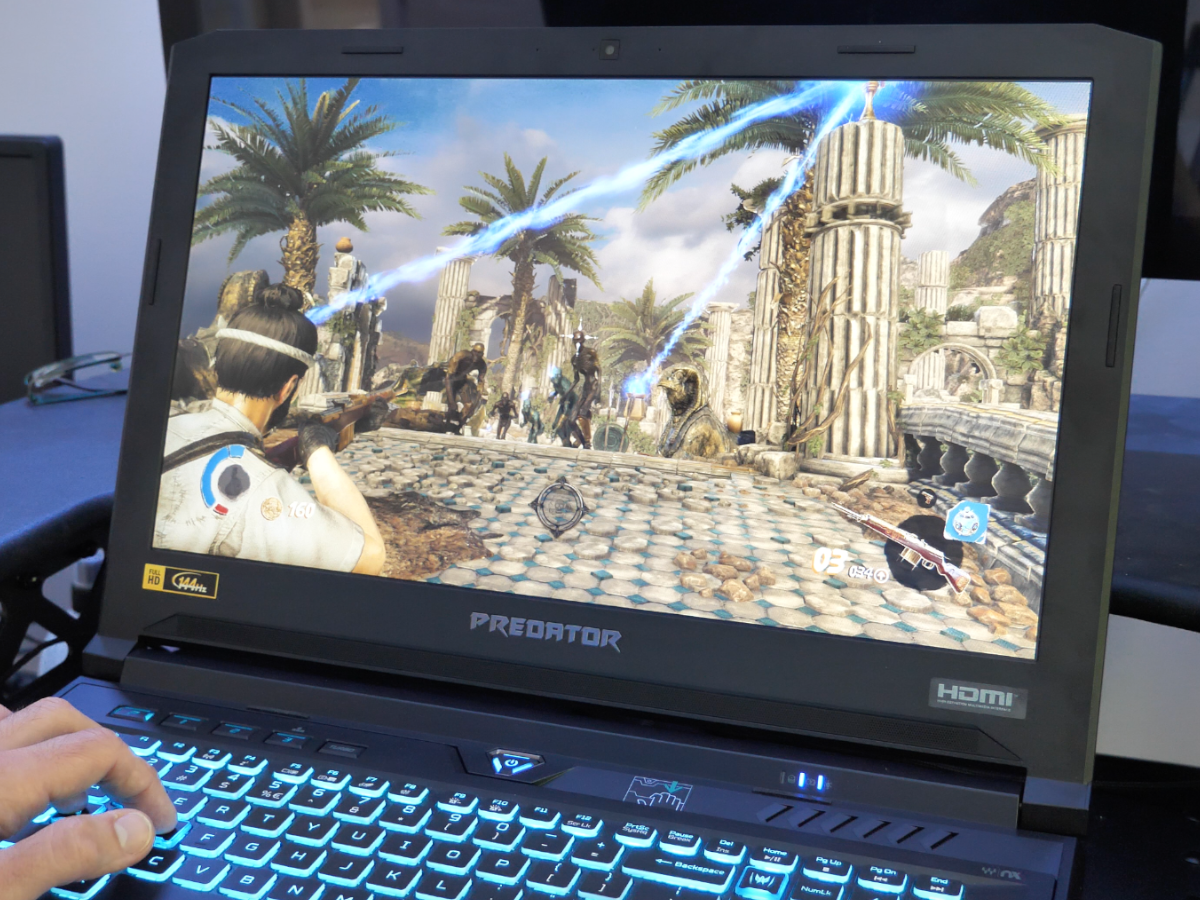 You certainly get a close-up view of the action from Acer's 17.3-inch IPS display, one of the larger panels to be found on a laptop. However, for some annoying reason the Helios 700 can only be snagged with a Full HD screen – there's no option to go full-fat 4K. Considering the graphical grunt of this thing, that seems rather bizarre.
Colour accuracy is acceptable although beaten by many rivals, while the brightness levels max out at just under 300 nits. That's fine if you're gaming indoors, but you'll struggle to see the action outside, despite the anti-reflective finish.
All the same, you can expect crisp and good-looking visuals, with a smooth 144Hz refresh rate and full G-Sync support on top. It's certainly not a bad display, just a little disappointing given the Predator's potential – you'll want to hook up an external Ultra HD panel to see what Acer's oversized baby can really do.
Keyboard – Fingertip fireworks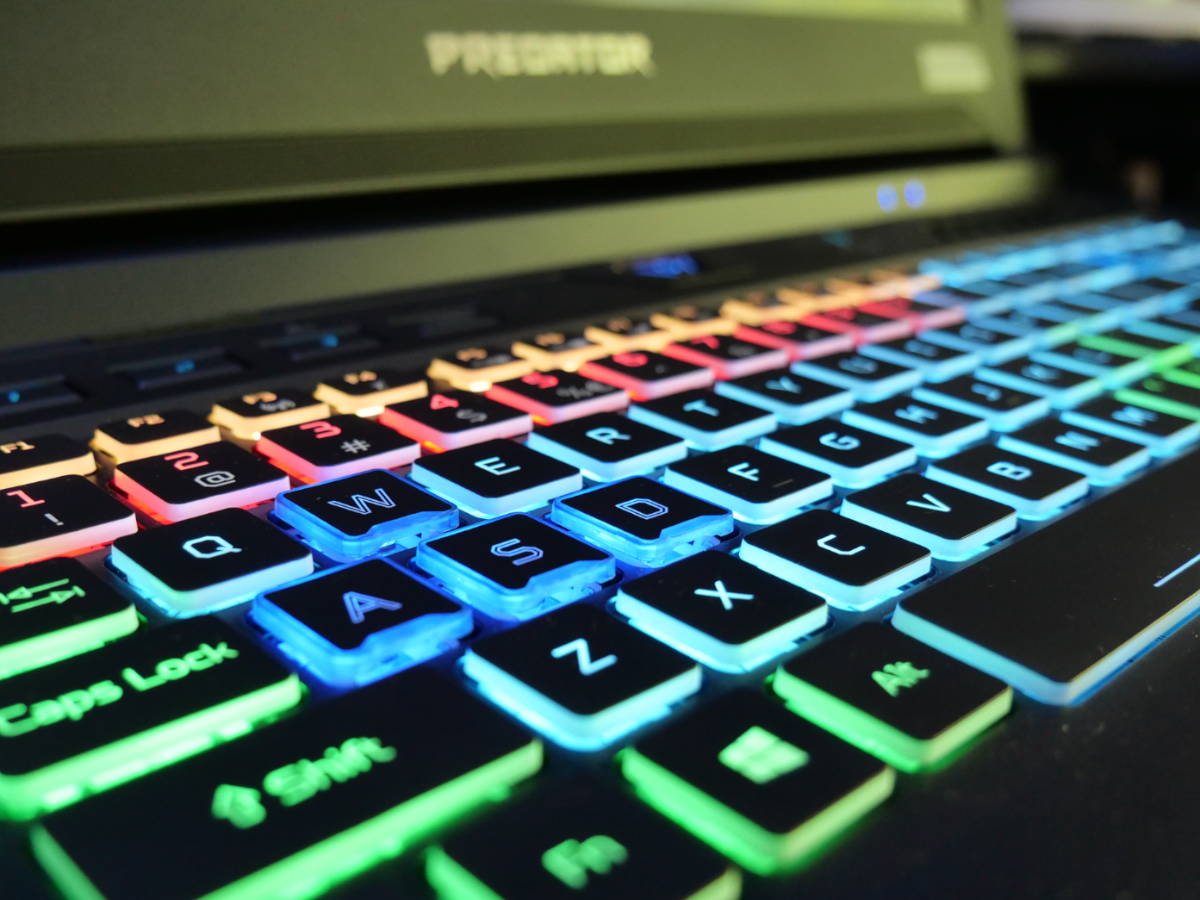 As with many premium gaming laptops, the Helios 700 sports a fully customisable RGB chiclet keyboard. That multi-coloured backlighting can be individually tweaked for every key on there, or alternatively you can go with one of the preset animated displays which turn your board into a portable light show.
One of the more unique features of Acer's keyboard is the Magforce WASD keys. These come with linear switches which make them pressure-sensitive, so you can lightly press for a more subtle response. The effect is supposed to be similar to using a joystick, although it's no real replacement in truth. I did notice a difference in some action games when sneaking around, but nothing game-changing.
Besides that, it's almost business as usual for an Acer gaming notebook. The board is well sized, despite the inclusion of a dedicated number pad, macro keys and all of the standard bits. It's perfectly comfortable for typing as well as blasting your enemies to bits in your chosen stress-reliever, with respectable travel and a firm finish.
However, the Helios 700 does have one more nifty trick up its sleeve. The entire 'HyperDrift' keyboard can be slid forwards, to reveal the dual fan cooling system hidden beneath. In this Transformer-like state the Predator certainly looks cool, but the whole point of this mechanism is to aid with overclocking (more on this in a bit).
Performance and battery life – Absolute monster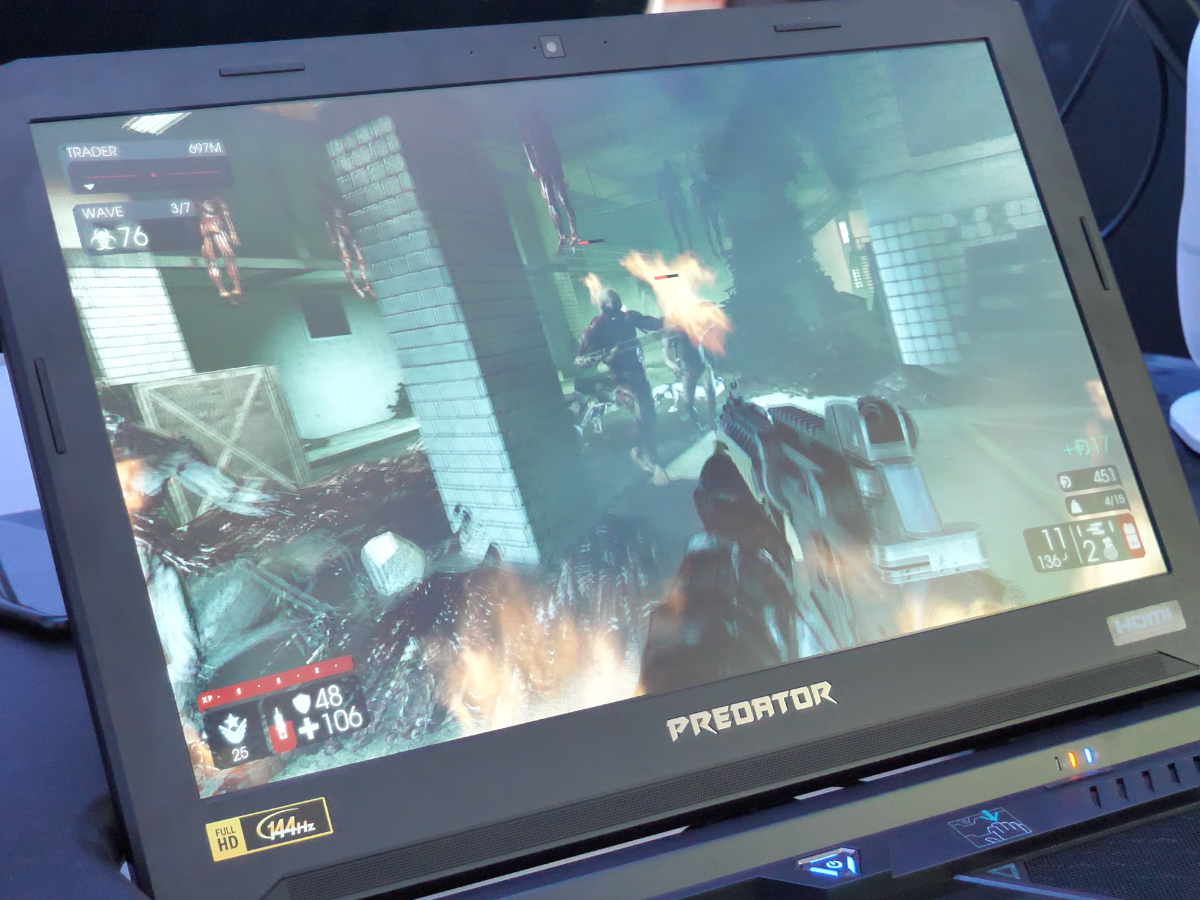 This is where the Predator really flexes its meaty muscles. You'll find a 9th generation Intel Core i9-9880HK chipset stuffed inside the chunky frame, backed by up to 64GB of DDR4 RAM. I tested out that 64GB model, which packed in Nvidia's GeForce RTX 2080 GPU (a slightly cheaper 2070 option is also available).
In other words, you can blast through any game you like on top detail levels and expect a sky-high frame rate. Benchmarking results tore through most rivals, helped along by the impressively fast storage. With read and write speeds around the 3500Mb/s mark, you won't be hanging around waiting for the next level to load.
That RTX card means you get full support for the latest graphical innovations too, including Ray Tracing for incredibly realistic lighting and contrast. The likes of Shadow of the Tomb Raider look absolutely stunning, even at Full HD resolution.
To prevent throttling, Acer has crammed its 4th generation Aeroblade fans inside of the Helios 700, for whisking away the heat as quickly and efficiently as possible. These are certainly effective, as even a full-on afternoon-long session of online fragging doesn't cause the laptop to overheat and struggle to keep up.
However, those fans are also louder than a million angry wasps sellotaped to an exploding comet. It's fine if you're rocking a noise-cancelling headset, but anyone else present won't be too appreciative of the sudden, violent-sounding gusts. And good luck if you're hoping to enjoy any sound pumped out of the Predator's five built-in speakers.
As previously mentioned, you can indulge in some serious overclocking by sliding down that HyperDrift keyboard and exposing the fans, which opens up extra vents for faster heat dissipation. In this mode, overclocking is immediately activated, provided the laptop is actually plugged in and at least 40 percent powered up. It's kind of a shame that you have to manually drag down the board rather than simply pushing a button and watching it transmogrify before your eyes, although admittedly that would be rather showy.
With overclocking active, you can expect a boost to your gaming frame rates, but nothing too earth shattering. After all, the Helios 700 already packs a crazy amount of power. This feature is likely to come in handy later on, when more demanding games become a challenge on those top detail settings.
In a further kick to the crotch for portability, the Predator Helios 700 runs out of battery power pretty quick once you yank out that enormous charger. That's standard for a gaming laptop however, and the 70-ish minutes of non-stop action is basically what I'd expect from a full charge. Even for a behemoth like this.
Acer Predator Helios 700 verdict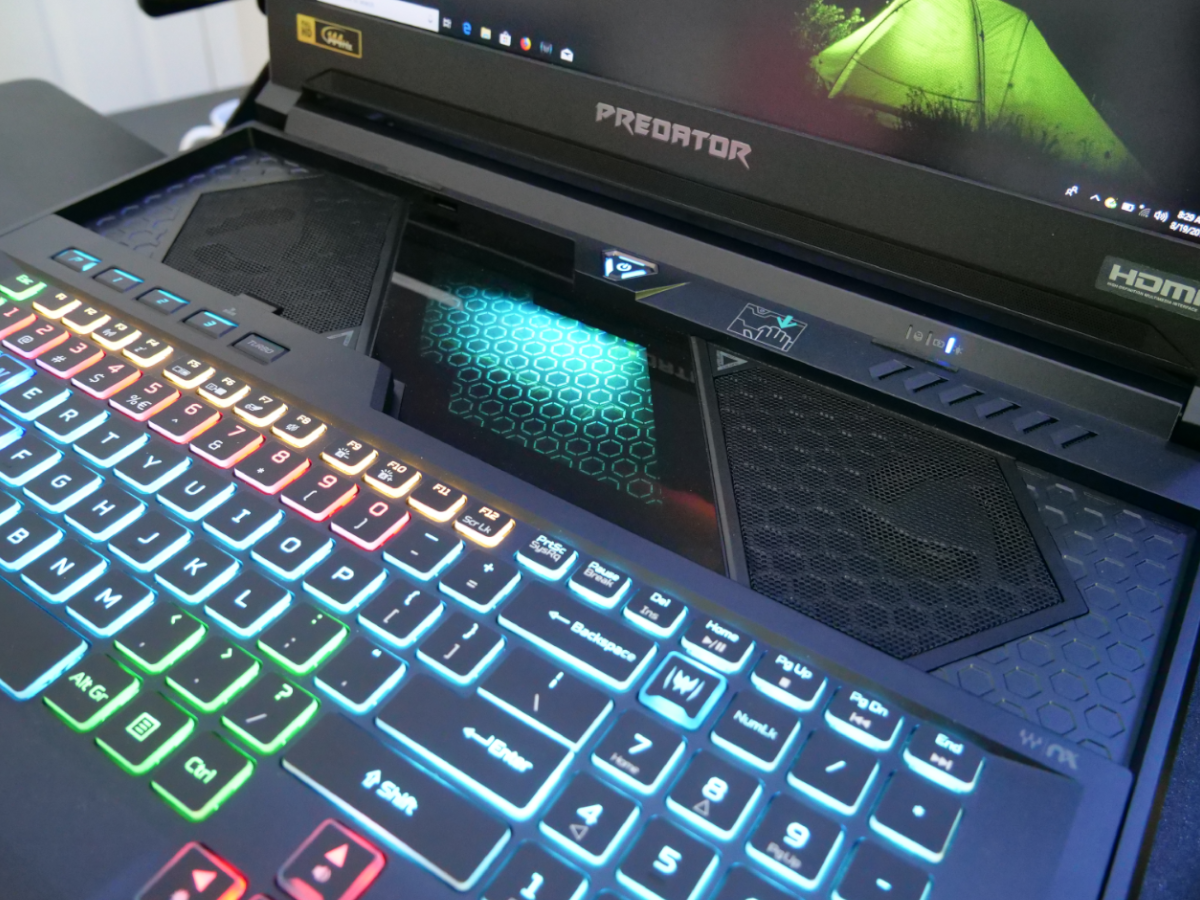 If you're after one of the most super-powered gaming laptops of 2019, then Acer's Helios 700 should definitely be on your shortlist.
The main caveat is the serious impact to portability, while the lack of built-in 4K visuals and crazy-loud fans are also sore points. If that doesn't put you off and you've got enough bank spare, then this Predator certainly has an incredible amount of bite.
Stuff Says…
The Predator is an absolute beast, in size as well as performance, although the lack of 4K visuals is a mystery
Good Stuff
Incredible gaming performance
Effortless overclocking
Stays as cool as a cucumber
Bad Stuff
No 4K display
Heavier than a sack of rocks
Louder than a barrel of angry monkeys