You might be playing original Xbox games on Xbox One before long
Microsoft's gaming chief suggests backwards compatibility could stretch back to the start
Both Sony and Microsoft had strong showings at E3 in June, spotlighting an array of big games heading to each system – yet Microsoft nearly stole the show by announcing that Xbox 360 games would soon be playable on Xbox One.
It was software-powered backwards compatibility added after the fact: a feat that not only seemed technically tricky, but also a very low priority for the company. But as Microsoft's priorities have shifted in the last couple years – and Sony has taken a notable sales lead this generation – the company has been looking for other ways to have an edge.
And thus, Xbox 360 backwards compatibility is coming this autumn, starting with 100 games and more to come. But what about the original Xbox? It's been a decade since the company's first game console was still viable and truly active, but Microsoft apparently isn't ignoring the possibility of bringing first-gen games to the Xbox One.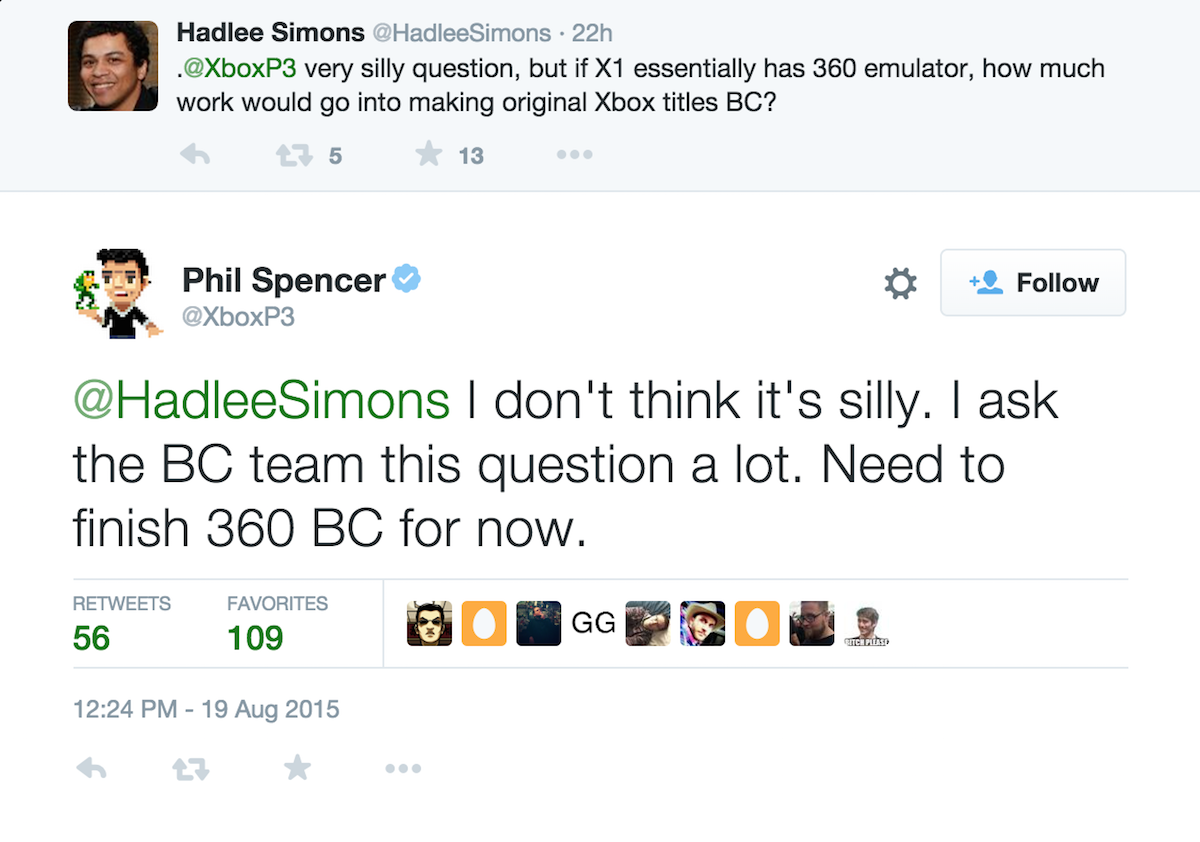 In response to a question on Twitter regarding the topic (seen above), Microsoft's Phil Spencer – head of the Xbox division – said, "I don't think it's silly. I ask the [backwards compatibility] team this question a lot. Need to finish 360 BC for now."
While certainly not a confirmation that original Xbox games will be playable on Xbox One, it shows that the team is thinking about it as a future possibility. No doubt, playing decade-old games isn't going to be a priority, but many of us still have fond memories of Xbox games that haven't already been ported or remastered.
Last year's Halo: The Master Chief Collection on Xbox One took care of a couple heavy-hitters, but what about Star Wars: Knights of the Old Republic, Burnout 3: Takedown, Panzer Dragoon Orta, or Ninja Gaiden? These treasures and more may await if Microsoft can get original Xbox backwards compatibility up and running on the Xbox One. Let's hope so, at least.
[Source: Twitter via VentureBeat]