Vote for UK tech's next big thing in Microsoft's Imagine Cup and you could win an Xbox One
Here are the next big tech ideas from the brightest student minds in the UK. Vote for your favourites and you could win an Xbox One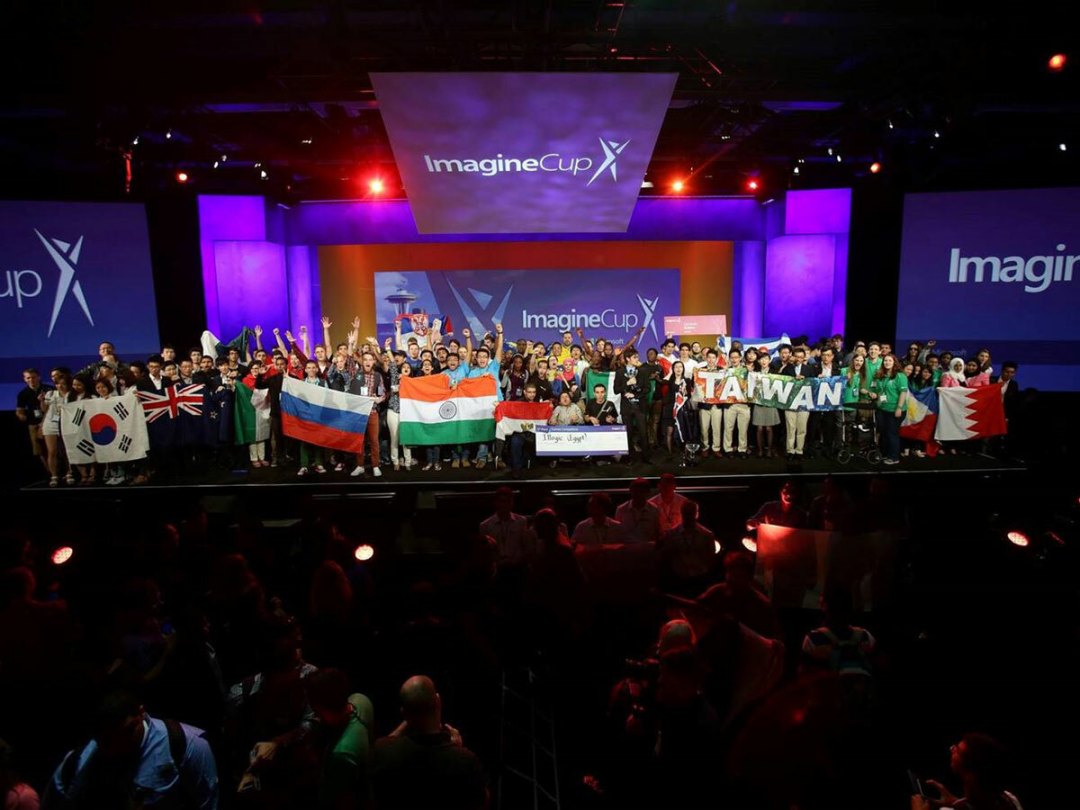 Everyone dreams of shaping the future – and thanks to Microsoft's Imagine Cup, that's just what you could do today.
Imagine Cup is the world's premier student technology competition, giving creative minds everywhere the chance to pitch their ideas to a panel of experts and ultimately turn their dreams into reality.
Six teams have already made it through to the Imagine Cup National Finals, but there are still three places up for grabs as part of the People's Choice Awards – and that's where you come in.
Below you can see the pitch vidoes for the 21 remaining contestants, split into three categories: Games, World Citizenship and Innovation. All you have to do is watch the videos then click on the voting link and choose one winner in each category.
Once that's done you'll be entered into a draw to win an Xbox One. Which, we don't need to remind you, is a rather special bit of technology in its own right. 
Terms and conditions: 1. To enter: Fill in required details and click on the submit button. 2. Participants must vote for one pitch in each of the three sections. 3. Entries close Tuesday 24th 2015, 5pm. 4. Prize(s) are: One Xbox One 5. Open to UK residents aged 18 or over 6. No cash alternative. Prizes are non-transferable. 7. Only one entry per person. 8. For full terms and conditions click here. The Promoter: Haymarket Media Group, Teddington Studios, Broom Road, Teddington, Middlesex, TW11 9BE, UK
CATEGORY #1: GAMES
1. ARTEMIS' PRODIGY
This game stars an avid archer called Gear who wakes one day to find a note telling him that his parents have been taken and that he needs to hunt down the dastardly villains behind the deed. To do so he'll need to find clues hidden throughout the four levels – and he'll need those archery skills too…
Vote for Artemis' Prodigy here
2. KEPLER
You take the role of a colonist whose ship crash lands on the planet Kepler-186f in the year 2107, following a giant solar flare. You must explore the planet – and survive the hostile environment – until help arrives.
3. MAGG
A competitive multiplayer first person shooter, based around the concept of classic shooters from the late '90s – but with a few modern twists.
4. NICE 2 MEAT YOU
You play a health inspector who has discovers a factory which has been genetically modifying its produce. The result? The food is now alive… and it hungers for human flesh!
5. RADICATION
Sanitarium is a game that educates the player about the world's oldest disease, Tuberculosis (TB).The player will play the game from a first person perspective. The core game is a simulation based upon a mathematical model that has been proven accurate in a real-world drug trial.
6. JAX
An old-school 2D platformer with cute baddies and nasty traps to navigate.
7. ROCKET
It is the year 2105 and humans are colonising planets for resources. Rangers, gifted with superhuman abilities, are at the forefront of this exploration – and, you guessed it, you control a Ranger on his quest to boldly go where no-one has gone before.
8. VOIDLINGS
Trapped inside a mysterious funfair called The Void, you must find clues in order to escape.
9. WHAT HAPPENED TO CLIPPY
A 2D side-scrolling platformer about just what you might find on the other side of a fast food chain's 'employee's only' door. Hint: it's not just the kitchen.
Vote for What Happened To Clippy here
10. DIGGER
Like a cross between DigDug and Tetris, Digger has you digging down or sideways through coloured blocks which drop when mined. If one lands on you, you die – but if you're clever, you can create chain reactions and gain extra time.
11. NO CONTEST
An intriguing game about a child who discovers they have special powers – and must learn how to use them.
12. TRIPLE OX
Flatliners is a first person speed runner that merges a few genres together. It's a mixture of surreal and hard based mechanics.
13. TERRABITE
TerraBite's game is Project Cyber, a Kinect-based puzzler with its own companion app.
CATEGORY #2: WORLD CITIZENSHIP
1. LIFELINE APPLICATIONS
An app which aims to save lives by crowdsourcing first aid: when the Lifeline panic button is pressed it alerts all registered first aiders within the vicinity so they can be on the scene as soon as possible.
Vote for Lifeline Applications here
2. HAVING TECHNOLOGY MADE BETTER
The HTMB team's UNI app is designed to help students, particularly those in their first year, by informing them about deadlines, directing them to lectures and matching them to the most suitable student societies.
CATEGORY #3: INNOVATION
1. AMBI APP
Ambi is a nightlife app that combines loyalty, gamification and social networking, rewarding customers for their loyalty to venues based on the time they spend there.
Near Share aims to make it far easier to share files between mobile devices and desktops by using QR codes to do the NFC-like pairing work.
3. DISH
Dish is a social network where you can share, rate, and discover food with your friends. It's a community for foodies, it enables users to visually try the food before they buy it and it provides a visual booking experience.
4. SIYMB
Siymb is all about developing cutting-edge wearable tech and business intelligence for conferences and large-scale events. Its current product line includes a smart bracelet that can exchange contact details via a handshake as well as access to analysis tools that allow the organisers to make detailed inferences about the security and performance of the event.
5. MOVIER
Movier is a social network app that allows four users to film videos simultaneously through multi-cam sharing. The result is a 30-second to one-minute video made up of footage from multiple camera angles.
6. SHEEPDOG
Who is going out? What are people up to? Where are people heading? These are questions social students ask on a daily basis. Sheepdog is a social app which aims to make it easier for people to find out what their friends are up to – without needing to use multiple apps.
WHAT'S NEXT?
We'll announce the winner's of the Imagine Cup 2015 People's Choice Award on Tuesday 24 March after 5pm. Then, on Tuesday 31 March, the Imagine Cup UK Finals 2015 will take place in London, with all nine finalists presenting their 5-minute pitches to the judging panel.
And the good news is, you can be there for it.
The Finals will form part of Microsoft's Imagine: Make It Happen event that day at Cardinal Place in London. The first half of the day will see tech luminaries such as Troy Collins, founder of SecretEscapes.com, and Stuff's editor-in-chief Will Findlater share their expertise on subjects from how to go about building a lean, mean startup business to getting your idea noticed by the technology media.
Then, in the afternoon, the Imagine Cup finalists will go head to head to be crowned the UK's overall winner.
You can attend morning, afternoon or both parts, and you can join all attendees for a drink or two afterwards – and all for free. Not a bad deal. To find out more and sign up for your tickets, head over here. Did we mention it's free?